The Correct Jaw Position Unlocks Your Natural Facial Profile
JawTrac® locates the jaw position for Bite Correction using the non-invasive, no tooth grinding VENLAY® Restorations with the Face Lift Dentistry® Method. This painless treatment for underbite correction, overbite correction, collapsed bites and aging faces requires no surgery or braces and can be completed in as little as 2 visits at our office in Santa Monica, California.
More than Cosmetic Dentistry
Face Lift Dentistry® bite correction transforms faces without the risk of jaw surgery, braces or grinding down good teeth. It is not just Cosmetic Dentistry or Porcelain Veneers smile, this is the future of Bite Correction that boosts self-esteem and has enormous cosmetic benefits.

Improving the Shape of Your Face with Non-Invasive Bite Correction. (Read More about this case.)
A Jaw Position that Transforms Your Face
Most people and dentists do not understand how so much improvement to the shape of the face, the facial profile and chin size, is possible, non-invasively, non-surgically and almost painlessly in just a few weeks, by correcting the jaw position. This bite correction treatment changes lives without the risk of traditional invasive dentistry.
Bite Correction without Surgery or Braces
You will notice that every single one of Dr. Muslin's patients looks different because Face Lift Dentistry® actually corrects overbites and corrects underbites, improves jawlines and facial profiles. Each patient's teeth have a unique color, shape, and style to their smile and his patients also have an enormous benefit of having a new shape to their faces. This treatment improves the health of the patient without the risk of grinding down healthy teeth or the risk of jaw surgery. Treatment takes two visits to Santa Monica about one or two weeks apart to make the porcelain. Some patients' stay in Santa Monica for two weeks, vacation, see the sites and get their treatment done in two weeks or less.
Beware: Some cosmetic dentists are advertising a face-lift or a dental face lift with just 6 to 10 porcelain veneers. You cannot get the Dental FaceLift® with just veneers!
Video: VENLAY® Restorations vs. Porcelain Veneers
After seeing several top cosmetic dentists that recommended porcelain veneers she was not convinced that veneers on her upper teeth would help her face look younger. Then she saw someone she knew very well that had Face Lift Dentistry® and VENLAY® restorations and in her own words "the results were phenomenal". She knew immediately that this was the treatment for her. See her video before and after as she will explain her story and show her results.

Porcelain veneers cannot improve your chin size, jaw size or correct your bite. But VENLAY® restorations can correct overbites, solve TMJ problems as clicking and popping and correct under bites without grinding down your teeth. VENLAY® restorations correct bites, improve your facial profile, widen smiles far better than veneers, improve your jaw size and chin size.
Beyond Veneers and Cosmetic Dentistry - No Drilling, No Surgery 
Santa Monica • Beverly Hills • Los Angeles
Bite Correction and the Face Lift Dentistry® Method
Correcting bad bites, under bites and overbites without braces, surgery and without grinding down your healthy teeth can widen your smile, improve your facial profile and correct your bite and improve your health. Too many patients go to neuromuscular dentists that only treat the symptoms.
Beware: Some cosmetic dentists are advertising a face-lift or a dental face lift with just 6 to 10 porcelain veneers. You cannot get the Dental FaceLift® with just veneers!
Narrow Smiles and Bite Correction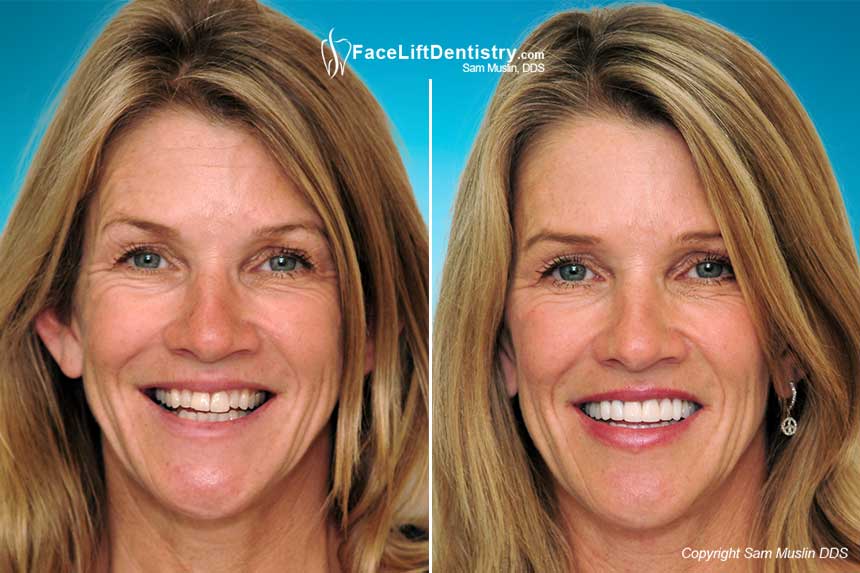 Her teeth were short from years of wear and when the teeth wear down, the face gets shorter. As the face gets shorter the patient looks older and it can start when you are in the mid-thirties. She now has a wide smile with a youthful appearance that resonates with her personality. Porcelain veneers cannot improve the bite or widen the smile to this level. VENLAY® restorations have many advantages over porcelain veneers from bite correction to cosmetic.
The ultimate "new you" that improves your health, your profile, your jaw line and the shape of your face.
---
Video: Bite Correction without Surgery, Braces or Grinding down Teeth
Even if you want the finest care and can afford the finest care, you may not get it. This patient talks about her frustrations with bite correction and all of the confusion regarding how she should be treated. She said she consulted over 40 dentists and none of them were sure about how to treat her.

Underbite Correction
Everyone with an underbite that has seen a dentist and a specialist and was told that their only choice to correct their under bite was jaw surgery and years of braces. Yes there are a few dentists that claim to fix underbites with porcelain veneers, but veneers don't correct the under bite and don't improve the facial profile, or the jaw line or the shape of the face.
Correcting Under Bites Without Surgery or Braces
Large Looking Chin, Under Bite Correction in Two Weeks Without Surgery
When Dr. Muslin corrects an under bite with his no tooth grinding porcelain VENLAY® restorations and the Face Lift Dentistry® method, the patient gets to see the porcelain in their mouth and experience the results with office lighting and with sun light outside the office before the restorations are bonded. This is a huge advantage for the patient as changes can be made and there are no surprises. You cannot see your final results with jaw surgery and braces.
Every patient on this website is the ultimate testimonial as they will tell you about their own experience which is highly valuable!
Video: Correct Under Bite with VENLAY® Restorations - No drilling, No surgery
Compare his slurry speech and his physical appearance while he talks in the video before he was treated. He explains his problems and you will see and hear the results only one hour after the VENLAY® Restorations were bonded using Dr. Muslin's "patent pending" method.

Non-Surgical Under Bite Correction using No-Prep VENLAY® Restorations
Seeing the patient in person is vital to understand how he would do your treatment. When Dr. Muslin does his examination and when he watches you talk he can see how your jaw moves. Then, he uses an imaging technology that lets Dr. Muslin actually see the best location for your jaw and again demonstrates it to the patient using the patient's face. The patient can see how much their facial profile and the shape of their face would improve. If you let him take x-rays and models of your teeth along with photos and jaw imaging, he can give you a written treatment plan outlining your choices and the costs. The cost is directly related to how many teeth need to be treated.
An underbite is typically corrected with no shots, no pain, no grinding down teeth. Large looking jaws and a protruding jawline can now be treated using this method. Don't get fooled - this cannot be done with porcelain veneers and cosmetic dentistry.
I was told that jaw surgery and years of braces was my only choice. Fortunately, I kept searching the Internet for several years, until I found this one dentist with an incredible under bite correction solution.
Cross Bite Correction and Underbite Correction
This featured patient's upper teeth were too short, his lower jaw looked too big and he had a bilateral cross bite. The non-surgical Dental Facelift ® can dramatically improve your cross bite, under bite and overbites by idealizing the proportions of the teeth and locating the best position for the lower jaw using high tech imaging. Dr. Muslin can see the best position for your jaw which improves your profile, the chin looks smaller, creates a healthy occlusion and esthetically pleasing facial proportions.
Dr. Muslin says, "The secret to this treatment is using technology that allows me to see the best jaw position for the patient and so far every single patient looked much better when they had the best jaw position for their facial structures".
Underbite Correction and a Large Chin
The patient featured below was so disappointed to learn that she had to have jaw surgery and miss a semester of school along with months of work for a treatment that may not be predictable and would also be risky. She was worried about having to go into the hospital.
Underbite Correction - Two Visits to Santa Monica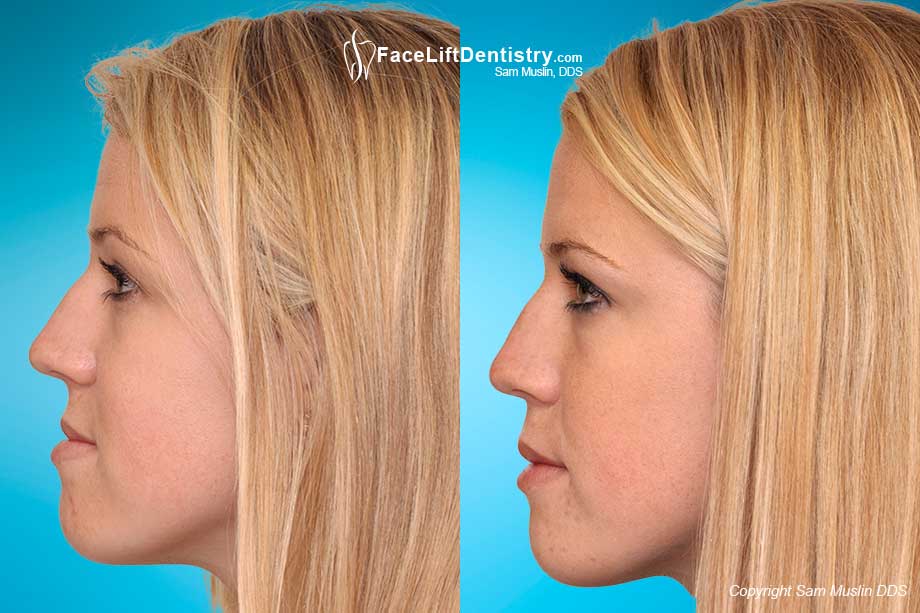 She did not have to sit in a in the dental chair for two weeks. This treatment is safe and fast. It takes took two weeks to make the porcelain. Her first visit was just a couple of hours and the second was about 3 hours to bond the porcelain to her teeth using Dr. Muslin's patent pending bonding method.
This patient had her under bite corrected without surgery using the non-invasive, non-surgical VENLAY® Restorations to correct the bite. The shape of her face improved with her new jaw position, which also made her lower jaw look smaller. Her under bite was not only visibly but it was physically corrected, her bite is comfortable and she loves the new color of her teeth.
This treatment lasts as long or longer than veneers or crowns and has much less risk than surgery. You can see the shape of your new face on the first visit and can see the final results with the porcelain VENLAY® restorations in your mouth before bonding the restorations. You can't see your final results before surgery or braces!
Overbite Correction
Patients that get headaches, clicking jaws and small looking chins generally have deep overbites that need correction. The small looking chin position is an unnatural position that caused headaches and jaw clicking and popping along with low self-esteem. When her deep overbite correction was completed it allowed her lower jaw to be in a healthier position that makes the chin appear larger. The healthy jaw position relieved her headaches, instantly improved her facial profile, and stopped her jaw from popping. . In reality, her chin was always normal in size but the overbite made the chin look small because of the position of the lower jaw. The chin size improves when the overbite is corrected using the Face Lift Dentistry® method and the non-invasive VENLAY® restorations.
Dr. Muslin says: "By building porcelain VENLAY® restorations over each individual tooth and my using the specialized imaging method the bite directs the jaw to the best jaw position. Instantly, the patient has a bigger chin and better facial profile and the overbite is corrected. The new position increased the size of the appearance of her chin and improved her facial profile. She had headaches and jaw clicking because her jaw was in the wrong position most of her life. The headaches and clicking jaws have been completely gone for over 3 years".
Video: Small Chins and Facial Profiles - Profile and Jawline Improved, Small Chin is larger, Headaches Gone
This video was taken 3 years after her small chin and facial profile were treated. In just 30 seconds she tell the entire story. Jaw Surgery Alternative to overbite correction can now improve your facial profile in just a couple of weeks without grinding down the teeth. Patients with overbites and small looking chins actually have a normal sized lower jaw that only looks small because the jaw position caused the chin to look small.

Most patients have been told that they need jaw surgery or braces or both only because that is the only solution that most dentists understand.
Do Small Chins Require Surgery and Braces?
The Answer Is NO! Today it can be done non-invasively with Dr. Muslin's method that improves the health of the patient by relieving jaw tension, neck stress, headaches and clicking and popping jaws most of the time. The patient will also experience facial profile correction, larger looking chins and younger faces because this method improves the patient's health while most cosmetic dentistry will damage the patient's health by grinding down teeth just for a better smile.
Small Chin and Overbite Corrected - No More Headaches, No TMJ Pain, No Jaw Popping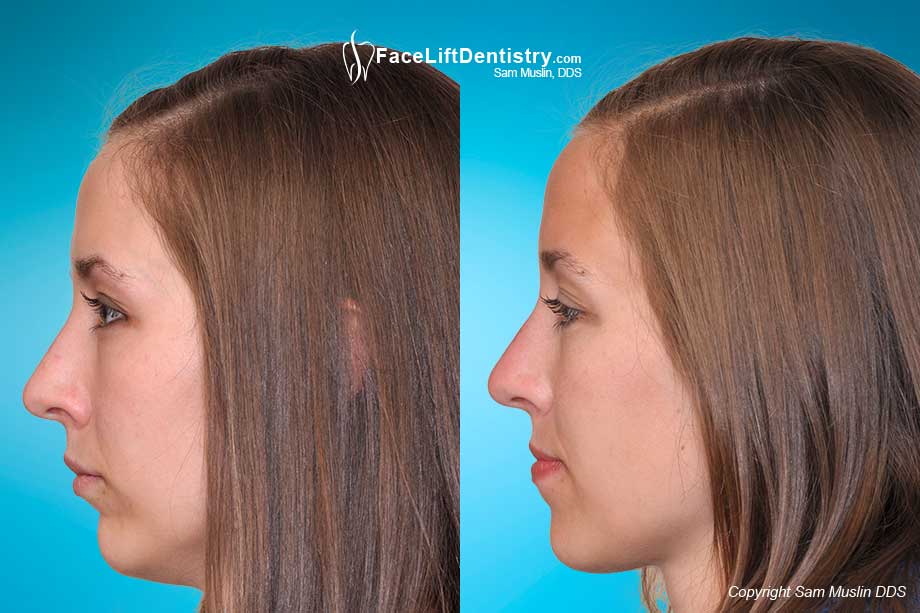 Dr. Muslin's method is the ability to change the shape of your face, permanently achieve facial support and improve your health in one procedure that takes only about 2 weeks to make the porcelain. It is quick, safe and predictable as you will be able to see the results of the treatment right in the doctor's office before the porcelain is bonded.
Headaches, Jaw Pain, Deep Overbites
Deep overbites create short round faces while overbite correction creates a better-proportioned face. The chin position is improved, the face is better supported and she looks years younger. She could have gone to the typical cosmetic dentist and gotten porcelain veneers but the shape of her face would look exactly the same. She would still have a small chin, headaches and jaw popping. Her smile would improve but the key to looking younger is with bite correction to help you feel younger too.
Small Chin and Correcting the Overbite
Orthognathic Surgery and Surgical Face Lifts
When a patient gets jaw surgery for overbite correction, the jaw is cut at an angle and the front part of the jaw is slid forward. This has risks and can relapse. With Dr. Muslin's Face Lift Dentistry® bite correction method, the jaw stays intact and only the position of the jaw is moved. Overbites cause premature aging and contribute to stress and muscle tension. This patient's jaw position was quickly and painlessly improved without grinding down healthy teeth and without surgery or braces using his Face lift Dentistry® method and VENLAY® Restorations.
Dental Cosmetic Surgery
When a dentist grinds down your healthy teeth for porcelain veneers or porcelain crowns for cosmetic reasons, it can be referred to as dental cosmetic surgery. Grinding down teeth is considered a surgical procedure. Patients can also have other soft tissue surgeries for cosmetic purposes. Some dentists also offer facial fillers that are injected under your skin for cosmetic purposes. The problem is that these procedures are basically harmful to your health and can really compromise the patients faces long term.
We have found that patients can have permanent facial support with VENLAY® Restorations that do not require grinding down your teeth. Patients can also look years younger naturally without dental cosmetic surgery if they get the Face Lift Dentistry® Method. The biggest benefit to this method is that it improves your health and helps patients look and feel younger which cannot be duplicated with dental cosmetic surgery. Having treatment that is non-surgical and non-invasive has health benefits and huge cosmetic benefits that maximize your natural facial characteristics by helping you be the person you were meant to be.
TMJ Pain, Neck Pain, Chiropractors for 20 years - now solved with Overbite Correction

TMJ pain, headaches and neck pain can wear a person down. Their faces experience premature aging due to a bad overbite. She saw chiropractors and took pain medication every day for over twenty years. Watch her video as she tells her story and her solution.
Video: Larger Chin, Total Pain Relief, Bite Correction
We look older when we have overbites and under bites because we are physically compromised with the wrong jaw position. This patient experienced the negative affects of having the wrong jaw position and bite that caused over 20 years of head and neck pain. She took pain pills that upset her stomach and went to chiropractors every week only to get worse with time. She is now totally pain free.

Overbite Correction – Improve Facial Profiles, No Jaw Surgery
Face Lift Dentistry®
Every patient has a potential to have the best facial profile and the best proportioning for their face that is only possible with Face Lift Dentistry ®. This remarkable method requires no jaw surgery or facial surgery but yet can remove years from the aging face. The greatest part of this treatment is that it is good for your health and has been completed on patients from ages 17 to 93.
The Dental Face Lift® - Don't Get Fooled!
Many prominent cosmetic dentists claim that cosmetic dentistry can create a dental face-lift by only working on the top ten teeth. You don't get a face-lift by only working on the top ten teeth. These patients only got cosmetic dentistry instead, of a dental face-lift®. Many of these cosmetic dentists ground down their healthy teeth for porcelain veneers with no bite correction and they don't look younger, the bite is the same and so is their face and jawline. They still have overbites and under bites and bad bites and the same face as when they first walked into their cosmetic dental office. Don't get fooled by a cosmetic dentist, know the difference between an authentic Dental Face Lift® and cosmetic dentistry.
Face Lift Dentistry® Corrects Bites
To accomplish larger chin or a smaller looking chin, a bite correction, better facial profiles, incredible smiles, wider smiles and younger faces, VENLAY® restorations are the best solution. The bite is actually corrected, the chin looks larger for overbite correction and the chin looks smaller when Dr. Muslin does under bite correction. This treatment is a mechanical solution to a mechanical problem that no cosmetic dentist can accomplish with only porcelain veneers and 10 teeth. All of the individual teeth get a new VENLAY® restorations and the patients brush, eat, drink and floss normally.
Face Lift Dentistry® helps patients look their best from every angle and with every expression rather than just getting a better smile with the same face.
What Is Face Lift Dentistry®?
Most of us don't have the best bite for our faces. The people that have the best bite for their faces have less jaw stress, less neck tension, look younger and are much healthier. The people that have the best bite for their faces will also look years younger than almost everyone else their age. Face Lift Dentistry® and the Dental Face Lift® are trademarked procedures by Dr. Muslin that were designed for maximum health and maximum cosmetic benefit.
Face Lift Dentistry® is the dentistry of the future because it transforms the health and the appearance of the patient. Face Lift Dentistry® is a bite correction method that does not grind down your healthy teeth, does not utilize jaw surgery, no face-lift surgery, and no fillers. It is the safest non-invasive bite correction method that transforms faces without the risks.
Face Lift Dentistry ® can quickly correct under bites (large chins and large jawlines), it corrects overbites (small chins, short faces and premature aging), bad bites (TMJ problems, clenching teeth, clicking and popping jaws) using a specific mechanical method.
Improve Facial Proportions – the Fountain of Youth for Dentistry
The Dental Facelift® can improve the patient's face and facial proportion by optimizing the chin position with remarkable ease. The best part of the treatment is that none of the patient's teeth need to be ground down. The teeth get a new high tech layer of porcelain that corrects the bite, improves the jaw position and permanently supports the face. The advanced scientific method can take as little as one week with the patient literally transformed into a new healthier more vibrant person.
Goal of Face Lift Dentistry®
This method makes treatment possible for many patients with TMJ problems, overbites, bad bites and under bites that help them physically improve their health and mentally improve their confidence in just a matter of a couple of weeks with this bite correction method. Patients that have overbites look like they have a small chin when in reality they have a chin that is normal in size. When the jaw is allowed to close to the best position, rather than the position the patient's teeth force it to go, the stress level, tension, chin size and facial profile improve instantly.
Facelift Dentistry® Examples
Under Bite Correction and Face Lift Dentistry®
Patients that have under bites look like they have a large chin when in reality they have a chin that is smaller than it appears. The treatment recommended is jaw surgery and years of braces and they may still have jaw problems. Today, they can be treated safely, quickly and predictably.
Bite Correction and the Dental Face Lift®
Patients that have TMJ problems and bad bites suffer from premature aging with short lower faces and all of these patients are physically compromised as there is a lack of functional harmony with the bite and the jaw joints. Many patients have had treatment that only treats their symptoms so after years of care they are still not comfortable. Finally, there is a mechanical solution to their mechanical problem that has very low risk, no surgery, no braces and no grinding down healthy teeth.
In all of these cases, these patients will have teeth that are totally separate teeth and they can eat normally, feel younger and have straight white teeth.
Teeth Sensitivity and Gum Recession Reduced by VENLAY® Restorations
Patients have experienced that their teeth are much less sensitive after getting VENLAY® restorations. They say they can snow ski and breath in the cold air; they can eat ice cream and drink cold drinks. Many patients have benefitted with the new porcelain layer over their healthy teeth that lasts, that has made their teeth less sensitive, corrected their bite, gave them better chins and it also had cosmetic benefits that were beyond cosmetic dentistry. They have a younger shape to their faces.
With a Bad Bite you are Physically Compromised
The Goal of Face Lift Dentistry® is to move the chin to a healthy position and at the same time correct the bite and relieve the physically compromised TMJ or jaw joints. When this method improves the jaw position by correcting the bite the chin will look more normal in size. Overbite correction and under bite correction with this method relieves the TMJ problems and reverses the effects of aging non-invasively, non-surgically and very quickly. The speed of this treatment is the secret to its success. Treatment that just takes a couple of weeks saves the patient a great deal of time, energy, pain and trauma.
Years of unnecessary painful and traumatic dental treatment can wear you out. All of the teeth are separate and the patients eat and drink normally. With the improved bite and jawline they are no longer physically compromised.
The Dental Face Lift® Cannot be Achieved by Only Treating 10 Upper Teeth!
You cannot achieve a dental face-lift with a cosmetic dentist that claims giving you 8 porcelain veneers will give you a face-lift. To achieve a face-lift with dentistry, the bite needs to be corrected by restoring all of the upper teeth or all of the lower teeth or all 28 teeth. You cannot correct the bite or get a face-lift by only treating some of the upper teeth. You chin will be the same, that shape of your face is the same and the bite is at the same level. Don't be fooled when you get porcelain veneers and cosmetic dentistry because it is only about your smile. Imaginary dental face lifts® by cosmetic dentists don't help you look younger for very long.
Face Lift Dentistry® relieves Headaches and TMJ Problems for most Patients
The dental face-lift® uses imaging to see the actual position of the jaw in the jaw joint. Dr. Muslin can see the position of your jaw when you close your teeth together and he can see the position of your jaw when you relax and to test your new bite. He can see what he is doing, test it and deliver it predictably.
Dr. Muslin can see what he is doing with his imaging method before his treatment begins instead of just guessing.
Video: Reverse Smiles, Short Faces, Premature Aging
Dr. Sam Muslin and his patient explain her problems and the Face Lift Dentistry® solution. She saw seven dentists before flying to California and it saved her a great deal of time, pain and aggravation.

Braces Cannot Improve the Shape, Length and Color of Your Teeth
The patient in this video flew across several states because seven of the top dentists in her area wanted to put braces on for a third time, or do jaw surgery or inject wrinkle-removing fillers. She suffered with headaches and was frustrated. When patients have headaches every day and have had braces twice, along with looking older than their age, they seek out multiple dentists and doctors for solutions. Patients that have deep overbites have their jaw and bite in the wrong position for their TMJ to function normally, which will result in TMJ pain.
The Dental Facelift® - Better Chin and Jawline, Younger Face, Healthy Bite

This patient had her overbite corrected without braces or surgery in only two weeks and the improvement in the shape of her face and her facial profile was done by building a bite that three dimensionally repositioned her lower jaw using this method. Dr. Muslin could see the new position and test the new position before he worked on her teeth. Her headaches and her jaw clicking and popping were completely cured along with having a younger looking face because this method reverses the effects of the aging process.
Why do some people who are chronologically the same age look younger than others?
People look younger than other people their age because they already have a bite and jaw position that is ideal for their facial structure. When your bite and jaw position are out of alignment, premature aging is usually the result.


What causes TMJ problems, facial tension, headaches and neck pain?
When the teeth fit together, your TMJ or jaw joints are moved out of position causing TMJ problems, facial tension and headaches. Bad bites physically compromise the patient. Dr. Muslin offers a mechanical solution to a mechanical problem. When you bite together after his treatment, the jaw joints are in the best possible position that is tested in advance.


Why do you snore?
Snoring happens when there is not enough room for your tongue in your mouth so there is only one place for it to go and that is towards the back of your throat, which reduces the size of the airway. You can fix your bite, wear a snoring appliance or do both.


Why are your porcelain veneers not helping you look younger?
Porcelain veneers cannot help you look younger because they don't correct bites, improve your facial profile or improve the shape of your face. Porcelain veneers can lengthen your upper teeth but when the teeth are longer the overbite gets deeper which is why porcelain veneers break and fall off far more than VENLAY® restorations. If you have TMJ problems, porcelain veneers again can't improve the bite level. If you have a small chin, porcelain veneers can't improve it position and if you have an under bite, veneers can't improve your facial profile or correct the under bite.


Why are your lips getting thinner and squished?
When he bite and the teeth are wear down the face will shorten. The lips are now squeezing together. Short round faces are the typical shape of older people because their teeth and bite are also shorter due to wear. The lips loose facial support and look thinner plus, as we age are lips do get thinner naturally. When the bite is corrected, the lower jaw moves forward and downward for those patients with overbites and then the face looks younger with less wrinkles because it is longer and supported by the teeth and jaws. The lips now have much improved support from the teeth and look fuller and younger.


Why does your face seem to be getting rounder or sunken in?
Facial collapse is the direct result from bite collapse. Many patients never had the right bite for their faces so they will age prematurely as their face gets rounder and sunken in much faster. The process is reversed when the patient gets the best bite and best jaw position for their facial anatomy. Faces need the support of the teeth and when the teeth and most importantly the bite are developed to the right angles and height, the face looks years younger.


I had a Full Mouth Reconstruction and I don't look any younger.
This happens when the dentist does not understand Face Lift Dentistry®. Just about any dentist can complete a mouth reconstruction but they only can focus on the teeth because that is all they understand. They don't have the imaging to see what they are doing with the jaw so most of the time the jaw is in the same place before the bite was reconstructed. Patients now have white teeth and hopefully a nice smile but still have the aging face and facial collapse.


My teeth are temperature Sensitive after Porcelain Veneers?
This is because your teeth were ground down exposing the dentin, which makes teeth temperature sensitive after getting porcelain veneers. Also, teeth are temperature sensitive after porcelain crowns and porcelain veneers and this is generally due to a bonding problem by the dentist.


My porcelain veneers keep breaking and keep falling off.
Veneers that break are mostly due to a bad bite or poor bonding. Veneers don't correct bites and in face if the teeth were lengthened they can make the bite deeper. The clenching and grinding by the patient is stronger than the way the veneers were designed and bonded by the dentist.


How can VENLAY® restoration make my teeth less sensitive?
By adding a new protective layer over the worn down tooth enamel, the inside of the tooth is protected and insulated much better than ever before. The sensitive tooth calms down and the patient achieves comfort like never before.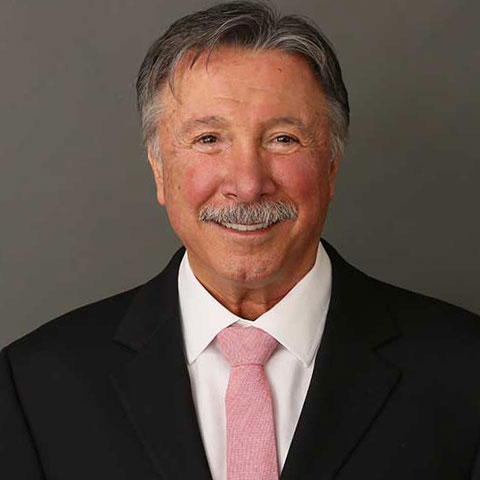 Facelift Dentistry® Address All These Questions
The answers to all of these questions can be found with one of the most innovative anti-aging dentistry health care treatments available called Face Lift Dentistry ®. The treatment is quick and easy and it does not require surgery, fillers or grinding down any of your healthy teeth! The Face Lift Dentistry ® treatment idealizes your bite and jaw position for unprecedented cosmetic and health benefits that reverse years of unnecessary aging.
No other treatment is available today that can non-invasively support your face, help you look years younger, improve the health of your bite and your smile.
The treatment idealizes every facial characteristic to naturally improve your smile, profile, facial shape, jawline, and overall health. Thin lips can appear fuller without artificial fillers and implants because the teeth support the lips.

Gum Recession and Dark Triangles Between the Teeth
Receding gums and dark triangles need to have a better shape to the tooth. The best treatment has been, no grinding on the tooth and a perfect bond at the gum line for the gums to fit back up between the teeth. This gum loss treatment that is done without any gum grafting or stitches for easier healing and more natural results. Many people get the gums to fit back to the tooth structure after a VENLAY® is bonded because it protects the tooth, stops food build up at the gum line and because none of the tooth was ground down, the fit of the porcelain to the tooth is perfect and the tooth has the best emergence profile at the gums.
Fuller Lips and Less Tooth Sensitivity
The teeth and bite position begin to support the cheeks for a younger and healthier appearance. When the position of the jaw and the length of the teeth are optimized to the patient's face, the lips look fuller and the teeth are less sensitive.
Is there Jaw Surgery with Face Lift Dentistry®?
No, because the jaw will naturally move to the best jaw position when the bite allows the jaw to move. Dr. Muslin can see what he is doing using his imaging system so he knows where the jaw should be positioned, he tests it in advance so the patient feels the improvement and then the treatment is completed without jaw surgery. The jaw is in better position to balance the rest of your face so that your look is improved from every angle. This is the ultimate level of anti-aging Face Lift Dentistry®.
Short Round Faces and Small Looking Chins
Masculine Chiseled Chin instead of a Small Chin
In this case, the shape of the patient's face improved and his chin looks more masculine. Look at the shape of his face and look at his chin in the before photo. He has a short round face with a small looking chin that was corrected in only two weeks by correcting his overbite. Only his teeth were treated to get a remarkable improvement to his face.
Don't Let a Cosmetic Dentist Grind Down your Teeth
The new age of non-invasive and nonsurgical under bite and overbite correction dentistry can transform the lives of patients with surprising speed and without grinding down healthy teeth. This type of dentistry has been successful with patients from 19 to 93 years of age and it lasts as long or longer than veneers or crowns in most cases.
Bite Correction instead of Cosmetic Camouflage
Using the only, non-surgical, bite correction restoration, called VENLAY® Restorations, none of the healthy teeth need to be ground down. The treatment is remarkably quick and painless because your natural teeth stay intact. When VENLAY® Restorations are used to correct bites, the treatment can be completed in just a week or two because it takes one to three weeks to make the porcelain.
It Takes One to Three Weeks to Make Your Porcelain Restorations
These patients can now experience a life, full of possibilities because their bite is healthy and it was built to complement their faces. Unfortunately, your overbite, under bite and bad bite cannot be corrected using just porcelain veneers. Porcelain veneers are nothing more than a cosmetic camouflage for your bite problem because they do not fix the actual health issues that are present.
Each Tooth is Separate and VENLAY® Restorations are Strong
The way to painlessly and comfortably reverse your bite problems so that you can look and feel your best is by choosing bite correction with Dr. Sam Muslin's exclusive VENLAY® Restorations for non-surgical treatment using the Face Lift Dentistry® method. Each tooth is separate and you will floss, brush, eat and talk normally.
Does it Take a Long Time to Get Used to the New Bite?
No, most patients are instantly more comfortable because their jaw is in a much improved position compared to the original position. We test first so the patient knows this will work for them.
How Is Non-Surgical Face Lift Dentistry ® Actually Done?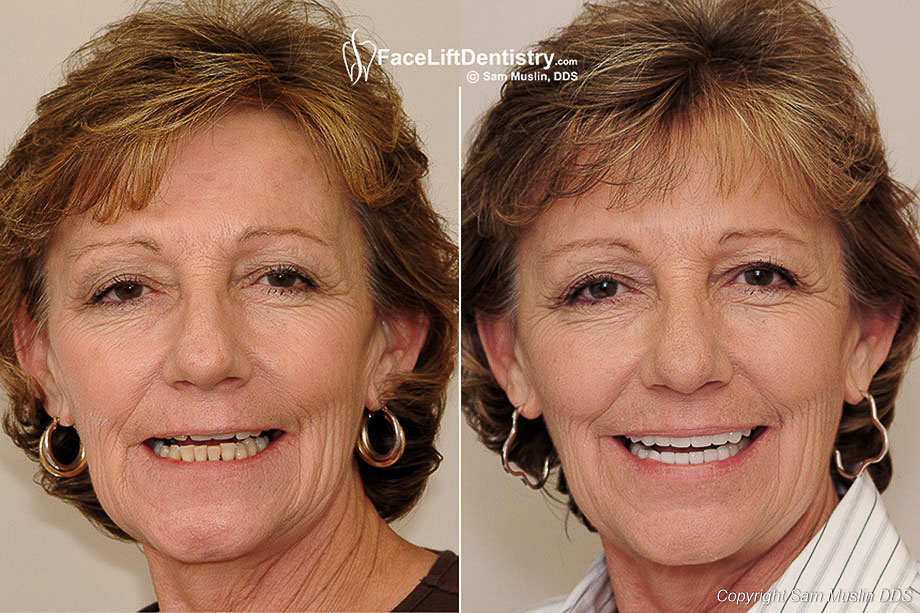 Her bite was not balanced to her face so she only shows lower teeth when she talks and when she smiles. Her face was also aging prematurely because her bite was not in harmony with her face. With a healthy bite, she looks younger and she feels younger.
My Upper Teeth Look Like they are Missing.
All of the old fillings, crowns and decay are removed and the teeth are cleaned. Any gum recessions or areas of gum loss are treated and reversed so that your oral health is optimized. With the specialized and customized noninvasive VENLAY® Restorations for bite correction, the teeth and jaw are functioning with your bite to function as an organized system. Your face is analyzed for it's unique characteristics and the bite is built to improve the face from every angle when the teeth and bite are being designed.
Neuromuscular Dentistry – Technology to See What is Being Done
This system is three dimensionally designed by Dr. Muslin to support your soft tissue, enhance your profile and optimize your facial shape. His imaging system is a unique form of neuromuscular dentistry because he can see the jaw position that you have and see you move to the jaw position that you should have.
Once the porcelain is bonded into place the results are evident and long term. VENLAY® restorations last as long or longer than any other non-invasive dental restorations. Dr. Muslin's version of neuromuscular dentistry is designed to see what he is doing throughout the treatment be being able to see the actual jaw position inside the patients head is a big advantage.
He takes some of the guesswork out of neuromuscular dentistry, full mouth reconstructions and bite correction type of care using his ultra low radiation imaging system, as CAT scans are too much radiation.
TMJ & Neuromuscular Dentistry using the Face Lift Dentistry® Method
Dr. Muslin gets patients that have spent years being treated by a TMJ dentist or a neuromuscular dentist along with chiropractors and other health professionals with little success. They have spent a great deal of many treating the symptoms rather than the cause of their problem.
TMJ Problems – Finding the Causes
He believes that seeing the lack of harmony with the bite and jaw joints is the cause of most TMJ problems. Watching a patient bite down with an overbite, he can see that their jaw is pushed back towards the patient's ears from the overbite. Ear pain, jaw pain, headaches and aging prematurely are the result of the lack of mechanical harmony between the TMJ and the bite. Once the dentist can see what he or she is doing, the patient can achieve TMJ health using his neuromuscular imaging dentistry method.
Neuromuscular Face Lift Dentistry®
With biologically compatible dental materials and all infection removed, the health of the patient is improved. The porcelain can add color and luster to your teeth while still looking completely natural. The Face Lift Dentistry® method is really a visual neuromuscular dentistry method that is also non-invasive using Dr. Muslin trademarked VENLAY® restorations with his "patent pending" bonding method.
Cosmetic Dentistry and Porcelain Veneers Failed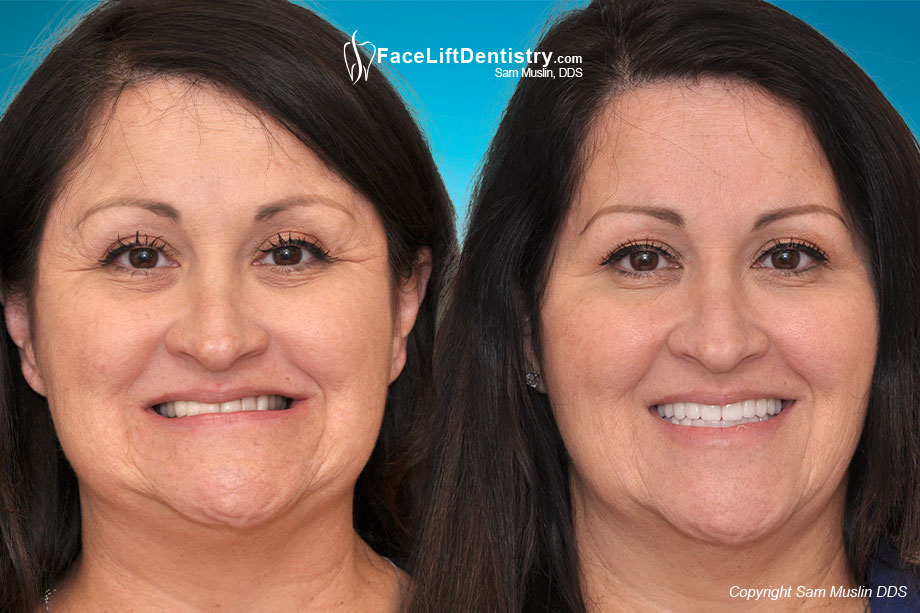 This patient already had cosmetic dentistry and porcelain veneers in the photo on the left and it did not help her. Her face is still short and she suffers from premature aging. She has been in the dental field for over 30 years and no dentist could help her because her jaw "moved this way and then that way". Face Lift Dentistry® results are in the photo on the right.
Porcelain Veneers Can't Improve The Shape Of Your Face
Since conventional cosmetic treatments focus mainly on enhancing the appearance of a person's smile the results are not realized unless you are smiling. The Dental Facelift ® delivers results for your face and profile that benefit the patient all of the time. The anti-aging benefits such as wrinkle reduction, fuller lips, a younger facial shape, and a more balanced profile are obvious whether you are smiling or if you are just talking to someone.
Video: "Porcelain Veneers Did Not Help My Face or My Smile Like Face Lift Dentistry® Did"
This patient already has smile dentistry, anti-aging dentistry and porcelain veneers in her mouth and yet is frustrated. Her face was aging, her bite was uncomfortable and she was losing facial support. Even after working in the dental field for over 30 years she was unhappy with cosmetic dentistry.

Contact Dr. Sam Muslin
If you need a Cosmetic Dentist, Implant Dentist, Porcelain Veneers or a Bite Correction dentist, or if you are interested in knowing how dental care can transform your face, please contact Dr. Sam Muslin in Santa Monica for an appointment. Dr. Muslin treats patients from all over the world at his Santa Monica practice and is easily accessible to patients residing in the Santa Monica, Beverly Hills and Los Angeles area. If you are an out of state or international patient, Dr. Muslin will strive to complete your treatment in the shortest time possible.
All photos on this website are untouched and unaltered.
All of these Patients were treated by Dr. Sam Muslin in Santa Monica, CA.