Cosmetic Dentistry and Prepless Porcelain Veneers
Beyond Veneers and Cosmetic Dentistry - No Drilling, No Surgery 
Santa Monica • Beverly Hills • Los Angeles
Cosmetic Dentistry may involve all phases of dentistry including bleaching teeth, whitening teeth, dental implants, veneers, porcelain crowns, porcelain inlays or white fillings, cosmetic dental bonding, tooth bonding and can then branch out into the tempro-mandibular joint or TMJ and Neuromuscular dentistry treatment. However, veneers and the Hollywood Smile was her primary goal, as she wanted a wider smile and straight white teeth. But because she got prepless veneers, the treatment took only a couple of weeks and none of her healthy tooth structure needed to be ground down.
Wider Smiles and Super Strong Porcelain Veneers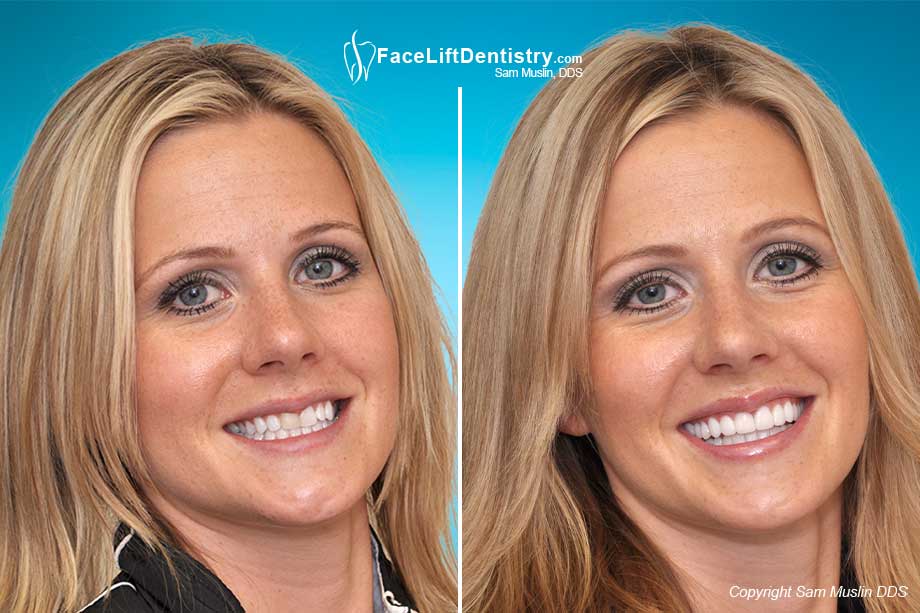 Non-Invasive Veneers give wider smiles and stronger bonds that make the difference in durability if the "patent pending" bonding method by Dr. Muslin is utilized. All of the porcelain veneers on this page are non-invasive, which required no tooth grinding.
No prep veneers break less, are much stronger, do not fall off because they are bonded with one of the strongest methods available today.
Veneers with Surface Texture Look Natural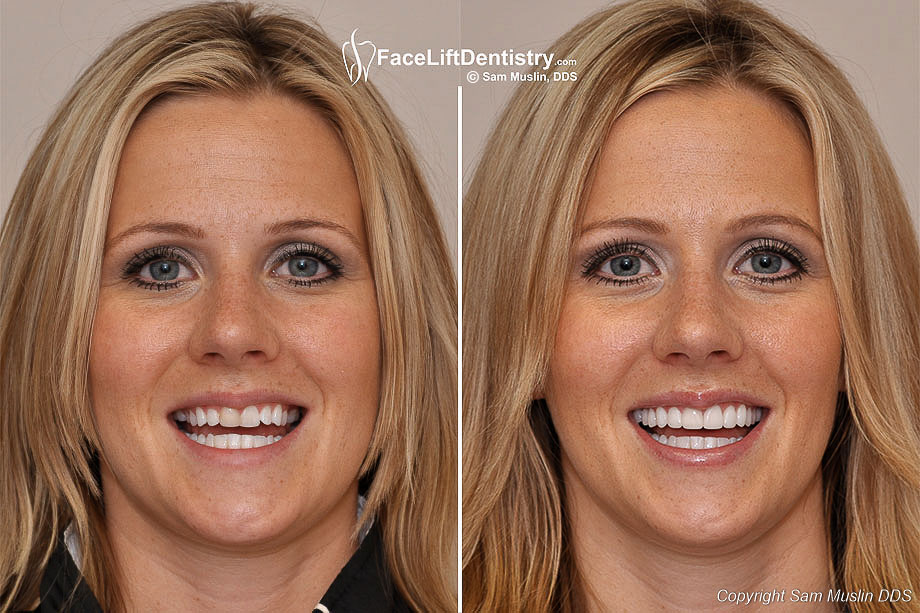 Cosmetic veneers done by Dr. Muslin are stronger and can make the smiles wider because none of this patient's healthy tooth structure was ground away by the cosmetic dentist's drill. No shots, no temporary veneers and no pain.
Natural looking veneers require surface texture that mimics the natural tooth structure. The close up view below shows how the new high tech porcelain matches natural tooth structure of the lower teeth.
Before and After Close –Up View of Porcelain Veneers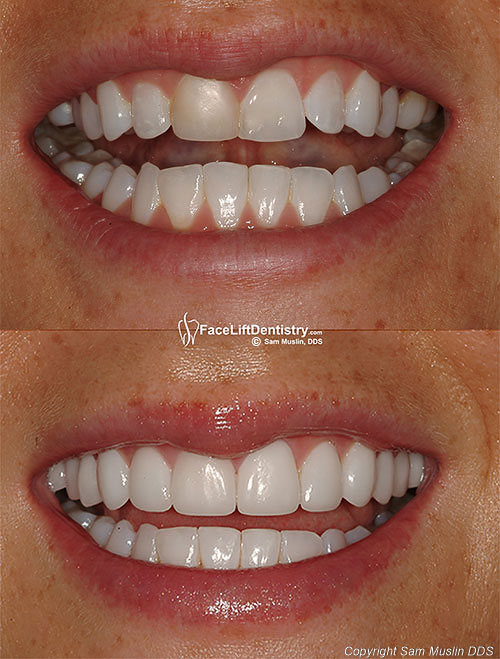 This patient's upper teeth were treated with veneers and all of her lower teeth are completely natural. Dr. Muslin was able to get surface texture, shapes, angles and translucency that matched the lower teeth, even with flash photography.
Teeth Whitening, Porcelain Veneers and Porcelain Crowns
This patient flew in from another country in order to be treated by Dr. Sam Muslin. He did not want porcelain crowns, which require tooth grinding that his cosmetic dentists wanted to do in his country. He did not want the veneers by the Hollywood Star dentists in Beverly Hills that wanted to grind down his teeth for veneers either. All of his tooth structure was saved because his work was done in Santa Monica.
Gaps Between Teeth Closed with Prep Less Veneers and "Instant Braces"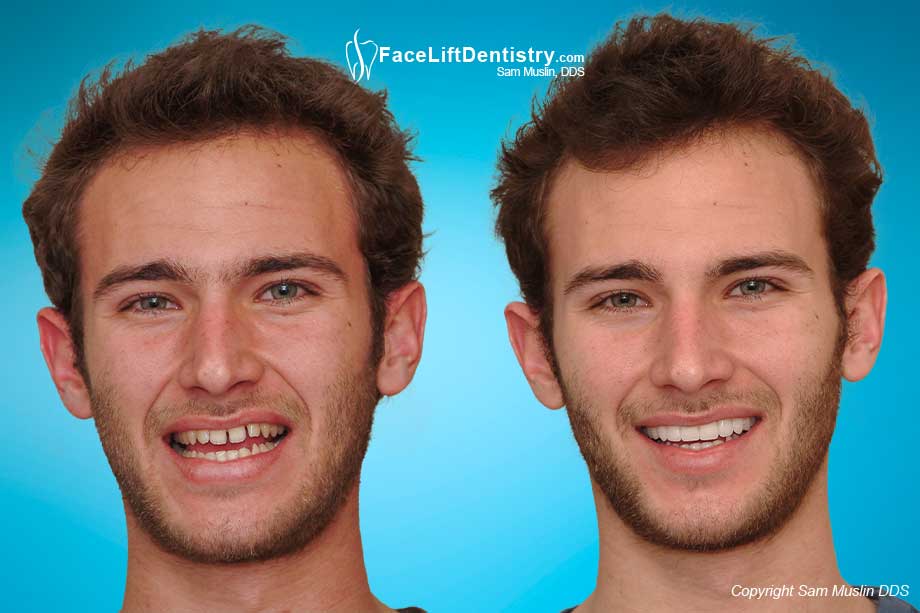 Gaps Between His Teeth – Instant Braces is a great way to get white teeth, a wider smile, close the gaps between his teeth and have a masculine smile. This is a classic example of very advanced dentistry and no prep porcelain veneers. The teeth have square edging for a more masculine appearance. They can be softened or rounded more without replacing them if the patient would like to change the cosmetic effect in the future.
Sure our teeth may be yellow and chipped but we don't want them ground down. The popular word for no grinding veneers is Lumineers by Cerinate. In this case, we did not use Lumineers because Dr. Muslin felt that feldspathic porcelain would be superior.
Teeth Proportions and Translucency with Non-Invasive Veneers

Closing the gaps between teeth requires getting the proportions of the teeth balanced without grinding them down. Porcelain veneers done by most cosmetic dentists would require grinding down the healthy tooth structure when it is clearly unnecessary and damaging to the patient's health.
Advanced Anti-Aging Dentistry Instantly and Painless Bite Correction
This patient was able to get his crooked teeth straightened and his bite corrected by having prep less VENLAY restorations bonded to all 28 of his natural teeth. He now has straight white teeth without tooth grinding and without any pain. He was able to see the results easily and quickly along with a non-invasive full mouth reconstruction before bonding.
See the Results Before Bonding
This patient got deep overbite correction, straight white teeth, anti-aging dentistry using the Face Lift Dentistry® method by bonding prep less porcelain to the biting surfaces of his teeth. He walked around the office looking at his new porcelain placed on his teeth without bonding them in place. The patient could see what they are getting before anything permanent was completed.
Reversing the Aging Process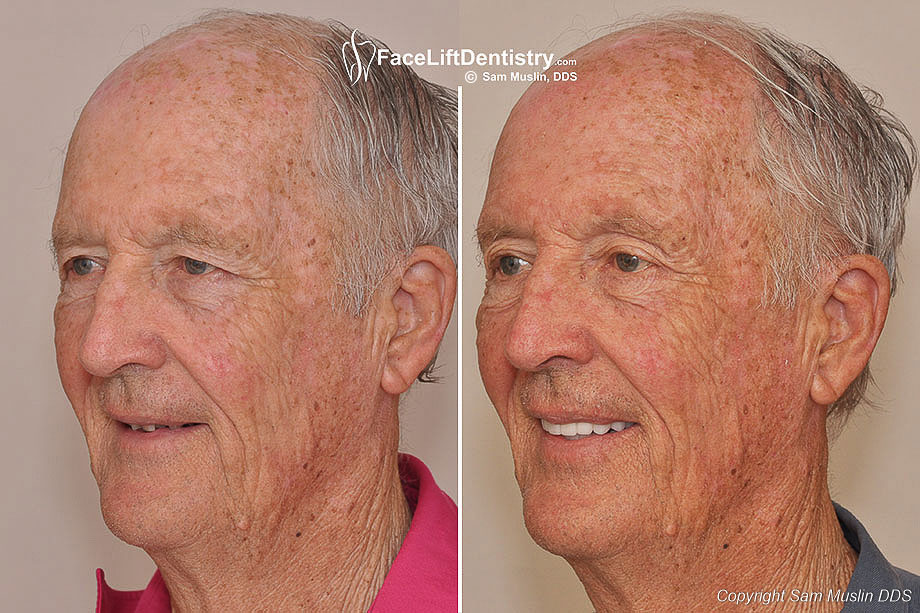 You could not see his upper teeth because he was an expert in hiding them. He always smiled with his lips together. He knew they were crooked and spent a lifetime taking pictures with his lips squeezed together.
VENLAY® restorations have huge potential because they can do things that porcelain veneers cannot accomplish. Full mouth reconstruction and bite correction cannot be accomplished with veneers. This patient has the best possible smile and a healthier bite with VENLAY® Restorations.
Crooked Yellow Teeth are Straight White Teeth
In just a few weeks all 28 teeth were treated which corrected his deep overbite and gave him the Advanced Anti-Aging Dentistry result that helped him look and feel younger. The patient likes them white and chose the color.

This is the kind of treatment that separates the dentistry done in Dr. Muslin's office. His overbite was corrected along with the ultimate smile. You cannot do this with porcelain veneers because veneers cannot change the bite.
Overbite Correction can't be done with Veneers
No shots, no tooth drilling, no braces, no porcelain crowns, no temporary teeth, no pain and results were Instant. He wanted white teeth and now he has them however, they will mellow in intensity in just a few weeks.
Bad Veneers and Bad Dentistry
Veneers are easily replaced in just a week or two without harming the remaining tooth.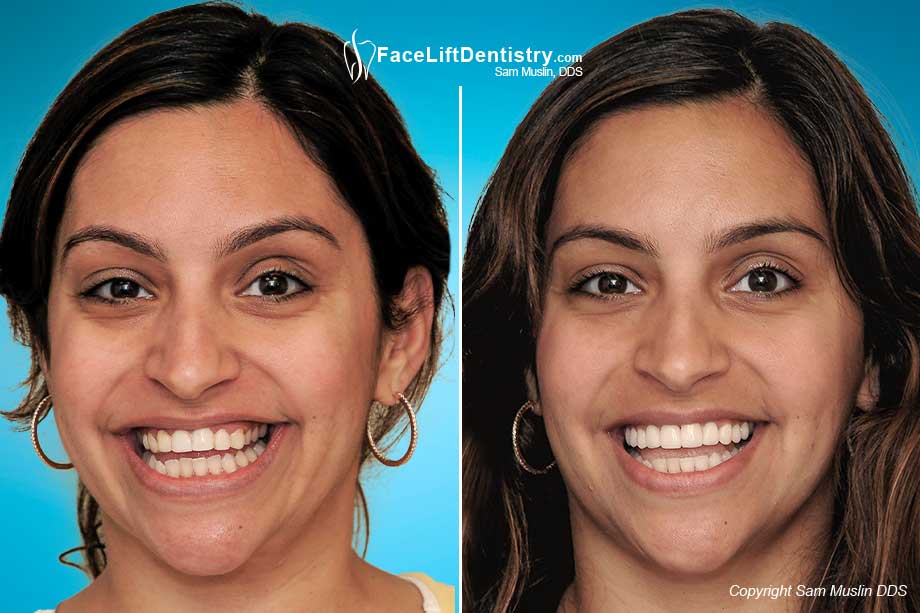 This is the kind of treatment that separates the cosmetic dentistry done in Dr. Muslin's office. His overbite was corrected along with the ultimate smile. You cannot do this with porcelain veneers because veneers cannot change the bite.
Bad Porcelain Veneers Replaced
Patient Testimonial

Call for your appointment and get the best possible aesthetic dentistry to enhance your individualized characteristics without harming your teeth.