Overbite Correction with the Face Lift Dentistry® Method
Beyond Veneers and Cosmetic Dentistry - No Drilling, No Surgery 
Santa Monica • Beverly Hills • Los Angeles
The aging face is compromised because of the patient's overbite. An overbite causes the chin to be moved back towards the patient's ears, which is an unnatural position. These patients have small looking chins when in reality the size of their chin is normal.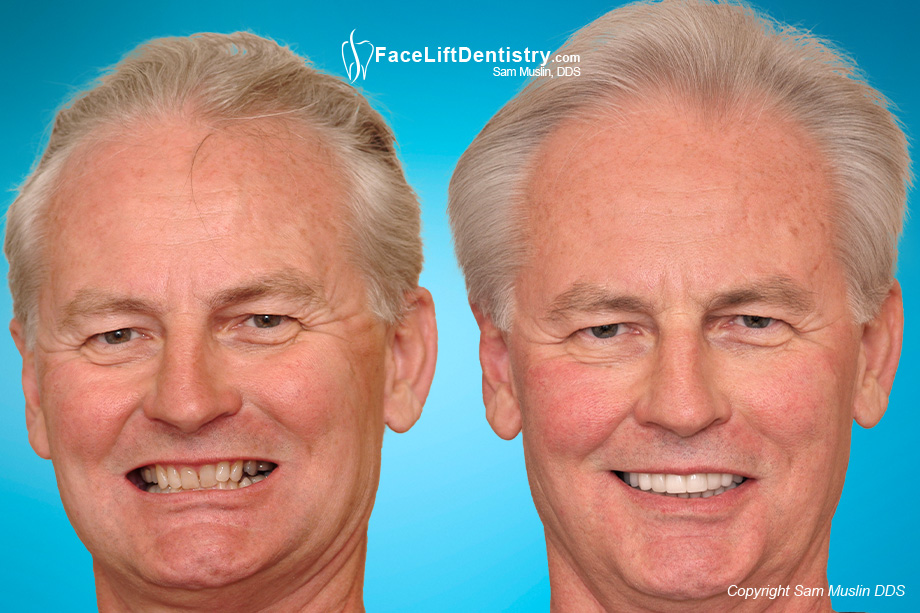 The left image was taken prior to treatment in 2007 and the right image was taken 4 ½ years later in 2011. He tells us that his TMJ is much more comfortable, loves the new shape to his face and has much less head and neck tension with the new jaw position and bite!
Deep Overbite and Facial Collapse
The advancements in deep overbite correction dentistry have made it possible for patients to have dramatic lifestyle change by only working on the teeth by building the "optimized" jaw position for the patient. This patient had a significant overbite, TMJ problems, facial collapse, and the lower jaw looked small when it was actually the perfect size. His upper teeth were angled backwards into his mouth so, which caused his facial profile to cause rapid aging.  Porcelain veneers cannot solve this problem.
Premature Aging
All of these technical problems left him with a bad bite and unhealthy jaw position and premature aging. He also wanted to correct his crooked and chipped teeth which had gotten worse over the years. Dr Muslin also pointed out that his smile needed to be fuller and wider so that it would support his face. All of these issues were solved with anti-aging Face Lift Dentistry® treatment. This treatment method is done without surgery, without downtime from work and without any pain medication for most people.
Video: Anti-Aging Dentistry Improved Health with the Dental Face Lift® Method
Reversing years of aging can be done by maximizing the patient's bite to their facial structure. This is a Non-Invasive method using VENLAY® restorations that do not require grinding down healthy tooth structure.

"Smile" Type Cosmetic Dentistry vs. Face Lift Dentistry®
This patient searched the Internet for a dentist who could take care of his complex dental needs and knew how to perform deep overbite correction; he was very impressed with the natural quality and exclusive nature of Dr. Muslin's work. He did not find other dentists discussing Face Lift Dentistry ® or a treatment that really strives to non-invasively improve the shape of the entire face and not just your smile.
He was tired of hiding his teeth and wanted to look more professional… he wanted dramatic results and white teeth with a natural appearance. After comparing the "before and after photos" of the other "smile" type cosmetic dentists, the choice was easy. He appreciated that the photos on Dr. Muslin's site were all real patients, were all untouched and unaltered and that his patients were so happy they allowed Dr. Muslin to show the images of their faces in order to help other patients.
The Miracle of High Tech Dentistry
The miracle is that teeth do not have to be ground down for porcelain crowns or porcelain veneers in most cases. His teeth were so crooked that small amounts of shaving were necessary just to get the teeth more even so the results would be even.
Non-Surgical Bite Correction "the New Age of Dentistry"

He had a deep overbite his entire life. Years of tooth wear and grinding made the deep overbite and facial collapse and the aging process worse. To a certain degree, he had always had a form of facial collapse because his jaw was in an unnatural position. In fact, because of his deep overbite, the length of his face was never fully developed and his chin was literally too close to his nose. The lower half of his face was out of proportion with the rest and his mouth, which appeared almost sunken-in. He completed Face Lift Dentistry® treatment in 2007 with an ideal bite, improved jaw position, and full smile. His jaw feels good, he is chewing well and he looks years younger. Frequently patients are concerned with how everything will look in the coming years.
The Dental Face Lift ®
Sam Muslin, D.D.S., M.A.G.D. is the developer of a revolutionary level of dental care: Face Lift Dentistry ®. Face Lift Dentistry ® treats the entire face while only working on the patient's teeth. It can change the entire face, jaw position, and profile by combining high tech dental techniques in one well-organized treatment plan. Dr. Muslin creates a totally customized plan for each patient in order to optimize the patient's results. Some patient's need extensive bite correction or better lip support, others need their jaw position improved for comfort or for a better profile. Some patients simply want to look younger and have a vibrant smile, regardless of the health issues or cosmetic goals Face Lift Dentistry ® can yield dramatic results.
Over 30 Years of Dental Experience
Dr. Sam Muslin has been practicing on the "cutting edge" of dentistry for over 30 years and has produced dramatic results throughout his entire dental career. Face Lift Dentistry ® requires creativity, artistic skills in facial dynamics, a profound understanding of the TMJ and neuromuscular dentistry. The doctor must be a master at every level and with every dental technology available today. The "before and after" photos on this website are all untouched and unaltered images of Dr. Muslin's actual patients and they reflect the quality of his work. The doctor is honored that his patients have granted their permission to show the results of their treatment for free and he considers this the ultimate testimonial.
The Finest Dental Health Care
For those patients interested Deep Overbite Correction treatment in the finest level of dental health care and want treatment that is organized, quick and skillfully administered, please call Sam Muslin, D.D.S., M.A.G.D., for a consultation. Dr. Muslin sincerely thanks this patient for permitting him to tell his story and show photos of his work.
This is a type of dentistry that is ideal for the patient's health by optimizing the head and neck regions with the Face Lift Dentistry® method. Why does a patient have the shape to their faces? It is because of their bite. Why does a patient have a small looking chin? It is because of their bite in most cases. Why do some people the same age, as their friends look so much younger? It is because they have the best bite position for their facial structure.
Call for your appointment.