Sam Muslin, DDS, MAGD
Dr. Sam Muslin was Awarded LA's Best Cosmetic Dentist for 2017
Santa Monica • Beverly Hills • Los Angeles
Face Lift Dentistry® and The Dental Face Lift® are Registered Trademarks of Sam Muslin DDS
Dr. Sam Muslin has a state of the art dental office in Santa Monica California and has been practice in that location for over 30 years. In 1996, he received the "Master of the Academy of General Dentistry" award. At that time less than 1,000 "Masters" had been honored out of the 150,000 practicing dentists during the last 34 years! He is a Doctor of Dental Surgery and his dental practice is centered on the delivery of Face Lift Dentistry® treatment which creates an improved bite, maximized oral health and a youthful rejuvenated and proportionally balanced look for the entire face.
Master of the Academy of General Dentistry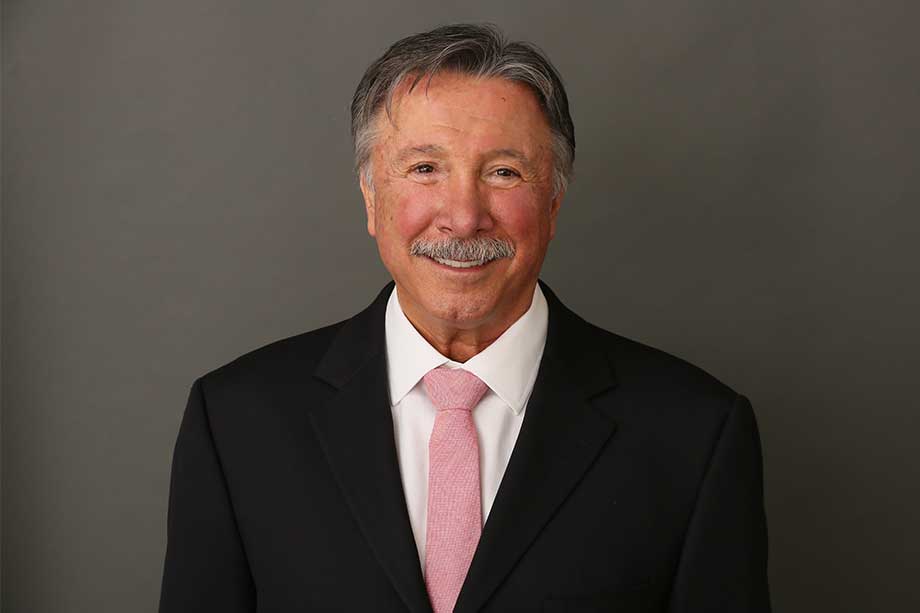 Dr. Sam Muslin, Santa Monica Dentist and developer of the Face Lift Dentistry®, VENLAY® Restoration and JawTrac® bite correction.
His high-tech facility, based in Santa Monica CA, is dedicated toward educating the public and the profession on the enormous impact that the teeth, jaw position and bite can have on the patient's face. His before and after photos are clearly matched in expression, size and position and all of the photos in his website are his actual dental patients. All of the photos are untouched and unaltered as he gives an honest representation of the results that are possible for the patients under his care. His central message is that the patient's face, facial profile, lips, cheeks, function and comfort are directly related to the position of the lower jaw, teeth size and angles and bite positioning of the TMJ.
He dedicates his work to creating the best possible three dimensional result by improving the natural position of the patient's jaw in relation to the patients bite and facial features and he has developed his methodology utilizing non-invasive dentistry for the best possible anti-aging effect without facial surgery. Dr. Sam Muslin's Face Lift Dentistry® treatment changes lives, which is most evident when treating patients with underbite problems that were previously offered jaw surgery as the only solution. Every patient in his website is an actual testimonial as all of them voluntarily gave him written permission to show their full faces and close up before and after photos. He sincerely thanks his patients and is deeply humbled by their willingness, without compensation, to share the results of their dental experience in his office.
Professional Dental Memberships
Dr. Muslin is a member of several professional associations.
Academy of Implant Dentistry
American Dental Association
California Dental Association
Western Dental Society
Academy of General Dentistry
LA's Best Cosmetic Dentist Award

The art of rejuvenating an entire face while improving your health is Dr. Muslin's specialty. His talents were recognized in 2017 when he once again received "LA's Best Award" for best cosmetic dentist. He received the highest score in the categories of "customer satisfaction", "knowledge", and "innovation". His Face Lift Dentistry ® which gives his patients full facial rejuvenation through just changes to the teeth is life changing to say the least! He reveals these transformations with untouched and unaltered before and after photos of his patients.
Live on KTLA News and The Doctors TV
Recently appearing on the television show "The Doctors" and also on the KTLA morning news, Dr. Muslin talked about his trademarked dental innovation Face Lift Dentistry ®. His patients are receiving far more than just gorgeous but natural looking teeth. They also experience less stress in their jaw optimal oral health, and more youthful appearance for their entire face.
Face Lift Dentistry® on The Doctors TV
A simple dental procedure can have the same effect as a facelift - Dr. Sam Muslin featured on The Doctors TV.

Santa Monica Dentist Sam Muslin on KTLA News
Transforming the face without Plastic Surgery. Santa Monica Dentist Sam Muslin interviewed by KTLA's Gail Anderson: "The most amazing doctor I have ever seen."

With patients flying in from all over the world and the United States, Dr. Sam Muslin should certainly be considdered as the best cosmetic dentist. View our patient gallery and watch their video testimonials, spanning several years, to support this fact.
Austrian: From Musulin to Muslin
You may be wondering about Dr. Muslin's name. "Muslin" is of Austrian decent and it was originally spelled "Musulin". When Dr. Muslin's father joined the United States Marine Corps the military misspelled his last name. He was unable to correct the spelling and as a result the family name went from "Musulin" to "Muslin".
Serving Patients from All Over the US, and the World
Dr. Muslin's patients come from Santa Monica, Venice, Culver City, Playa Del Rey, Marina Del Rey, Mar Vista, El Segundo, West Los Angeles, Los Angeles, Beverly Hills, West Hollywood, Century City, Westwood, LA, Bel-Air, Brentood, Hollywood Riviera, Hollywood, Pacific Palisades, Topanga, Malibu, Pasadena, Burbank, Highland Park, Los Feliz, Silver Lake, Holmby Hills, San Fernando Valley, Calabasas, Encino, Canoga Park, Van Nuys,Thousand Oaks, Simi Valley, Camarillo, Ventura, Oxnard, Santa Barbara, Orange County, San Diego, Chatsworth, and San Francisco. Some of his international patients have come from Singapore, London, Paris, and Toronto.