This patient has an anterior cross bite with one of her front teeth and a posterior crossbite with several teeth. Treatment is very important for this patient but she does not want to wear braces or have to wear Invisalign® retainers for a year or two. She told us that she knows she will not complete Invisalign® treatment because she won't wear a retainer every night for the rest of her life. She wants straight white teeth and a crossbite correction without braces as fast as possible.
She wanted what Dr. Sam Muslin calls his "Instant Braces" method of combining porcelain veneers with porcelain crowns for cross bite correction treatment. The reason that this treatment is a very good choice for this patient is because she has cavities and dental crowns that need to be treated anyways. All of the decay and old dental work was removed and new porcelain was bonded into place in one week. Yes you read that correctly, the entire treatment was completed in just one week!
How to Fix a Crossbite Without Braces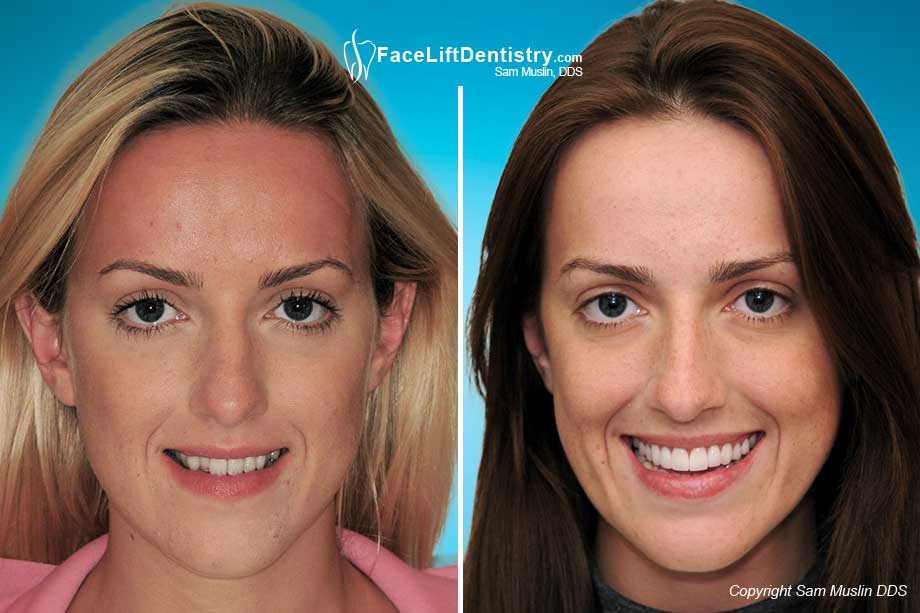 Crossbite Correction without Braces
She had crowded teeth and also crooked teeth that had a grey color to them. She was uncomfortable with her bite and she wanted adult crossbite treatment without orthodontics. Her timeline was also of great concern because she had only one week to have everything finished. This patient presents a real challenge for any dentist.
After moving to Los Angeles, she was referred to Dr. Sam Muslin of Santa Monica for a consultation because a few of her friends said that he was the best dentist. She had always been self-conscious about her smile and she wanted to enhance her appearance with straight, white teeth right away.
Typically she would have needed years of braces and a lifetime of wearing retainers. She did not want to go through the hassle of wearing braces and wanted whatever cosmetic dentistry that was available within a week timeline. Yes, one week! Dr. Muslin has his dental porcelain lab right here in Santa Monica that can complete porcelain veneers and porcelain crowns extremely quickly and of the highest quality.
Crossbite Correction - Before and After

Bite Correction with Porcelain Veneers and Crowns
Because Dr. Muslin's chief concern is the health of the patient, this patient needed a complex treatment plan to balance her bite while correcting her crossbite. Her bite had to be synchronized with the TMJ in order to reduce headaches, jaw pain, and also head and neck pain. Dr. Muslin utilizes his own version of neuromuscular dentistry for correcting a bad bite that is predictable and successful.
She had a bilateral cross-bite, an anterior crossbite, and crooked teeth so she was an ideal patient for neuromuscular bite reconstruction dentistry. She refused to wear braces or get orthodontic care; so bite reconstruction dentistry provided the best solution to achieve a healthy bite with a combination of porcelain veneers and porcelain crowns. Correcting her bite was a huge health benefit for long-term dental health and bite stability. Performing a mouth reconstruction, neuromuscular dentistry, and bite correction in just one week requires extensive attention to detail.
Teeth Crowding
Her teeth had a gray appearance and they were crowded together. When teeth are crooked or crowded they stain more easily and decay more easily. The goal of treatment is to correct the crowded teeth and make the crooked teeth look straight. The patient will floss, brush and eat normally because of the stabilization achieved with the cross bite correction method of Dr. Sam Muslin. After the lower teeth had a teeth bleaching treatment, (with fine products like Zoom II, BriteSmile, Crest Whitening Strips, or even Opalescence) her lower teeth were whitened considerably. She had her upper teeth restored with porcelain to brighten and straighten her smile in a way that complimented her lower natural teeth.
Big Compliments
"I now get compliments on my teeth after having crooked and crowded teeth for so many years. People tell me that my teeth look great and think they are totally natural. My son's children's dentist said that he could not tell even after looking closely. I paid more to get this treatment done in a week and cannot believe this was even possible, one week is the only way to go."
These after photos were taken 2 years from when the adult crossbite treatment was completed because the patient never returned for any adjustments. Dr. Muslin deeply appreciates this patient's permission to tell her story and show her photos. She told us that she hoped it helps other patients make a quality decision in choosing a dentist for their care.