Adult Bite Correction
---
Beyond Veneers and Cosmetic Dentistry - No Drilling, No Surgery 
Santa Monica • Beverly Hills • Los Angeles
What is Bite Correction?
Bite adjustments, Equilibractions, Porcelain Veneers, Porcelain Crowns and Orthodontics are dental procedures that are called "Bite Correction". Bite correction could be claimed by the cosmetic dentist, anti-aging dentist or bite specialist with almost any dental procedure they provide.
Dr. Sam Muslin trademarked the Face Lift Dentistry® bite correction method as "the non-surgical and non-invasive mechanical synchronization of the ideal jaw position, bite and TMJ function that idealizes the shape of the patient's face, profile and their physical comfort". When a patient can benefit from the Face Lift Dentistry® bite correction method, they are getting a defined standard of bite correction with a specific method using JawTrac™ and VENLAY® Restorations.
First let's talk about obvious dental problems. Patients with obvious symptoms have underbites and cross bites and large lower jaws. The opposite of underbites are overbites with over jets and short round faces with small looking lower jaws and chins.
Patients with misaligned teeth also have a malocclusion of the teeth because they lack ideal jaw alignment. Surgeons want to treat jaw correction with jaw surgery. Some patients get headaches and their dentist told them that they had a good bite because they had a class 1 occlusion and 1 millimeter of overbite. But the dentist did not understand that they needed bite correction because the jaw position created a functional disharmony with the TMJ.
Adult Bite Disorders
When patients get headaches, clicking and popping jaw joints, age prematurely and are grinding their teeth at night they have a bite disorder. A bite disorder relates to the position of the lower jaw in relation to the upper jaw and to both TMJ joints. Bite correction has been a highly invasive procedure called a full mouth reconstruction. However, there is a much safer and more predictable method that does not require grinding down healthy teeth or bite correction surgery.
The majority of the adult population (approximately 80%) have a misaligned bite and many of them are not even aware of the tension and stress it causes. Some people have back pain and don't equate it is coming from their muscle tension from their bad bite. Some dentists say it is from oral compression habits but the real cause is a compromised position of the lower jaw caused by a bad bite.
Bite correction can be accomplished with a high tech method that is safe, predictable and painless. It has been so effective and successful that even young patients with overbites, crossbites, TMJ pain and underbites are avoiding risky jaw surgery and getting their bite corrected with VENLAY® Restorations which idealize the jaw position, correct the bite to the TMJ and get a new and improved shape to their faces and facial profiles.
The Importance of Jaw, Bite and TMJ Harmony
When the patient's jaw position is idealized to the TMJ and upper teeth the health benefits improve the quality of their lives. The importance of the jaw position cannot be overstated because patients with the "optimized" jaw position look younger than most other people near their age. The importance of jaw, bite, and TMJ harmony reduces tension, stress, headaches, pain and premature aging.
Who Needs Bite Correction?
People that want to live their lives to the fullest get their jaw position idealized. These patients want to feel better every day and reducing tension and stress should be one of the highest priorities.
Patients the need bite correction may have the following symptoms:
Headaches
Facial stress and muscle tension
Stiffness or pain in your jaw
TMJ popping and clicking when you move your jaw
Uneven and worn down teeth
Facial collapse and a collapsed bite
Snoring and insomnia
Low self-esteem due to small or large chins caused by an overbite or underbite
Teeth grinding (bruxism)
Dr. Sam Muslin is arguably one of the world's leading and most experienced dentists in the field of non-invasive adult bite correction.
Bite Correction Treatment for Adults
We are living a lot longer and there is no reason to age prematurely or suffer physically from a worn down bite. Too many seniors cannot speak clearly, chew properly, sleep normally or wake up refreshed because they don't have room for their tongues. Bite correction treatment for adults is not only a cosmetically pleasing effort but a healthy improvement effort that can change the quality of their lives. Invisalign® cannot reconstruct worn down teeth and porcelain veneers cannot correct bites. Braces cannot improve the color or the shape of the teeth. Any of these procedures for bit correction are marginal at best. True bite correction is about idealizing the jaw position with JawTrac® bite correction, no tooth prep VENLAY® Restorations and the Face Lift Dentistry® method for a healthy bite and appearance.
Bite Correction without Braces or Surgery
Bite correction is one of the most critical components to achieve maximum health, yet it is rarely considered unless the patient needs a lot of dental work. Most patients think of tooth decay and gum disease when they think of dental health but they are missing one of the most important aspects of their health: a healthy harmonized jaw and bite.
Bite Correction Benefits for Seniors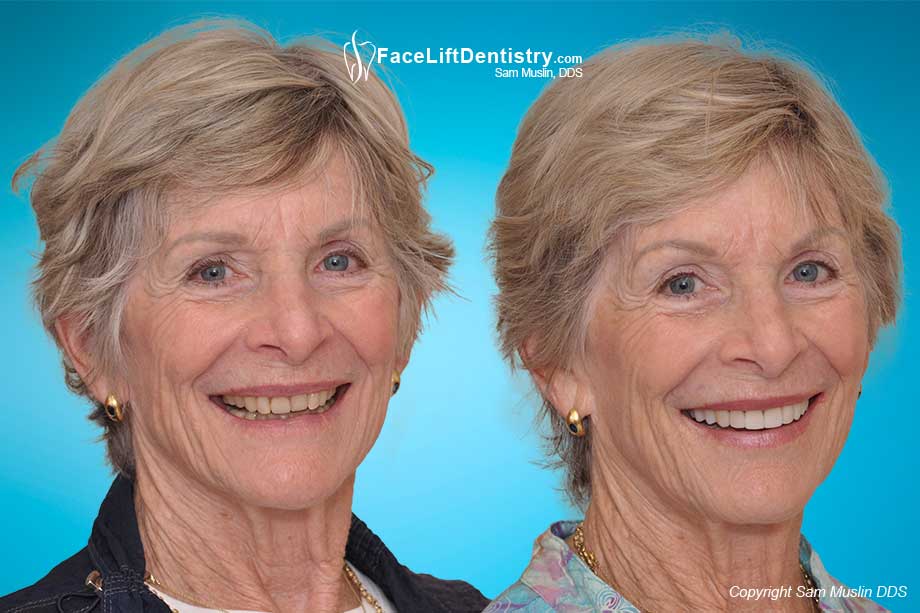 Health benefits: View the patient's video testimonial where she clearly states that, after her overbite was corrected, she is sleeping better as her insomnia is no longer a problem, she is digesting her food better and that the TMJ pain on her left side "is gone".
Far too often, the baby boomer generation is living with worn down short yellow teeth without understanding how much better they could live with their teeth restored. They are not aware that this treatment can be achieved without grinding down the patient's healthy teeth. It is essentially a non-invasive treatment without surgery or braces.
The way the teeth fit together determines the level of neuromuscular stress in the head and neck region. Some patients are not aware of the amount of stress they have in their lives from worn and misaligned teeth. Other patients have TMJ pain; headaches, neck and back pain and are acutely aware of the daily stress and discomfort.
Bite Correction Anti-Aging Benefits
The third dimension of bite correction involves the shape of the patient's face. During Dr. Sam Muslin's exclusive Face Lift Dentistry ® treatment without surgery, the patient can experience the reversal of premature aging, better lip support, facial support and a remarkable improvement in the chin and facial profile.
Correcting the Bite Restores the Profile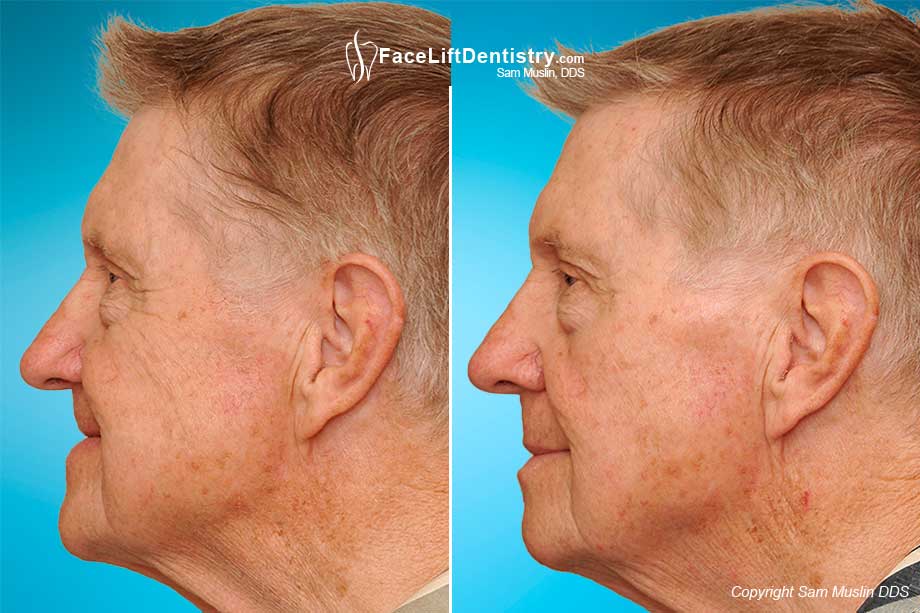 His wife says he is smiling a lot more and seems much happier. He is more romantic and looks years younger due to Dr. Sam Muslin's exclusive Face Lift Dentistry® treatment.
Dr. Muslin's approach to facial health and esthetics with his unique method and technology applied to his Face Lift Dentistry ® treatment has influenced the way cosmetic dentistry sees patients and how it will treat patients in the future.
This is only part of the treatment in his office, because he believes that every patient can be idealized for their face, bone structure, TMJ and speaking patterns that goes back to the behavior they had at a younger age. This level of care is revolutionary because the patient does not have to sacrifice their healthy tooth structure and can have the shape and jaw position corrected to levels that most never though was possible without having to go through disruptive surgery.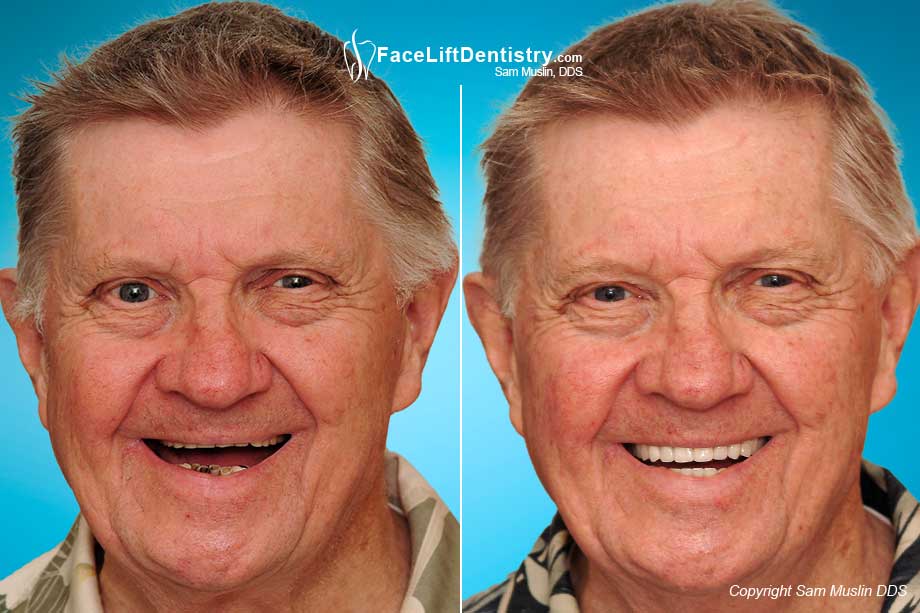 Replacing all of the old dental work with all new matching cosmetic dentistry benefits the patient with jaw stress reduction, better sleeping through improved breathing, removal of all dental disease along with a boost in self-esteem.
Today people are living a lot longer lives than ever before and it is imperative that dentistry evolves beyond the "one tooth at a time" approach. Face Lift Dentistry ® will improve the quality of life by reducing inflammation, infection, stress in the head, TMJ and neck regions and with this treatment they will live longer and healthier lives.
Treating an Overbite
With over 20 years of experience and highly specialized training with braces, orthodontics and orthopedics that combines with his over 30 years of highly specialized training in corrective and reconstructive treatment, Dr. Sam Muslin has pioneered no-surgery and no tooth grinding treatment.
Facial Enhancement After Bite Correction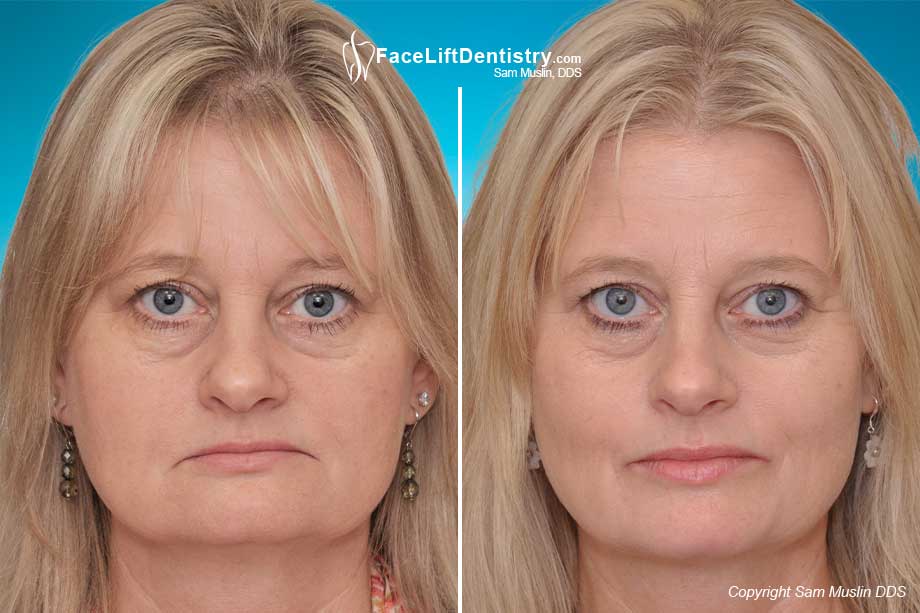 The treatment improves the shape and length of the patient's face that helps them look years younger with permanent facial support. Combined with Face Lift Dentistry® treatment, the patient will experience full facial optimization (will look years younger) and significant neuromuscular stress reduction for a better quality of life.
Optimizing the health and neuromuscular function of the patient has the ability to improve the patient's health for the rest of their lives. The teeth are designed to support the patient's face and the jaw position is designed to shape the patient's face, all of which must biologically match the function of the TMJ.
Correcting the Underbite
Patients are typically given one option, which is surgery that is combined with orthodontics. While surgery and orthodontics are a great solution, there are risks to surgery and potential relapse that is not appealing to many patients. Additionally, surgery could take years to finish. Patients treated by Dr. Sam Muslin have been thrilled with the results and were surprised at the speed and ease of non-invasive treatment.
There is a treatment that requires no surgery and is available to patients who desire a powerful solution without the risk of orthognathic surgery and the long treatment time it takes to wear braces. Dr. Sam Muslin's non-surgical bite correction can be completed in as little as one week without having to grind down the natural teeth. Additionally, all of the dental decay is removed, all gum infections eliminated, and the facial profile and chin position are improved.
Video: Non-Surgical and No Braces Bite Correction
Treatment was completed in just three weeks without surgery. Dr. Sam Muslin's Face Lift Dentistry® treatment is an excellent alternative to orthognathic jaw surgery. All of the upper teeth have porcelain crowns and porcelain veneers while all of her lower teeth are completely natural that were reshaped. Her lower teeth were reshaped but otherwise left as natural teeth while all of the upper teeth have porcelain crowns or porcelain veneers to complete her jaw surgery alternative treatment.

This option should be provided to every patient that needs underbite treatment in addition to a surgery option. Sometimes the surgical option is the best treatment but to avoid the surgery, many patients have willing to gain a significant improvement without the risks to surgery.
Buck Teeth Bite Correction
Buck-teeth treatment requires creative thinking by the even the best reconstruction dentists. The treatment options vary according to the bone structure, root length, dental health, and angulation of the teeth and the speed of treatment required by the patient.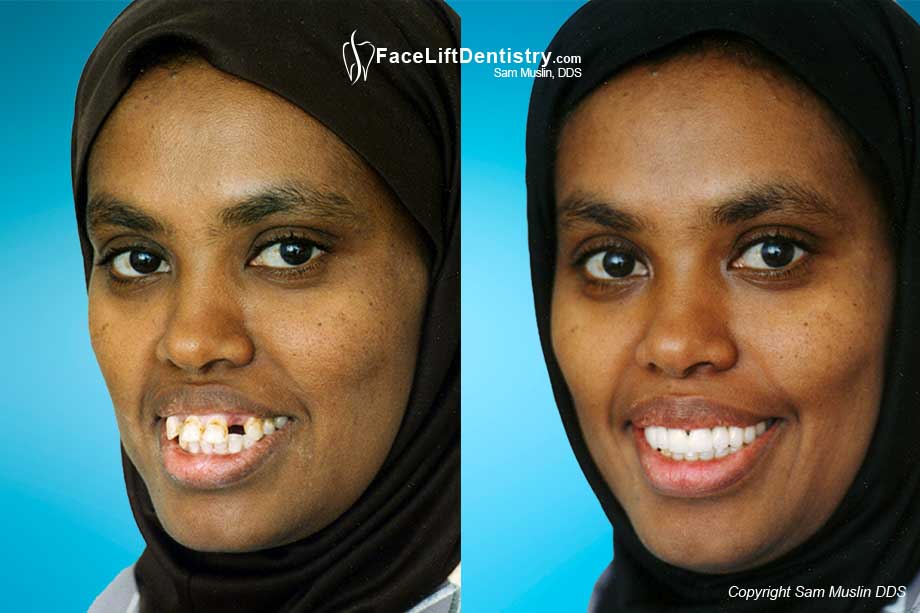 The entire arch is reconstructed in porcelain. The patient has a completely new appearance. Missing teeth were replaced, angles of teeth corrected and porcelain upper teeth had to match the lower teeth perfectly. To achieve "the look" that we all find pleasing, every component of the patient's smile has to be evaluated. The eyes, nose, lips and chin play an important role in determining the size, the shape, the texture, the angle and ultimately the color that would maximize the cosmetic result for each individual patient.
Buckteeth are general related to a misaligned jaw and sometimes gum disease. Buckteeth can be corrected with a variety of innovative ways as each patient may have a different solution. The important factor to consider is that buckteeth can be treated in as little as two weeks, depending on the circumstances. Dr. Sam Muslin has been highly successful with his various types of treatment for buckteeth and with over 30 years of experience, his unique expertise has benefited many patients.
Open Bites
Many dental specialists also recommend treatment with jaw surgery and with orthodontics that could take years to complete. It is also associated with TMJ problems and sleep problems. It is very important for the patient considering treatment to get an opinion from a dentist with experience in non-surgical corrective treatment for open bites.
Sometimes the surgical method may be the most ideal but not the most practical for college students, working people and others. With his specialized training in orthodontics and reconstruction dentistry that combines over 30 years of experience, the opinion of Dr. Sam Muslin can be of enormous value to the patient.
The training of the dentist is one of the most critical components in the available treatment options that the restorative dentist can offer. If the dentist doesn't know all of the options, you will not be informed properly. This is why so many patients have flown into Santa Monica from all over the United States and the world. It was worth the trip to be treated by this highly specialized, successful and experienced dentist.
Open Bite Correction without Surgery or Braces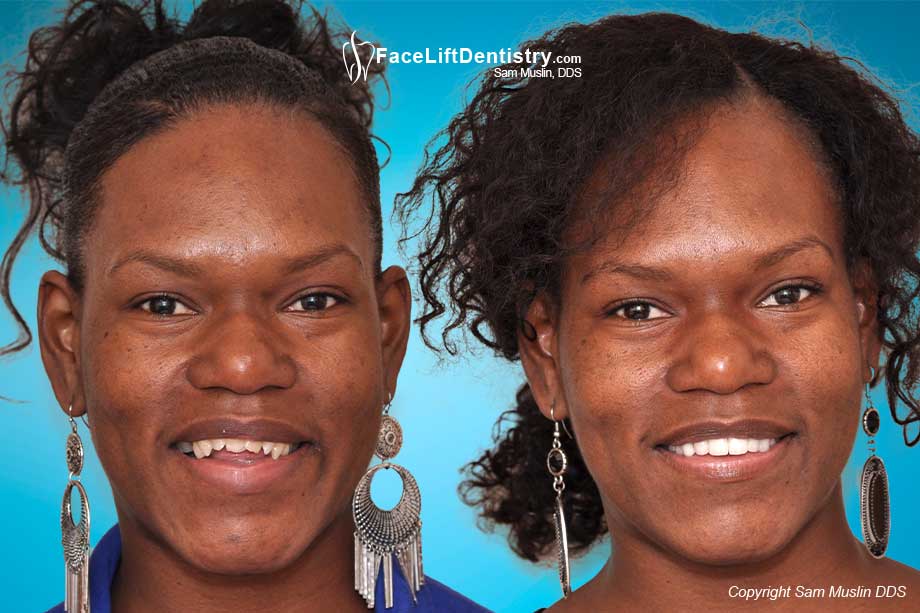 She knew her local dentist was not going to be able to give her the kind of results that she wanted for herself. She traveled to Los Angeles in order to be treated by Dr. Sam Muslin and then returned to her regular dentist when the treatment was complete. Treatment completed in just two visits about two weeks apart for a life changing appearance. Her daughter could not believe how much better her entire face looked. Her speech is clearer and her chewing ability improved.
Questions About Bite Correction
What is a Bite Correction Specialist?
Technically there is no Bite Specialist Dentist or Bite Correction Specialist as these are not recognized dental qualifications. However, Prosthodontics is a specialty of the dental profession that treats bite problems. These dentists usually get a year or two of extended training on the traditional methods of bite correction. The training most dentists received requires grinding down all of your healthy teeth for a full mouth reconstruction. They also perform bite adjustments or equilibrations, make night guards etc. Most cosmetic dentists, anti-aging dentists & neuromuscular dentists get limited training on bite correction dentistry, TMJ pain and cosmetic dentistry but, again they are using traditional methods of grinding down healthy teeth for a bite reconstruction, or use orthotics, or Invisalign® etc.
What is the Traditional Approach to Bite Correction?
Bite correction dentists, TMJ dentists and orthodontists focus on TMJ pain, crooked teeth, misaligned teeth and bite correction problems using various methods such as drugs, TENs Units and computers to try to find the proper bite for their patients. Orthodontists use braces with or without jaw surgery. Other methods used to find the correct bite include orthotics, trigger point injections, acupuncture, chiropractors, exercises and message.
What are the Problems with Traditional Bite Correction?
Many patients cannot be treated or have already been treated with the previously mentioned methods and are unhappy. Many patients reject jaw surgery with years of braces and don't want their teeth ground down with the dental drill for bite correction. Dentistry needed a less invasive, less risky, quicker and less painful way to treat patients for bite correction. Dentistry also needed to get results that go beyond traditional teachings of Centric Relation and Opening the Vertical Dimension. What about the shape of the patient's face and facial profile?
What is Non-Invasive Bite Correction Dentistry?
The key advantage to non-invasive bite correction dentistry is that it does not require grinding down healthy teeth and it can be tested in advance of treatment. You cannot test jaw surgery, or braces on a patient that has had all of their teeth ground down to little pegs in advance of treatment because the damage has been done. Dentistry needed a method to allow almost everyone to experience the ideal jaw position for their facial characteristics. These patients will look younger than others at the same age. They sleep more soundly because there is more space for their tongues, they have less head and neck tension. They can speak more clearly because the face has permanent support. They experience fewer headaches, less neck pain and have better chewing efficiency. This is possible with JawTrac® Bite Correction, VENLAY® Restorations and the Face Lift Dentistry® Method.
What is JawTrac® Bite Correction?
Finding the most ideal jaw position for a patient is a critical component of bite correction. Dr. Sam Muslin developed the ability to locate and test the new jaw position in advance of treatment. He named and trademarked JawTrac®. For the first time, patients can be tested in advance; they will be able to see the improvement in their faces and facial profiles on the first visit and experience the optimized jaw position at home. Dr. Sam Muslin also has imaging with ultra-low exposure to allow him to track the new jaw position. He can track the jaw from the patient's existing bite to the new jaw position with JawTrac®. The patient will be able to see the improved shape of their new face, their new facial profile, improved jawline and test the comfort level without drilling, pain or surgery.
What is a VENLAY® Restoration?
By developing a method to treat the patient without grinding down healthy teeth a new restoration needed to be developed that Dr. Sam Muslin named the VENLAY® Restoration. In order to be able to bond this non-invasive restoration for bite correction to the patient's healthy teeth he had to improve the traditional bonding method. Dr. Muslin found that by adding a couple of steps to the bonding process he could improve bonding strength significantly. Now almost everyone can experience bite optimization without the risks of traditional treatment.
What is The Face Lift Dentistry® Bite Correction Method?
This exclusive, trademarked, non-invasive, non-surgical bite correction method is called Face Lift Dentistry®. Dr. Sam Muslin has found the treatment highly predictable because he can test the results in advance. His patients know before any work is done if they are going to be more comfortable with the new jaw position he is testing. If their headaches are relieved, if they feel less tension, if the neck pain is less, the patient and the doctor know they are on the right track. The biggest benefit of Face Lift Dentistry® is that far more people can be treated. Healthy teeth are not grind down so the treatment has less risk, less pain and more predictable. Younger patients and senior patients are now getting bite correction dentistry that optimizes their faces and their smiles, simply because it is much less invasive. Far more patients can have the benefits of a more prominent jawline for overbite corrections. More patients can have a smaller looking lower jaw for the under bite correction. Even the senior patients can look years younger and now be treated without surgery, braces and drilling down their teeth. Many patients have short worn down teeth and crooked teeth that can be restored with VENLAY® Restorations without grinding their teeth down for porcelain crowns and without braces. The younger patients that have never had a cavity can now have optimized non-invasive bite correction treatment built right on top of their healthy teeth for TMJ problems, overbites, avoiding jaw surgery and underbite correction.
Will You Benefit From Bite Correction?
Find out if you will benefit from by having your bite corrected and your jaw aligned by contacting Dr. Sam Muslin for a consultation. You can call him on (310) 829-6796 or post a message on our Contact Form. Sam Muslin DDS is easily accessible to patients in the Santa Monica, Beverly Hills, Los Angeles area. Patients fly in from across the USA and other countries for Dr. Muslin's bite correction dentistry. Call and make an appointment today.
Page updated on
Testimonial: Protruding Jaw and Underbite Correction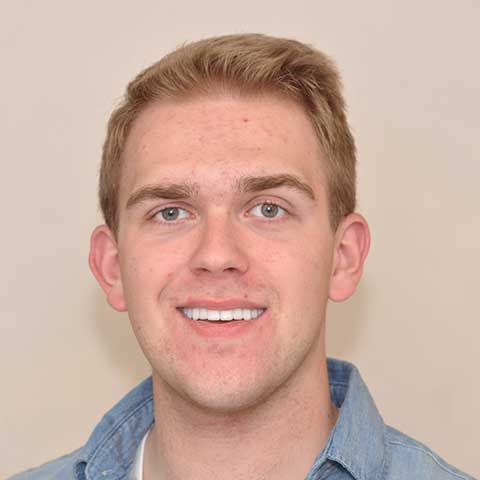 "Dr. Sam Muslin is a wizard!"
Testimonial: Jaw Position and Underbite Correction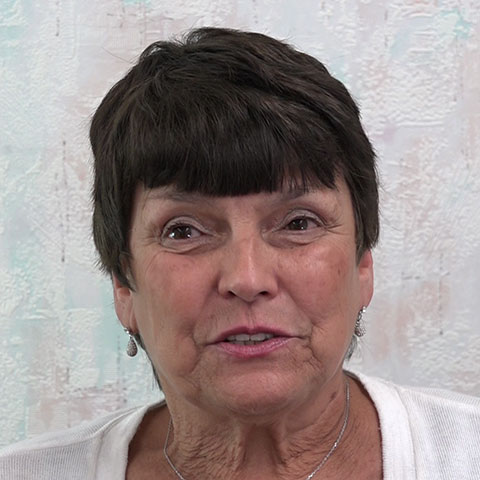 "I always thought she was so sad as she never smiled but I guess it was because her underbite was so bad. Now, after her underbite has been corrected, she can't stop smiling."
- Underbite Patient's Grandmother
From New Jersey
Testimonial: Underbite, TMJ and Open Bite Correction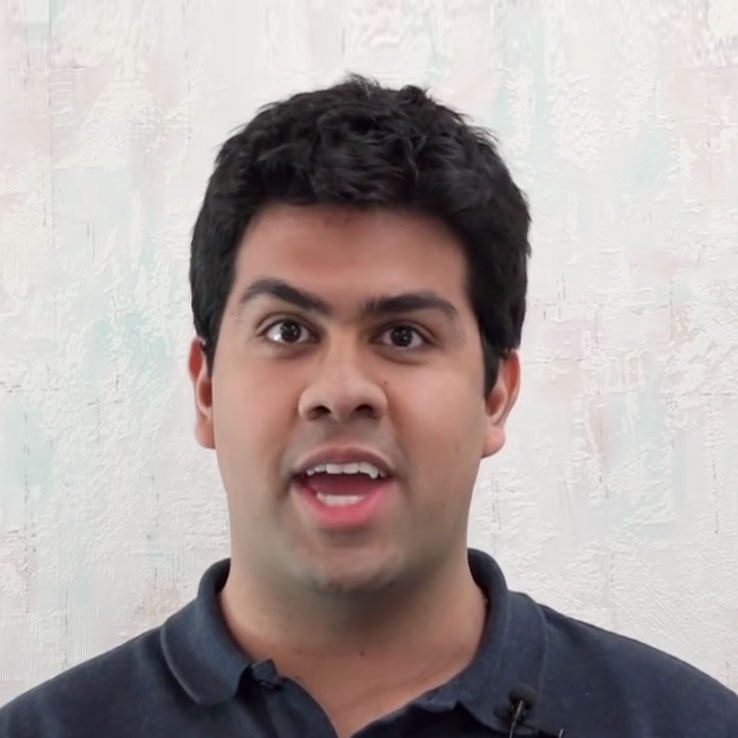 "Being able to change in a matter of just a few sessions with Dr. Muslin is just incredible."
From New York
Testimonial: Underbite Correction, Jaw Surgery Alternative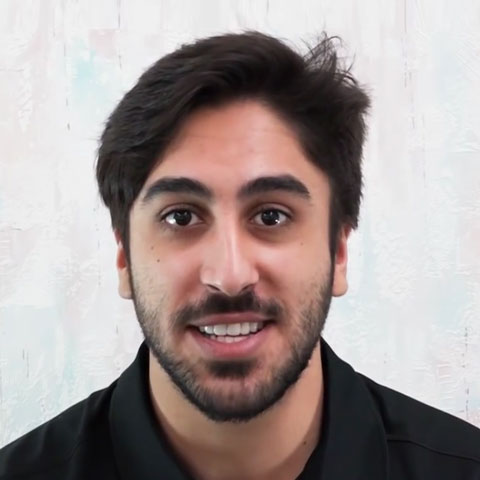 "I have been to multiple dentists and orthodontists and everybody has told me that I have no option other than jaw surgery. Then I came across Dr. Muslin who offers a surgery-free and easy to implement solution. The results have been unbelievable."