Underbite Correction and Jaw Positioning without Surgery
Beyond Veneers and Cosmetic Dentistry - No Drilling, No Surgery, No Braces, No Appliances
Santa Monica • Beverly Hills • Los Angeles
The Underbite Explained. Symptoms and Correction Options
Be advised when choosing your course of treatment for your Bite Correction. Your General Dentist or self-proclaimed "Occlusion Specialist" should not try to treat your underbite without first addressing your jaw alignment. With an underbite, the jaw needs to be moved back.
Unfortunately, braces were designed to simply straighten teeth- NOT to perform and underbite correction. More unfortunately, the default underbite correction method is still jaw surgery, which is highly invasive, risky, painful, impossible to predict reliably, and NOW in many cases, completely unnecessary.
With extreme malocclusion and jaw deformities, surgery may be the only solution, however, the majority of underbites can be treated non-surgically and non-invasively with the JawTrac® jaw alignment and VENLAY® restorations! There is FINALLY a new option that can save patients from undue pain and suffering! Read on to learn about the revolution of bite correction.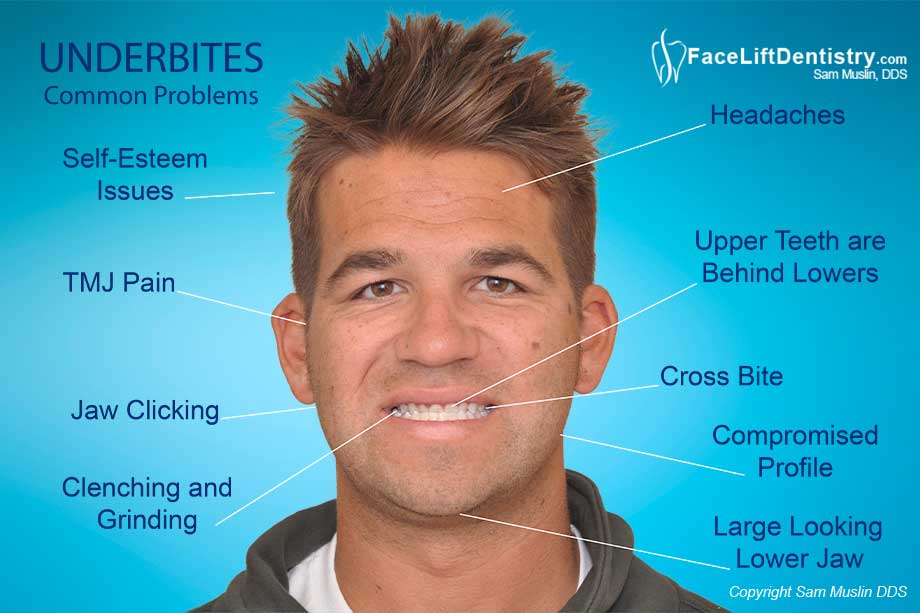 Common Problems: This patient has a large jaw and an underbite as well as a bi-lateral cross bite. His lower teeth have super erupted (moved upward) and his lower jaw is in front of his upper jaw. This patient's underbite treatment was non-surgical, and none of his teeth required grinding or drilling.
What is an Underbite?
An underbite, or mandibular prognathism, is a Class 3 malocclusion or "bad bite" and occurs when a person's lower jaw (mandible) protrudes or extends forward, and in front of the upper jaw (maxilla), giving the chin and lower teeth prominence.
Traditionally, the majority of underbite, and even overbite, cases could not be corrected by non-surgical bite correction methods, such as braces or headgear. In its severe form, an underbite can distort the shape and appearance of a person's face, and even dramatically affect their speech. These extreme cases are also called skeletal malocclusions.

What is Malocclusion?
The study of occlusion is the relationship of the contact between the upper and lower teeth. The position of the lower jaw and how the teeth guide the lower jaw to the best mechanical and physical position is the most critical component in the correction of malocclusion.
Malocclusions have many different classes. When dentists talk about malocclusion they are referring to how the teeth meet together. There is a close relationship between malocclusion and TMJ problems.
Malocclusion Classes
There are three basic classes of occlusion:
Class 1 occlusion is considered the most ideal. However, patients can still experience TMJ problems with a Class I bite.
Class 2 malocclusion is where the lower jaw is too far behind the upper jaw, and most of these patients have overbites and small looking chins.
Class 3 malocclusion is where the lower jaw is too far in front of the upper jaw, and these patients have underbites and large chins.
Class 1, Class 2 and Class 3 malocclusions are mechanical imbalances that should be treated with the least invasive method. Jaw surgery is highly invasive, and porcelain veneers usually require a lot of tooth grinding. There is an underbite treatment that is non-invasive and non-surgical.

The patient in the first photo thought that jaw surgery and braces were the only choices with Class 3 malocclusion but she did not want the pain, loss of time and the risk of jaw surgery, so she searched and found the non-invasive and non-surgical method online and was pleased to discover that it was not too good to be true. In the second photo is a patient with showing his mandible in front of the maxilla with overlapping teeth and a prominent chin. He does not have teeth crowding but he does have a posterior cross bite, and he also refuses to have jaw surgery. He searched for an alternative underbite treatment as he did not want orthognathic surgery.
Symptoms of Malocclusion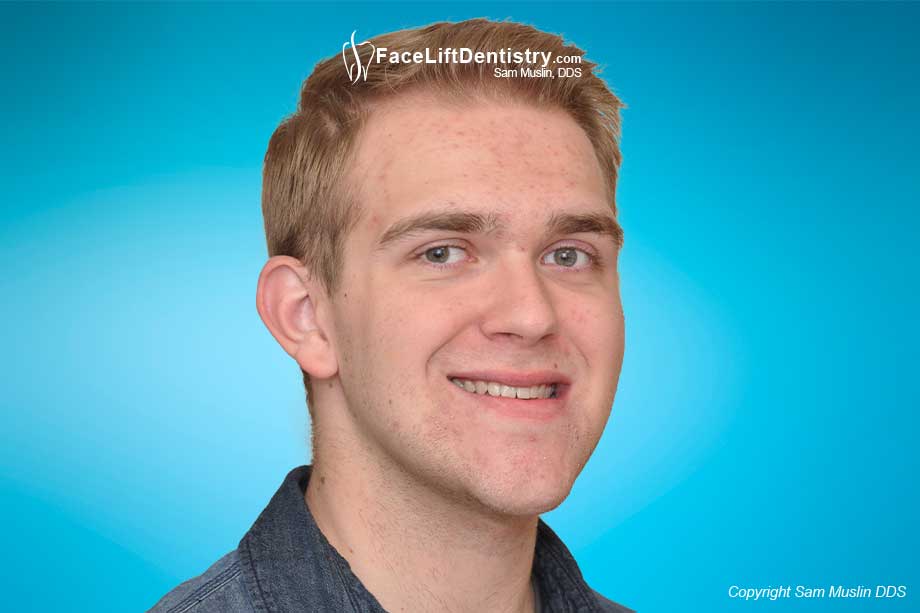 The Protruding Chin and Lower Jaw, before non-surgical Face Lift Dentistry® Underbite Correction
Some patients do not like the protruding lower jaw and the misaligned teeth. Others cannot function normally, have TMJ pain as headaches and they cannot bite into a sandwich with their front teeth. Many patients don't like the appearance of an underbite so they suffer from self-esteem issues. Others have a combination of problems both physical and cosmetic. The esthetic and phonetic problems have a major affect on the patient's self-esteem. Here are some examples and related symptoms: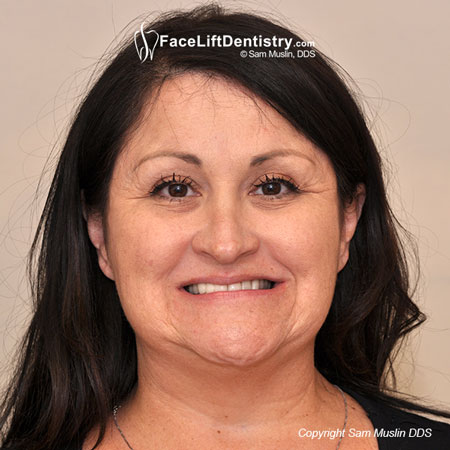 Facial Collapse and Aging - If a patient does not feel their best, they will not look their best. If a patient gets injected with wrinkle removing facial fillers, a face-lift or plastic surgery, or jaw surgery, they still may not feel younger. If they do not feel good, they will experience the facial signs of aging. The treatment that reverses aging must improve the health of the patient and help them experience an actual physical improvement such as headache reduction, neck pain reduction, etc.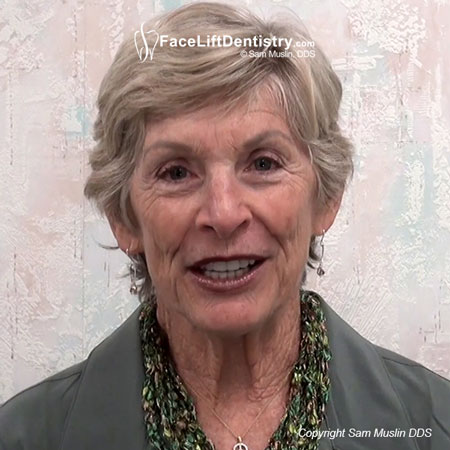 TMJ Problems - Patients can have no symptoms but still can be physically compromised and not realize that their bad bite is connected to problems such as waking up too much, digestion problems, neck and shoulder pain, etc. Other patients have headaches, jaw joint pain, locking of the jaw, clicking and popping jaw joints and neck pain.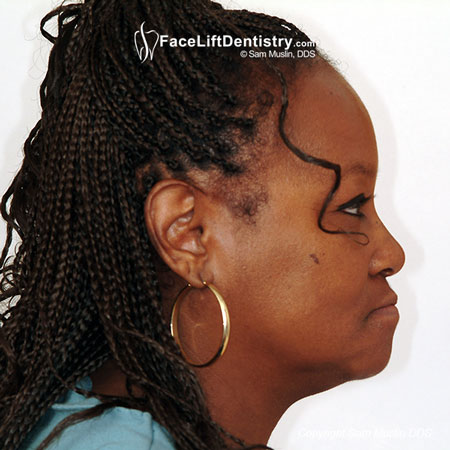 The Shape of Your Face - This patient has a protruding lower jaw, a moon-shaped face, the chin juts out and appears large. But, when the jaw was measured, it was actually normal in size. She needs profile correction, but she never realized that her profile could be corrected non-surgically and non-invasively.  Patients with underbites are very self-conscious of their lower jaws, and when they learn that their lower jaw is actually more normal in size, they are excited about the treatment. This patient's lower jaw was in an unhealthy position until her underbite was corrected using the Face Lift Dentistry® method.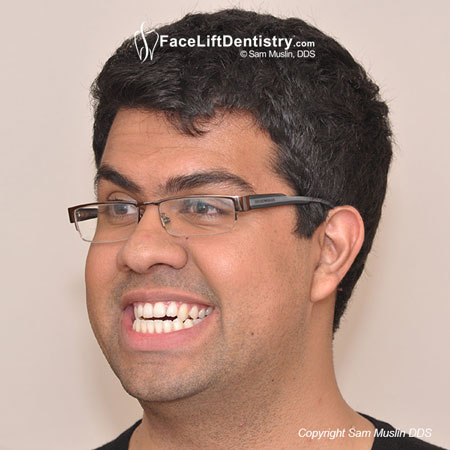 Open Bites and Cross Bites - An open bite and cross bite can cause TMJ related issues such as jaw clicking and popping along with speaking problems. Patients with open bites cannot speak their words clearly and have jaw joint problems. Often they cannot chew or digest food properly and may have snoring issues, sleep apnea and mouth breathing because of the open bite. Watch this patient's video testimonial as he explains all of his issues and the results of his treatment.
What is Prognathism?
Prognathism is a class 3 type of occlusion whereby the lower jaw and lower teeth are in front of the upper jaw, which is referred to as a prognathic jaw. An abnormal protrusion or protruded mandible is when the entire dental arch of the lower is in front of the upper arch with varying degrees. A mild and moderate prognathism can be treated without jaw surgery in most cases with the non-invasive high tech method. Severe prognathism generally requires jaw surgery for the best resul,t but even severe prognathism can be improved non-invasively and for many patients that refuse jaw surgery.
Prognathism is generally hereditary because of the difference in size between the large lower jaw and smaller upper jaw. Bad chewing habits and thumb-sucking generally do not cause the protruding lower jaw. Thumb-sucking often causes the chin to look small because the lower jaw is pushed back that is generally associated with an overbite whereas an underbite classically causes the chin to look too large because the jaw is protruding forward.
Underbite and Protruding Jaw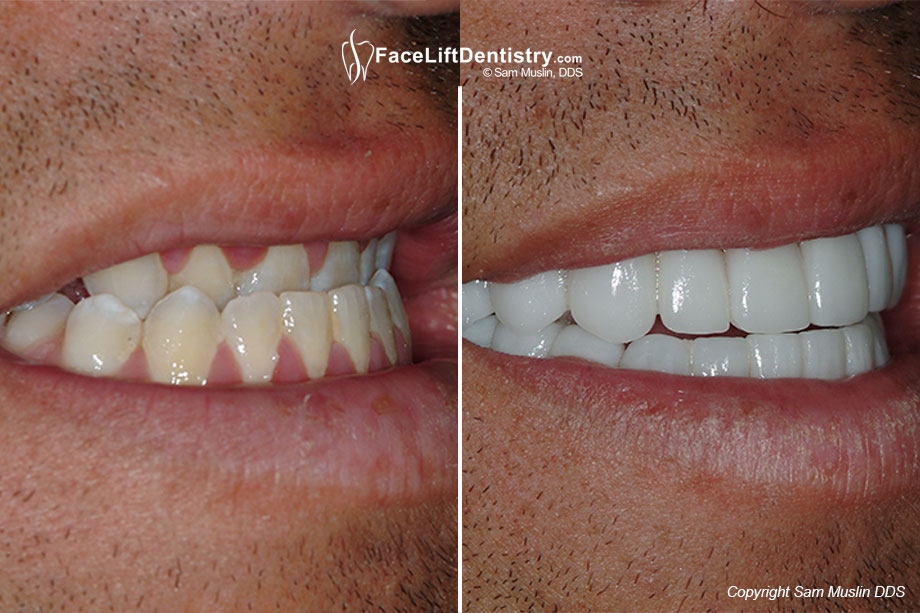 The treatment to correct his underbite took a matter of weeks instead of years, and the patient has something he could not get with jaw surgery and braces: white teeth and the perfect bite for his facial structure that was tested in advance. You can't test surgery.
Correcting or treating prognathism depends on the severity of the jaw size problem. The greater the severity, the more surgery and braces are indicated. However, many patients can have the only bite, face and profile correction method that is non-invasive and non-surgical.
Underbite Correction With No Surgery Using VENLAY® Restorations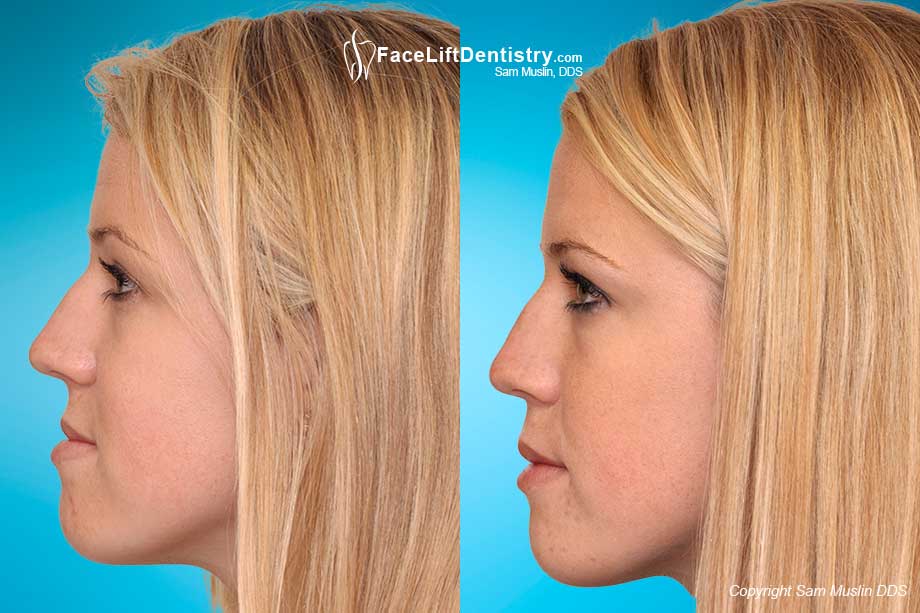 The treatment was completed in only two weeks, no pain, no shots, no grinding down healthy tooth structure and we know that it sounds too good to be true. The secret to getting an actual underbite correction is with idealizing the patients jaw position with a quick, easy and painless Face Lift Dentistry® method.
Schedule Your Underbite Correction Consultation
Call for a consultation with one of Dr. Muslin's treatment coordinators. They can help you understand how the treatment will work for you, or you can make your appointment and Dr. Muslin will talk with you and show you how he can help you directly.
Testimonial: Protruding Jaw and Underbite Correction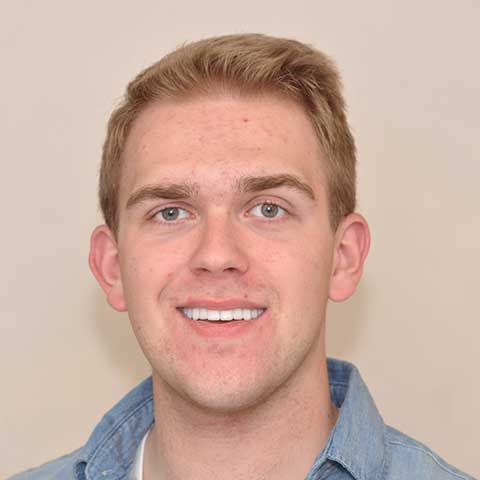 "Dr. Sam Muslin is a wizard!"
Testimonial: Jaw Position and Underbite Correction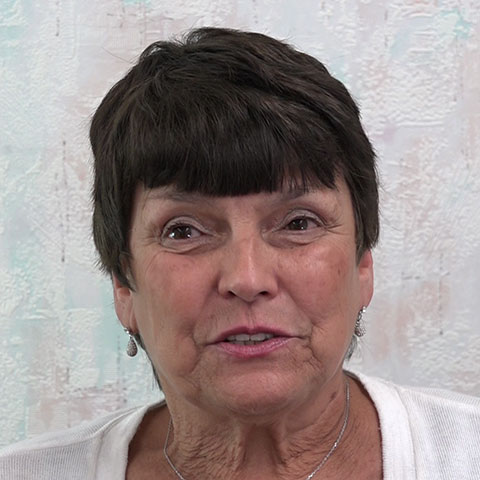 "I always thought she was so sad as she never smiled but I guess it was because her underbite was so bad. Now, after her underbite has been corrected, she can't stop smiling."
- Underbite Patient's Grandmother
From New Jersey
Testimonial: Underbite, TMJ and Open Bite Correction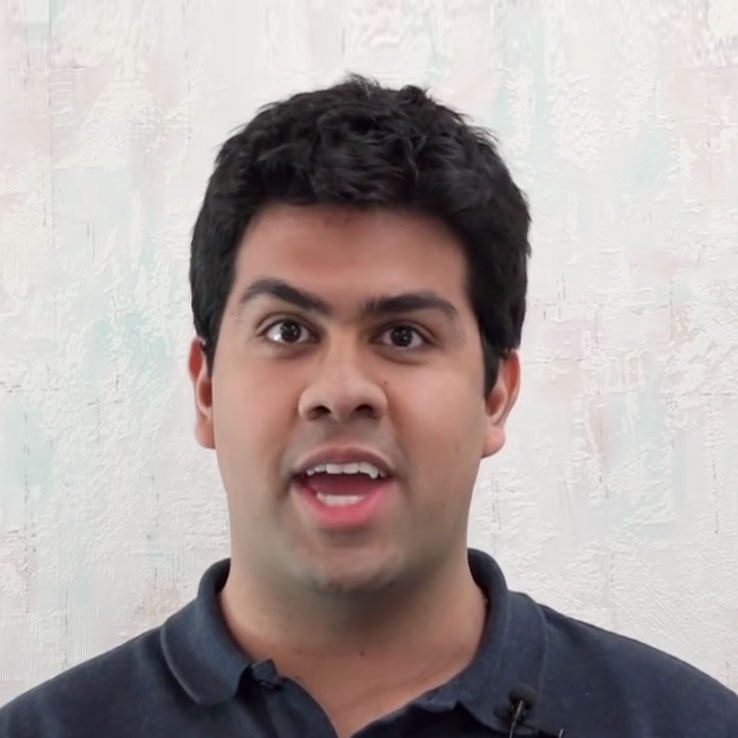 "Being able to change in a matter of just a few sessions with Dr. Muslin is just incredible."
From New York
Testimonial: Underbite Correction, Jaw Surgery Alternative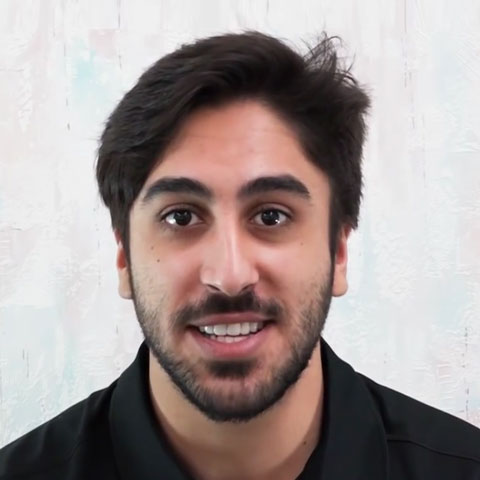 "I have been to multiple dentists and orthodontists and everybody has told me that I have no option other than jaw surgery. Then I came across Dr. Muslin who offers a surgery-free and easy to implement solution. The results have been unbelievable."