Why Do We Need Anti-Aging Dentistry?
Because we are a society that tends to focus on what we can see, the notion of aging physically from the inside out can be pretty daunting. Traditional Dentistry and Cosmetic Dentistry will focus on the smile that can be seen but there are no real health benefits. Traditional dentistry fixes individual teeth by removing the decay, extracting hopeless teeth, placing porcelain crowns, fillings, and dental implants. This is a patchwork-type approach that does not handle the issue that we are living decades longer.
Cosmetic Dentistry places porcelain veneers and crowns, which often require grinding down your natural healthy teeth just to improve your smile. Grinding down healthy teeth is invasive and not the best choice of treatment long term. However, Anti-Aging Face Lift Dentistry® improves the patient's health by physically balancing the jaw position with the TMJ. It reverses the impact of aging at the source. It is a comprehensive approach that is safer and more predictable because there is no surgery or braces, and no drilling down healthy teeth. This high-tech method doesn't just optimize your smile, it optimizes your entire face.
Reversing the Impact of Aging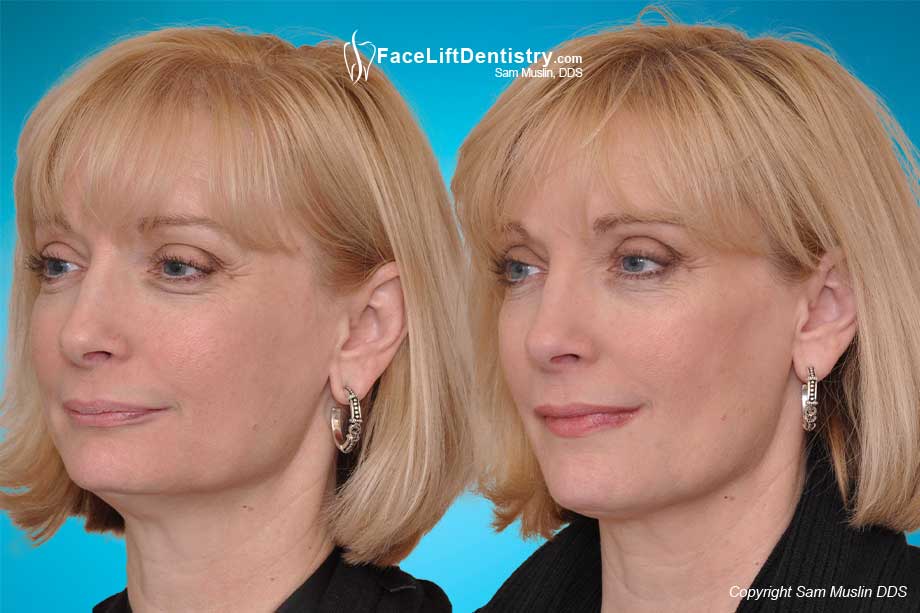 This treatment is vital today because the life span of the population is living decades longer. Your bite and jaw position are now being asked to serve your body for a much longer period of time. Most people do not realize that they are aging from the inside out unnecessarily and need far better care than smile dentistry. Aging from the inside out means that your blood oxygen level is lower than normal during sleep. There is not enough room for your tongue. This method helps you feel physically better, sleep better, speak more clearly, and it is combined with cosmetic benefits that can exceed expectations. Anti-Aging Face Lift Dentistry® is comprehensive healthcare that reverses the impact of aging by optimizing the bite with the jaw position. Learn more by watching Dr. Sam Muslin's Reverse the Impact of Aging at the Source Video.
How Does Anti-Aging Face Lift Dentistry® Reverse Aging?
Most patients do not have the best jaw position for their faces. The sizes of the teeth, the sizes of the jaws, and the position of the jawline were never coordinated. Our teeth, bite, jaw position, shape of our faces, and health are a random genetic event. Nothing was planned. For the first time, patients can have the jawline that they should have had. They can have the teeth proportioned to their faces. They can have the functionality of chewing, speaking and facial support combined with a bite that coordinates with their jaw joints which makes functionality more harmonious.