Misaligned Jaw and Underbite Corrected Without Surgery
Beyond Veneers and Cosmetic Dentistry - No Drilling, No Surgery 
Santa Monica • Beverly Hills • Los Angeles
Jaw Position Correction to Bring Out Your Natural Beauty
When a patient has the wrong jaw position their face and profile are compromised. The muscles in the head and neck region are strained, as the body has to work harder to accommodate the bad bite. These patients are physically compromised their entire lives. In this case, the patient had an underbite. She struggled with daily headaches because her bite forced her jaw to function in an unnatural position.

Underbite Correction without Surgery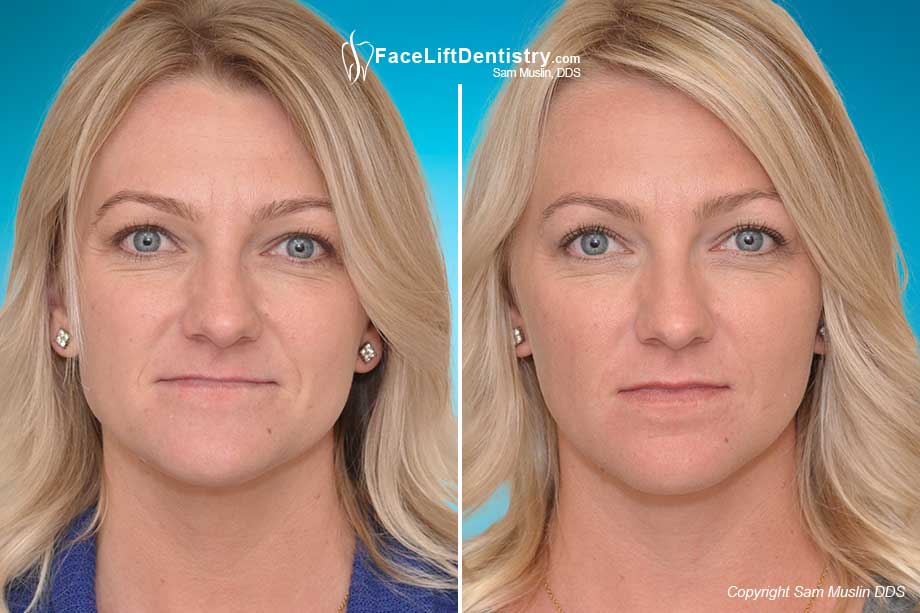 The shape of her face was improved with jaw alignment and bite correction. You cannot get results like this with porcelain veneers. The jaw position needs to be corrected and it is remarkably easy to do without jaw surgery if the dentist has the technology and experience.
Anxiety over Wearing Braces Again
She also had anxiety over wearing braces again for years and getting a jaw surgery with significant risks. She found this website and thought, "this is too good to be true". Non-surgical underbite correction in just a couple of plane flights was a dream come true.

Video: Jaw Movement Before and After Underbite Correction
Watch and listen to her speak before treatment and pay attention to the teeth that show while she is talking. Then watch the after treatment segment that improved the shape to her face, the profile and the jaw position.

Feel Your Best to Look Your Best.
New Jaw Position
Your jaw moves naturally and most of the time your bite forces the jaw into the wrong position. This bite correction method builds a bite that allows your jaw to move to its most comfortable, natural and healthy position. The new jaw position is achieved using the Face Lift Dentistry® method.
Jaw Stress and Headaches or Sinus Headaches
Patients that have headaches don't realize the reason could be because there is jaw stress and head tension from a bad bite. Many patients suffer from headaches and think they are "sinus headaches". They could possibly get relief it they were tested to see how much their bite contributed to their headaches. This patient tested the new jaw position using a removable JawTrac® appliance that simulates her new bite that was developed by the dentist and the imaging system. This method gives the dentist the knowledge of the proper jaw position rather than just guessing. Headaches everyday can be reduced or reversed completely.
No More Daily Headaches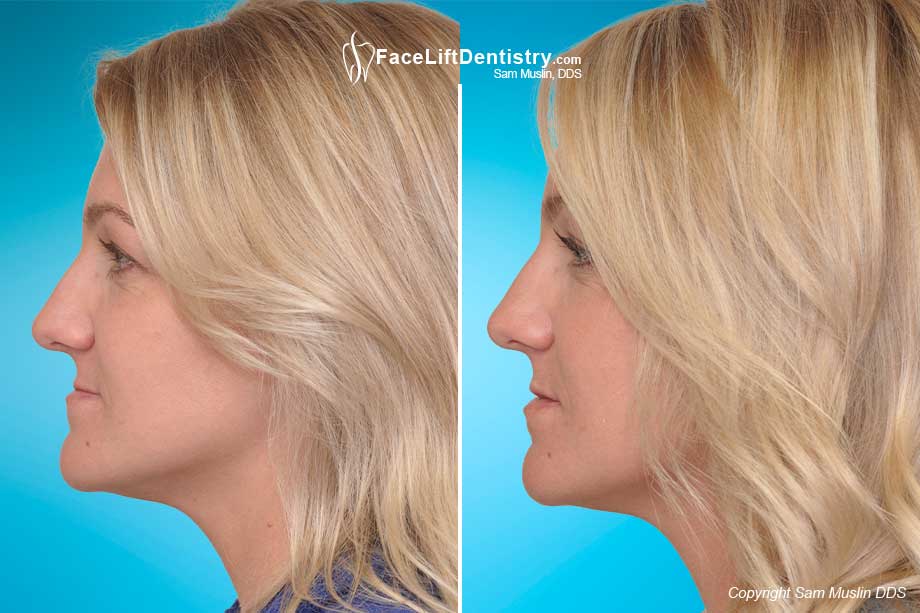 After testing the new bite, her sinus headaches were relieved so she decided to have the Face Lift Dentistry® underbite correction method. Her facial profile improved using the VENLAY® restorations that do not require grinding down healthy teeth.
Protruding Chin, Large Jaw & Impact on Self Esteem
The patient refuses jaw surgery and wanted her bite corrected but also wanted to retain her natural facial characteristics. She did not want her face physically altered and has read about patients that have suffered from the side effects of jaw surgery. She flew in from Chicago to see if this was better than jaw surgery. She has a large chin that looks smaller and a large jaw that looks smaller with underbite correction.
Non-Surgical Underbite Correction using VENLAY® Restorations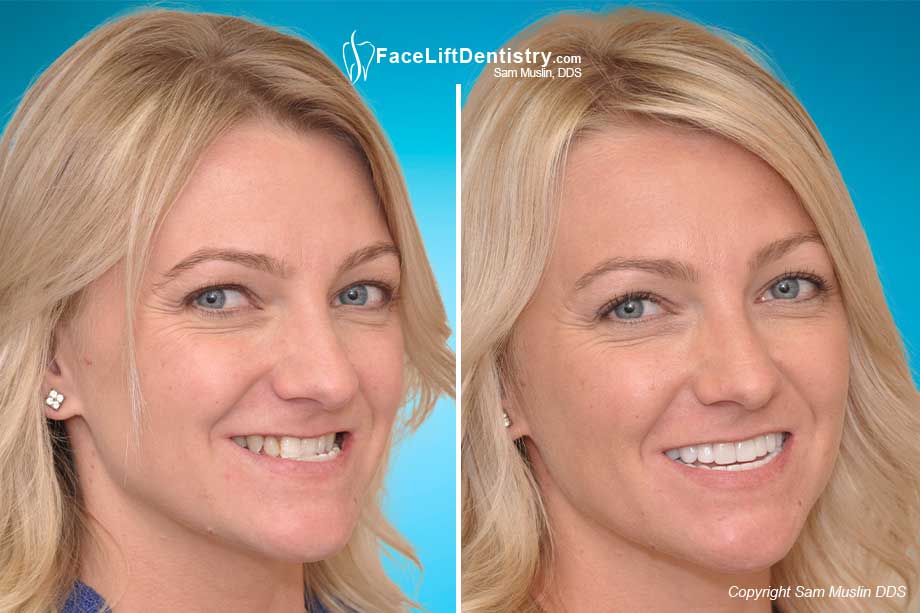 Her chin looks less prominent and the shape of her face is balanced because her bite was built in order to get her lower jaw in the healthiest position.
Self Confidence beyond Cosmetic Dentistry
She can speak more clearly because the teeth were designed to align with her jaw movements. She is not able to talk, smile and stop taking so many pain medications for her headaches. This is a new life filled with self-confidence that goes beyond cosmetic dentistry. Porcelain veneers cannot improve bites to this level, cannot relieve TMJ problems and cannot create a smile and face like this method.
Face Lift Dentistry® Method & VENLAY® Restorations
There is no surgery with this method. Your teeth do not have to be ground down, no shots or temporary teeth. No braces are necessary and the treatment is completed in just two or three visits in most cases about 2 or 3 weeks apart in order to make the porcelain. Most of the time, if the patient has old dental restorations, crowns, implants or fillings they should be replaced. The Face Lift Dentistry® method and VENLAY® Restorations are safe, predictable and are the least invasive, least painful and has benefits other methods cannot deliver.
Anti-Aging Dentistry
Most dentists that do Anti-Aging Dentistry will grind down your healthy teeth which in fact make you age. The trauma and resulting life long maintenance of having your healthy teeth cut down is Anti-Aging Dentistry at it's worst.
Bite Correction vs. Jaw Position
Many patients were told that they have a great bite because the dentist saw that the teeth were straight and fit together well. But, the problem is that the patient's jaw is in a bad position because of the bite. How can the bite be good if it pushes the jaw into the wrong position? This treatment is about bite correction that establishes the best possible jaw position.
Call the office, discuss your options and make your appointment to begin a new level of health and self-confidence into your life.
Testimonial: Protruding Jaw and Underbite Correction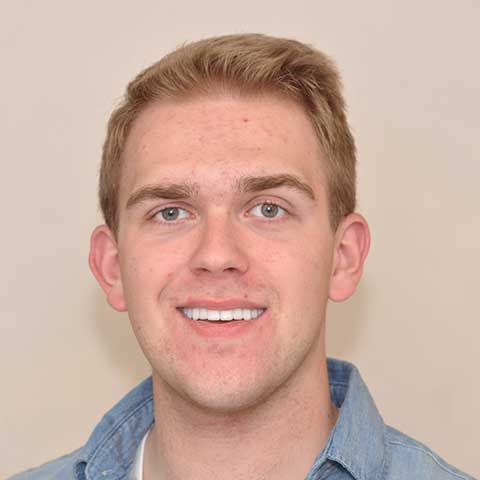 "Dr. Sam Muslin is a wizard!"
Testimonial: Jaw Position and Underbite Correction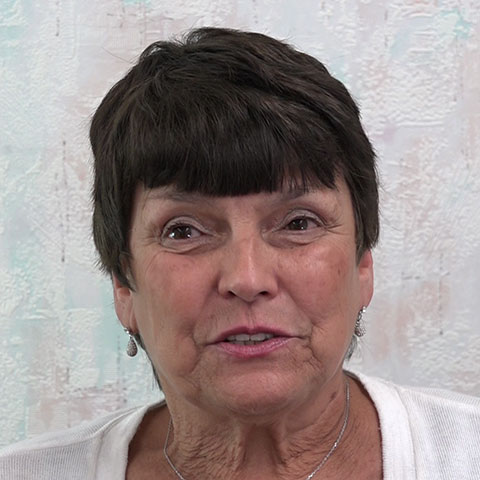 "I always thought she was so sad as she never smiled but I guess it was because her underbite was so bad. Now, after her underbite has been corrected, she can't stop smiling."
- Underbite Patient's Grandmother
From New Jersey
Testimonial: Underbite, TMJ and Open Bite Correction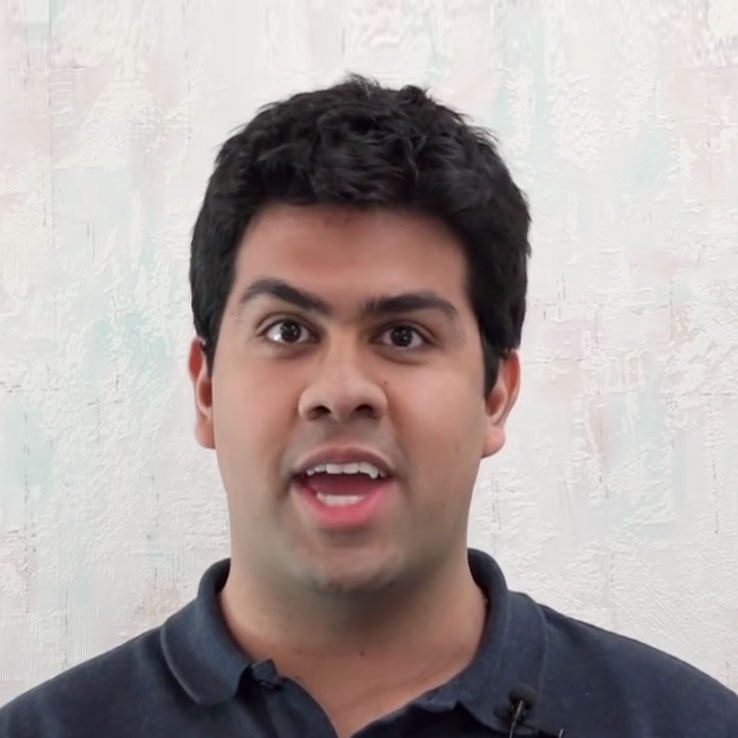 "Being able to change in a matter of just a few sessions with Dr. Muslin is just incredible."
From New York
Testimonial: Underbite Correction, Jaw Surgery Alternative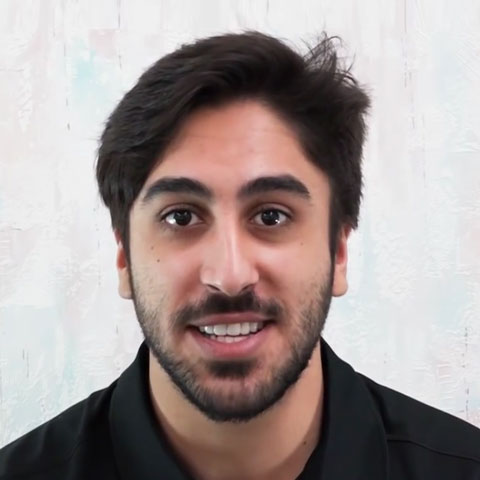 "I have been to multiple dentists and orthodontists and everybody has told me that I have no option other than jaw surgery. Then I came across Dr. Muslin who offers a surgery-free and easy to implement solution. The results have been unbelievable."