Full Mouth Reconstruction
Beyond Veneers and Cosmetic Dentistry - No Drilling, No Surgery 
Santa Monica • Beverly Hills • Los Angeles
A reconstruction of the mouth strives to remove all of your tooth decay, old fillings and old dental crowns while improving your bite position. Everyone's anatomy and jaw movements are different so everyone needs a different bite position to idealize their health and comfort.
What is Full Mouth Reconstruction?
Your dentist will remove all of your old dental work such as crowns, fillings, and porcelain veneers and replace them with new dental work designed to create the new bite. This treatment should clean up any tooth decay or infection and improve your oral health.
Before and After Full Mouth Reconstruction
Improved Profile After Complete Mouth Reconstruction
Missing Teeth
Patients that have missing teeth or that have already had a lot of dentistry in the past such as dental crowns, porcelain veneers, silver or composite fillings have good reasons to get their entire mouth reconstructed. Over the years all of your dental work was done at different times, which means that it was not necessarily designed in harmony with what existed at the time and of course not what was to come. This type of tooth-by-tooth dentistry does not allow the dentist to improve your bite or jaw position, as they must respect the existing conditions.
Over the years we all grind and clench our teeth to some degree. This means that our bites are changing and eroding at different rates. When you look at someone with severe bruxism (tooth grinding), they have lost significant amounts of tooth height. This can lead to thin enamel, enamel fractures, tooth decay, and tooth sensitivity all of which are good reasons to consider a bite reconstruction. When tooth erosion is present, even if it is just from normal wear and chewing, it can still be a good reason to consider a full mouth reconstruction as long as it is non-invasively done.
Full Mouth Reconstruction With Dental Implants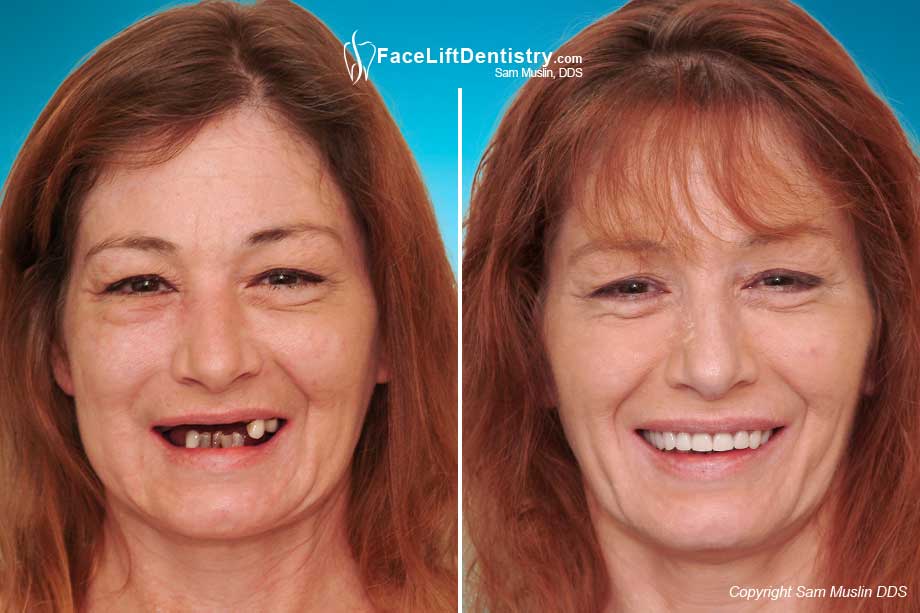 She had mismatched dentistry, tooth decay and missing teeth. She needed a full mouth reconstruction with dental implants but also jaw re-positioning so that her face would be longer and more refined at her jawline
What is Non-Invasive Bite Reconstruction?
A classical bite reconstruction would mean that the dentist is grinding down all of your teeth, healthy or not, and replacing all of them with crowns. This means that any of your teeth with decay or existing dental work are cleaned up and prepared for crowns. This also means that your healthy teeth without any issues are also ground down for crowns. If having your healthy teeth ground down just does not seem right to you there is good news - non-invasive bite reconstruction. Nowadays there are dentists who prefer a non-invasive approach which means that healthy teeth are NOT ground down.
Dr. Muslin is one of these dentists who feel passionately that grinding down healthy tooth structure is not in the best interest of the patient. Almost without exception he chooses to leave the healthy tooth entirely intact without any grinding at all. He then builds the new bite position by adding porcelain to the natural tooth structure. This preserves what is left of your teeth and adds back what you may have lost all without jeopardizing your health in any way. Even if you have a mouth full of crowns and only a few natural teeth Dr. Muslin's approach is the same. Preserve everything that is healthy!
Take a look at Dr. Muslin's patient below who exhibited signs of bruxism and tooth grinding. Her teeth were short with enamel fractures leaving her susceptible to decay. The edges of her were chipped but otherwise her teeth were healthy. To take a classical bite reconstruction approach by grinding down her teeth would have meant that a great deal of healthy tooth structure was lost forever. Dr. Muslin feels that grinding down teeth which are already too short only to restore them back with porcelain, is not what is best for the patient's health. So he completed her entire bite reconstruction with absolutely no grinding on her natural teeth. She had no shots and no grinding whatsoever for a totally natural finished look.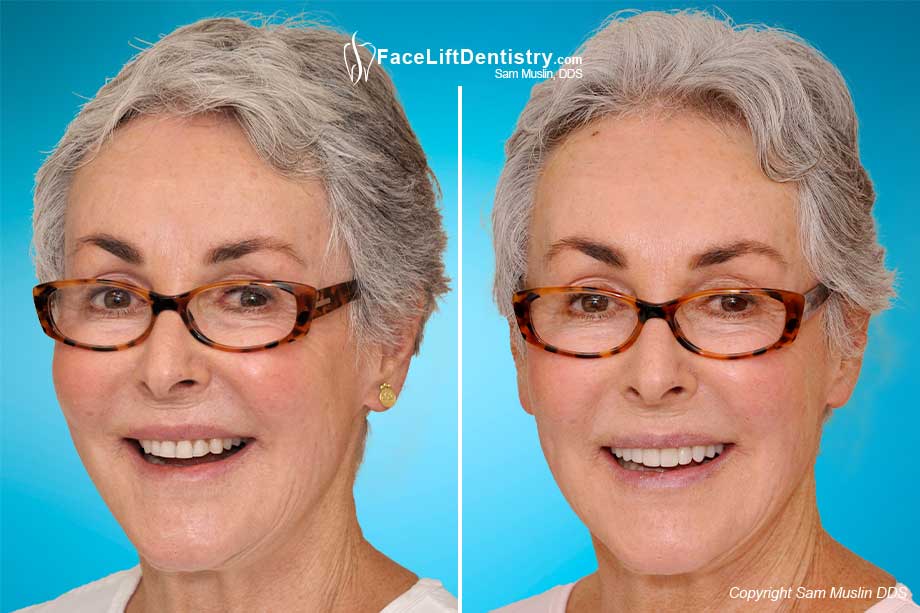 Without any grinding on her natural teeth her full mouth reconstruction looks natural, feminine and believable.
Are there different types of Reconstruction Treatment?
Yes, there are several different approaches and they all seek to accomplish slightly different goals. Every dentist performs the treatment differently so be careful to understand what is possible and what you should expect. Likewise there are different timelines associated with the different treatments.
Treatment completed over several months to years:
Most full mouth reconstructions consist of replacing all of the old crowns, old fillings or bad porcelain veneers during a period of several months or years. This type of section-by-section dental care is the lowest level of mouth reconstruction because when the treatment is completed, the teeth are improved individually but the height of the bite and the jaw position is the same as it was before the treatment was started. This means that if you have a weak chin or an aging face you will not likely experience any improvements in this area.


Treatment completed in just a few weeks:
The next level of a full mouth reconstruction would be to complete the entire treatment at the same time instead of stretch out over several months. The advantage of this treatment is it allows the dentist the opportunity to have all of the porcelain prepared at the same time. By preparing all of the porcelain at the same time, the color will match and the function of the bite can be moderately improved. At this level of care any missing teeth, chewing issues, tooth sensitivity, and decay should be dramatically improved. Since this type of bite reconstruction does not involve idealizing the jaw position, you will not likely experience any anti-aging benefits or improvements to your facial shape or profile.


Mouth Reconstruction with Bite and Jaw Repositioning:
This is the pinnacle of care that allows for all of the benefits described above in addition to jaw repositioning and facial lengthening. If you have always thought you had a weak chin, round face, or maybe you are seeing signs of aging, this treatment could be right for you. Perhaps you have extensive dental work already that is mismatched or you have cavities and decay yet to be treated. Even if you have predominantly healthy teeth that you do not want ground down then this type of treatment done non-invasively would benefit your entire face and profile. Take a look at a few of Dr. Muslin's patients below that choose to have the pinnacle of care which Dr. Muslin refers to as his Face Lift Dentistry® treatment.


Face Lift Dentistry® Method for Jaw and Bite Repositioning and Profile Enhancement
Full Mouth Reconstruction and Dental Implants
Bite Repositioning - Before and After
Why Choose Bite Repositioning with Face Lift Dentistry® Treatment?
The bite position is the key to jaw joint comfort and function and also the key to facial proportions. Because we are living a lot longer, our bites are wearing down and getting worse over time. Thirty years ago people were not living past the age of 65 but today people are living well in to their nineties or even older. It is critical that our bite supports our faces and that we look and feel great even as we age.
Our bite is also the key to the shape of the face and it dictates the clarity of speech, jaw joint comfort and jaw function. People with a bite that functions harmoniously with their TMJ have less stress in their jaws, necks and faces. Often times people with jaw pain and tiredness simply have a bad bite and jaw position which can be corrected with Face Lift Dentistry® treatment.
Cosmetically the treatment looks to give the patient the best possible facial proportions and shapes by supporting the soft tissues of the face with the teeth and bite. It can change the aging face into a younger face while treating the teeth and bite simultaneously. This best part is that it revitalizes the lower face with results so natural that few people can figure out what was done.
Since everyone is different the goals and anti-aging results for each person vary. Dr. Muslin studies his patients individually at every angle and expression. He evaluates your face while you are talking and while you are at rest so that he can optimize your facial features and proportions. The goal is to improve your oral health while idealizing your TMJ function for an optimized face, smile, and profile.
Full Mouth Reconstruction using the Facelift Dentistry® Method
Full Mouth Reconstruction - Before and After
Dr. Muslin's mission is to educate his patients on the range of possibilities and options so that the patient is well informed. When it comes to Face Lift Dentistry® treatment the cosmetic results and health benefits are unprecedented. No other dental health treatment has such a remarkable cosmetic reward. The concept that 10 or more years of aging can be removed from a patient's face while improving their health is not well known. This is a wonderful level of care that will benefit you everywhere you go and with every person you meet. If you are interested in learning about Face Lift Dentistry® treatment by Dr. Sam Muslin give our office a call to schedule an exam.