Reverse Aging – The Best Way
---
Beyond Veneers and Cosmetic Dentistry - No Drilling, No Surgery 
Santa Monica • Beverly Hills • Los Angeles
The reason that this method is the best way to reverse the aging process is that it is good for your health. By correcting a bad bite the patient has much less tension, pain and stress in the faces, jaws, heads, necks and backs. The second reason is that the patient will have facial support and a jaw position that improves the shape of the face.
In just a couple of minutes this patient will explain why she did this treatment, the ease of treatment and the results. In all of the photos below, she is biting her teeth together so the results can be compared honestly.

Reversing the Effects of Aging
The aging face along with jaw pain is a result of having a bad bite, or overbite or under bite. The face physically looks older for two reasons:
The first is due to the stress of having the wrong bite for the facial structure.
The second is the distortion or facial collapse from tooth wear. The shorter the teeth, the shorter the face becomes. The shorter the face, the older we look.
Looking Younger without Tooth Grinding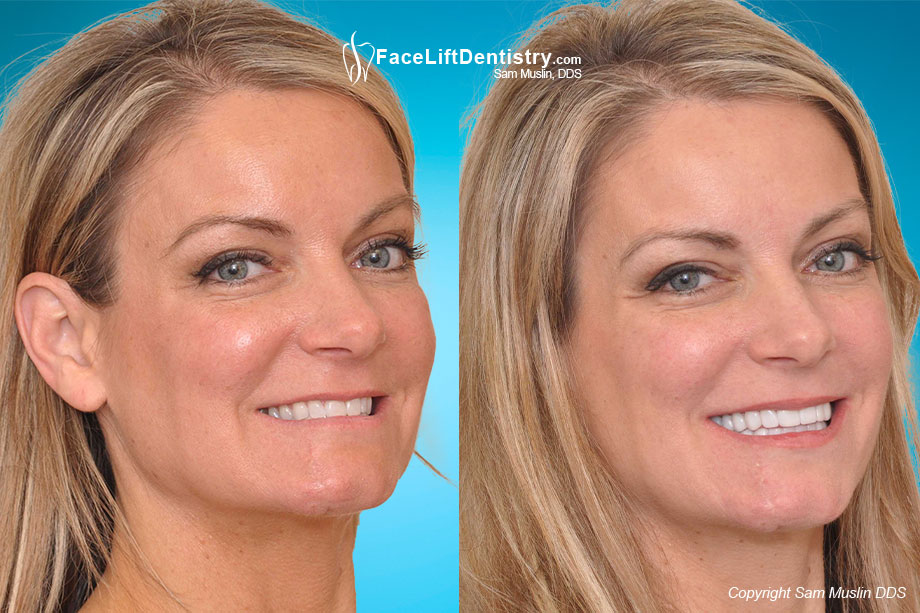 One of the biggest benefits is that her teeth have been restored with a protective layer that protects them from wear. Dr. Muslin says, "She looks years younger because the shape of her face has been improved by correcting her deep overbite without shots, tooth grinding or pain".
Face Lift Dentistry® - the Evolution
Not many dentists understand that they have the capability of improving the shape of the patient's face, reverse the effects of aging and improve the patient's health at the same time. The VENLAY® restoration, developed and trademarked by Dr. Sam Muslin was developed exclusively for non-invasive, no tooth grinding type of bite correction. The Face Lift Dentistry® method was developed to be able to improve the healthy of the patient by reducing head and neck stress without surgery.
VENLAY® Restorations
With high tech dentistry, it is possible to correct the patient's bite without shots, without surgery and without grinding down healthy tooth structure. The effects of the aging process are reversed because the patient has permanent facial support. This restoration is only used when correcting the bite and all of the upper and/or lower teeth must be treated at the same time. This is why the results can be a life transformation that can change a patient's attitude about their future and the present.
Fuller Lips and Less Wrinkles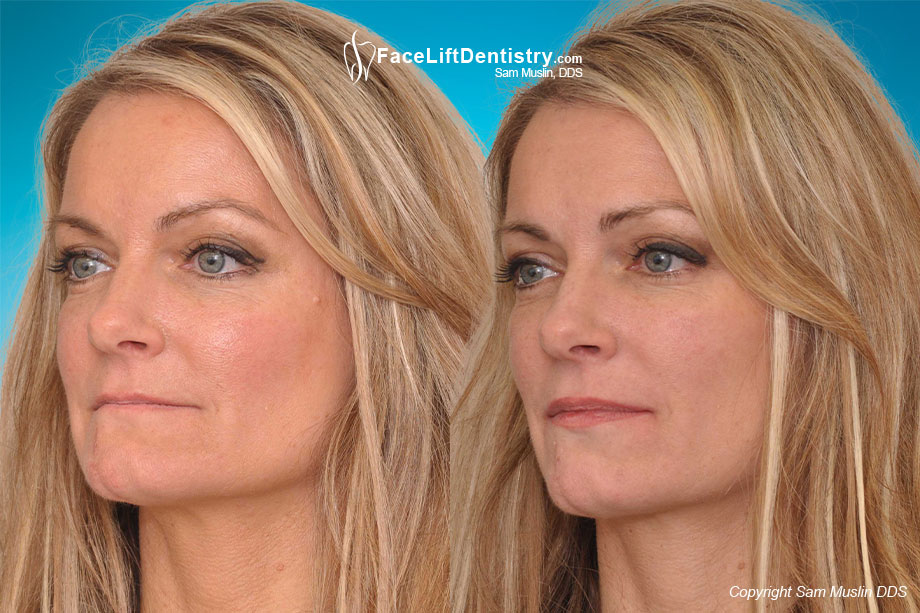 Fuller lips, less facial wrinkles, less jaw tension and stress along with better chewing power and digestion are some of the health benefits.
Call the office to discuss the possibilities and your own personal issues. We can coordinate your treatment with your travel plans and the results are easier than you think. The best way to know the specifics about your treatment is to get a personal consultation with this dentist.