Open Bite Correction with Non-Surgical Face Lift Dentistry®
Beyond Veneers and Cosmetic Dentistry - No Drilling, No Surgery 
Santa Monica • Beverly Hills • Los Angeles
Many adults are being told that the only alternative to open bite problems, underbites and overbites is jaw surgery (sometimes for a second time) and braces (sometimes for the second or third time), when there is an alternative that is faster, safer and more predictable in most cases.

Video: The Jaw Surgery Alternative for Open Bites, Under Bites and Overbites
This patient developed a severe open bite problem after jaw surgery. The purpose of the jaw surgery was for TMJ problems but the side affect of the jaw surgery caused an open bite and continued TMJ pain.

Overbite, Under Bite, Open Bite and Bad Bite Correction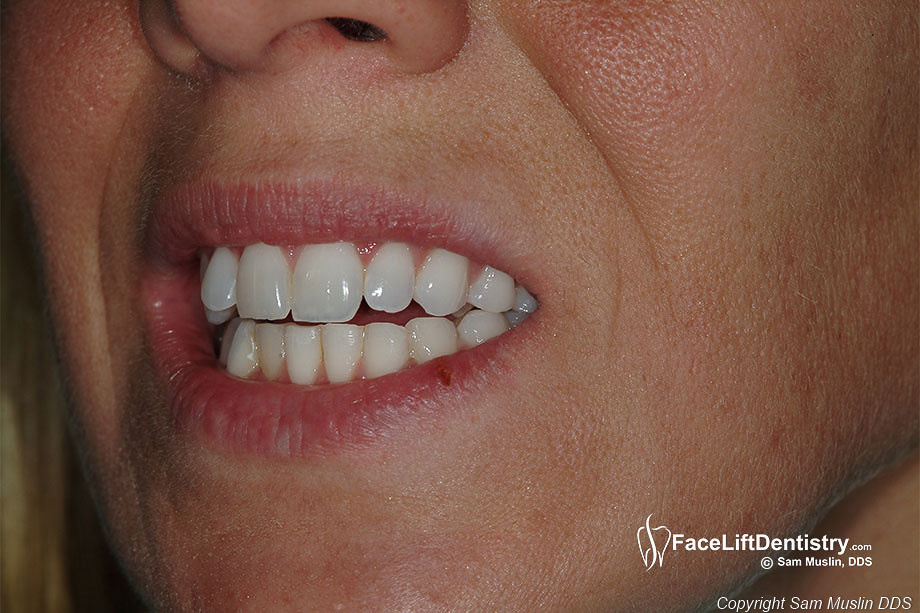 An "open bite" is where the upper teeth cannot make contact with the lower teeth. She is biting her teeth together and only the back teeth can touch leaving the front teeth "open". She cannot chew with her front teeth and she can no longer speak clearly. Neuromuscular dentistry did not help her.
Open Bite Correction – non-Surgical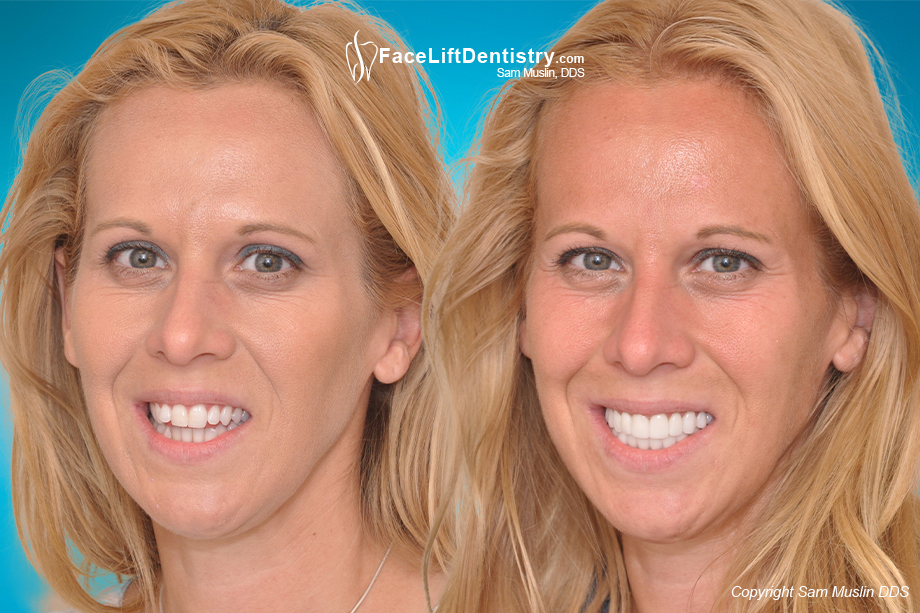 She is biting her teeth together in both photos. The "before" photo on the left she has an open bite and in the after photo on the right the open bite was corrected non-surgically in just a matter of weeks with very low risk. The method is the Anti-Aging Face Lift Dentistry® method using VENLAY® Restorations with existing crown replacement on some of her teeth.
Jaw Surgery Recommend for a Second Time
She was told that in order to correct the open bite caused by the first jaw surgery, she would need another jaw surgery and a couple of years of braces to surgically correct her open bite. There would be significant risks and the results are not as predicable as the alternative to jaw surgery treatment. She did not want another jaw surgery and she did not want braces again and she did not want to miss work to get the treatment. The solution came when found this website in the most unusual way.

Bite Corrected Without Surgery
She is Biting her Teeth Together in Both Photos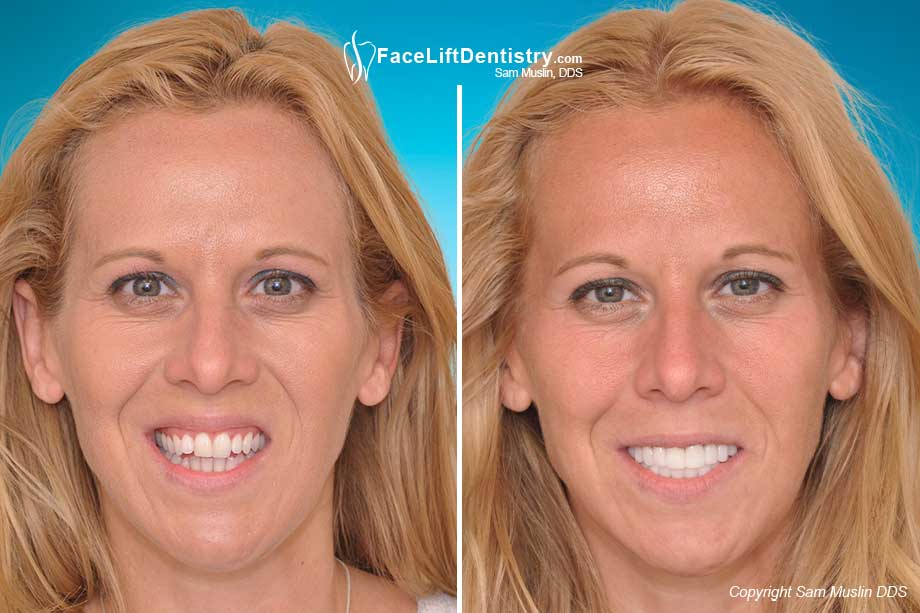 She found the website of Dr. Sam Muslin after seeing a video of his work on an airplane. She was so impressed with the "before and after photos" and videos that it was hard to believe. After reading his website, testimonials and watching the videos of his patients, she flew across the country to get treatment non-surgically. She is biting on her back teeth in both photos to help you see the actual results of the Face Lift Dentistry® method.
To Look Younger the Patient Needs to Feel Younger
This treatment is all about genuine health care and not just cosmetic dentistry. The treatment goals of idealizing the jaw position and developing a bite within biological limits is the definition of the Face Lift Dentistry® method. Don't confuse Anti-Aging Face Lift Dentistry® with anti-aging dentistry offered by cosmetic dentists because any dentist can call themselves an anti-aging dentist because there is no definition. Any dental treatment can be called anti-aging dentistry, which holds very little value.
Not Speaking Clearly, Can't chew properly and has TMJ Problems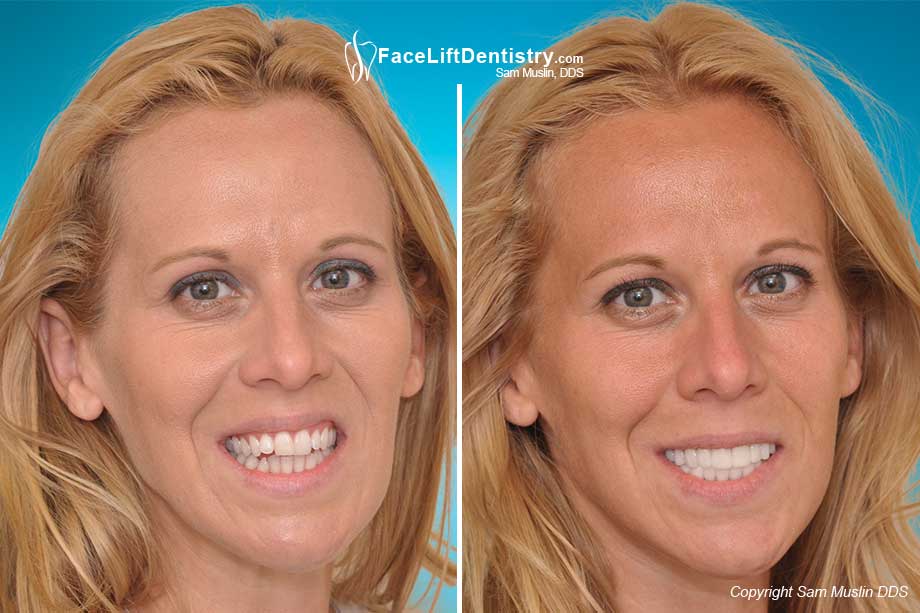 Her bite was corrected using high tech complex motion tomography imaging that has ultra low radiation in order to find the best possible jaw position. This technology allows Dr. Muslin to actually see where the jaw should be positioned to optimize the patient's health. CT Scans have far higher radiation exposure to the patients but the technology is improving.
TMJ Problems, Speaking Problems and Old Dentistry Replaced
The treatment involves improving the patient's bite position on the first visit, which immediately gave the patient TMJ comfort. No shots or anesthetic is necessary for this procedure and it takes less than an hour. On the second visit, all of the old fillings were replaced along with old crowns and Dr. Muslin designed her new teeth, bite and jaw position. Weeks later, the porcelain was constructed and the treatment was completed.
You cannot do this with Surgery, Porcelain Veneers, Invisalign®, Braces or a Face Lift
The new porcelain was placed on her teeth without anesthetic so the patient could see the results in her mouth before the porcelain is bonded. Dr. Muslin's patients can see the work for themselves and can make changes to the work such as making the teeth a little darker or shorter or longer or whiter. Being able to see the results and make changes is the single greatest advantage to this method because the patients are in control of the cosmetic results.
She is speaking clearly, feeling healthy, has greatly reduced her TMJ problems and has beautiful straight white teeth.
Dr. Muslin sincerely thanks this patient for allowing him to show the results of his work. She is deeply appreciated.
Call for your appointment to discuss your issues. This dentist has been practicing for over 30 years and his vast experience has helped him treat his patient in a more organized, quick and predictable fashion. Treatment can now be completed in just one to two weeks in most cases.
Page updated on
Testimonial: Protruding Jaw and Underbite Correction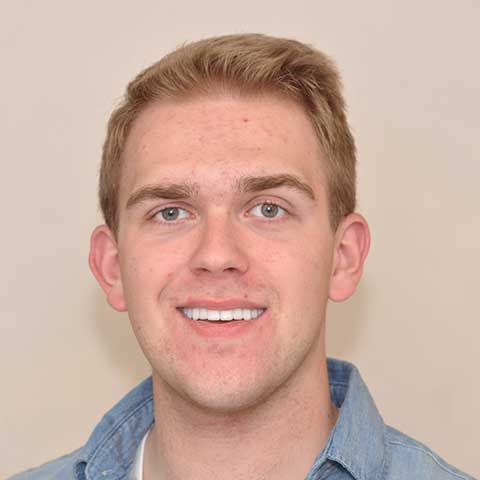 "Dr. Sam Muslin is a wizard!"
Testimonial: Jaw Position and Underbite Correction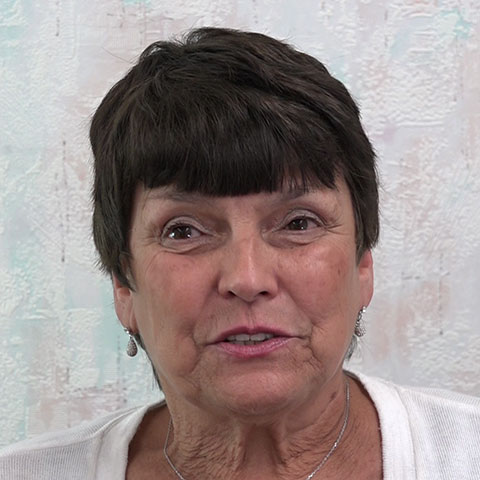 "I always thought she was so sad as she never smiled but I guess it was because her underbite was so bad. Now, after her underbite has been corrected, she can't stop smiling."
- Underbite Patient's Grandmother
From New Jersey
Testimonial: Underbite, TMJ and Open Bite Correction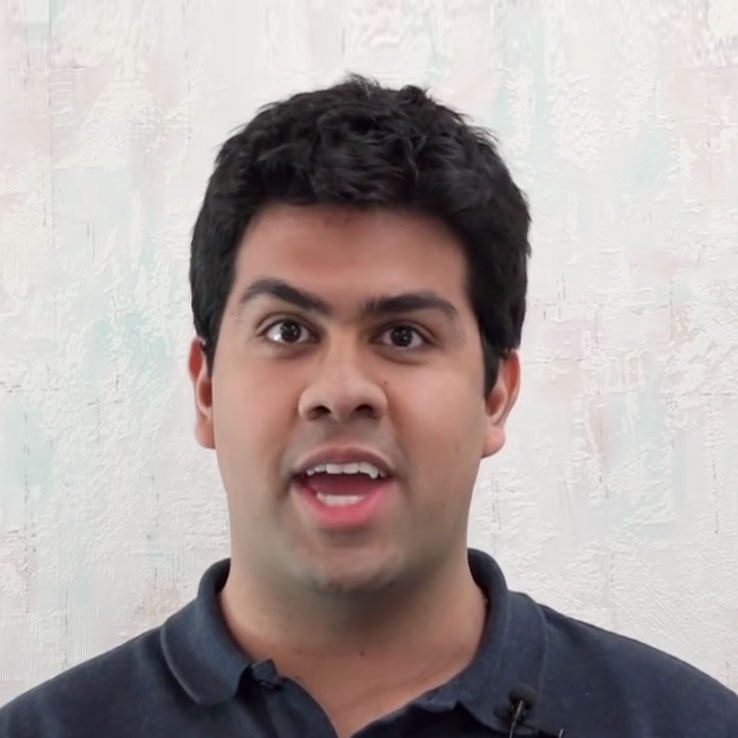 "Being able to change in a matter of just a few sessions with Dr. Muslin is just incredible."
From New York
Testimonial: Underbite Correction, Jaw Surgery Alternative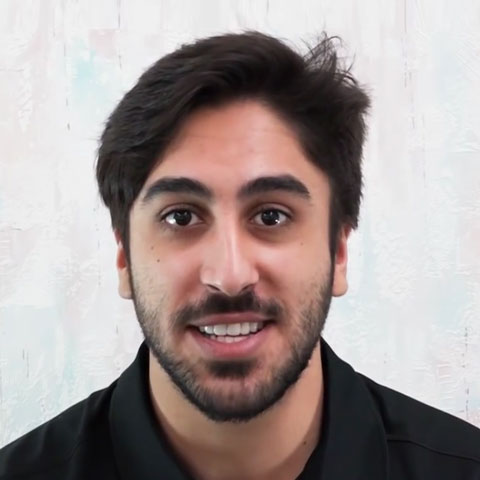 "I have been to multiple dentists and orthodontists and everybody has told me that I have no option other than jaw surgery. Then I came across Dr. Muslin who offers a surgery-free and easy to implement solution. The results have been unbelievable."