The Aging Face
Beyond Veneers and Cosmetic Dentistry - No Drilling, No Surgery 
Santa Monica • Beverly Hills • Los Angeles
One of the best solutions to the aging face is bite correction because the bite directly determines controls the shape and proportions of the face. The face is influenced because the position of the lower jaw is a major part of the facial profile and how large the chin will appear.
Video: "Porcelain Veneers Did Not Help My Face or My Smile Like Face Lift Dentistry® Did"
This patient already has smile dentistry, anti-aging dentistry and porcelain veneers in her mouth and yet is frustrated. Her face was aging, her bite was uncomfortable and she was losing facial support. Even after working in the dental field for over 30 years she was unhappy with cosmetic dentistry.

For example, when a patient has an overbite at a young age, they start life compromised. As this patient gets older and wears down their teeth, the face gets shorter, deeper wrinkles occur, the chin looks smaller, they generally snore more and because they can't chew their food very well have digestion problems. People with overbites are subject to premature aging and also have slurry speech patterns.
Porcelain Veneers are not the Answer!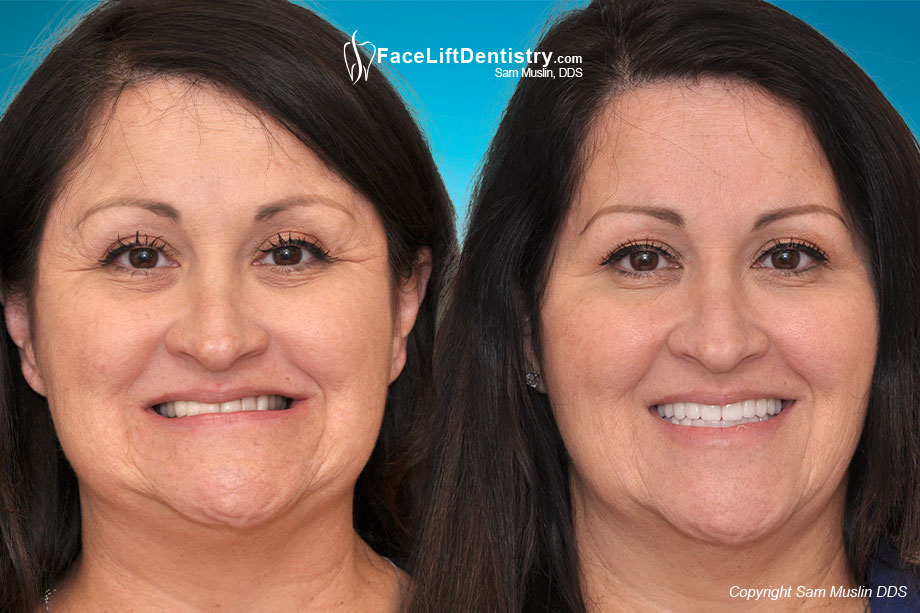 In the before photo on the left she has porcelain veneers and cosmetic dentistry and a deep overbite. Porcelain veneers usually make overbites worse.
The photo above clearly shows that it is NOT about the Smile! She has porcelain veneers but she has the wrong bite and chin position for her face. Like so many people, she never had the best bite and facial proportions, which is why she has experienced premature aging even though she had anti-aging cosmetic dentistry. In the after photo, all of her porcelain veneers were replaced with the Face Lift Dentistry® method and the results improved her facial proportions, corrected her overbite and smoothed out her wrinkles. For the first time in her life, she has the best bite for her facial proportions, which has greatly improved her health.
Looking Younger with Bite Correction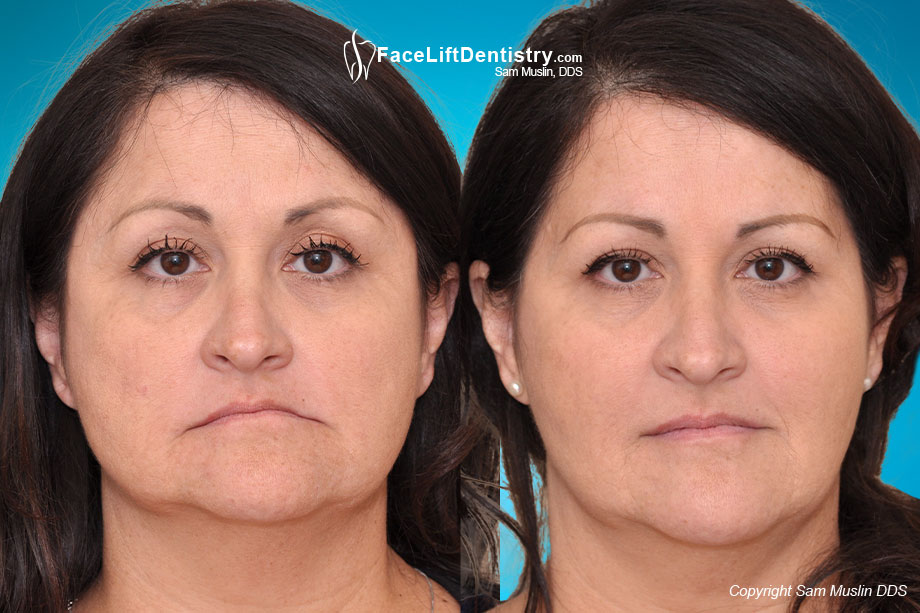 Looking younger is about the best bite that is custom built to optimize the shape of your face by getting the best position for your lower jaw. No surgery, no braces and no grinding down healthy tooth structure.
No Tooth Grinding VENLAY® Restorations
The high tech dentistry of today is the ability to improve the shape of your face, reverse years of aging, improve the size of your chin and correct your bite without grinding down your healthy tooth structure. The miracle of this treatment is the speed because it only takes a few weeks. The patients fly in from other countries, get the first phase completed and fly back in a few weeks to finish the treatment. The reason that so many people and received this treatment is that none of their healthy teeth have to be ground down and the shape of their faces look years younger and it doesn't hurt to get it done.
It's Too Good To Be True
We hear this a lot but keep in mind that every single patient you see on this dentists website has signed a release from to allow him to show the results of his work. This is the ultimate testimonial and the results are for real.
What Makes People Feel Younger?
They need to sleep more soundly and wake up less during the night without drugs. Face Lift Dentistry® is a purely mechanical approach to optimize your health. Patients also have to look younger by having the ability to speak clearly and balancing the shape of their faces. Additionally, jaw pain, headaches and other head an neck tension must be reduced in order to improve how a patient feels because Dr. Muslin says, "You look your best when you feel your best" and you generally can't have both with just cosmetic dentistry and veneers.
All Photos are Untouched and Unaltered
None of the photos have been altered in anyway to improve the results. You are seeing the actual results and Dr. Muslin sincerely thanks all of the patients that have given him permission to show the results of his work.
Call (310) 829-6796 to discuss your specific issues with one of our treatment coordinators. This is the "new age of dentistry".
Page updated on
Bite Correction Treatment Options
Frequently Asked Questions
Testimonial: JawTrac® Bite Correction and Amelogenesis Imperfecta Treatment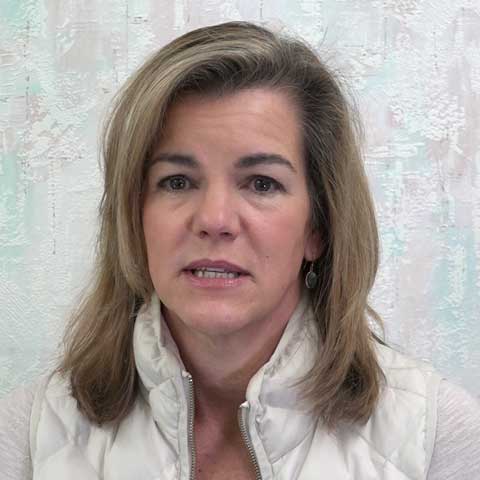 "Last night was the first time in his life that he chewed food on his back teeth. It was an incredible experience. Having his bite corrected changed his life. Were thrilled that this transformation has happened for him. It's going to be the start of a lot of great things for him." Read more.
- 19 Year Old Bite Correction Patient's Mother
From Texas
Testimonial: Open Bite Correction with Non-Surgical Face Lift Dentistry®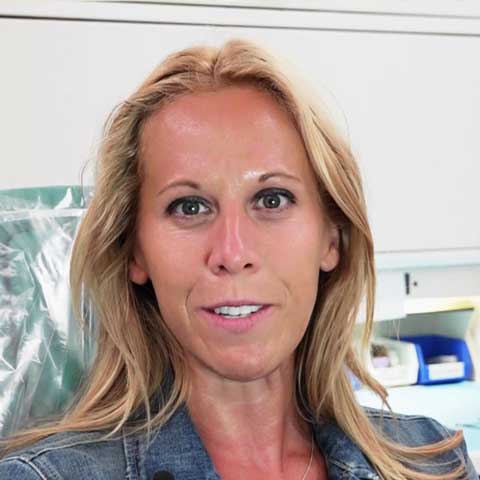 " My overall experience here has been wonderful. In a very short period of time going from a horrible bite and a lot of pain to having a wonderful smile, no pain, no surgery and no healing time from a surgery. I'm very happy and would definitely recommend Dr. Sam Muslin to anyone." Read more.
- Open-Bite Correction Patient
From Pennsylvania
Testimonial: Bad Bite and Facial Collapse Treated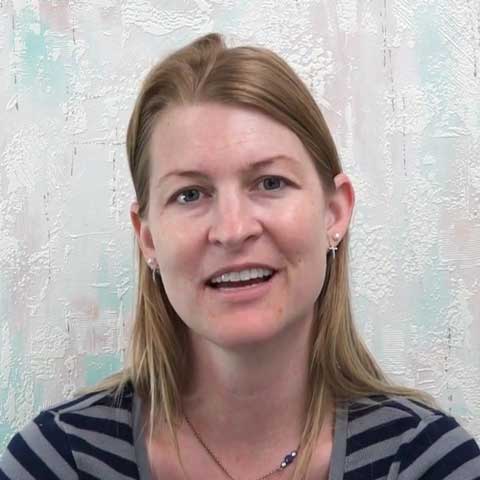 " I haven't even hit 40 and I've been worrying about the Aging of the process. I don't think any other dentist knows how to fix your bite, fix your smile without any pain. My experience has been fabulous and I'm really happy and I came to the right dentist." Read more.
- Bite Correction and Anti-Aging Dentistry Patient
From California