Did she get porcelain veneers? No, she chose the VENLAY® restorations instead which means that she got the smile she always wanted and improved her facial proportions. All of her upper teeth have porcelain VENLAY® restorations to improve the shape of her teeth and to get the white color that she wanted. However these restorations also change the biting surface of all of her upper teeth to improve the position of her jaw, the health of her bite, and the overall shape of her face. This treatment is a mechanical, non-surgical approach to health care that has a lasting benefit that prevents premature aging and can reverse years from the aging face.
VENLAY® Overbite Correction in Two Visits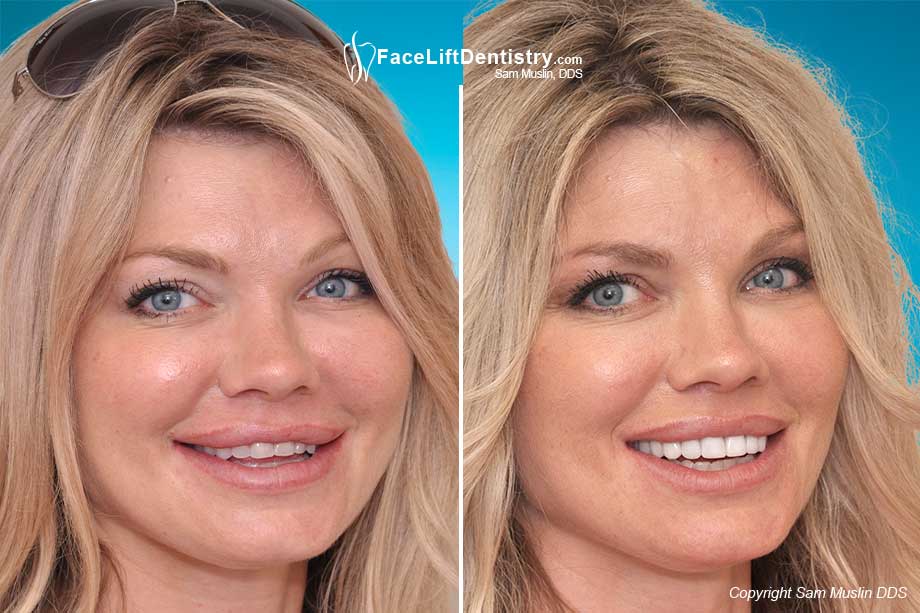 Real Anti-Aging Benefits that Last
Why does her face look younger; did she have surgery or facial fillers? No all of her results were achieved with a non-invasive bite correction method using VENLAY® method restorations that require no tooth grinding . Because she had an overbite her teeth were not meeting together soon enoughface was getting shorter. Her overbite left her face shorter and rounder than it should be. Older people have short round faces and younger people have egg shaped faces.
Overbite Correction and Looking Younger
Unfortunately, people with an overbite or underbite tend to show the signs of aging much sooner than someone without an overbite because the soft tissue of their face is not supported. Only by improving her bite and jaw position will the soft tissue of her face gain the support that it needs to keep her looking younger longer. Now her overbite is gone, she looks younger, and she will avoid premature aging because she now has permanent facial support from her new bite position. This is the premier method of non-invasive anti-aging dentistry. Patients look younger because they have the most ideal bite that is custom built to their faces using the Face Lift Dentistry® high tech method.
What is VENLAY®?
---
The VENLAY® restorations are a non-invasive bite correction restoration that can improve the shape and length of your face but also the balance or proportions of your profile. The idea is to bond special high tech porcelain to the biting surface of your natural teeth in order to create the most ideal bite and jaw position for your face and your health. By improving your bite and jaw position your facial profile and the position of your chin is improved. The Chin Looks Larger because it has a new position. The wrinkles in you face are less intense and the neckline or double chin also improves. The patient's chin usually looks small with an overbite and once it is repositioned using Dr. Sam Muslin's method, the chin looks significantly larger. The only reason that they patient has a small chin is because it is in the wrong position for their facial structure. It can be moved so easily that the simplicity of this method is surprising.
No-Grinding VENLAY® Restorations

One of the best ways to look your best and feel your best is to prevent premature aging by supporting your face and idealizing your jaw position.
The Potential of Face Lift Dentistry®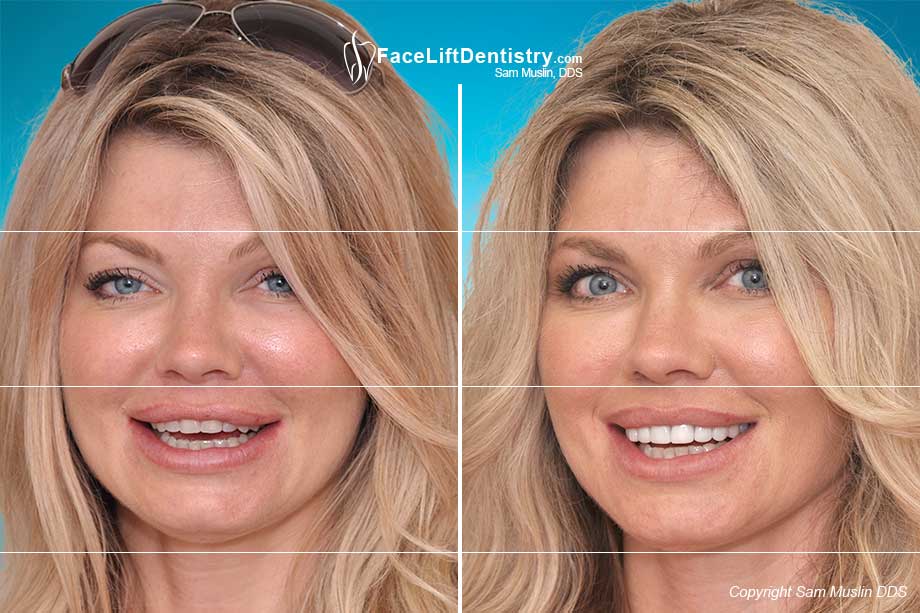 Look Years Younger without Surgery or Braces
How can you get the jaw to move "instantly"? The method is really simple in concept but most people do not realize that their bite position directly influences the shape of their face and the aging process . For most of us our lower jaw is not in the best position because our bite is not idealized to our faces. The reason our bite is not ideal is because our teeth grew in at different times and they continue to shift over the years. With todays advanced technology, and because we are living so much longer, idealize your jaw position will help you look younger for the rest of your life.
Patients Fly in from All Over The World
A less than perfect or even bad bite forces the lower jaw back towards the ears into a posterior position that slowly worsens over time. As a result you can experience premature aging and facial collapse much sooner than normal. Most people don't even know that they have a problem unless they start to get TMJ pain from the bad bite. Other times we notice the effects of aging and choose plastic surgery or fillers when really all we needed was a Face Lift Dentistry® bite correction using VENLAY® restorations and the expertise of Dr. Sam Muslin.
It is Not Too Good to be True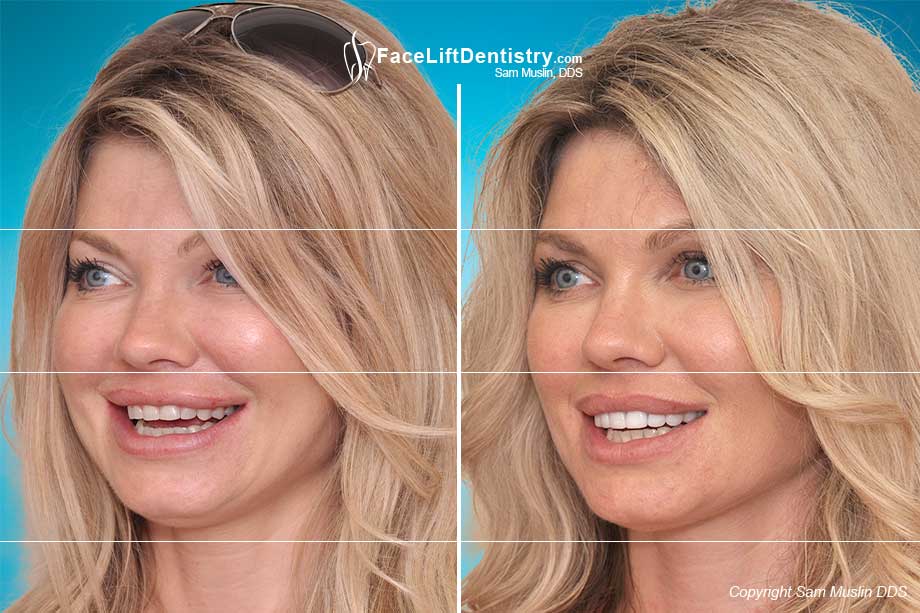 The Face Lift Dentistry® method using VENLAY® restorations is designed to locate the best jaw position for your health which means cosmetic benefits for your face and profile that cannot be achieved any other way. The jaw moves instantly into the best position only when the ideal bite position is created. Dr. Sam Muslin uses technology that shows the position of the TMJ, which he verifies and tests in advance before starting care. Then with this information he designs a bite position around your specific anatomy and facial features that will help you look and feel your best.
To learn more about the Face Lift Dentistry ® treatment give our office a call to talk with our staff and possibly schedule your appointment. Our number is (310) 829-6796.
Dr. Sam Muslin sincerely thanks all of the patients featured on this website for giving him written permission to show the results of his work. All of the photos are his patients, the results of his work and all of the photos are untouched and unaltered.