This patient has a form of facial collapse from a skeletal malocclusion. Many patients suffer from some type of facial collapse due to missing teeth and differences between the sizes of the upper and lower jaws, Skeletal Malocclusion Treatment will fix this without the need, pain, and down time of orthognathic jaw surgery.
Orthognathic Surgery Alternatives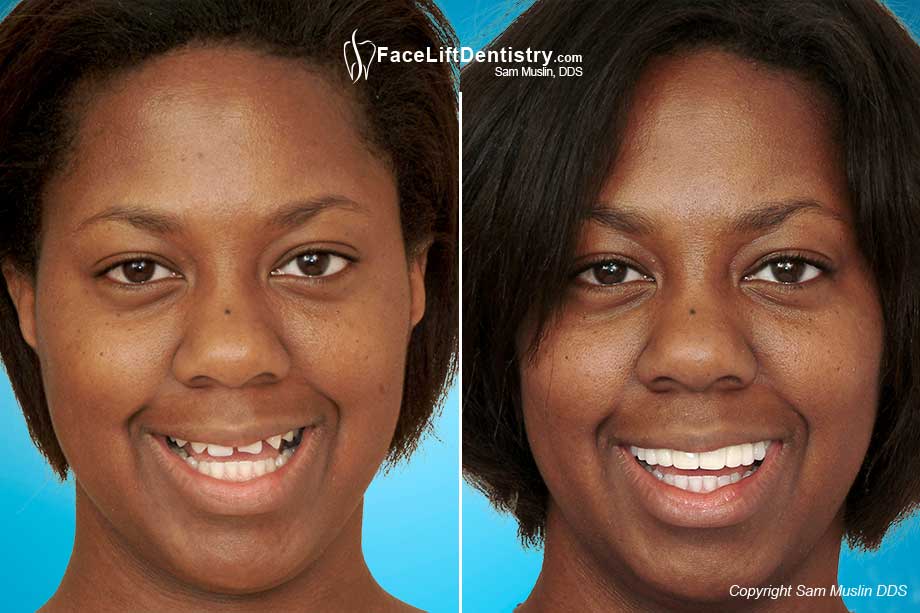 This patient was diagnosed as having a skeletal malocclusion and the solution was jaw surgery, porcelain veneers, and dental implant and porcelain crowns. The Skeletal Malocclusion treatment would take about 2 or more years and would require multiple surgeries s and significant expenses. The orthognathic surgery alternative also involves significant expenses but can be completed in just 2 weeks without jaw surgery.
Can Porcelain Veneers or Invisalign®Treat this Problem?
The answer is no because the patient has spaces between her teeth that porcelain veneers cannot close. The gaps between her teeth are too wide for porcelain veneers. If the cosmetic dentist treated this patient with porcelain veneers her teeth would look very very large. Her smile with porcelain veneers would be unattractive, as she would have big, bulky square shaped porcelain veneers.
Facial Collapse Resulting from Missing Teeth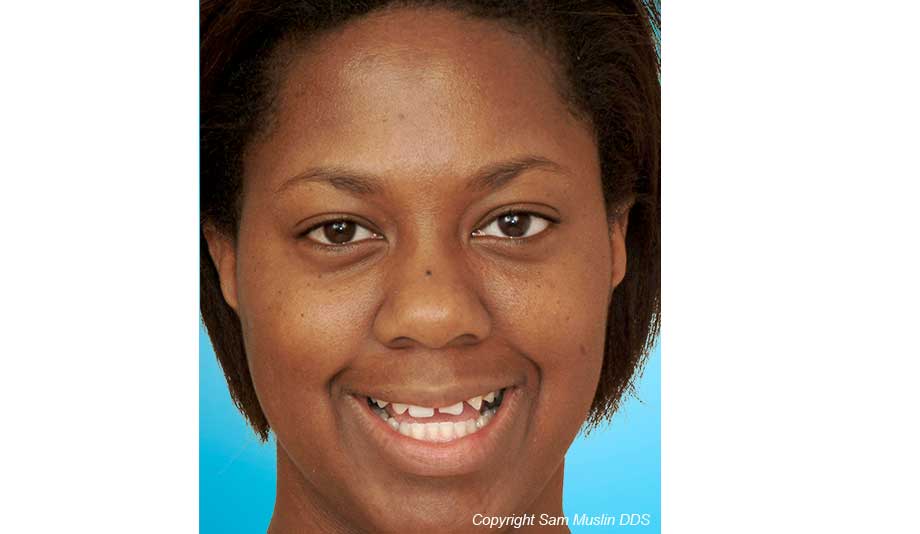 The shape of the patient's face is one of the most important aspects of cosmetic dentistry but very few cosmetic dentists treat faces. Cosmetic dentists treat teeth not faces. Face Lift Dentistry® treatment by Dr. Sam Muslin is all about treating the shape of the patient's face and the patients skeletal chin position.
The Solution: Face Lift Dentistry®
---
There is only one treatment that can change the shape of the patient's face without facial surgery and it is Dr. Muslin's Dental Face Lift®. The teeth and the bite determine the shape of the patient's face for the patient's entire life. The patient actually has a choice as to whether they will have a short round face or a face that has better proportions and support as a younger person.
His treatment actually can give the patient a better skeletal chin position and facial profile while simultaneously supporting the patient's lips, cheeks and face. Dr. Muslin says, "This is the only treatment that improves the health of the patient with the best possible cosmetic benefits. The patients jaw can be in a better position and the patient's lip can have permanent support and the patient's bite can be comfortable.
Neuromuscular Dentistry & Head and Neck Stress
The goal of neuromuscular dentistry is to relieve TMJ pain, headaches or facial pain. There are many types and methods to neuromuscular dentistry and the treatment can be significantly different between cosmetic dentists or full mouth reconstruction dentists.
A full mouth reconstruction by one dentist's can have absolutely nothing similar to a full mouth reconstruction by another dentist. Dr. Sam Muslin's unique Face Lift Dentistry® treatment is not only designed to achieve head, neck and TMJ stress reduction but also improve the shape of the patient's face and jaw position. The recessive chin can be repositioned to get a much better facial profile with the Dental Face Lift® when combined with a full mouth reconstruction.
Skeletal Malocclusion Correction
The Shape of her Face Improved and her Overbite Corrected in 2 Weeks without Surgery
Single Jaw Surgery Eliminated
The patient was looking at having a single jaw surgery to enhance the size of her upper jaw and dental implant surgery to replace missing teeth. She would still need porcelain veneers and porcelain crowns and possibly dental porcelain bridges and then a year or two of braces to complete her treatment. By choosing the skeletal surgery alternative, she was able to eliminate all of the surgeries and get the facial support and missing teeth replaced much quicker.
Neuromuscular dentistry using Dr. Sam Muslin's Complex Motion Tomography to develop the ideal lower jaw position was able to help this patient improve the shape of her face, support her upper lip and have a much more mature looking appearance. In just two weeks, her facial appearance went from a "baby face" to balanced facial proportions with permanent facial support.
For patient's interested in Skeletal Malocclusion Treatment, please evaluate the before and after photos that are untouched and unaltered for an honest comparison.