Underbite Surgery Alternative
Non-Surgical Under Bite Correction in Two Weeks
Beyond Veneers and Cosmetic Dentistry - No Drilling, No Surgery 
Santa Monica • Beverly Hills • Los Angeles
After seeing this website he thought under bite correction in just two weeks without grinding down any of his natural teeth was too good to be true. He has a large looking lower jaw, he is very self-conscious about his facial profile and his speech is slurry. He explains it in his video.

Video: Under Bite Treated without Surgery, Braces, or Grinding Down Teeth
Compare his slurry speech and his physical appearance while he talks in the video before he was treated. He explains his problems and you will see and hear the results only one hour after the VENLAY® restorations were bonded using Dr. Muslin's "patent pending" method.

Cosmetic Dentistry & Porcelain Veneers Fail
The treatment of placing porcelain veneers, (generally requiring grinding down healthy tooth enamel) in order to just make the upper jaw look larger does not correct the under bite. No bite correction occurs and the jaw position is generally the same, which leaves the patient with the same shape to his face. The profile view is the same as the patient still has a lower jaw with a bite that makes the lower jaw look larger. Porcelain veneers and cosmetic dentistry do not correct under bites. But, may sound too good to be true but this patient just finished with his treatment and he is now a believer.
Facial Profile Corrected with Under Bite Treatment Surgical Alternative
Face Lift Dentistry® is good for the patient's health with bite correction treatment. It is not primarily a cosmetic dentistry procedure. The facial profile is improved because the bite was corrected which allowed his lower jaw to function in the most natural position for his jaw structure. The new jaw position is actually the healthiest position possible for the patient.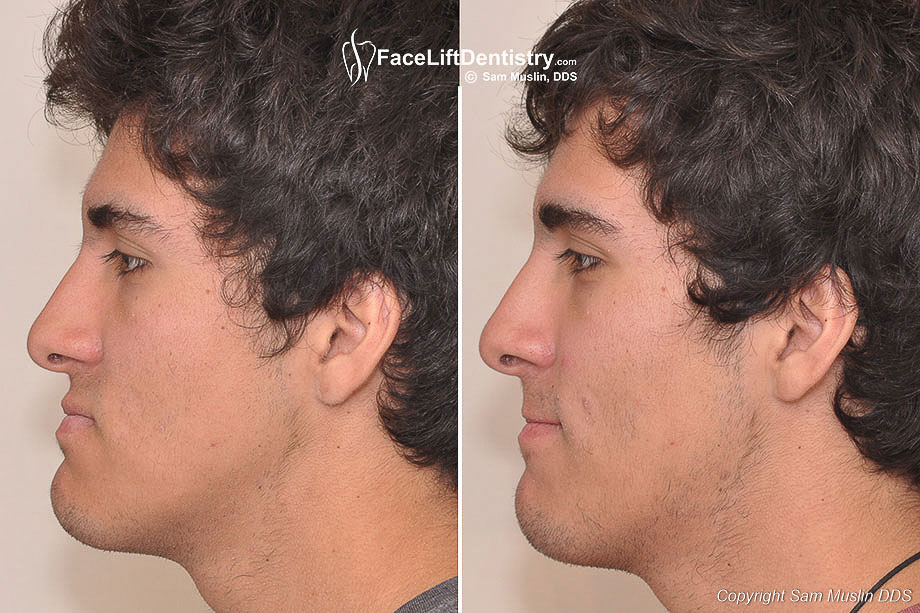 Underbite surgery has significant risks and the results are not guaranteed and are not predictable because of the healing process. But, with this method, the patient can see the results before the porcelain is bonded.
Moving the Lower Jaw to Correct the Bite without Surgery
This patient's lower jaw easily moved to the bite correction position because it is the ideal position for his lower jaw. Dr. Muslin's method quickly locates the best jaw position, tests it in advance and builds a bite to accommodate his new jaw position. He will have an improved facial profile, better smile from all angles, a corrected and straight white teeth using VENLAY® restorations.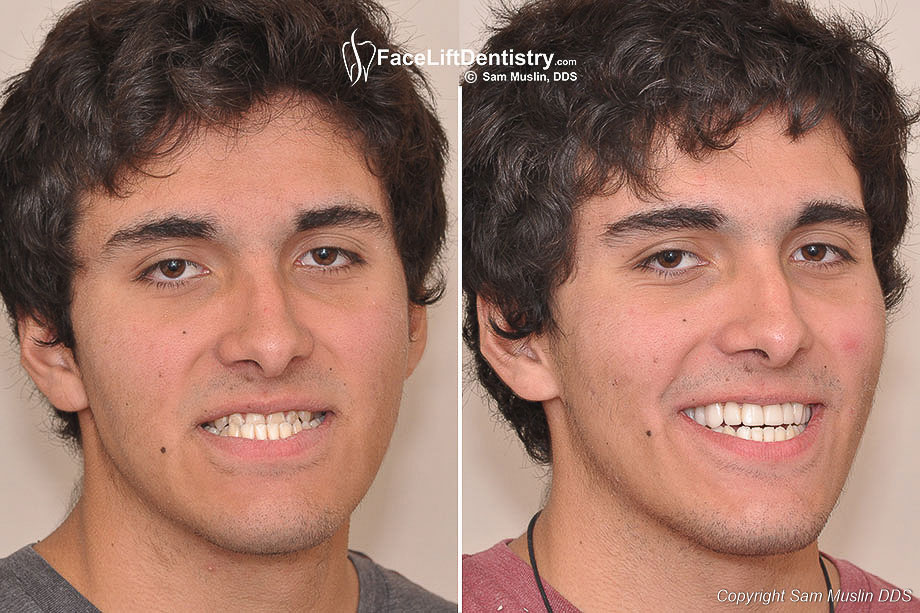 His upper teeth are behind the lower teeth on the left photo. On the right photo, his bite correction included moving the lower jaw and building a new bite. It is remarkably easy for the patient.
VENLAY® Restorations
Dr. Muslin has been treating patients for over 35 years. He is a Master of the Academy of General Dentistry and has extensive treatment experience with braces, full mouth reconstructions, bite correction, cosmetic dentistry, porcelain veneers and porcelain crown type reconstructions. He has developed his own "patent pending" method and has trademarked the VENLAY® restoration.
TMJ Problems
He is much less likely to have TMJ problems with his new bite than with his old under bite. His new under bite correction allows him to speak clearly, have a normal facial profile, chew better and feel a lot better about himself.
Jaw Surgery is Risky
The underbite surgery procedure today is the best choice for patients with extreme under bites and Dr. Muslin tells his patient's the best treatment for them. If he thinks the patient would be better served with jaw surgery, then he will tell the patient all of their choices. The safest treatment available for this patient with the most predictable cosmetic results and functional results was the exclusive Face Lift Dentistry® method with VENLAY® Restorations.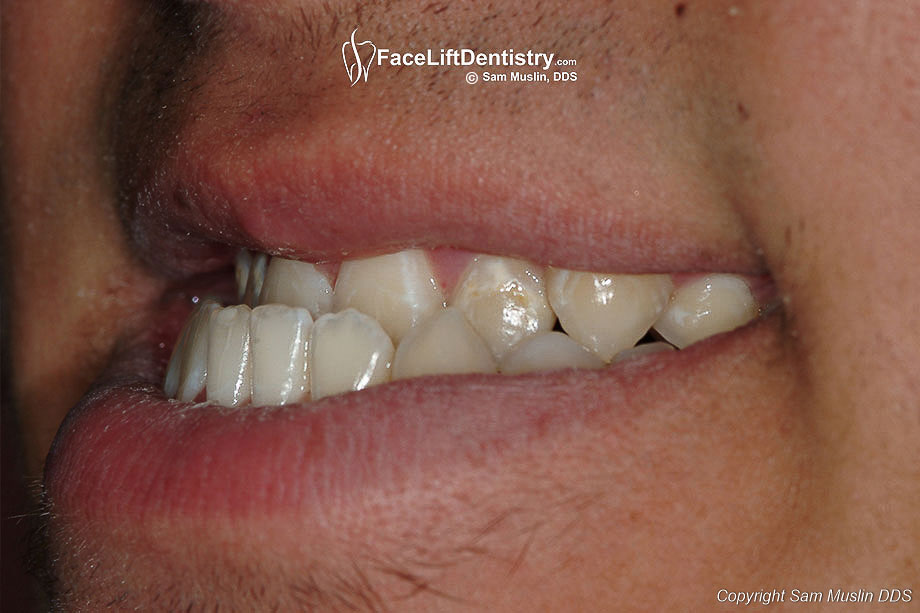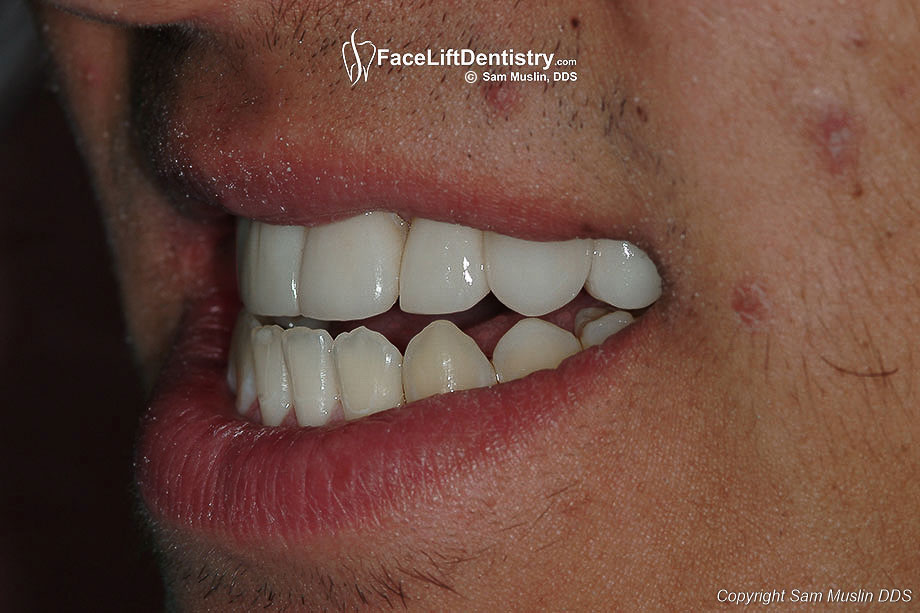 He has VENLAY® restorations on his upper teeth and he has natural untouched and unaltered lower teeth. This patient's bite correction required no jaw surgery, no braces, no grinding down his healthy teeth and was completed in just two weeks.
All photos on this website are untouched and unaltered. Dr. Muslin sincerely thanks all of his patients that have signed the release form allowing him to display the results of their dentistry. He humbly extends his gratitude to this patient.
Call for your appointment.
Testimonial: Protruding Jaw and Underbite Correction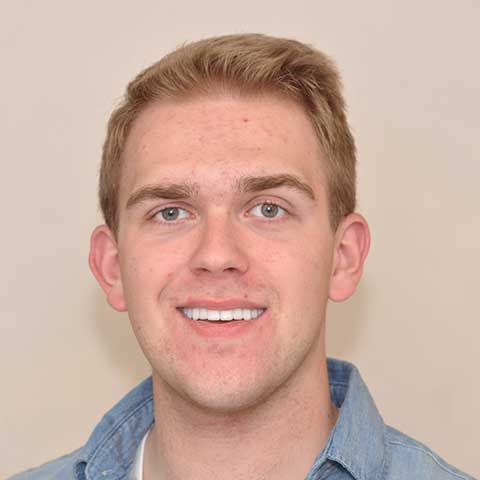 "Dr. Sam Muslin is a wizard!"
Testimonial: Jaw Position and Underbite Correction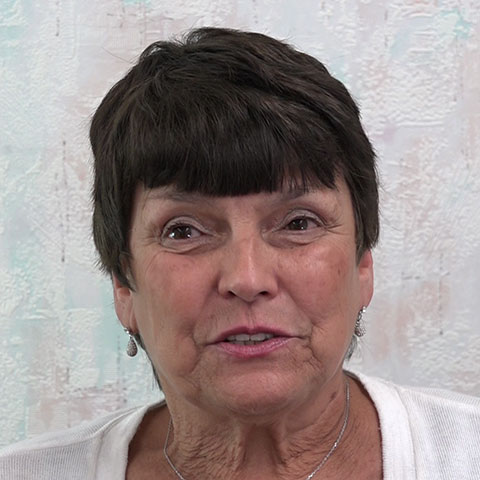 "I always thought she was so sad as she never smiled but I guess it was because her underbite was so bad. Now, after her underbite has been corrected, she can't stop smiling."
- Underbite Patient's Grandmother
From New Jersey
Testimonial: Underbite, TMJ and Open Bite Correction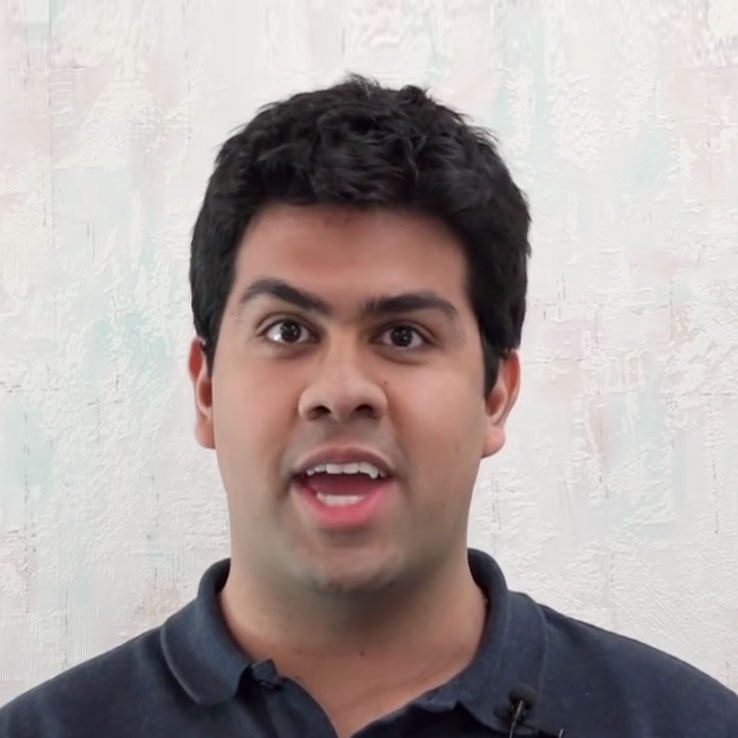 "Being able to change in a matter of just a few sessions with Dr. Muslin is just incredible."
From New York
Testimonial: Underbite Correction, Jaw Surgery Alternative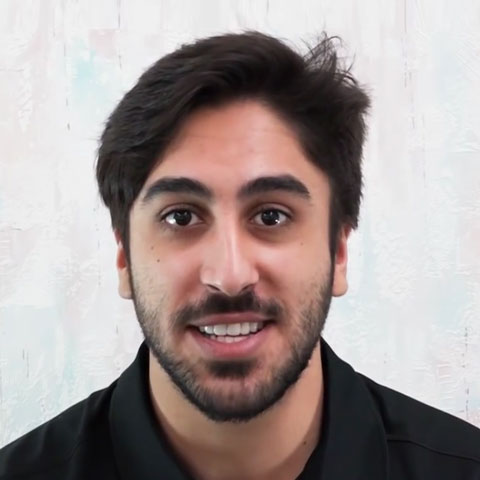 "I have been to multiple dentists and orthodontists and everybody has told me that I have no option other than jaw surgery. Then I came across Dr. Muslin who offers a surgery-free and easy to implement solution. The results have been unbelievable."