What is Face Lift Dentistry®?
Dr. Sam Muslin was Awarded LA's Best Cosmetic Dentist for 2017
Santa Monica • Beverly Hills • Los Angeles
Plenty of dental patients who have received the services of noted Santa Monica cosmetic dentist, Dr. Sam Muslin, have had their entire face and jaw improved while only changing their teeth! The Dental Face Lift ® or Face Lift Dentistry ®, both of which have been trademarked by Dr. Muslin, has a life-changing goal:
Face Lift Dentistry® is the method used to bring optimum dental health and a rejuvenated look to a patient's face and jaw through state of the art teeth restoration and bite reconstruction.
Ever Heard of Teeth Giving you a Facelift?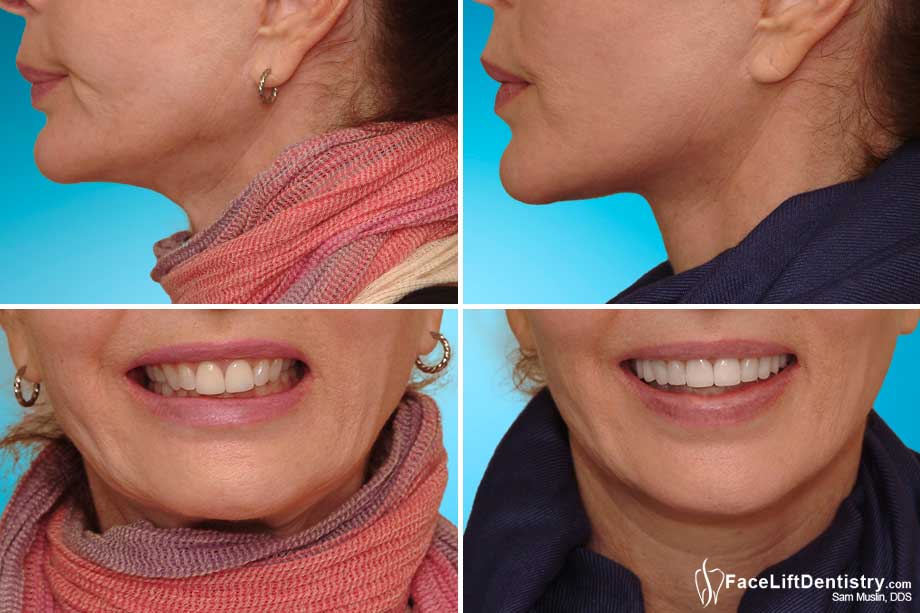 In the before photo she has a narrow smile and an overbite that causes head, neck and facial strain. In the after photo on the right, she has a wider smile, better facial support, overbite correction and less jaw strain and headaches. She looks better and she feels better.
Once the teeth are restored to the proper position then the bite acts in harmony with the jaw. Guess what happens next? Pain in the jaw that causes headaches can be dramatically reduced or eliminated. The optimal health Dr. Muslin strives to achieve for all of his Face Lift Dentistry patients extends beyond the teeth, jaw and face. It goes to overall body harmony, emotional and physical health.
More Than Cosmetic Dentistry
Body Health: When the jaw and teeth are functioning in harmony the body experiences less strain on the neck and head areas. Patients report fewer headaches, less jaw tension and pain, and less tooth grinding caused by tension. In addition, any on going or chronic infections resulting from past dentistry are eliminated.
Emotional Health: People are reluctant to pursue opportunities, attend social functions and interact fully when they feel like they do not look good. They are even more unlikely to engage in everything life has to offer when they are suffering from chronic infections and secondary health complications. It undermines their confidence. All of that disappears (note the patient comments on Dr. Muslin's site) with a Dental Face Lift ®. The patient's sense of wellbeing is restored and he or she beams with confidence again.
Physical Health: A better term for this might be appearance. Face Lift Dentistry ® does wonderful things for the way the patient looks. The face looks more symmetrical, the smile is brighter, wrinkles are reduced or eliminated around the mouth, and the lips appear fuller. Your face is lengthened and your profile is more supported. The effect is to remove 10 to 20 years from the face of the individual! It is a transformation that has to be seen to be fully appreciated.
TMJ Relief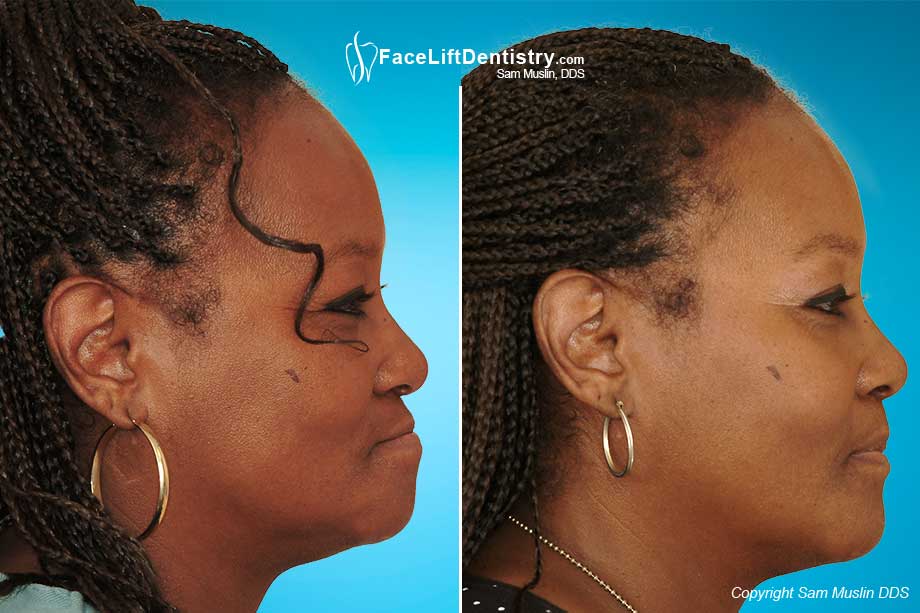 Face Lift Dentistry® and underbite correction without surgery to reposition the jaw for permanent TMJ relief.
Face Lift Dentistry® Candidates
Face Lift Dentistry® is especially beneficial if multiple dental issues exist that need to be treated. For example:
Collapsed face
A bad bite
Neck, head, jaw or tooth pain
Missing teeth
Extensive dental work that does not match
Broken or worn down teeth that no longer support your lips
Gaps between teeth
Facial disharmony
One hidden factor that may also influence the decision to undergo this procedure is tooth wear. This can be caused by bruxism (teeth grinding) but it can also result form normal wear and tear over the years. Every year of your life your teeth naturally shorten from everyday use.
As the teeth wear down, the face can shorten. This can cause wrinkles, thin lips and a face that appears collapsed or squished. The shortening of your teeth can make your entire face appear out of harmony. It can also make you look much older than your actual age. Face Lift Dentistry ® takes care of all of these issues in one well-coordinated treatment procedure.
Bruxism Leads to Facial Collapse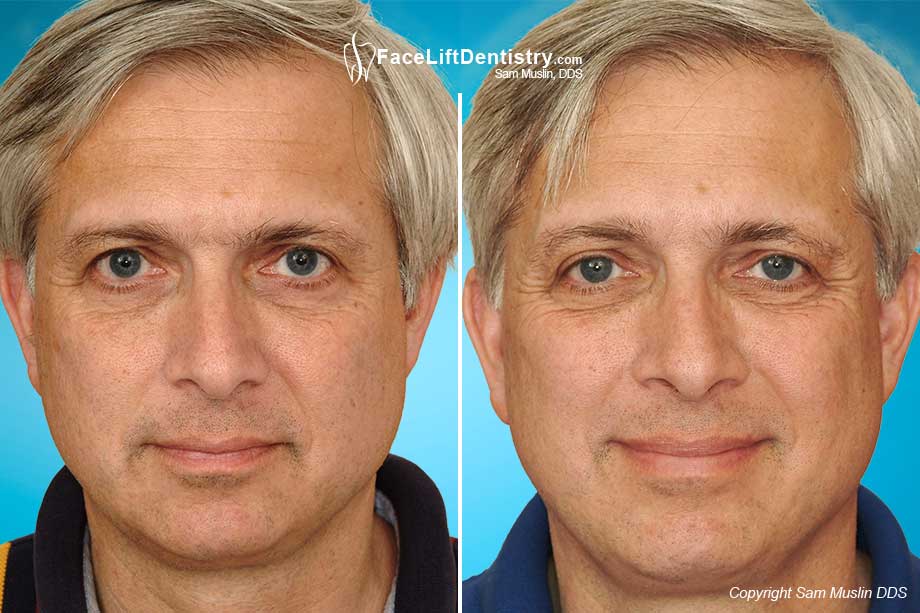 Some patients have not already experience tooth wear but rather their teeth were too short for their face and jaw from the start. When the teeth are already too short your face and profile will pay the price.
The Face Lift Dentistry® Procedure
After a careful diagnosis that includes time for Dr. Muslin to watch how you speak, he will develop a custom treatment plan for you. It is critical for him to study how your face reacts to standard movements like speaking and smiling to design the best solution. He will consider everything from how lengthening the teeth will affect your profile to how the changes will affect your speech sounds.
First, all of the old dental work including fillings, crowns, and decay is removed. Any periodontal disease or infection is treated. Dr. Muslin works with his ceramist of over 25 years and his highly skilled staff to design the best look for you. Everything from the color, translucency, texture and anatomy of the teeth is artfully crafted for each individual patient. The goal is to make sure the restorations look natural and totally functional.
In the next visit or two, all of the new restorations are placed into the mouth and you have time to try them in and see the new you. Dr. Muslin encourages all of his patients to take a few minutes to look at themselves both outside in daylight as well as in the office before the work is permanently bonded in place. If the try in is a success, then the teeth are bonded in place and the procedure is complete. The beauty is that the recovery time is a day or two at most; it is non-surgical; it is a non-invasive procedure and the results breathtaking. You leave the office with a rejuvenated look, a dramatic improvement to your health and a powerful boost to your emotional wellbeing.
The Difference Between Face Lift Dentistry® and Cosmetic Dentistry
Cosmetic dentistry such as dental implants, veneers or teeth whitening is also a specialty for Dr. Muslin. All patients do not need to have a Dental Face Lift ® so how do you know what is right for you? If you are considering cosmetic dentistry make sure that you are addressing the health issues that motivated you to consider a change.
When Cosmetic Dentistry is not Enough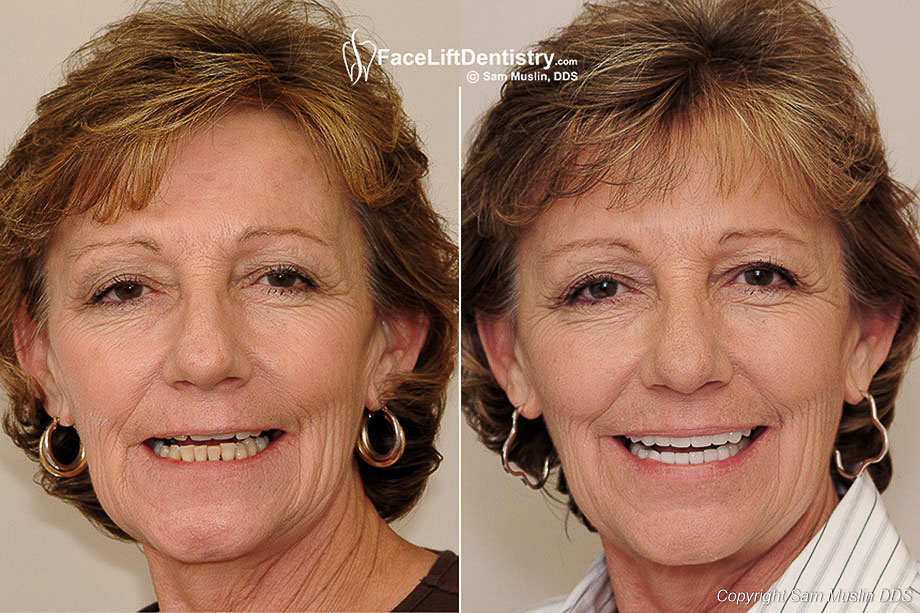 For example, if a patient is contemplating porcelain veneers to mask tooth decay you may want to understand what is causing the decay. Sometimes the Face Lift Dentistry innovation would be a better long-term solution over standard cosmetic solutions. Another example could be a patient considering an implant. If all of your teeth are worn down and too short then the implant will also be made short so that it lines up with the rest of the teeth. The better solution in this situation would be to use Face Lift Dentistry to restore all of the teeth to the proper height so that the implant tooth can be full size. The results will give you better facial shape and proper jaw alignment.
If the underlying health concerns or the facial shape is not a big part of the decision, then it should be! If those issues are not addressed, the cosmetic procedure will only be a temporary solution. When deciding what is right for you always consider your health issues (both long term and immediate) and all of the factors that effect how you look and feel.
Qualifications and Technology
Two other things to consider about a cosmetic dentist are the qualifications of the doctor and the technology used by the doctor's office.
Qualifications are of course academic and industry recognition but perhaps the most important qualification is the real life evidence of the doctor's work. When it comes to cosmetic dentistry the doctor must be an artist capable or merging science with the aesthetic beauty. Every detail of the tooth like the amount of translucency or the shape of the tooth relative to the shape of the patients face must be considered. Dr. Muslin specializes in the perfect harmony between science and art with every patient. His office contains the most advanced technology you could imagine. He stays current with all of the state of the art innovations and sets the bar for safe practices in order to bring his patients the finest in dental care.
Learn More About Facelift Dentistry ®
What is Facelift Dentistry ®?
How much does Facelift Dentistry ® Cost?
How does Facelift Dentistry ® work?