Improve the shape of your face, your profile, look years younger and prevent premature aging while improving your health without grinding down your healthy teeth is safe, faster than any other method and nearly painless.
Drilling Down Teeth: A Problem with Bad Cosmetic Dentistry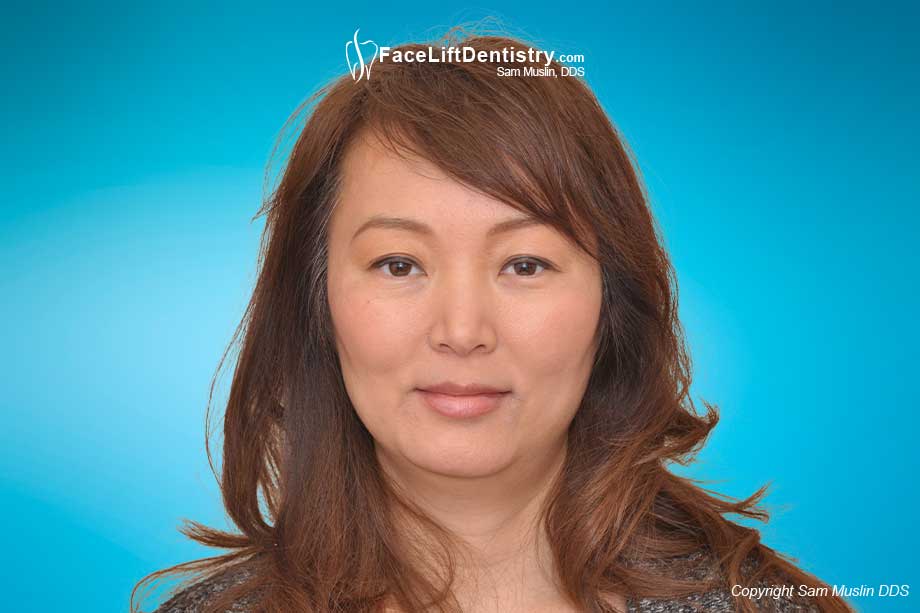 The Secret of Anti-Aging Face Lift Dentistry®
This patient had healthy teeth without a single filling but had TMJ issues and went to see a "neuromuscular cosmetic dentist of the stars". He was a cosmetic dentist of the stars and after developing what he thought was a better bite; he was ready to begin treatment. He sedated the patient and proceeded to grind down all of her upper healthy teeth for porcelain crowns without her knowledge or consent. She thought it was going to be done non-invasively.
She had no idea he was grinding down her teeth until after the visit was over and the sedation wore off. She was wearing temporary crowns on all of her upper teeth and she was in extreme pain for many months after the treatment.  She had to see a root canal specialist several times in order to get out of pain.  He root canaled four of her formerly healthy teeth. 
Drilling Down Healthy Teeth no Longer Needed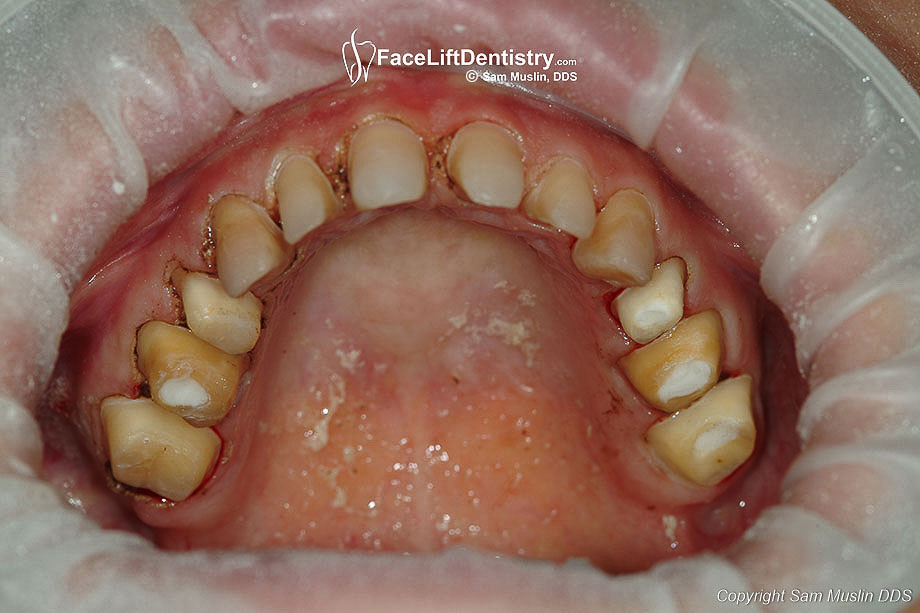 Dangerous Cosmetic Dentistry (Grinding Down Teeth)
The Problem with Bad Cosmetic Dentistry is that it is very invasive. Today using VENLAY® Restorations, the teeth do not have to be ground down and the bite can be corrected safer, faster and more predictably than ever before according to Dr. Sam Muslin.
Bad Dentistry Reversed
Now all of her upper teeth were ground down to stumps while her lower teeth remained healthy. The lower teeth were going to be ground down next by this "star" cosmetic dentist but she changed dentists and saved her lower healthy teeth by going to Dr. Muslin. He is using the Face Lift Dentistry® method. This method develops the shape to the patient face rather than just a cosmetic dentistry smile type of care. By correcting the bite non-invasively the patient's treatment is a "dream come true type of dental care".
.
Zero Tooth Sensitivity
When she saw Dr. Sam Muslin, she was in tears and he replaced the temporary crowns with porcelain crowns on her upper teeth and went beyond the smile. He resolved her TMJ pain, revitalized her face, idealized her jaw position by developing the best bite for her facial structure using his complex motion tomography and his VENLAY® restorations. She was thrilled because all of the upper teeth with porcelain crowns look the same as all of the lower teeth and the VENLAY® restorations. No root canals were necessary and no pain as her healthy teeth have a new porcelain protective layer. Tooth sensitivity after getting porcelain veneers or porcelain crowns in other dental offices is fairly common but with his method, Dr. Muslin has successfully eliminated the tooth sensitivity.
Upper Teeth Ground Down – Lower Teeth No Tooth Prep VENLAY® Restorations
For the patient's lower teeth, Dr. Muslin corrected her bite with his exclusive non-invasive VENLAY® restorations combined with his Face Lift Dentistry® method. Theses restorations look identical to porcelain crowns BUT the big benefit is that none of her teeth had to be ground down and she did not even need a dental injection. All her lower teeth remained healthy under the VENLAY® restorations which is the miracle of non-invasive high tech dentistry. Your natural teeth remain healthy. Compromising your health for cosmetic benefits is no longer necessary. If you have tooth sensitivity, it can be greatly reduced or even completely eliminated in most cases using Dr. Muslin's method.
Beyond Cosmetic Dentistry
In order to look your best and to feel your best, the bite needs to be optimized to your facial structures. Additionally, you will want to maximize your biologic potential and get the best possible facial proportions, the best possible facial profile and look and feel years younger after the treatment. There are benefits beyond cosmetic dentistry that do not require grinding down your healthy teeth, does not need any surgery or braces and the treatment is quick, efficient, safe and usually painless.
Patients Fly in from all over the World
The reason that patients travel so far is to save their natural teeth and to get the Face Lift Dentistry® method of optimizing the shape of their faces. These patients have already has porcelain veneers that did not improve their health or their bite or the shapes of their faces.
Facial Profile Correction
This method can improve facial profiles by correcting overbites and under bites. When the bite is corrected with this method, the shapes of our faces and our facial profiles are developed to our fullest biologic potential. This treatment prevents premature aging and can transform the quality of the patient's life. As Dr. Muslin says, "You will only look your best when you feel your best".<>
This treatment is designed to get the lower jaw in the most ideal position for the patient while optimizing the shape of the patient's face. You can't do this with cosmetic dentistry and porcelain veneers and the best part of this treatment is that it involves much less discomfort, greater cosmetic potential and improves the health of the patient.