Medically Reviewed by Sam Muslin, DDS, MAGD | Last Updated on 08/25/2022
The best way and the quickest way to close gaps between teeth is with cosmetic bonding. Another way to close a diastema (gaps between teeth) is with porcelain veneers. If the patient only wants to work on the front two teeth, cosmetic bonding would be my first choice and if the patient wants to work on more teeth in order to get whiter teeth or better shapes to the teeth, then painless dentistry involving non-invasive, no-prep porcelain veneers would be the best choice.
This patient only wanted the space between her front two teeth closed and chose the composite bonding method.
Diastema – Gaps between Teeth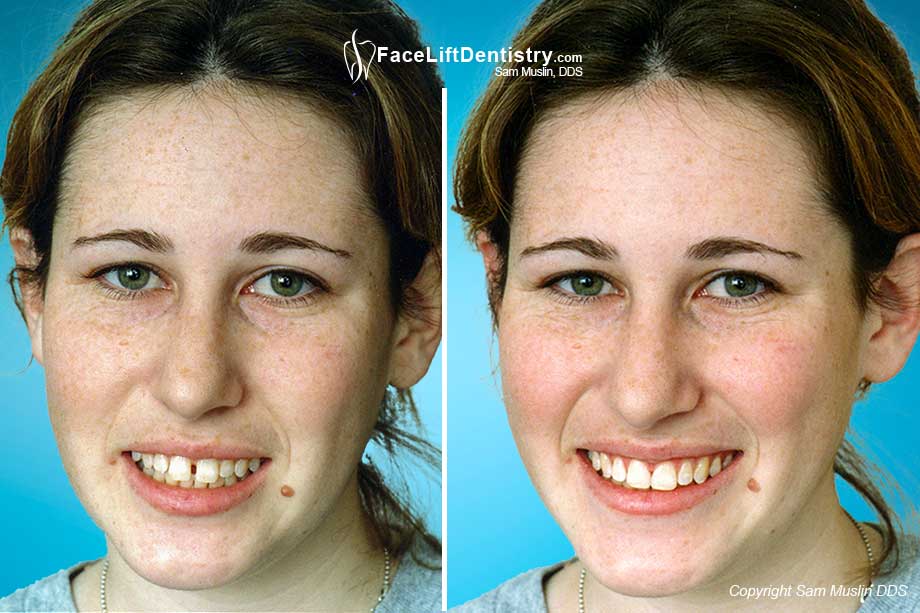 This patient's two upper central teeth were too long and there was a large gap between her teeth. In addition, many of her teeth were permanently spotted and many of them were oddly shaped. She wanted to look better, but she did not want to have any grinding on her natural teeth. Her goal was a subtle enhancement of the way she looked and not a super white Hollywood smile. She also wanted painless dentistry that does not harm her dental health. She can have diastema closure in just one visit with composite bonding.
Non-Invasive Cosmetic Bonding
After consulting with Dr. Muslin he determined that the right treatment for her was non-invasive cosmetic dentistry bonding to aesthetically re-shape the teeth and to close the gaps between teeth. Because a non-invasive approach is always Dr. Muslin's first choice this treatment plan allowed him to save all of her natural teeth.
How to get the Gums to Grow Back
The existing gaps in her teeth have caused her gums to be shaped with a flat bottom instead of coming to a point. She has a dark hole between her front teeth because the gum is missing. It is very difficult to make the gum between the central teeth, called the papilla, to grow back in the proper shape when it has been missing for years. Very few dentists can successfully gum graft this area in a way that the gum looks natural and healthy. The goal is to get the gums to grow back and the only way to do it is with dentistry that has a perfect fit. The fit must be absolutely perfect between the porcelain veneer or the composite bonding or the gum will actually move away and the dark hole between her teeth will get bigger. Gums can grow back but the dentistry must be ultra high tech dentistry.
Dr. Muslin micro surgically lifted and re-shaped her papilla so that it grew back between the teeth in the proper shape. All of the work including the papilla repair was completed in one short visit that was less than two hours long. The perfect smile is only possible if the gums and the dentistry are perfect.
Cosmetic Bonding vs. Porcelain Veneers
It is true that bonding is not as permanent of a solution as porcelain veneers simply because the bonding material is not quite as strong as porcelain. Composite dental bonding material is more porous and absorbs stain over time. Porcelain veneers that are done with the best high tech porcelain, are stronger, do not stain and look more natural than other types of porcelain veneers.
Be careful when shopping price for porcelain veneers because the material used is cheaper and does not have the translucency of natural teeth. More patients than ever before made the mistake of buying cheap porcelain veneers only to spend more money replacing them. They were embarrassed with the bad porcelain veneers and their smile quickly faded.
Cheap porcelain veneers actually cost a lot more money over time because replacing them becomes more expensive then if the patient got high quality porcelain with the best cosmetic dentist in Los Angeles. Dr. Sam Muslin was honored as LA's Best Cosmetic Dentist in 2012. The reason that he was awarded LA's Best Dentist was due to the documentation of his work. Most dentists will talk about how great they are, other cosmetic dentists claiming to be the best cosmetic dentist in Los Angeles may stand next to their famous patients but this does not document the skill level of the dentist.
The before and after photos of Dr. Muslin's work on his patients clearly show the quality aesthetic dentistry in well matched positions and well matched photography, that was the most valid and honest evidence of his expertise.
Please fill out the "Contact" form on this website or give the office a call to find out how to close the gaps between your teeth.