When you look at the before photo of this patient it is obvious that he has had a bad dentist experience, the patient probably did not keep up his home care and cleanings and as a result has had failed dental treatment. This patient had bad experiences with dental crowns because in his words, "The crowns keep coming off". Crowns should not come off except for very rare circumstances.
Gum Disease and Tooth Loss Treatment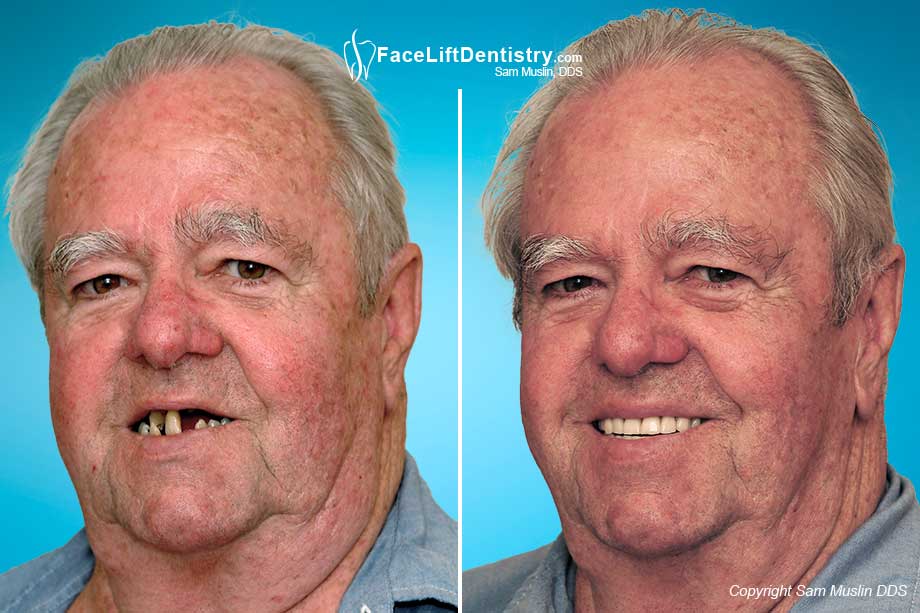 Full Mouth Reconstruction Dentistry
Many dentists are calling themselves cosmetic dentists because they can earn more by treating cosmetic dentistry because it is actually not covered by insurance. This patient has no interest in superficial cosmetic dentistry because he already knows he looks bad but would like to be able to chew his food more comfortably. He searched the Internet for a top dentist, a reconstructive dentist or the best dentist he could find because all he has had is bad dental experiences. He obviously needs a lot of work.
The Results Of Bad Dentistry
How did this patient get to this bad state? He was frustrated after years of failed dental treatments. Despite the amount of money spent, the work done would go bad within a few years. Discomfort and resulting health problems such as abscesses lent his lack of trust in dentistry. In Bob's words: "nothing worked".
Full Mouth Reconstruction and Anti-Aging Dentistry
When a patient in his condition begins treatment, the first phase of care is to stop all levels of infection. Typically there is large-scale gum disease, big cavities, bad crowns, abscessed teeth and a collapsed bite. To keep the patient motivated treatment must be a quick, painless, highly effective process combined with a clear understanding of fees and proper home care.
All of the bad dental experiences and bad cosmetic dentistry has to be put aside and the confidence must be restored to keep this patient motivated to complete his care.
The first phase of care is to stop all levels of the infection process.
Jaw Bone Loss
Jaw bone loss occurs when teeth are extracted and with gum disease. Gum disease is usually painless as the bone literally is dissolved away. These patients experience facial collapse and premature aging. Saving the roots of the teeth or placing dental implants keeps the patient from loosing jaw bone especially if they are wearing dentures.
Reversal of the Aging Process
The upper jaw was restored with an over denture supported with Bob's own natural teeth under the denture for better support. Although most of Bob's remaining teeth were saved, some had to be extracted and the jawbone was grafted to reduce resorption. Bob's natural teeth give the over denture a solid base that increases stability and chewing power. Also, the natural teeth under the over denture give Bob proprioception. Proprioception is the feeling that the over denture is an extension of his natural teeth. The patient said, "it fits so solid that it is hard to get out, I love it."
Fountain of Youth Dentistry
This patient needed dentures that would function properly and helping the patient be able to chew their food is the primary goal. To prevent jawbone loss, the denture actually touches the roots of his teeth for better support.
Cosmetic Dentistry & Overbite Correction
He had a deep overbite that was never corrected. He never had the best bite for his face and a denture or partial denture that fit properly. The most important step in the process of treating this patient successfully is the finish.
Premature Aging Reversed
The entire face is improved by optimizing the teeth three dimensionally. Everybody's face has its own individual characteristics including but not limited to the size of the upper and lower jaws, length of lips, fullness of lips, facial wrinkles, deep over bite, under bites etc. These individual characteristics can be greatly augmented by the Anti-Aging Face Lift Dentistry® method. The patient is naturally revitalized the rest of their lives.
Dental Implants
Too many cosmetic dentists are only concerned with the aesthetic component of dentistry. This type of limited care only addresses one or two aspects of the total problem. Ideal treatment can have a huge impact on the patient's total body health, prolong life, and reduce the amount of medications needed in the senior years, and boost self-esteem immeasurably. Dental implants can secure the fit of the dentures to such a degree that the patient has chewing power. When an older patient gets their chewing power restored, dental implants are part of the solution.
High quality dental care benefits the patient every day of the week. Low quality dental care irritates the patient every day of the week.
Call for your consultation today so that you are not another case of Cosmetic Dentistry Gone Wrong.