Medically Reviewed by Sam Muslin, DDS, MAGD | Last Updated on 08/25/2022
A childhood accident left her with tooth discolorationin the front that she disliked for years. With her wedding rapidly approaching she knew it was time to address her smile. She wanted the best cosmetic dentistry possible so that her finished look would be natural and believable. While eliminating the tooth discoloration was her primary goal she also wanted a wider and fuller smile. The crowded and twisted lower teeth also bothered her and she was ready to get the smile she deserved.
Tooth Trauma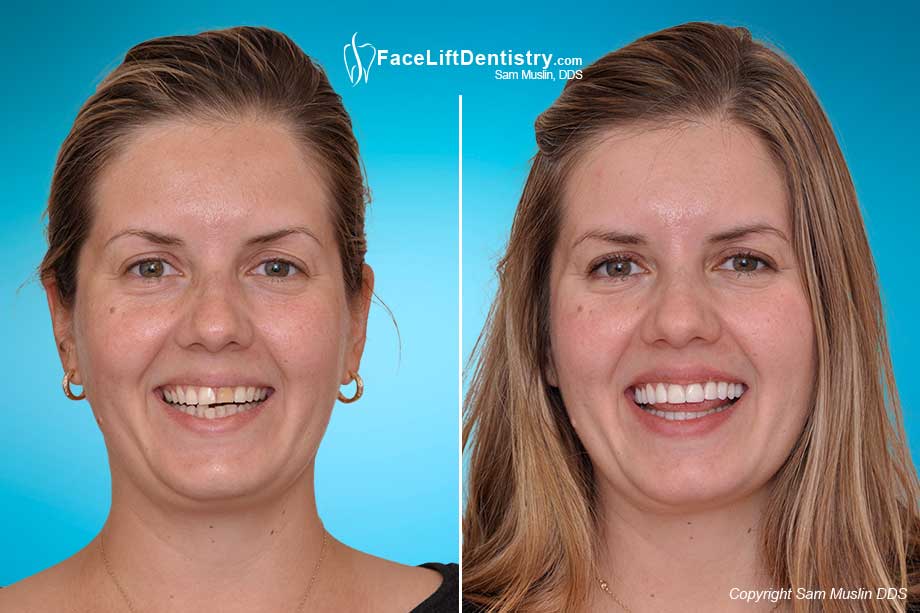 Non-Invasive Porcelain Veneers
On top of her cosmetic goals she was already showing signs of wear from heavy tooth grinding. Her tooth enamel was significantly reduced and notches were forming at the gum- line from the tooth trauma. These gum-line notches tend to be darker in color than the other tooth structure and it bothers many patients from a cosmetic standpoint. However, what many of us don't realize is that these notches are not just a cosmetic annoyance but also a major health issue. As the erosion progresses the notches begin to get larger and larger. Soon enough the inner layers of the tooth are exposed and this can lead to food trapping at the gum-line, cavities and tooth sensitivity.
Porcelain Veneers Actually Improve Oral Health
Patients that already exhibit the symptoms of tooth grinding and severe tooth wear can not only stop the damage in its tracks but they can replace all of the lost enamel. A thin layer of porcelain, usually referred to as a porcelain veneer, can be bonded to the eroded tooth structure to restore the lost enamel. This layer of porcelain can eliminate sensitivity and prevent the progression of cavities. Cosmetically it can improve the shapes of the teeth while also restoring the length and color. All of this can and should be achieved with little to no grinding on the natural teeth. Dr. Muslin prefers a non-invasive veneers treatment, especially when tooth structure is already compromised, so he avoids any grinding on the natural teeth. If the teeth are already undersized, shortened, or missing enamel from natural grinding why compromise the tooth anymore? It just does not make sense.
Stop the Grinding
One of the most common misconceptions is that grinding is "necessary" for porcelain veneers. In many cases nothing could be further from the truth. Patients who have consulted with several dentists will tell us that they were told the results would be "bulky" if they did not allow the dentist to grind. Sure, this may be the case in many offices but not at Dr. Muslin's office. If your teeth were already too short and eroded why would you allow even more grinding just to add porcelain back?
She had already lost a significant amount of tooth enamel to grinding. The notches at her gumline were getting worse overtime. Dr. Muslin recommended a non-invasive approach to her upper teeth so that what was left could be preserved. He designed 10 custom veneers to layer over her existing enamel and widen her smile. In order to hide the dark tooth in the front and create a consistent color for her smile, all of the porcelain had to be carefully and artistically crafted.