Non-Invasive Porcelain Veneers for Seniors
Beyond Veneers and Cosmetic Dentistry - No Drilling, No Surgery
Treating Patients in Los Angeles, CA from All Over the United States and the World
This patient is a college professor in Westwood, California, and he wanted to clean up his smile. He felt that his broken down yellow teeth were giving him a grumpy look. He was very conscious about harming his natural teeth and wanted little to no grinding or drilling on his teeth. He heard about no-prep veneers called Lumineers by Den Mat Corporation and contacted Dr. Muslin about non-invasive porcelain veneers.
Porcelain Veneers vs. Lumineers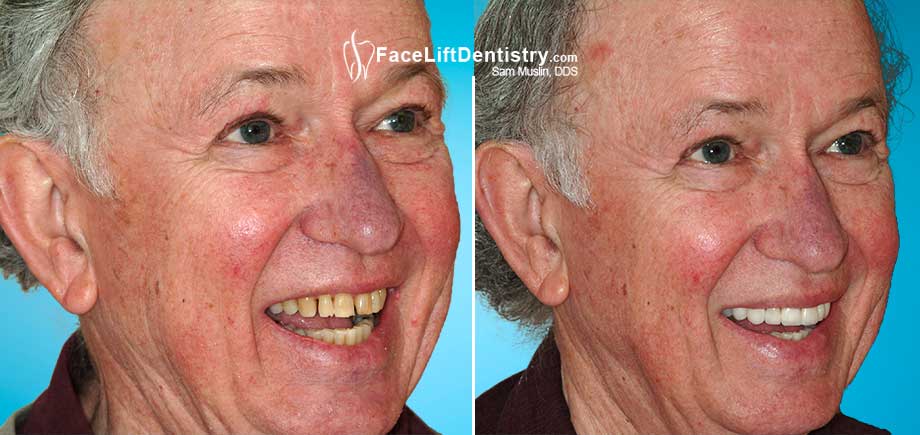 His treatment time was about 90 minutes long on two separate visits. Bonding porcelain veneers or porcelain crowns requires no shots although some patients would rather be numb, put on the headphones and watch the Cable TV sets mounted directly in the ceilings.
Non Invasive Treatment - No Shots, No Drilling

Teeth Whitening
First, his teeth were bleached using a system similar to Zoom, laser whitening, Biolase, Waterlase, or BriteSmile, a monitored take home system in which the whitening power is customized over time by Dr. Sam Muslin to maximize the whitening results. His lower teeth will not receive veneers so the whitening process must last a long time and get great results. He resides in the Brentwood - Santa Monica area and wanted the best care possible with as little drilling as possible.
More Than a Smile Makeover
This is a wonderful person with a natural smile that now gives his personality more life. He feels more confident and his wife says she got used to the new smile real fast. Non-invasive porcelain veneers is simple and totally comfortable.