Reviewed by Dr. Sam Muslin | Last Updated on 08/25/2022
The objective of teeth whitening and bleaching our teeth is to whiten our natural teeth. Whiter teeth and cosmetic dentistry are a natural union of teeth whitening technology and porcelain veneer and porcelain crowns technology. BriteSmile, Zoom, Nite White, Day White, Zoom II and the Crest Premium White Strips are commercial products used to whiten teeth.
Teeth Whitening and Cosmetic Dentistry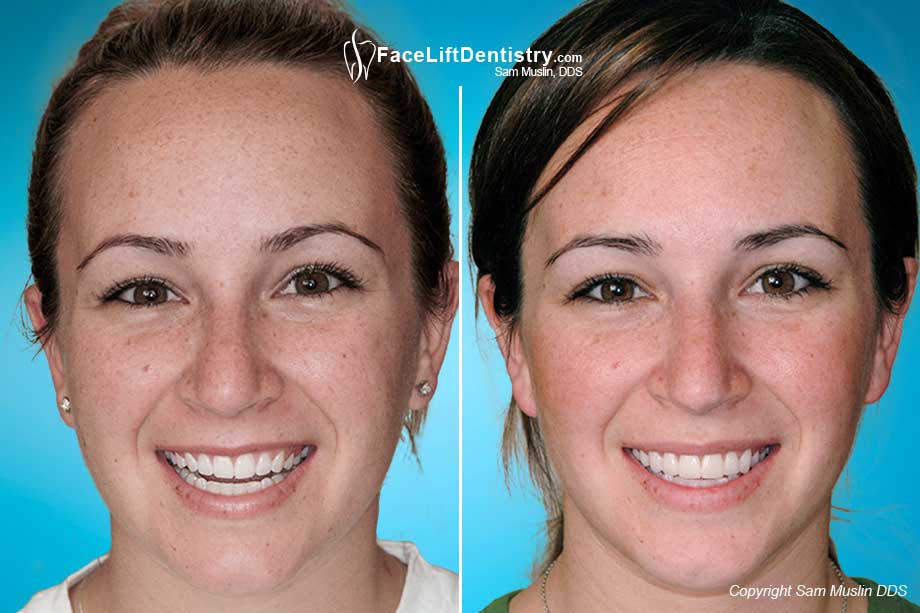 The 20/20 TV show ran their own test using the Crest White Strips and out of the 18 people that they tried, none of them showed any significant visible improvement after 3 weeks! All of these products do work but they may not work as well as advertised.
Tetracycline Stained Teeth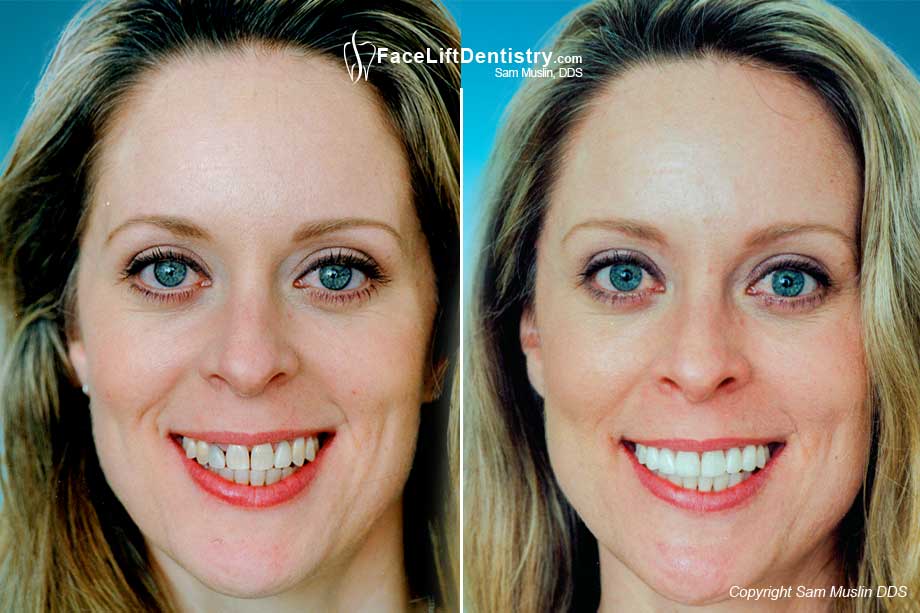 Teeth that have tetracycline stain do not get favorable results with bleaching. Tetracycline stain has a gray hue to it and the tetracycline stain is intrinsic or is darker inside the teeth. Teeth bleaching with tetracycline stain has had some success with prolonged exposure. Bleaching the teeth for several months with a low strength hydrogen peroxide as Discuss Dental's Nite White material. The results are not as long lasting and effective as non-invasive porcelain veneers. Porcelain veneers or porcelain crowns can cover the stain effectively, lasts for years and is in many cases the ultimare cosmetic dental treatment.
Will Teeth Whitening Hurt My Natural Teeth?
Teeth bleaching with hydrogen peroxide or carbamide peroxide have show to be safe and effective if done under the supervision of a dentist. Problems arise when patients self administer home whitening bought from markets, drug stores or off of the internet. The patient tries to maintain white teeth and bleaches the teeth too often and with peroxide that is too strong. Permanent damage is possible.
Non-Invasive Treatment for Tetracycline Stains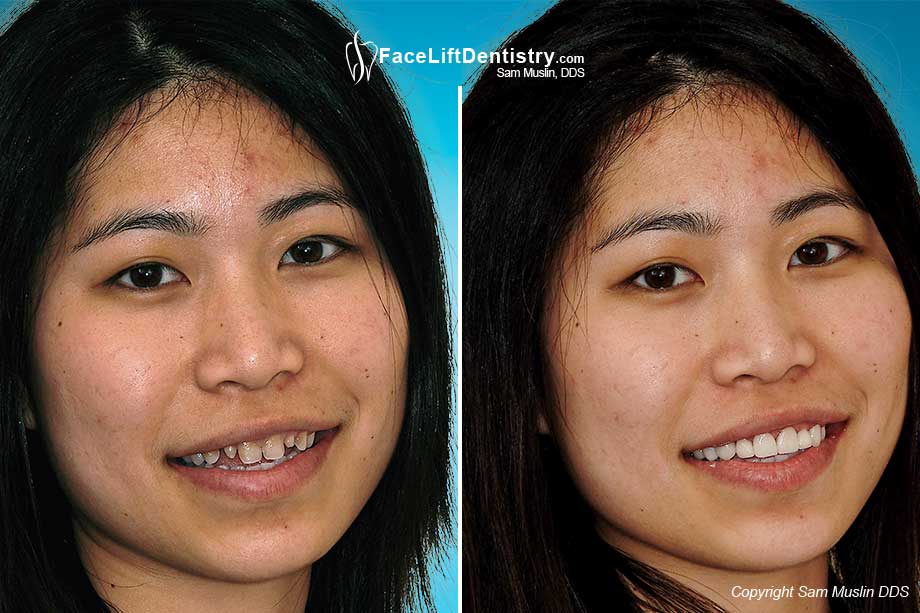 Teeth Sensitivity From Tooth Whitening
Some of the products are far too strong or have acidic chemistry. Patients have experienced tooth sensitivity after just one application of the bleaching material. Some patients have had extreme tooth sensitivity and have had many of their teeth sensitive from whitening their teeth. Even the dental office light systems can cause teeth sensitivity.
The teeth become sensitive to air, tooth sensitivity of hot or cold water or drinks and tooth sensitivity to sweets have also been a problem. The best technique for whitening teeth is to use a neutral base whitening or bleaching material that is mild strength for the first week and then increase strength progressively under the direct supervision of a dentist that has years of experience.
Gum Recession And Teeth Bleaching
Gum recession is generally related to teeth bleaching when the tray pushes against the gums during the bleaching process. The bleaching tray is not made well or is an inexpensive store bought tray that actually mechanically traumatizes the gums. The bleaching solutions can also be too strong for the gums causing chemical trauma and the bleaching tray causes mechanical trauma which leaves the patient with permanent gum recession. The only cure may be a free gingival graft surgery or related gum graft surgery to cover the exposed root surface.
Teeth Whitening Failures
Besides tooth sensitivity, the biggest complaint of teeth whitening is that the color does not last. Patients with yellow teeth had yellow teeth again within one month. They would have to bleach their teeth again and again. The best solution is to place non invasive, no grinding porcelain veneers over the yellow teeth.
If the dentist is optically skilled and technically aware of the opacity characteristics of the various porcelain systems as Lumineers, Porcelain Veneers by Da Vinci Labs, Mac Labs porcelain veneers among others and aware of the cosmetic dental bonding materials made by Den Mat, Discus Dental and other companies: then the artistic dentist can achieve natural looking white teeth with the translucency characteristics of the best most beautiful natural teeth possible.