When a patient has crooked teeth that are still healthy teeth, they may not want to have braces or grind down their healthy teeth. This patient wants to preserve her healthy teeth but really dislikes her crooked incisors and crooked lower teeth. Additionally, she has a missing canine on her right and left sides which contribute to the gaps between her teeth in some areas and crowded teeth in other areas.
She refuses to wear clear retainers and quickly wants straight white teeth so she flew half way around the world to get a consultation with Dr. Sam Muslin and 4 days later her treatment was complete.
Straight Teeth in 4 Days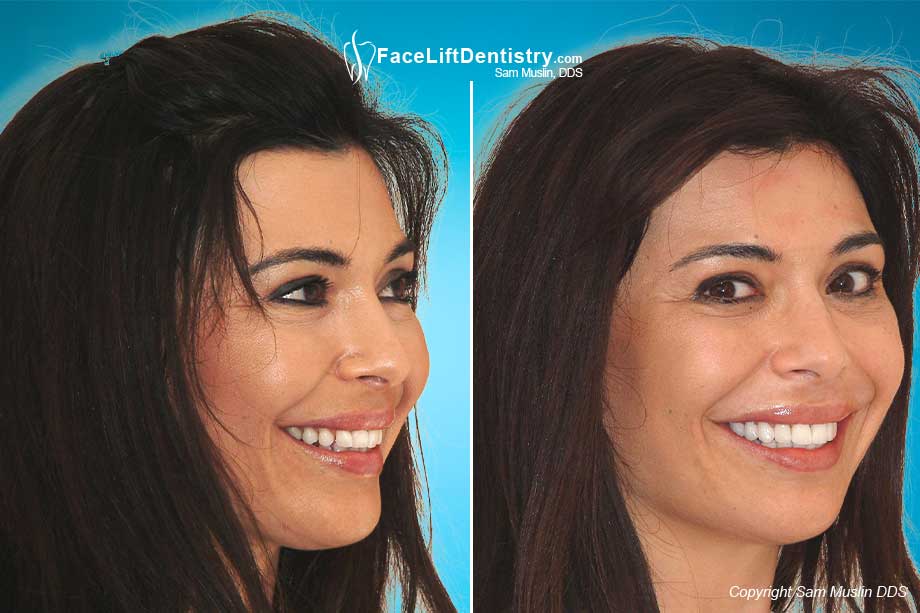 She said, "I had no idea that this was possible in just four days, to get 14 teeth treated with non invasive, no prep porcelain veneers". "I have the straight white teeth that improved my appearance significantly". "The best part is that they look incredibly natural and my smile is wider which supported my lips and cheeks".
Straightening Teeth
---
She lives in Monaco and wanted prepless porcelain veneers that do not require grinding down her natural teeth. She had heard of a company that coined the phrase Lumineers that are porcelain veneers that required little to no grinding of her natural teeth, which would result in straight teeth. But, she wanted the best cosmetic dentist to do her treatment.
She wanted a much better smile but had seen porcelain veneers that looked very fake. She did not want thick bulky looking teeth and knew that going to the best porcelain veneer dentist she could find would be worth the trip. She said, "There is not way I was going to gamble on my teeth so I searched the Internet and found the best". To travel such a long distance was worth it because she had instant straight teeth in just 4 days that looked natural.
These photos were taken immediately after her porcelain veneers were bonded into position and she required no needles and no shots. Fake looking porcelain veneers were a complete "turn off" to this patient and her friends. Her friends and her dentist in Monaco advised her to NOT get it done, even though the thought of straight teeth through instant braces was very appealing.
There were concerns about the health of her teeth and possible grinding on her natural teeth. Her friends and her dentist had seen so many people with bad porcelain veneers that they thought that it could not be done very well.
Instant Braces with Prepless Veneers

When a patient wants instant straight teeth without braces, sometimes a little bit of grinding on a tooth that sticks out is necessary. She did not require a shot, or needles in order to lightly reduce enamel that sticks out on her crooked lateral incisor because very little had to be removed. She wanted to discuss veneers vs braces but she did not want to wait a year or two to get her teeth aligned with braces. Additionally, Dr. Muslin was able to make her bicuspids look like canines for a more natural looking smile. His secret is that he personally works on every single porcelain veneer to create the best surface texture and veneer design that is possible.
She was very determined to have a white and a wide smile with natural looking teeth that are straight. She saw photos of Dr. Muslin's instant braces work on the Internet and saw more photos in his office of patient's that had already had the instant braces treatment completed and they looked great!
She decided to move forward and dental x-rays, stone models of her teeth, a lot of photos of her face and close up of her teeth and a complete exam was performed by Dr. Muslin. She had the option to start her treatment immediately or fly back another time at her convenience.
No Prep Veneers
Because she traveled from so far away, the entire treatment of 14 teeth was to be completed in only four days. Dr. Sam Muslin has his own ceramist and the two of them work together on every patient's porcelain veneers and porcelain crowns or bridges. The ceramist and the doctor use the computer images to measure the exact dimensions of her new teeth. There is no time for errors or remakes. Fake veneers or unnatural teeth are a real turn off. She saw too many people with bulky veneers that almost kept her from getting porcelain veneers. But the Internet and the before and after photos of porcelain veneers by this dentist convinced her that she could get the level of quality that she required.
Many of Dr. Sam Muslin's patients come from long distances so being experienced in delivering complex dentistry the right way, the first time, is one of his strengths. Her treatment went flawlessly. She was thrilled with the finish and agreed to let him use her full face and close up photos of her porcelain veneers to help inform new patients of the possibilities.
The photo of her in the after shot was taken immediately after bonding the veneers in place. She was a wonderful patient and looked great even after sitting in the dental chair for a few hours. Because her teeth were not ground down, no shots or dental injections were necessary.
She flew back home half way around the world the very next day and wrote a letter back to Dr. Muslin thanking him for the results. She said: "Even my dentist was impressed with my straight teeth and the quality of your work. Thank you Dr. Muslin!"
Use our Contact Form to speak to Dr Muslin today, or call him at (310) 829-6796