Most patients explore straight teeth options because crooked teeth or misaligned teeth are not ideal as they tend to attract stains and collect food more easily - and they are not cosmetically appealing. Straight teeth are designed to efficiently deflect food and do not stain because there are no hidden areas. Straight teeth have less tooth decay and generally do not contribute to bad breath as easily as crooked or misaligned teeth.
No Prep Porcelain Veneers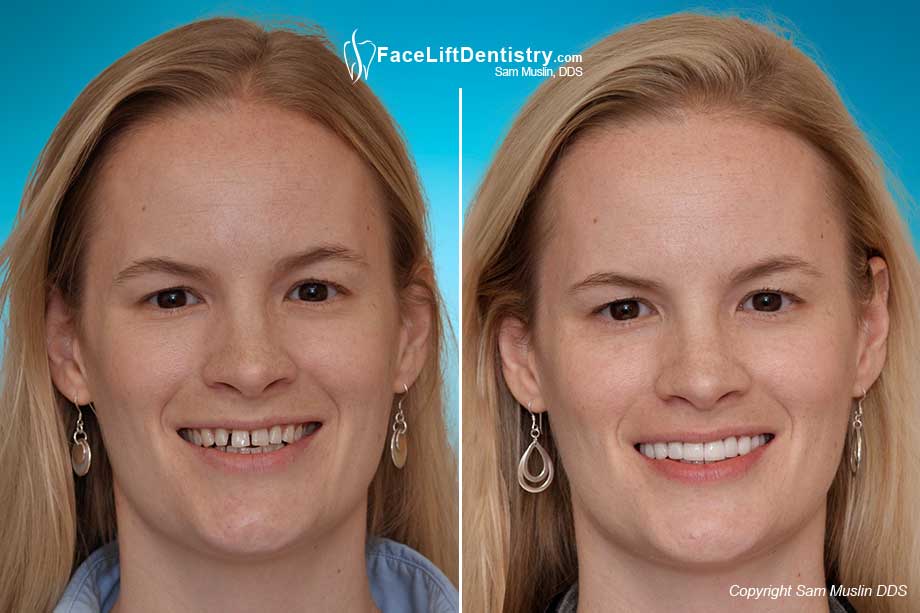 Straight Teeth without Braces
Crooked teeth can be made to look like straight teeth without using braces. Dr. Sam Muslin's, "Instant Braces" is the porcelain veneers braces alternative treatment that takes only two weeks. The straight looking teeth can also get an improvement in the shape and color. Braces cannot improve the shape of the teeth.
Orthodontic Braces
Most patients want straight teeth and orthodontics or braces are the most common methods because they work better than removable braces. With braces the teeth can be tipped and torqued to get better root alignment where as removable type of clear retainers generally just tip the teeth. Braces work 24 hours per day, 7 days per week which is much more effective than relying on a patient to put in the clear removable type of retainers in and out of their mouth. Braces can also treat more complicated bite problems that the clear removable retainers can't.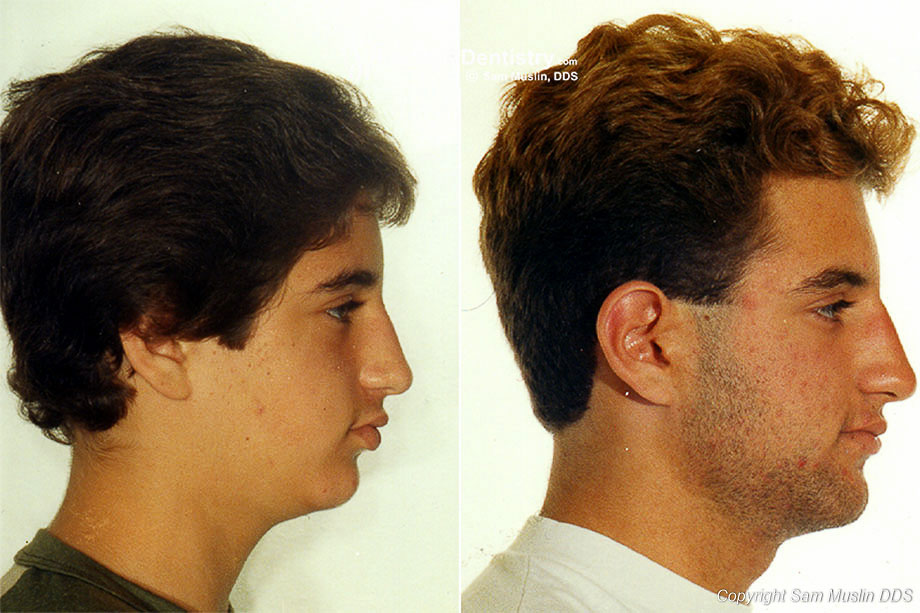 No chin implant was necessary and no chin augmentation was needed. His chin was easily moved without jaw surgery with the Dental Face Lift®. Orthopedics (custom braces made for the inside of his teeth for the first year) and Orthodontics (braces placed on the outside of the teeth for the second year) gave him a new, more masculine, profile. In the Before photo on the left you will see his chin looks small and his lips rolled forward. Without timely treatment, he will always have a "weak" looking profile. In the After photo on the right the chin position was moved during the course of his care into a more natural position that has been stable for the last 15 years and still counting!
Braces Behind Teeth
Braces placed behind the teeth, also called hidden braces or lingual braces sound like a good idea but the treatment takes longer. The main reason to have hidden braces or braces behind the teeth is for cosmetic purposes. The problem with lingual braces is that the brackets and wire are on the tongue side and collect a lot of food and can cause problems speaking clearly.
Braces placed behind the teeth add as much as 30% more treatment time because it is not as efficient. Most patients want braces behind the teeth because of cosmetics but having brackets against the tongue and can become an irritation to the tongue is not appealing either.
Braces have the advantage over clear removable retainer type of braces because they work 24 hours per day 7 days a week. The clear removable type of treatment depends on the patient wearing them and sometimes the patients just quit or take a break for a day or two.
Hidden braces placed behind the teeth work well but not as well as braces placed on the outside of the teeth. Of course, if you want straight white teeth in just a week or two, try Dr. Sam Muslin's Instant braces technique. It is fast, improves the shape, shade, color and sizes of the teeth which is something that braces behind the teeth or lingual braces or braces outside the teeth cannot achieve making it the best between all the straight teeth options.
Teeth Implants
Teeth implants are used in a variety of ways. Teeth implants also known as dental implants can be used as a snap-on attachment for a upper or lower denture. The dentures will snap-on to the dental implant for better stability and support. Teeth implants are used to replace missing teeth. The tooth implant is placed in the jawbone and then a porcelain crown is cemented or screwed directly to the dental implant.
Missing Teeth
Teeth implants can also replace missing teeth by using a dental bridge method. Two dental implants are placed in the jawbone with a one-tooth space between them. A dental bridge or a porcelain bridge can be screwed or cemented into place over both implants.
The dental bridge will look like three separate teeth even though all three teeth are made together in one piece. The dental bridge will stay attached to the teeth implants and the patient will be able to chew just as if no teeth were missing. Dental bridges are not removable by the patient so they feel completely natural and can replace three missing teeth with only two dental implants.
Contact Dr. Muslin today to explore straight teeth options.