Braces vs. Porcelain Veneers
Beyond Veneers and Cosmetic Dentistry - No Drilling, No Surgery
Treating Patients in Los Angeles, CA from All Over the United States and the World
When a patient's main concern is the spacing between the teeth, it is difficult to decide what treatment option would be the best. Should this patient wear braces or are porcelain veneers better? Should he go to an orthodontist or to a cosmetic dentist?
How To Get Straight Teeth Without Braces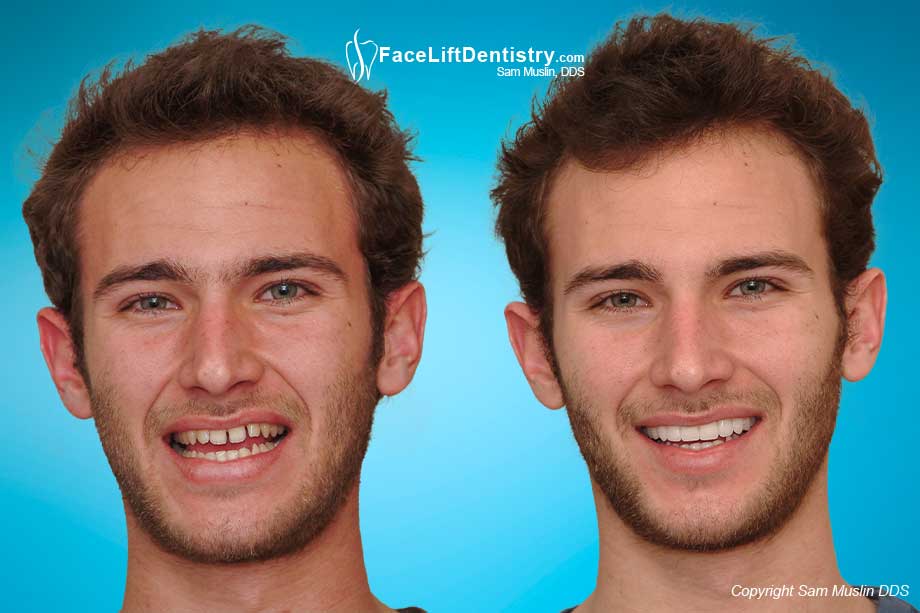 Instant Braces
Straightening Teeth with Porcelain Veneers for "Instant Braces".
Cosmetic Dentistry Analysis
In this young man's case, braces would only squeeze his teeth closer together. This is not necessarily the best choice of treatment. The size of his upper arch is large and squeezing his teeth together with orthodontics or braces would make the shape of his arch too narrow for his lower teeth. For this patient, the treatment choice is easy because Instant Braces provide both the instant orthodontics and cosmetic results he's looking for as well as the functional preservation of his jaw alignment. His natural teeth are saved as no grinding is necessary and he will never have to wear retainers!
Instant Braces and Porcelain Veneers

The health component in cosmetic dentistry should not be overlooked. For this patient's treatment, the upper arch and the lower arch must have a functioning occlusion and both arches must be matched and balanced. No-grinding porcelain veneers are fully customized to this patient and are bonded using the most powerful bonding technique available today. The strength of the bond is so strong that the porcelain becomes part of his tooth structure. No cavities can form under the bond. The porcelain veneers do not stain and will easily polish to a bright white finish.
Straight Teeth Without Braces
He had interviewed several dentists weighing up braces vs porcelain veneers and chose Santa Monica cosmetic dentist Dr. Sam Muslin because of all of the full-face photos of his work.