Medically Reviewed by Sam Muslin, DDS, MAGD | Last Updated on 08/25/2022
This young man was riding his skateboard when it suddenly stopped and he went flying forward with his face crashing to the pavement. His lips were bleeding, his teeth were knocked out of their sockets and others were broken off at the gum line. He was shocked at the speed of the accident. He had no time to react. The damage to his smile was shocking.
Treating Broken Teeth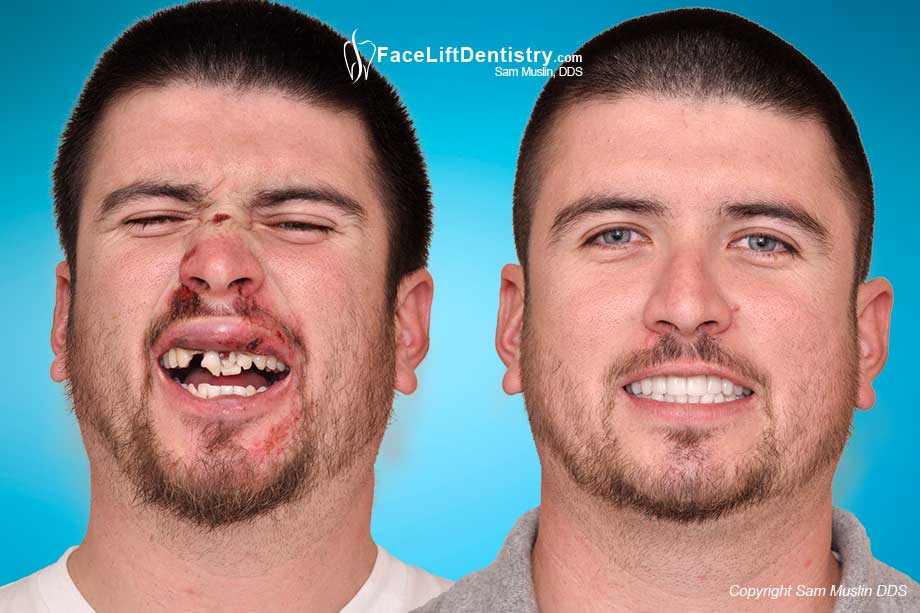 As a treating dentist, we could have extracted the front four teeth and placed a long porcelain bridge but I felt that they could be saved because he was so young. The teeth with exposed nerves were treated with root canals to stop infection and posts inside the canals were bonded in order to have structure to bond porcelain crowns over the top. All of the teeth were very loose so they were all connected together to try to get the bone to heal. During my 38 years of dental experience, I believe that if you give the body a chance, it can heal itself in remarkable fashion.
Treating Broken Bone Fragments
One of the secrets of this type of treatment is to get the bone fragments lined up. There were a lot of bone fragments that were rotated and overlapping under the gums. Without surgery, I was able to re align the bone fragments by feeling them and then moving them into position. Once aligned, I used direct pressure for about 4 minutes, which is necessary to help them be more stable. But first the teeth had to be stabilized using a plastic crowns that I had to create "free hand". This is not an easy task. The temporary plastic crowns were all connected together in one piece to act as a "cast" just like the ones we use for broken arms.
Saving Badly Damaged Teeth
Naturally it is difficult to create temporary crowns when you have no mold to follow. I had to carve them to line up with his other teeth and his bite while working under his badly swollen lip. The broken buccal plate bones were pressed into position but there was too much blood under the gums. Using direct pressure helps remove the excess blood and get the gums back to their natural shape. The key to success is to have blood flow to the bone, which can actually regenerate bone very much like doing a bone graft. The main difference is that we are using his natural bone. I did not open the wound surgically, which would increase the possibility of more infection. By aligning the bone fragments without "opening up the gums" I have found that healing is quicker and has a higher chance of success. I did this by feeling the bone under the gum and by moving the fragments into position much like a puzzle. Making temporary crowns without a model and moving bone fragments around without "opening" the wound is difficult enough but with big bloody swollen lips, it is very difficult.
Skateboard Accident
When you think of the possibility of any of the root canals failing. The bone alignment could fail and not heal. He could have gotten a big infection. Teeth that were knocked out of the sockets could fail. He might not like the porcelain crowns or maybe can't speak as well as before. These were all possible complications that did not occur.
How He Found Dr. Sam Muslin
I treated his mother over 30 years ago with root canals and crowns that are still a success today according to her son. I have not seen her in over 10 years. However, after seeing her sons bloody face she said to him, "there is only one dentist that I will let touch you".