Yes, its true. While riding his skateboard, during his one and a half forward roll inverted flip.......he was hit in the mouth with his board. He broke off two teeth. Dental accidents can sometimes be an opportunity to achieve excellence that was not considered previous to the accident.
Broken Teeth Restored with Dental Bonding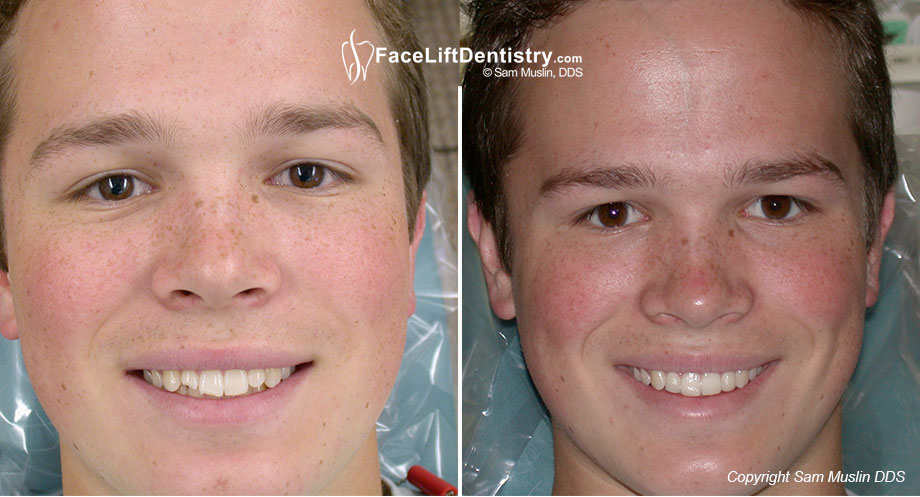 The young man discussed the accident and the dental bonding possibilities to restore the two broken teeth. After looking at his patient, Dr. Sam Muslin gave him the option of having a superior smile that goes beyond just the two broken teeth. By bonding a third tooth that was a little short, this patient could actually have an ideal finish with cosmetic bonding that is superior to his original smile before the accident.
Dental Bonding

No drilling, No shots and only about 45 minutes later....... his smile was improved beyond his expectations. The dental care was delivered by using cosmetic bonding and an artistic ability to match the color of the material perfectly with his teeth. It has to be a perfect match.
The Latest Development
For the optimum in cosmetic dentistry treatment, the best material to use in this case is bonding material that has fluorescence in all types of light. Otherwise, his teeth can appear broken in certain lighting even though they have been restored. Of all of the bonding materials, there is only one that has this special quality to completely hide broken teeth.