She had porcelain veneers done a couple of years ago, but she absolutely hated them. They were too bulky, the colors were mismatched, her gums were red and swollen around the porcelain veneers and the cosmetic effect was terrible.
Bad Porcelain Veneers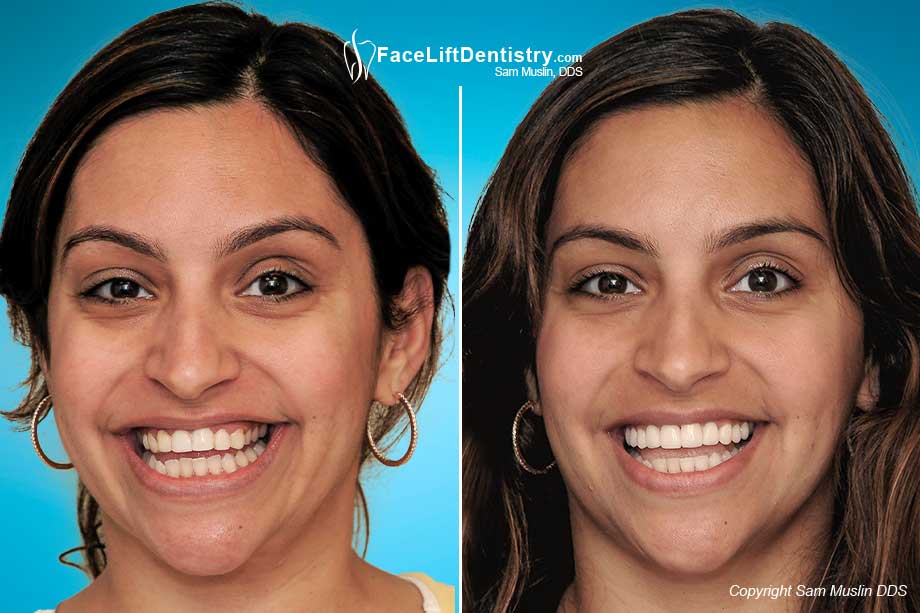 Straight Teeth
Many patients want straight looking teeth and as we all know, teeth really can help with self-confidence and the impression that the patient will give to other people. The first impression we give is important and straight teeth can really set the tone. This patient decided on getting porcelain veneers and the dentist she went to was giving her best effort. However, the result was bad porcelain veneers that did not fit her teeth well enough so her gums got infected.
Dental Veneers
She was very disappointed in the result. She explained how she went to a dentist, who is considered as "one of the best" in her country, and that dentist recommended Lumineers®, a type of veneer placed without grinding. After these facial veneers were placed, she was very displeased with the results, but did not know what she could do. She could not stand the thought of looking like this for the rest of her life.
See her video clip as she was gracious enough to give her comments live:
Bad Porcelain Veneers Replacement
Bad veneers can be removed without grinding the natural tooth structure and this patient really hated the porcelain veneers in her mouth. Listen to her tell her story of traveling half way around the world to her bad porcelain veneers replaced. She will tell you how she feels about the results.
The Best Cosmetic Dentist In Santa Monica!
While vacationing in Santa Monica, Samantha stayed in one of the finest hotels along the ocean, the Hotel Oceana, which is just minutes away from our office. She found Dr. Sam Muslin on the Internet and was so impressed with the before and after photos on his website because they were well matched and untouched and unaltered. No other dentist has the same quality of 'before and after photos" of actual patients. She said, "I just found the best cosmetic dentist in Santa Monica and I am going to make an appointment".
Gums Infected Due To Bad Veneers
After the initial appointment, she was eager to get started and get her new teeth done during her stay in California. There were only two weeks left of her trip before she had to return to Bahrain in the Arabian Gulf, so all of her care had to be highly organized.
Before replacing her bad porcelain veneers, the first week was used improving the health of Samantha's gums, which were so badly infected due to the previous bad porcelain veneers. At the start of the second week, her bad porcelain veneers were removed and temporaries were placed. The temporary veneers lifted Samantha's hopes because they already looked much better than what she had before. Dr. Muslin explained to her that Lumineers ® are good porcelain veneers but the dentist she chose was the problem.
Natural Porcelain Veneers
She became more confident that Dr. Muslin could deliver spectacular results with only one week remaining on her trip. Before bonding the porcelain veneers in place, Dr. Muslin tests the porcelain veneers on the patient's teeth so he or she can see the results and give their approval. When she saw her new high tech porcelain veneers, she was shocked. "I can't believe it," she said, "they look better than I ever thought possible. Thank you." Her veneers look so natural and now match her lively personality. She finally has straight white teeth!
General Dentists who claim to be cosmetic dentists are simply trained to "fix" your teeth. Because cosmetic dentistry is not recognized as a specialty, any general dentist can take a weekend course and call themselves "cosmetic dentists". Replacing bad porcelain veneers should be done by true Cosmetic Dentist, whois trained to use his artistic skill and "create" a beautiful and healthy smile.