Baby Boomer Cosmetic Dentistry
Beyond Veneers and Cosmetic Dentistry - No Drilling, No Surgery 
Santa Monica • Beverly Hills • Los Angeles
When a patient has peg lateral incisors and gaps between his teeth, the smile is less than optimal. Many patients want to have a nice looking smile but are not sure as to the type of esthetic rehabilitation that is available. Should he get porcelain veneers on only his upper teeth?
Should he get a full mouth reconstruction with porcelain crowns and grind down all of his teeth? What about non-invasive porcelain veneers? Many patients find themselves interviewing cosmetic dentists, for their baby boomer cosmetic dentistry make-over, but really do not understand their options. With porcelain veneers on his upper teeth his smile will be improved and the spaces between his teeth will be replaced with natural looking porcelain laminates.
The Baby Boomer Cosmetic Dentistry Makeover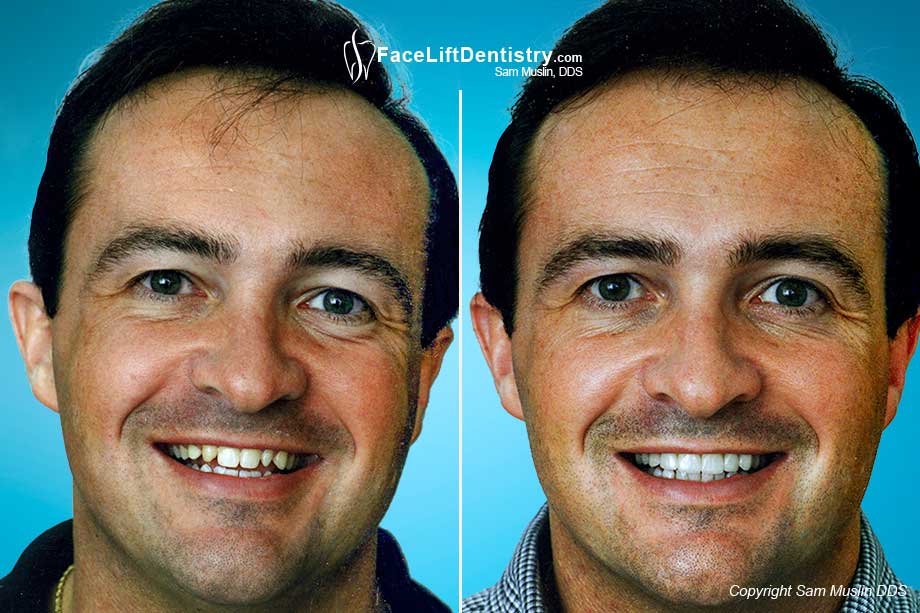 Before and After Anti-Aging Dentistry: Ten upper teeth with non-invasive porcelain veneers gave this patient a better smile because the porcelain veneers have improved his smile and filled in the gaps.
These photos are nearly 15 years old as this patient has experienced treatment that required no other care. This patient had upper teeth that were missing or rotated, poorly shaped, and yellow. In only two days, ten upper teeth were laminated with porcelain.
The lower teeth were whitened using a custom tray dental office technique. Even though the upper teeth have porcelain veneers and the lower teeth are natural, they match perfectly. Porcelain veneers and porcelain crowns will last for many years if bonded by a skilled, cosmetic dentist. The patient came from Los Angeles to get what is considdered to be the best cosmetic dentistry in Santa Monica.
Porcelain Veneers

Sometimes old photos form 15 years ago can give a indication on how dentistry has evolved. This patient is considering anti-aging esthetic rehabilitation that will address his vertical dimension, occlusal plane and centric relation problems.
The upper teeth lack harmony because the sizes and shapes are irregular. Also, he also has a baby tooth on his right side. The teeth are very yellow. This is a very difficult case to treat. A dental implant can be used to replace the baby tooth but his future is bright because his porcelain veneer treatment 15 years ago was non-invasive dentistry.
Anti-Aging Cosmetic Dentistry
The upper ten teeth were treated with porcelain veneers and porcelain crowns (one baby tooth was crowned). Porcelain veneers save most of your natural tooth structure and, once bonded, the porcelain is extremely strong and becomes part of your tooth. The color is stable and completely natural. Porcelain veneers should not break or turn yellow over time.
You can eat, brush and floss normally. The porcelain veneers changed the color, shape and texture of his upper teeth. But, once the patient ages 15 years and has enjoyed his new smile, he may begin to consider an esthetic rehabilitation that can remove years of aging due to an overbite.
During the last 15 years, the best anti-aging dentistry has evolved from new developments in high tech porcelain and better cosmetic dental bonding technology. These new technologies combined with vertical dimensionally improvements that combine with occlusal plane improvements can transcend the face of the patient to a younger more vibrant appearance.
Patients interested in a Baby Boomer Cosmetic Dentistry make-over or an esthetic rehabilitative dentistry that has the age reversing technology of Face Lift Dentistry®, contact the office of Dr. Sam Muslin for a consultation on the possibilities available for your individual characteristics.