"So many of my patients come to me with similar stories," say Dr. Sam Muslin, a cosmetic dentist in Santa Monica. "In my practice, just about every one of my new patients has had braces at least once in the past. Most were advised that their only treatment options were jaw surgery and braces. However, I have developed a method that is a safer for most patients and produces a predictable outcome."

VENLAY® Restorations Review
In this featured case, the patient's jaw was misaligned. Upon examination, Dr. Muslin determined that the patient's jaw could easily be moved to its ideal position with the help of imaging technology and his set of dentistry skills.
This website is all about Dr. Sam Muslin's high-tech dentistry method called Antiaging Facelift Dentistry®, using VENLAY® restorations. It does not require jaw surgery or braces. Perhaps the biggest advantage of this method is that none of patients' healthy teeth need to be ground down.
Under Bite Jaw Surgery Alternative
For patients undergoing speech therapy, treatment is hindered when their bad bites remain untreated. Patients who do not have the right bite are handicapped in some ways. Correcting bite mechanics makes clear speaking possible.
This method has advantages such as far less risk and a shorter treatment time and it can be tested in advance – which you cannot do with surgery or braces.
Non- Surgical Open Bite Correction – Speaking Clearly
Most patients with open bites cannot speak clearly because they need to use their tongues to say their words instead of their teeth. The speech sounds "slurry" and unclear because the tongue cannot produce the crisp sounds that are possible when teeth are positioned correctly.
The reason we can predictably build a new bite and jaw position that coordinates with the TMJ is because we have the ability to see what we need to do with the jaw position rather than just guessing.
Best Bite for Your Face – Bite Correction
The best way to build the bite that augments the patient's face and TMJ is to use the right technology to see what you are doing, explains Dr. Muslin. "My treatment method involves high-tech imaging that reveals the current and optimal jaw positions. The imaging method is not like some medical machines. It emits very little radiation, so the patient does not need to fear exposure. The images allow me to see the best jaw position for the patient, test it in advance, and build the bite accordingly."
This method is highly predictable, very safe, and the patient can see the porcelain in their mouth before it is bonded. You cannot see the results before jaw surgery, but you CAN see the results before Face Lift Dentistry® is completed. It provides peace of mind to the patient – something very important to Dr. Muslin.
Open Bite and Speech Problems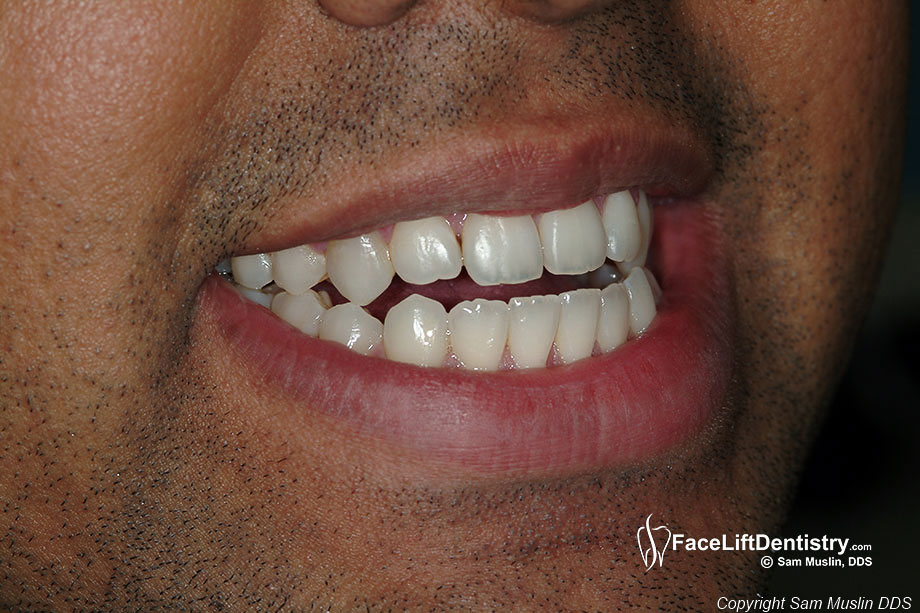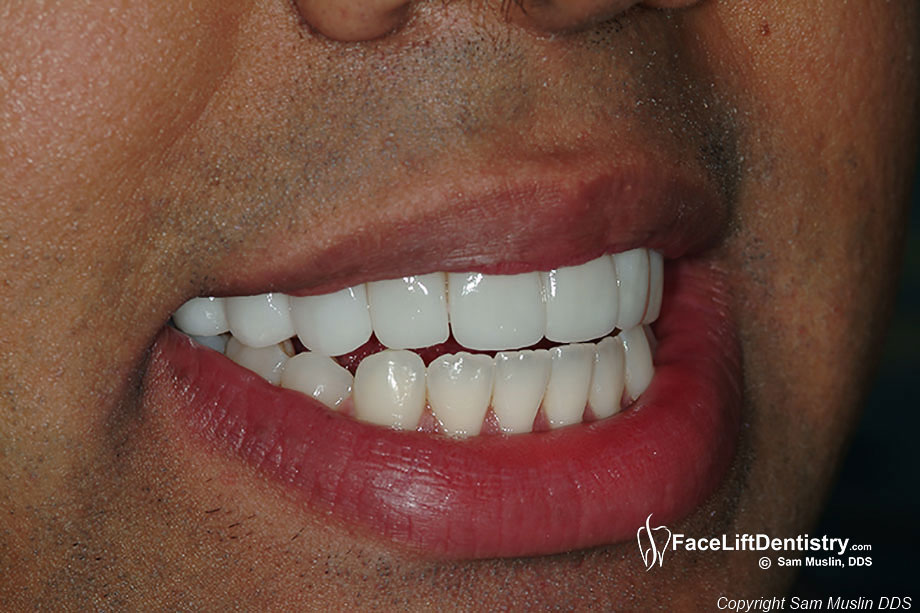 Cross Bite Correction and Open Bite Correction
An open bite makes speech difficult. In order to pronounce the "s" and "th" sounds clearly, the teeth must be in the right position. This patient found it impossible to pronounce certain sounds with crispness and clarity. Cross bites, under bites and other variations on tooth placement and jaw joint interaction affect the ability to speak too.
Under Bite Correction and Face Shape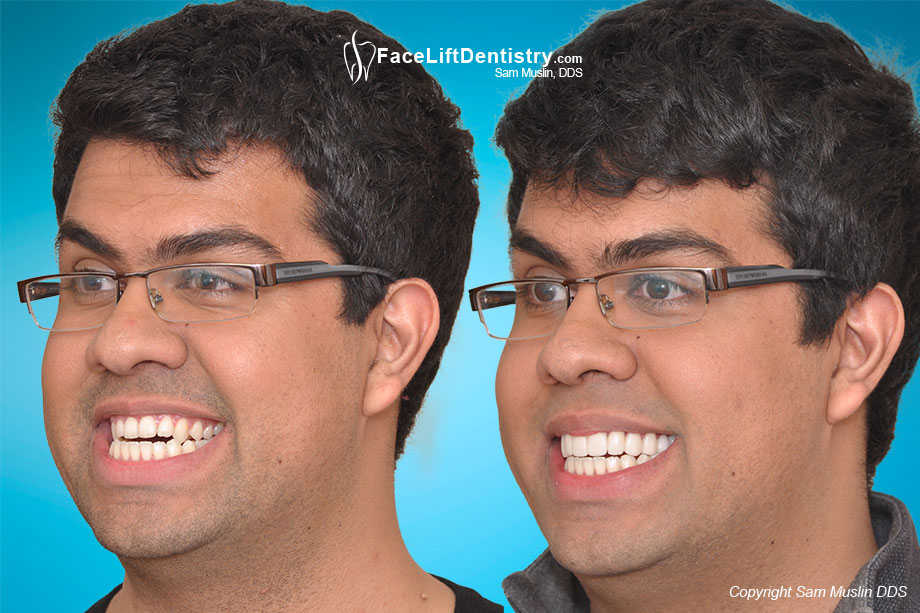 Underbite correction is about the shape of your face much more than just your smile.
TMJ Pain, Clicking and Popping – Under Bite Correction
Our featured patient experienced a profound difference after treatment with Facelift Dentistry®. Before seeing Dr. Muslin, he had jaw clicking and popping. These symptoms stopped a couple of days after treatment because for the first time in his life his jaw was in a healthy position. When the jaw is stabilized and balanced, the temporomandibular joint can begin to heal, decreasing jaw pain, headaches, clicking, popping, and neck pain.
Thank you, Dr. Muslin. I sincerely and humbly offer thanks and give written permission to show my results to the world. Maybe my story can help future patients make informed decisions.
If you have speech problems and experience bite and joint issues, please call Dr. Sam Muslin's office for a consultation: (310) 829-6796. He has patients who live locally and also who live in other states or countries. Visit his YouTube channel for more information.