Overbite Correction and the Correct Jaw Position
---
Beyond Veneers and Cosmetic Dentistry - No Drilling, No Surgery 
Santa Monica • Beverly Hills • Los Angeles
Non-Invasive, Non-Surgical, No Braces Overbite Correction
His daughter received this treatment a few years ago and the results were excellent. She had headaches; clicking and popping jaws and the small chin from the overbite. All of her problems were corrected in just a couple of plane flights. Dad decided that with results like that, he wanted the same care but he also asked the top dentists in his state if they could get similar results. None of them really understood why he was asking for results that were way beyond the standards. They wanted to know who could correct overbites without grinding down teeth?
The Ideal Jaw Position
No other dentist could deliver the Dental Face Lift® so he decided to fly to Santa Monica for a consultation. The key to overbite correction is to establish the ideal jaw position to balance out the face and profile. Most dentists can treat the overbite but do not achieve the jaw position goals of the Face Lift Dentistry® method.
No Shots, No Grinding, Overbite Correction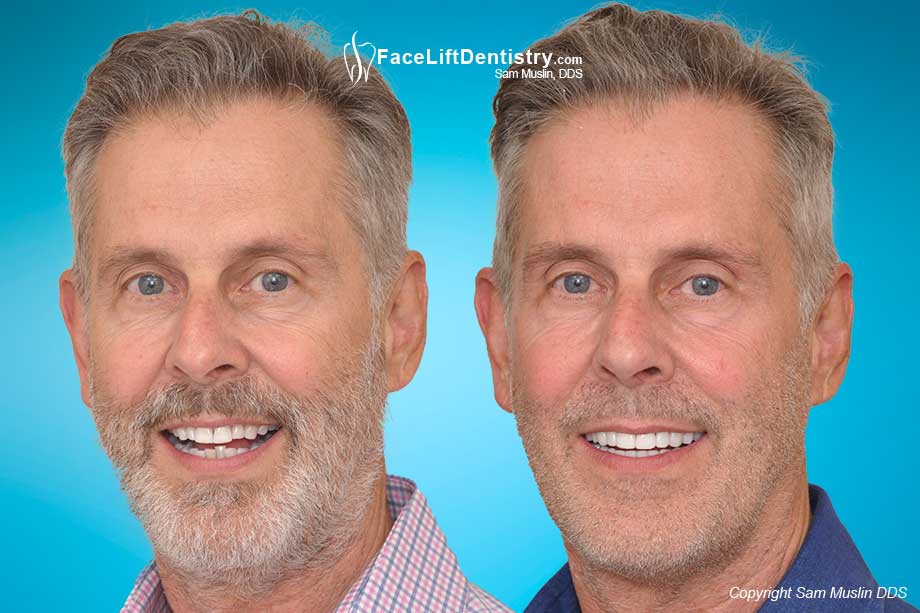 Bite correction that established a new healthy jaw position was accomplished without grinding down healthy teeth, no shots, no pain and no jaw surgery or braces. This patient also was able to have his crooked teeth look straight.
Bite Correction and Jaw Position
The treatment for this patient was to improve his health by locating the healthiest jaw position considering that he has an overbite. Just correcting the overbite is not good enough treatment because the dentist focuses only on the teeth and not the face.
This method's goal is to accomplish bite correction and the best jaw position from a health and cosmetic prospective. The patient can see the results before bonding the VENLAY® restorations. The patient can experience the results before any work is started. You cannot do that with jaw surgery! You cannot do that with a traditional full mouth reconstruction done by a specialist either! But, you can test the results in advance non-invasively, get bite correction and the right jaw position with the non-surgical, non-invasive Face Lift Dentistry® method.
Video: It's about your Face not just a Smile
This patient explains why he was willing to fly to California for this treatment and he explains his problems. Then you can compare the results after only one day of having the new bite, new jaw position and straight white teeth.

Small Chin & Headaches
His daughter was treated about 3 years ago using this method. She had a small looking chin, a deep overbite, clicking and popping jaws and headaches almost everyday. Her successful results inspired the Dad to fly to California and receive this type of health care for himself. Patients with a small chin and headaches can actually see the projected improvement to their facial profile on the first visit.
Small Jawline Looks larger without Jaw Surgery
Most people do not need to have jaw surgery to have a better facial profile. Most people do not need to have a chin implant either. Patients with small chins usually have an overbite that makes a normal sized chin look small. The Daughter had a normal size chin her whole life but her overbite not only ruined her facial profile but also giver her headaches. When patients have a small jawline, it looks larger without jaw surgery when the jaw position is improved through bite correction using this method. In reality, she never had a small chin. Her chin looked small because of the overbite.
All Photos on this Website are Untouched and Unaltered
Repositioning his Daughter's Jaw without Surgery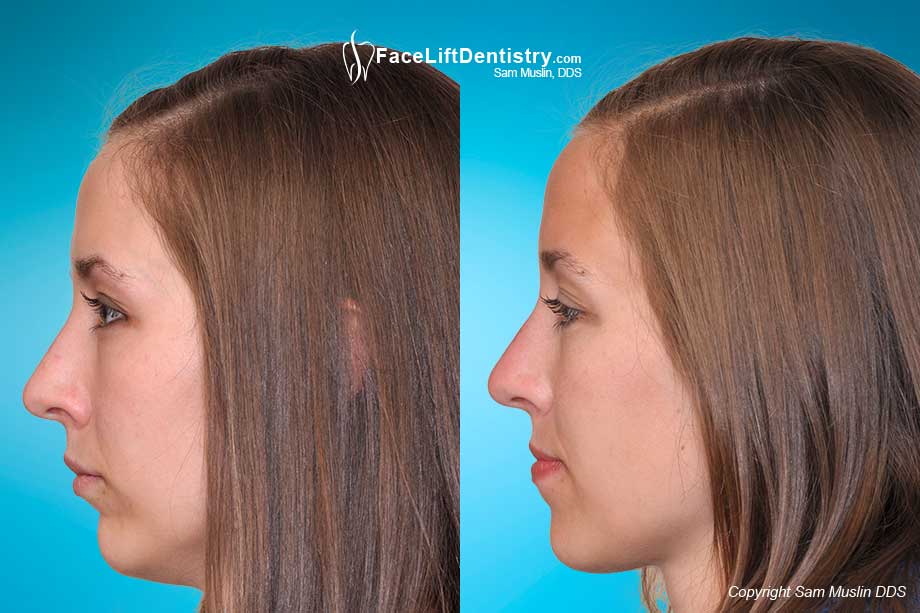 This method of non-invasive overbite correction changed the life of his daughter. Her chin was always a normal size but pushed back because of her overbite. She flew to California and after the consult decided to test her new jaw position for headache relief and a much improved facial profile. The test worked, the treatment worked and the Father decided it was time to see if he could get great results too.
Video: Taken 3-Years After Treatment
How could it be possible to make her chin look so much larger? It is because her chin is already much larger than it looks because of the overbite.

Dr. Muslin's method changed the life of this patient. Her chin was always a normal size but she found this website, flew to California and after the consult decided to test her new jaw position for headache relief and a much improved facial profile. The test worked, the treatment worked and the Father decided it was time to see if he could get great results too.
New Jaw Position Improves Health & Facial Profiles
The Father had bicuspid extraction orthodontics, which may have looked good at 13 years of age but his face and jawline began to collapse. His overbite returned, his teeth are crooked and he has sleeping problems, bite problems and a clicking and popping jaw. When bicuspid teeth are extracted, some patients experience less room for their tongues causing problems speaking along with the previously mentioned health problems. Establishing the new jaw position, correcting the bite, improves health, gives the tongue more room and his facial profile can be improved beyond any other non-surgical method that we know of today.
Face Lift Dentistry® Method locates a Healthy Jaw Position
This method allows the dentist to actually see the most ideal jaw position for the patient even if the TMJ is dysfunctional. Even if the patient has a clicking and popping jaw, the treatment can be very helpful in letting the body heal itself. The secret to this treatment is to get the jaw position established correctly by the dentist building the bite. Dr. Sam Muslin developed this method and the greatest achievement is that it is non-invasive. The Face Lift Dentistry® method locates a healthy jaw position that improves the shape of the patient's face and facial profile.
Advanced Anti-Aging Dentistry
No shots, no drilling down his teeth and no pain was caused by this non-invasive method. The VENLAY® Restorations were invented by Dr. Sam Muslin for the purpose of correcting the bite, establishing the best jaw position, improving the shape of the patient's face and reversing the effects of aging in just a couple of visits about 3 weeks apart.
This treatment helps patients look younger mainly because they feel younger. Most of us do not have the most ideal jaw position so we cannot as young as the patients that do have it. In order to get the best jaw position dentists have recommended jaw surgery with very high risks and unpredictable healing. Cosmetic dentists and Bite Reconstruction Dentists will grind down your teeth for porcelain veneers or porcelain crowns that are harmful to the patient's health long term. Advanced Anti-Aging Dentistry using this method achieves more, is painless and has much less risk than the old school anti-aging type of dentistry that grinds down healthy teeth.
Overbite Correction Results in a Small Chin Appearing Larger
With this method, the small looking chin will appear larger, the bite more comfortable, less head an neck stress, fewer TMJ problems and a big boost in self-esteem is good for all of us. When the overbite correction is completed, the small chin appears larger and the facial profile is improved.
"You cannot look your best unless you feel your Best"
Facial Profile Correction with Jaw Position
It is not about your smile because most of the time we are not smiling. Most of the time it is about the shape of our faces or our facial profiles. It is about how we appear to other people and the impression we give to them when we are speaking or just listening. The best treatment is good for your health which is why you will not only look much better than "smile dentistry" but you will feel physically better too. "Smile Dentistry" usually grinds down healthy teeth and that is bad for your health. Facial profile correction with jaw position improvement is established by building the bite that supports the patient's facial structure for the first time in their life.
The best way to get started is to look at the FAQ section and send us photos if you live far away from Santa Monica California. If you live near the office, the best way to get started is schedule an appointment.