Overbite Correction
Beyond Veneers and Cosmetic Dentistry - No Drilling, No Surgery 
Santa Monica • Beverly Hills • Los Angeles
People who have collapsed bites or an overbite don't realize that their bite condition actually shows up on their faces aesthetically. They may start to think that their face looks rounder or shorter than it did in past years and they are correct. However, very rarely do patients attribute the unfavorable facial characteristics that they have acquired to their bite.
When an overbite deepens facial height is lost. The net effect is that your face is literally getting shorter and shorter as your condition worsens. Your teeth do not meet soon enough so your lower jaw is forced too far upwards towards your nose in order to make the teeth touch. This leaves your face looking too short and too round and in many cases the position is painful because it is not healthy.
Deep Overbite Effects on Your Entire Face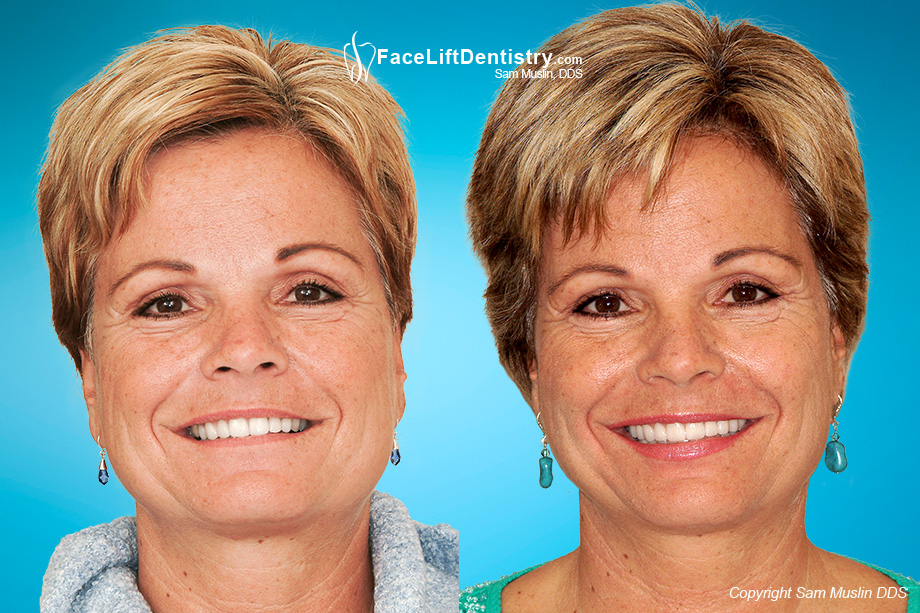 Before and After: The Dental Face Lift® Treatment offers bite correction without surgery
Bad Porcelain Veneers
What do you do when porcelain veneers were just placed and you don't like the appearance? "They are too bulky, to fat and too fake looking. My porcelain veneers look fake." She went back to the dentist that did the veneers and he did not know what to do to address her concerns. While her current dentist was trying to help her she knew that she would be more comfortable finding someone else that could achieve the cosmetic look she desired.
She found Dr. Muslin and decided to schedule an exam to get his opinion. Dr Muslin explained to her that the cosmetic dentistry she already had done of just ten upper porcelain veneers failed to address the actual problem. In reality her deep overbite condition had to be corrected in order to make her smile look it's best. Her overbite had progressed over the years to the point that she now suffered with a collapsed bite that made chewing a challenge.
Doing a simple porcelain veneer treatment on someone with an overbite like this patient means that the overbite will actually appear to get worse. This is because most dentists lengthen your natural teeth when they create the veneers. In order to avoid this issue, the underlying bite problem must be addressed in conjunction with the porcelain veneer work. Very few dentists regularly correct bite problems and idealize smiles at the same time in just one treatment. Even fewer dentists understand the relationship between facial characteristics and bite position and deliver consistent results every day so do your research.
Treatment with Non-Invasive Veneers
If you think that your bite may be causing some of your concerns then it comes down to determining which treatment is best. Too often patients think that the only option they have is to grind down their good teeth for veneers or for a bite reconstruction. They are told that the teeth will look bulky and fake if they don't let the dentist grind them down to stumps but this is no longer true. Fortunately now there are dentists out there that prefer a non-invasive approach to veneers and bite correction. Dr. Muslin has spent his entire career preferring to avoid any grinding on healthy tooth structure whenever possible. As you will see in his before and after photos the finished results are natural, thin, and believable every time.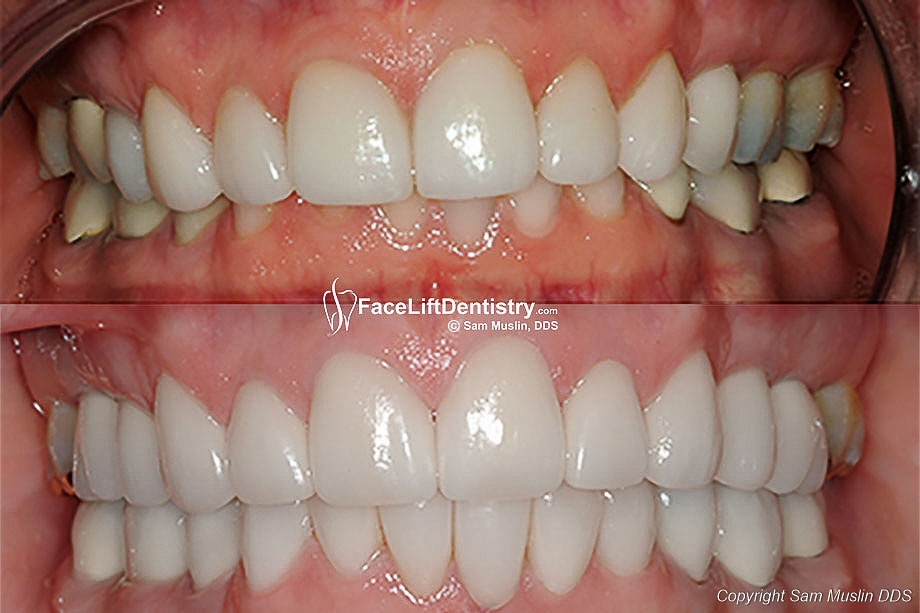 An overbite and bad veneers restored with Face Lift Dentistry®
Had she liked the cosmetic dentistry completed by the other dentist, she may never have attempted to educate herself on any other options. She was lucky in the sense that she did enough research to realize that her results could be far better with overbite correction without surgery.
Overbite Correction with Face Lift Dentistry® Treatment
Replacing the top 10 veneers was just not enough. Her bite was wearing down, the facial elements of aging were worsening because of her bite condition. A complete revitalization of her entire face, bite, and jaw position was the best possible treatment. Once the plan was developed, the data was gathered and she was ready to move forward.
Dr. Muslin has a rapid delivery of care which is accurate and thorough to keep the treatment time to a minimum. In just one appointment all of the old dental work was removed and her oral health was idealized. Then two weeks later she returned to our office and in just one appointment all of the porcelain work was bonded into place. She left that day with a fantastic smile, a longer and more oval shaped face, and her overbite was gone.
For those interested in a level of care that centers on only treating the teeth yet improving the dynamics of your entire appearance referred to as Face Lift Dentistry®, contact Sam Muslin DDS MAGD.
Page updated on