When spaces between the top and bottom teeth develop it can be due to a variety of causes. This patient had a deep overbite and his upper teeth were moving forward. He was developing "buck teeth" and the process had to be stopped before they go too far. He did not have an open bite as much as he had an over jet type of bite which means that the upper teeth stick out past the lower teeth.
Sometimes the over jet or buckteeth get started at a young age from thumb sucking. The young patient's thumb actually creates the space between the top and bottom teeth. Sometimes the patients never recover.
Slurry Speech
When patients have a gap between the upper and lower teeth and the upper teeth begin to get the appearance of "buckteeth" the patient's generally have slurry speech. The clarity of their "S" sounds and "th" sounds becomes less clear. Slurry speech is a result of the positions of the teeth and the gap between the upper and lower arches. These patient use their tongue to say the "S" sounds and it is not a clear as when the teeth and bite are in normal positions.
Teeth Gap Correction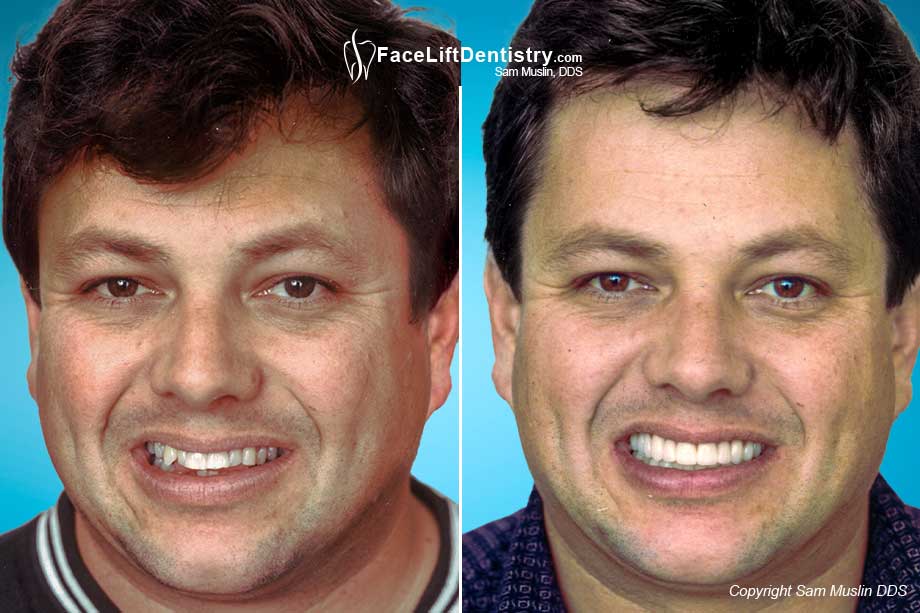 Speech Improvement
His teeth were shortened by years of wear and grinding. His bite never fully developed, leaving a gap between the upper and lower teeth. This gap inhibited him from speaking certain sounds clearly. He was treated with speech therapy, but his "S" sounds were not as clear because of the position of his teeth. It became hard to make clear sibilant sounds.
Because his front teeth do not touch when he bites together, he used his tongue to pronounce words with the letter "S". In the picture on the right you can see that with his bite now restored allowing him to speak more clearly. His new porcelain teeth also make him look younger.
Full Mouth Reconstruction
The solution required a reconstruction of the mouth in which each tooth was reshaped with custom made porcelain crowns or porcelain veneers. Now his bite is ideal, his speech is clearer and the health of his gums, teeth and jaw joint is improved.
Before treatment his TMJ showed signs of permanent damage. As we get older, generally our teeth get shorter. Our faces also get shorter and we look our age. If we add back the perfect amount of tooth structure, our faces can look and feel years younger.
Revitalized Dental Health
Full mouth reconstruction revitalizes your smile, improves your bite, and the health of your entire body, as all of the old decaying fillings and bacteria are removed.
Contact Dr Muslin for a consultation.