Regain your Self Confidence without Surgery.
The goal of treatment is to achieve cosmetic benefits that do not require grinding down healthy teeth, placing temporaries and later bonding the porcelain veneers to the patient's dentin. Bonding to dentin is 5 times weaker than bonding to the patient's enamel. Sensitive teeth and veneers that fall off are why patients loose their self-confidence.

Gummy Narrow Smiles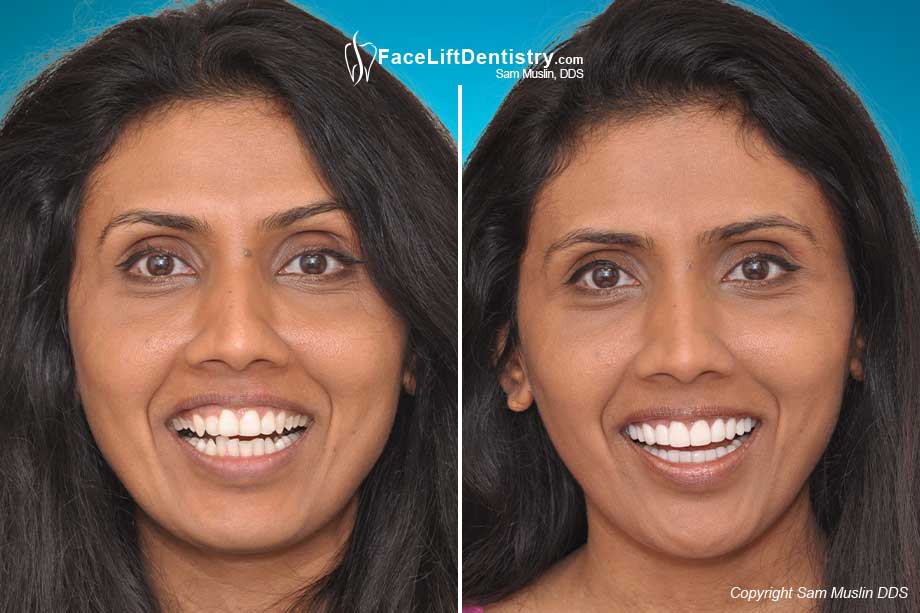 Veneers that Don't Break
One of the common complaints about veneers is that they break or fall off too often. One of the reasons is that the cosmetic dentist is bonding the porcelain veneers to dentin, (which is the inside of the tooth) because the cosmetic dentist drilled away all of the patient's enamel.
If the dentist is skilled enough to make no prep type of veneers, the bonding is much stronger because instead of bonding to dentin the dentist is bonding to enamel which is 5 times stronger. In order to save the patient's healthy tooth structure, the porcelain veneers need to be very thin yet sill have translucency, surface texture and the cosmetics of natural teeth. This is not possible with anti-aging dentistry or cosmetic dentistry done in most dental offices.
No Hot or Cold Tooth Sensitivity
When the anti-aging dentistry grinds down tooth enamel, the inside of the tooth is exposed and becomes very sensitive. Many patients have complained about tooth sensitivity after getting the invasive type of porcelain veneers.
The patients that received the non-invasive type of veneers constructed by Dr. Muslin and his ceramist, theses patients have no Hot or cold tooth sensitivity. In fact the teeth are much less sensitive than ever before. Many of the patients are able to eat and drink without hot and cold sensitivity after receiving the non-invasive, no prep veneer for the first time in their lives.
Gummy Smile Reduction without Invasive Surgery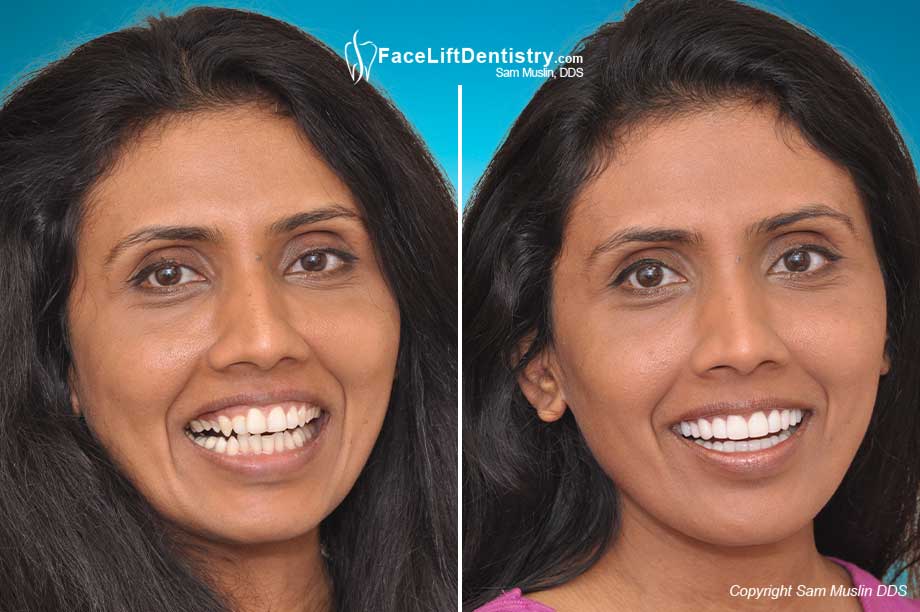 The gummy smile was easily managed on the first visit. No surgery, no stitches, no pain and no downtime from work was required and as a working person she did not have a recovery time. The gums have a new shape for a balanced smile without lasers, electro surgery or stitches.
Ultra Thin No-Prep Veneers
It is far better to only slightly modify the patient's enamel to allow the non-invasive or minimally invasive veneer to wrap around the tooth then to grind down all of the enamel and sacrifice the integrity of the health tooth structure by grinding away the enamel and exposing the inside of the tooth that is very sensitive (the dentin). Temporary teeth, shots and grinding down the natural tooth structure are not necessary with the non-invasive method.