Medically Reviewed by Sam Muslin, DDS, MAGD | Last Updated on 08/16/2022

Why are my teeth so small? This patient has small teeth and overgrown gums that are covering part of her teeth. When teeth are too small, and when the gum covers part of the tooth it looks even smaller. The good news is that once the overgrown gums are shaped; the teeth can actually look more normal in size by bonding "No Prep" porcelain veneers.
How to Fix Small Teeth
However, this patient, in particular, needed more than just a gummy smile correction through gum shaping. She felt that her "gummy" smile was not pleasing and she wanted the gaps between her teeth closed. The gaps between her teeth were a cosmetic distraction that could be addressed non-invasively with veneers. Also, when she smiled, she showed way too much gum and not enough tooth. She contacted Dr. Muslin about small teeth treatment options with either porcelain veneers or with VENLAY® Restorations.
Small Teeth, Tooth Gaps - Non Invasive Porcelain Veneer Treatment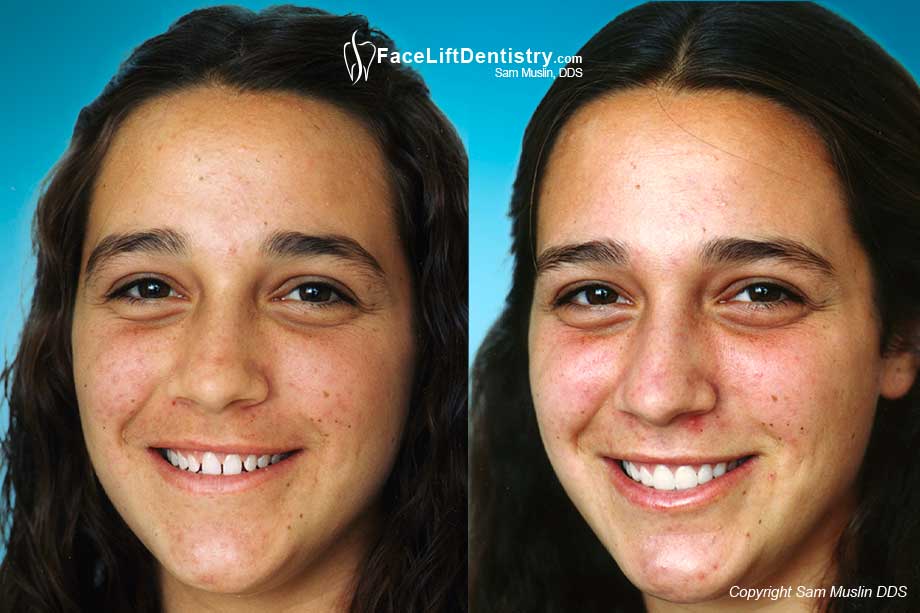 How Small Teeth Affect Your Smile
Treating her small adult teeth with porcelain veneers is the best treatment in this case in order to get the right smile. In one visit, the gums were shaped to eliminate the gummy smile, and on the second visit, the porcelain veneers were placed. If she had an overbite, underbite or bad bite, VENLAY® Bite Restorations would be the first choice for bite correction with small teeth. These are the before and after photos of treatment that was completed about 19 years ago. The technology today is better, and the photography is also better! The reason why this particular case with the older photography is being used is just to show that porcelain veneers bonded with Dr. Muslin's custom bonding technique last for a very long time, look great and none of the teeth were drilled down.
Porcelain Veneers vs. Braces
There were a few different treatment options available to this patient that would address the small teeth and gummy smile. The problem with closing the gaps with braces is that her smile would be too narrow, and the jaw would be pushed back and end up with a receding mandible. Her small teeth would be too little for her face. Additionally, many patients lose the space available for the tongue when the teeth are squeezed together. She could have considered braces or other orthodontic methods or VENLAY® Restorations, however porcelain veneers were the best treatment option when bite correction is not needed.
How to Enlarge Small Teeth
After Dr. Muslin analyzed her jaw size and her facial structure. He felt that if braces were used, the length and width of her upper teeth would be too small for her face and bite. He said that she would "lose facial support" by squeezing the small teeth together with braces. This would have left her smile too narrow and weak. She would have also lost support for her lips that she needed for a long term youthful look.
Small Teeth and Worn-Down Teeth
It is important that the cosmetic dentist analyzes the facial structure of the patient before treatment is determined. Making small teeth bigger can cause the overbite to get worse. The advantage of seeing Dr. Muslin is that he has extensive knowledge of orthodontics or braces, porcelain veneers, porcelain crowns, and VENLAY® Bite Restorations so you will get the right advice for your situation. Worn-down teeth for older patients cause the face to get shorter, the chin to sink and the jawline recedes which cause premature aging.
Non-Invasive, No Prep Porcelain Veneers
With non-invasive porcelain veneers, the sizes of her teeth would be increased, and the gaps would be closed. She would have a much wider smile and better support for her lips and face. The porcelain veneers were designed and angled properly to maximize her smile and support her lips for years to come. If the patient needed bite correction, VENLAY® Restorations are vastly superior because they are designed to correct overbites, underbites and reverse the effects of aging at the source.
No Shots, No Drilling, and Done Very Quickly
To make her smile something that she could feel confident about, Dr. Muslin recommended veneers for her upper teeth and whitening for her lower teeth. Because her healthy teeth were too small there was no reason to grind down or changed the natural teeth in any way. Dr. Muslin took a non-invasive approach and there was no drilling, no shots, no needles and no grinding at all. By making small teeth look bigger by filling in the gaps, this patient was able to save her healthy tooth structure.
Porcelain Veneers and VENLAY® Bite Restoration
With over 30 years of dental experience doing braces, porcelain veneers, and full mouth reconstructions, Dr. Muslin has a rare understanding of how both orthodontics, bite correction, facial analysis, VENLAY® Restorations, and porcelain veneers could benefit his patients. His extensive experience with all age groups and facial types give him the ability to choose the best non-invasive cosmetic dentistry, and the best non-invasive bite correction dentistry for his Face Lift Dentistry® patients. His work is well documented with one of the country's largest porcelain veneer, full mouth reconstruction and Face Lift Dentistry® before and after photo and video gallery.

All of the photos shown are Dr. Muslin's actual patients, and none of the photos have been touched up or altered in any way. The quality and honesty of his work are just one of the reasons why he was awarded by the International College of Dentists and is a Master of the Academy of General Dentistry.
Closing Gaps and Re-sizing Teeth that are Too Small
She did not like her smile! Her teeth had spaces between them, and they were way too small. She even had broken edges that had chipped over time. If she had undergone braces, which would have squeezed all the little teeth together, her smile would be way too narrow, and the teeth would still be far too small. Veneers are very good for her situation and none of her healthy teeth needed to be drilled down and she did not even need a shot! But, if bite correction is needed, particularly on worn-down teeth, small teeth and misaligned jaws, then VENLAY® Bite Restorations are the treatment of choice.
New Shapes, New Color and New Teeth Angles
Also, her teeth had a square and flat shape that made them look like baby teeth. With non-invasive porcelain veneers, the contours and locations of the teeth cannot be moved so the dentist must be able to manage the sizes, shapes, angles, and contours of the veneers to appear as natural as possible. The goal was to make her small teeth look bigger with an incredible smile.
New Surface Texture, Natural Translucency and new Design Veneers
These types of ultra-thin veneers are super-thin shells of porcelain that become part of the teeth, and they can last a lifetime. Dr. Muslin works with his ceramist to design the size, shape, and appearance of each porcelain veneer for each tooth. He determines things like the shape, color, amount of translucency, degree of surface texture and more. All of these customized design components are what make the porcelain veneers look natural and individualized for each patient.
Can Veneers Look Natural?
Her lower teeth are just her natural teeth, and her upper teeth are porcelain veneers. As you can see the upper porcelain veneers and the natural lower teeth match perfectly. They all are the same color, texture, and translucency, which is not easy to do.
No Drilling or Grinding Porcelain Veneers

Her lower teeth were then whitened with a technique that is safer than laser whitening, and she also received a custom take-home system. After practicing dentistry in Santa Monica for over 40 years, Dr. Muslin has the experience and the expertise to advise his patients the right treatment for them.

Going to a dentist that has extensive orthodontic experience, extensive cosmetic dentistry experience and the only dentist with the VENLAY® Bite Restoration experience has major advantages. He can advise you of the best course of treatment for you while the other dentists are limited only by what they know. His extensive experience with all levels of dentistry, dental technology, and dental specialties helps give the patients a level of expertise that few dentists have achieved.

Call the office and schedule a consultation as the knowledge you receive could change your life, save your teeth from the so-called "minimally invasive dentist" and help you get the treatment that you were meant to get from someone with results that matter. (310) 829-6796

Face Lift Dentistry® Is The Future of Bite Correction

Face Lift Dentistry® not only optimizes your smile, but it also optimizes your entire face! Call today and get ready to change your life. Face Lift Dentistry® results are Safer, More Reliable, Testable, and Far More Predictable Healthcare with enormous Cosmetic Impact.

Contact Us

Call Us: (310) 829-6796

Face Lift Dentistry® fee is $40,000 per upper or lower arch plus any additional dental work such as fillings, gum work, dental implants, etc. Most patients get both the upper and the lower arches done simultaneously to maximize their results and get the most health benefits possible. Face Lift Dentistry® is dental health care that is tax deductible depending on your income, so we advise that you check with your accountant.