Correcting Long Front Teeth and a Narrow Smile
How to Fix Large Front Teeth to Look Smaller
Treating Patients in Los Angeles, CA from All Over the United States and the World
Reviewed by Dr. Sam Muslin | Last Updated on 03/25/2022

She had always thought that her two front teeth were too big and that she had a narrow smile. After consultations with several dentists, they all recommended grinding down her front teeth. Something about grinding down perfectly good teeth did not sit right with her, so she started researching other alternatives. She came across Dr. Muslin's before and after photos of his non-invasive porcelain veneers, and she knew that she wanted her work done by him. But, what she did not realize was that he could solve her problem in a very creative way.
Is the Solution to Big Teeth Drilling or Shaving Them Down?
Some patients can have teeth that are too big for the facial structures. The size of our teeth is a genetic factor that we inherit. Having big teeth has advantages functionally because it takes much longer for them to wear done. However, big teeth can be modified without cutting them down to little pegs for porcelain crowns. The following patient had only two large teeth and the rest were normal in size.
Correcting Large Front Teeth with Non-Invasive Cosmetic Dentistry
In reality, her two front teeth were not too large at all. Dr. Muslin could see that she needed a wider smile and when he widens the smile with veneers or even better with VENLAY® restorations, the big front teeth look perfect. The problem was actually that her side teeth were far too small instead of the front teeth being too big. Because her side teeth were too small, it left her front teeth looking extremely large and out of proportion. Likewise, the small side teeth made her smile very narrow and too gummy.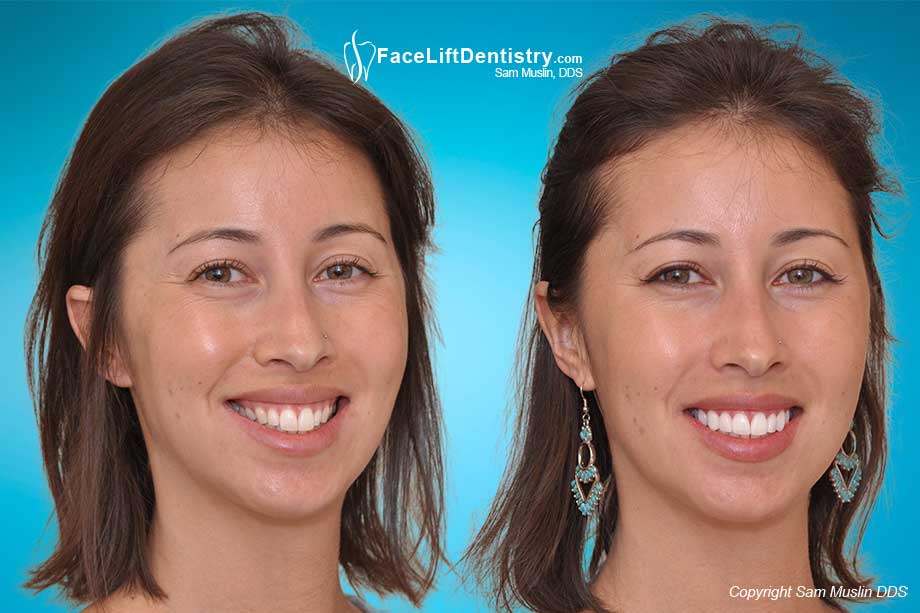 Are Her Front Teeth Too Big?
Every cosmetic dentist she saw said her front teeth were too big and that the big front teeth had to be drilled down for porcelain veneers to look less bulky and smaller. The problem is when the big front teeth are drilled down, they can become sensitive to hot and cold. Even worse, the nerves could be so inflamed that your cosmetic dentist would recommend root canals! Another important factor is that she would also lose lip support. Facial support and having the right sized teeth are a vital component to coordinate for the ultimate smile.
Why Seeing Dr. Muslin is so Important
You would greatly benefit from seeing Dr. Muslin as he has pretty much seen it all. He has experience in all areas of dentistry including the bad and the good. He has removed and replaced bad veneers that keep falling off that were done by other dentists because their bonding was too weak and the bite was not balanced. He has extensive experience in bite correction with his non-invasive VENLAY® Restorations. He is worth seeing because he understands all of your choices rather than limited choices that other dentists may recommend with their limited experience and knowledge.
Saving Big Teeth and Overnight Modifications
Dr. Sam Muslin was the only dentist that could leave her front teeth intact and bond porcelain veneers that perfectly matched her two natural front teeth. What makes his dentistry special is that he designs all of the veneers, VENLAY® restorations and porcelain crowns himself. The lab is very close to his office so customization or modifications can be made overnight.
No-Grinding Porcelain Veneers
After her consultation, Dr. Muslin made a shocking recommendation on correcting her large front teeth. He suggested that the two front teeth NOT receive veneers at all. Rather than sacrifice the health of the larger teeth by grinding them down for veneers he explained that the better plan would be to bond his non-invasive porcelain veneers to the smaller teeth on the sides. Make the teeth that are too small larger and leave the larger ones alone. No other dentist could imagine such a result.
Treatment with Non Invasive Porcelain Veneers
By veneering the side teeth he could increase their size so that the front teeth would not look so big. A minor gum surgery minimized her gummy smile on the sides. This non-invasive strategy meant no grinding and it preserved her teeth.
Gum Reshaping Makes Small Teeth Larger
The results of the gum reshaping surgery, which took only a few minutes with no stitches or pain, allowed her side teeth to visually increase in size. With her new custom veneers bonded, the side teeth supported her face, her lips and gave her a broad smile.
Veneers - Side Teeth Treatment With Gum Reshaping

Front Teeth Too Long
Correcting large front teeth by noninvasive placing porcelain veneers on just the side teeth is one of the hardest treatments to do. The challenge is to get the porcelain to perfectly match the adjacent natural teeth. As such the side veneers had to be custom made to assure that the color was correct. The gum surgery had to heal perfectly. She now has a fuller and wider smile that she can be proud to show off. The finished look is totally natural, and the porcelain veneers blend perfectly with her natural front teeth. Best of all, her entire look was achieved without compromising the health of her teeth in any way. The front teeth were a little too long so Dr. Muslin, without anesthetic, using a special type of diamond, shortened her two front teeth just a little so her smile would be perfect.
Don't Make this Porcelain Veneer Mistake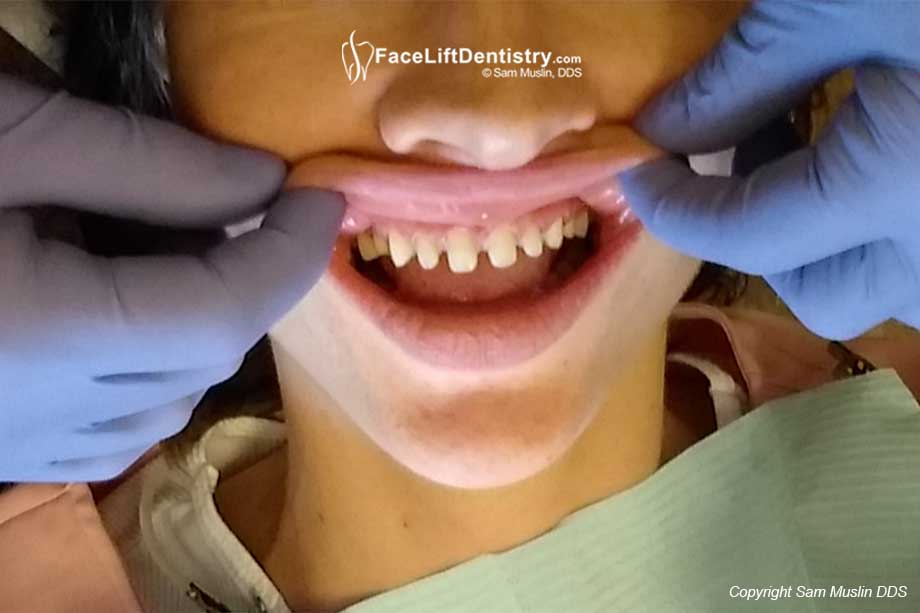 There is no substitute of getting your bite corrected, your jawline improved, and your smile enhanced. We recommend that you call the office and schedule your consultation appointment at (310) 829-6796. We can help you make the right decision.
Questions About Treating Teeth With Non-Invasive Veneers?
Ask Your Questions or Schedule a Consultation