Cosmetic Dentistry & No Tooth Grinding Porcelain Veneers, Non-Surgical Face Lift Dentistry® Bite Correction & TMJ Pain Relief with Anti-Aging VENLAY® Restorations
Dr. Sam Muslin was Awarded LA's Best Cosmetic Dentist for 2015
Santa Monica • Beverly Hills • Los Angeles
Correcting bad bites, under bites and overbites without braces, surgery and without grinding down your healthy teeth is the best possible treatment available today. Patients fly in from all over the world to get their faces, jawlines and profiles "optimized" to their individual biologic potential.
The Face Lift Dentistry® Method - Transforming Faces and Self-Esteem
Face Lift Dentistry® is a method that actually corrects overbites and facial profiles that transforms the face and can also treat TMJ pain, correct bites and Neck pain.

Face Lift Dentistry® helps patients look their best from every angle and with every expression rather then just getting a better smile with the same face.


TMJ pain, headaches and neck pain can wear a person down. Their faces experience premature aging due to a bad overbite. She saw chiropractors and took pain medication everyday for over twenty years. Watch her video as she tells her story and her solution.
Deep overbites create short round faces while overbite correction creates a better-proportioned face. The chin position is improved, the face is better supported and she looks years younger. She could have gone to the typical cosmetic dentist and gotten porcelain veneers but the shape of her face would look exactly the same. Her smile would improve but the key to looking younger is with bite correction using the Face Lift Dentistry® method.
Non-Surgical Under Bite Correction using VENLAY® Restorations

"I was told that jaw surgery and years of braces was my only choice. Fortunately, I kept searching the Internet for several years, until I found this one dentist with an incredible under bite correction solution."
Under Bite Correction Alternative to Jaw Surgery – This patient's upper teeth were too short, his lower teeth were too long, his lower jaw looked too big and he had a bilateral cross bite. The non-surgical Dental Facelift ® can dramatically improve your life by idealizing the proportions of the teeth, improving your profile, correcting the cross bite and creating a healthy bite.
Under Bite Correction in two weeks, No surgery, No Braces

This patient had her under bite corrected without surgery in only two weeks using the non-invasive, non-surgical VENLAY® Restorations to correct the bite. The shape of her face improved with her new jaw position, which also made her lower jaw look smaller. Her under bite was not only visibly but it was physically corrected, her bite is comfortable and she loves the new color of her teeth.
You will never look your best, feel your best or achieve maximum health unless your jaw position and bite are idealized.

Yellow Crooked Teeth and Overbite Correction
The new age of non-invasive and non-surgical overbite, and under bite correction dentistry can transform the lives of patients with surprising speed. This type of dentistry has been successful with patients from 14 to 93 years of age.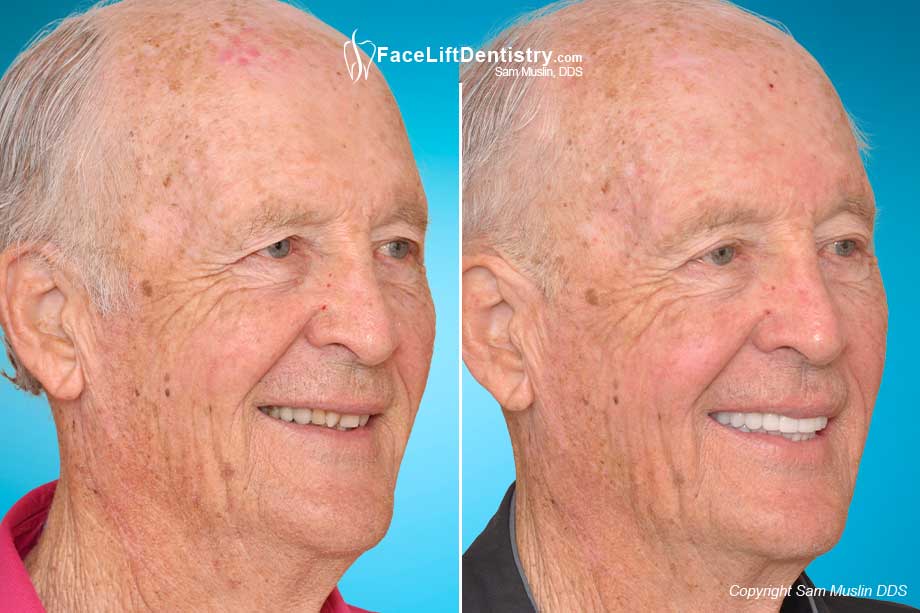 Overbite Correction with VENLAY® restorations and the Face Lift Dentistry® method makes treatment easier for everyone. The goal is to treat the entire face, the balance and function of the bite, and the overall physical health of the patient. This is the new age of looking and feeling younger.
Age Reversing Dentistry
Older people show lower teeth when they talk and younger people show upper teeth when they talk. This patient's lower teeth were too long and her upper teeth were too short. She had the wrong bite for her face and subsequently experienced premature aging to her face.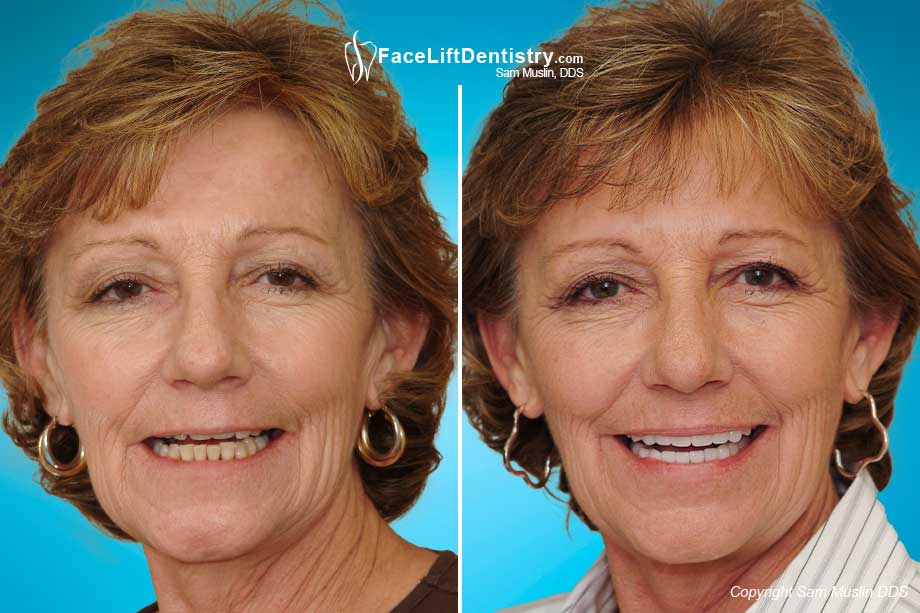 Her bite was not balanced to her face so she only shows lower teeth when she talks. Her face was also aging prematurely because her bite was not in harmony with her face. With a healthy Face Lift Dentistry® bite, she looks younger and she feels younger.
Full Mouth Reconstruction with the Face Lift Dentistry® Method
All of the old fillings, crowns and decay are removed and the teeth are made to be free of decay with this treatment. With the specialized and customized non-invasive VENLAY® Restorations for bite correction, the teeth and jaw are artistically crafted to function as an organized system. She was getting "patchwork" type of dentistry with one tooth being done at a time. This full mouth reconstruction system is three dimensionally designed by Dr. Muslin treat all of the upper teeth at one time. For the first time in her life, she has a matching set of teeth and the best bite for her face.
Bite Correction - not just a Smile Makeover
She went to several cosmetic dentists and they all wanted to grind down her natural healthy teeth to place porcelain veneers. But she already has a great smile and she did understand how veneers would improve the shape of her face. Watch her video as she explains her story.
In just a couple of minutes this patient will explain why she did this treatment, the ease of treatment and the results. In all of the photos below, she is biting her teeth together so the results can be compared honestly.

Porcelain Veneers and Cosmetic Dentistry would Not Work
Cosmetic dental treatments, such as porcelain veneers or laminates, can make us look better when we smile but Face Lift Dentistry® makes us look great all of the time, with every facial expression and from every angle, whether we are smiling, at rest or speaking. Porcelain Veneers do not address health concerns or the shape of our faces. Traditional mouth reconstruction or bite reconstruction methods fix the teeth but generally do not improve the shape of the patient's face or the facial profile because dentists only treat the vertical dimension. Watch her video below.
Overbite Correction without Surgery using the Face Lift Dentistry® Method
"I want my testimonial to help you." She traveled to Santa Monica to take care of a lifetime of dental work and dental related problems which porcelain veneers and cosmetic dentistry could not fix.

Cosmetic Dentistry and Porcelain Veneers vs. Face Lift Dentistry®
Since conventional cosmetic treatments focus mainly on enhancing the appearance of a person's smile the results are not realized unless you are smiling. The Dental Facelift ® delivers results for your face and profile that benefit the patient all of the time. The anti-aging benefits such as wrinkle reduction, fuller lips, a younger facial shape, and a more balanced profile are obvious whether you are smiling or if you are just talking to someone.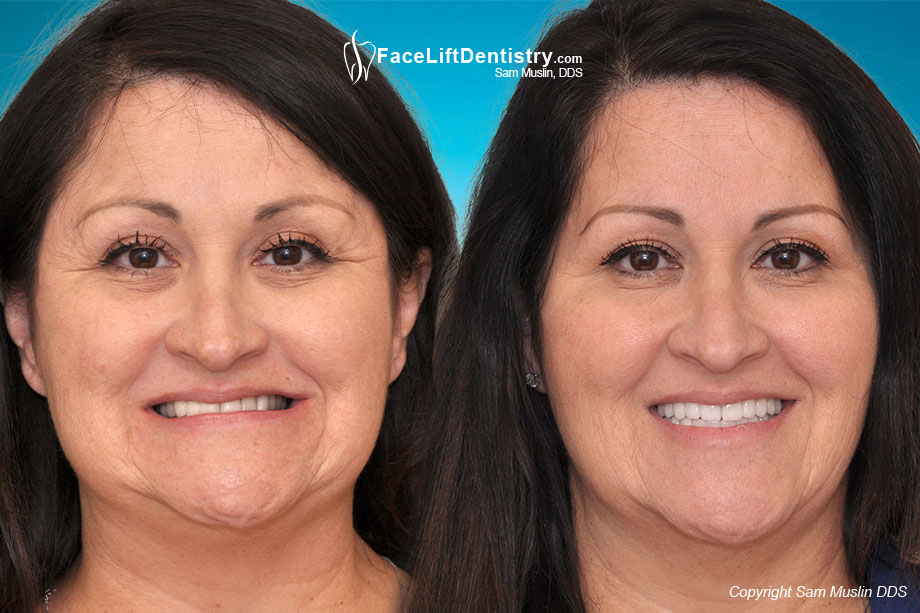 This patient already had cosmetic dentistry and porcelain veneers and it did not help her. Her face is still short and she suffers from premature aging. She has been in the dental field for over 30 years and no dentist could help her because her jaw "moved this way and then that way".
This patient already has smile dentistry, anti-aging dentistry and porcelain veneers in her mouth and yet is frustrated. Her face was aging, her bite was uncomfortable and she was losing facial support. Even after working in the dental field for over 30 years she was unhappy with cosmetic dentistry.

Reverse the effects of Aging and Improve the Facial Profile

This patient had her overbite corrected without braces or surgery in only two weeks and the improvement in the shape of her face and her facial profile was done by building a bite that three dimensionally repositioned her lower jaw using this method. Her headaches and her jaw clicking and popping were completely cured along with having a younger looking face because this method reverses the effects of the aging process; she is "Over the moon happy".
Improve Chin Size and Bite Correction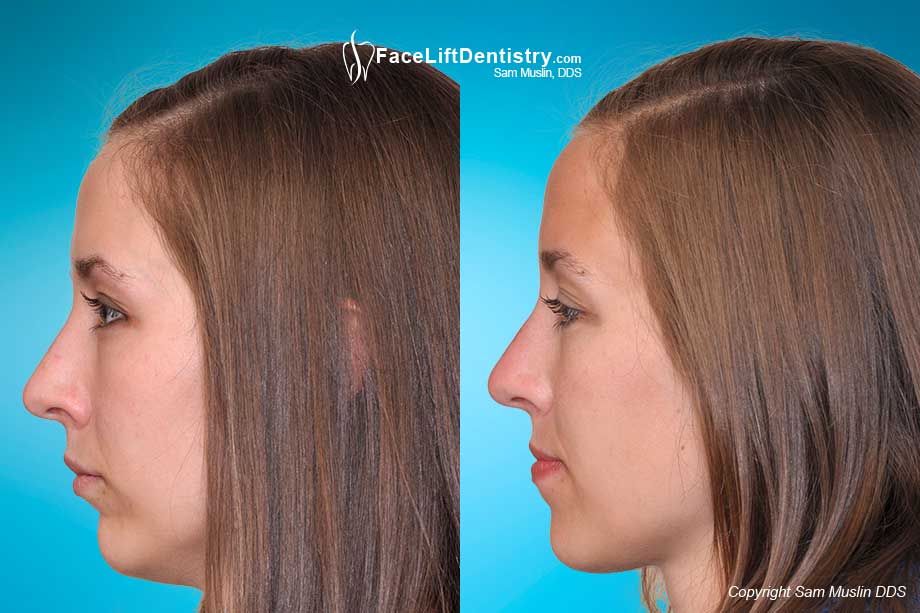 Patients that get headaches, clicking jaws and small looking chins generally need bite correction that improves the size of their chin. The small chin position is an unnatural position that the patient must work to accommodate. When the bite correction is completed it allows her lower jaw to be in a healthier position that makes the chin appear larger. Her headaches were relieved and her facial profile is improved. In reality, her chin was always normal in size but the overbite made the chin look small because of the position of the lower jaw. The chin size improves when the bite is corrected using the Face Lift Dentistry® method.
Jaw Surgery Alternative to overbite correction can now improve your facial profile in just a couple of weeks without grinding down the teeth. Patients with overbites and small looking chins actually have a normal sized lower jaw that only look small because of it's position caused by the overbite.

"The Doctors" Nationwide TV Program features Dr. Sam Muslin
A simple dental procedure can have the same effect as a facelift - Dr. Sam Muslin featured on The Doctors TV.

.
These patients can now experience a life, full of possibilities because their bite is healthy and it was built to complement their faces. Unfortunately your overbite, under bite and bad bite cannot be corrected using just porcelain veneers. Porcelain veneers are nothing more than a cosmetic camouflage for your bite problem because they do not fix the actual health issues that are present.
The way to painlessly and comfortably reverse your bite problems so that you can look and feel your best is by choosing bite correction with Dr. Sam Muslin's exclusive VENLAY® Restorations for non-surgical treatment using the Face Lift Dentistry® method.
Bonding Veneers vs Non-Invasive Porcelain Veneers
Non-invasive porcelain veneers made from the latest high tech porcelain that is much stronger than traditional bonded veneers. Bonding composite veneers stain easily, are weaker, chip and break sooner. Dr. Muslin works on the porcelain veneers for every one of his patients. He checks every step, grinds and shapes along with developing the thickness, translucency and surface texture to get the look that the patient wants.
Porcelain Veneers (No Prep) and Cosmetic Dentistry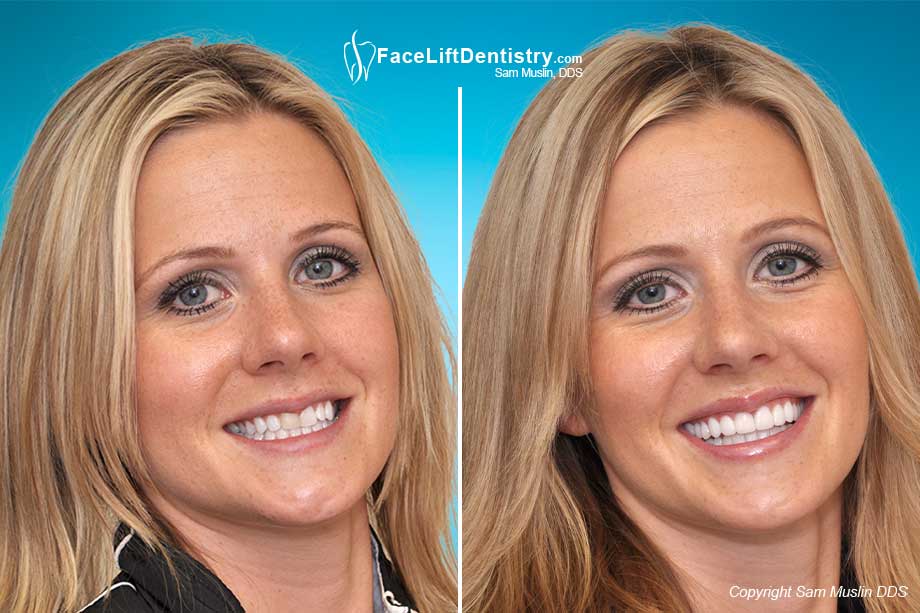 This patient has a good jaw position and jawline so she did not need Face Lift Dentistry® but she did get a new smile with non-invasive, no tooth prep porcelain veneers. Dr. Muslin's porcelain veneers have a bond that is five times stronger because he is bonding to the patient's enamel and didn't grind down her teeth. His "patent pending" bonding method adds even more strength.
Porcelain Veneers and Gaps between Teeth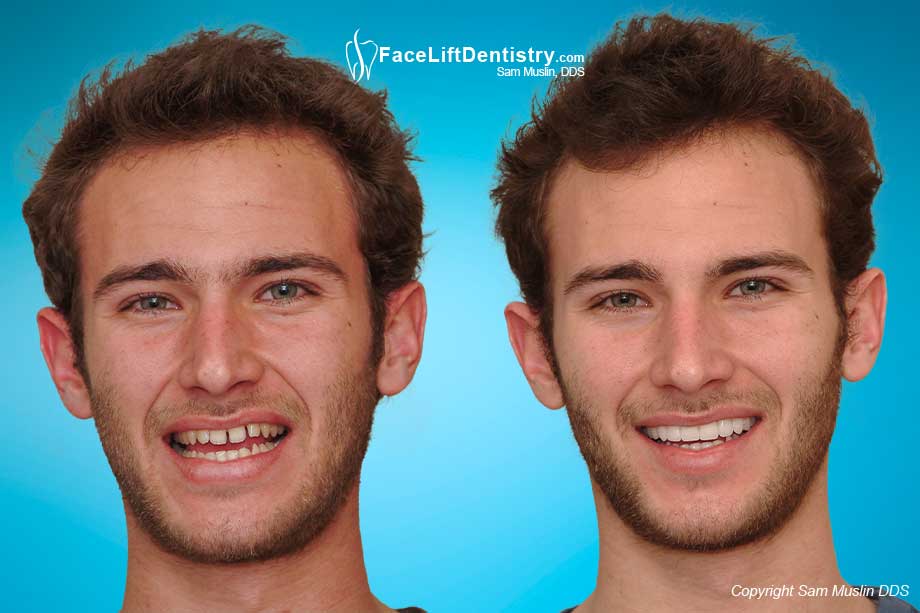 This young man flew in from another country to be treated by Dr. Sam Muslin because the other cosmetic dentists he saw needed to grind down his healthy teeth for porcelain crowns. It was the only way the other cosmetic dentist could close the gaps and make his smile look good. By working on the veneers himself with his ceramist, Dr. Muslin was able to get this patient a great result without grinding away any of his healthy tooth structure.
Face Lift Dentistry® the Ultimate in Anti-Aging Dentistry
This patient flew across several states because seven of the top dentists in her area wanted to put braces on for a third time, or do jaw surgery or Botox®. She suffered with headaches and was frustrated. When patients have headaches every day and have had braces twice, along with looking older than their age, they seek out multiple dentists and doctors for solutions. Patients that have deep overbites have their jaw and bite in the wrong position for their TMJ to function normally which will result in TMJ pain. She explains her situation in the following video.
The doctor and the patient explain her problems and the Face Lift Dentistry® solution. The results with before and after photos are clearly demonstrated.

The Masculine Chiseled Chin
The shape of his face improved and his chin looks more masculine. Look at the shape of his face and look at his chin in the before photo. He has a short round face with a small looking chin that was corrected in only two weeks by correcting his overbite. Only his teeth were treated to get a remarkable improvement to his face.
Improve the Jawline & Chin Size
Using the only, non-surgical, bite correction restoration, called VENLAY® Restorations, none of the healthy teeth need to be ground down. The treatment is remarkably quick and painless because your natural teeth stay intact. VENLAY® Restorations provide bite correction that can be completed in just a week or two. The size of the chin is directly related to the type of Full Mouth Reconstruction that the patient receives.
Short Worn Down Teeth from Clenching and Grinding
When teeth are worn down, most dentists want to grind them down and put porcelain crowns on them. Unfortunately, this is an old method that is still being done today. However, the new age of dentistry can restore worn down teeth and replace the lost tooth enamel quickly, painlessly and without grinding down the teeth. This is a Full Mouth Reconstruction that was completed non-invasively using the Face Lift Dentistry® method.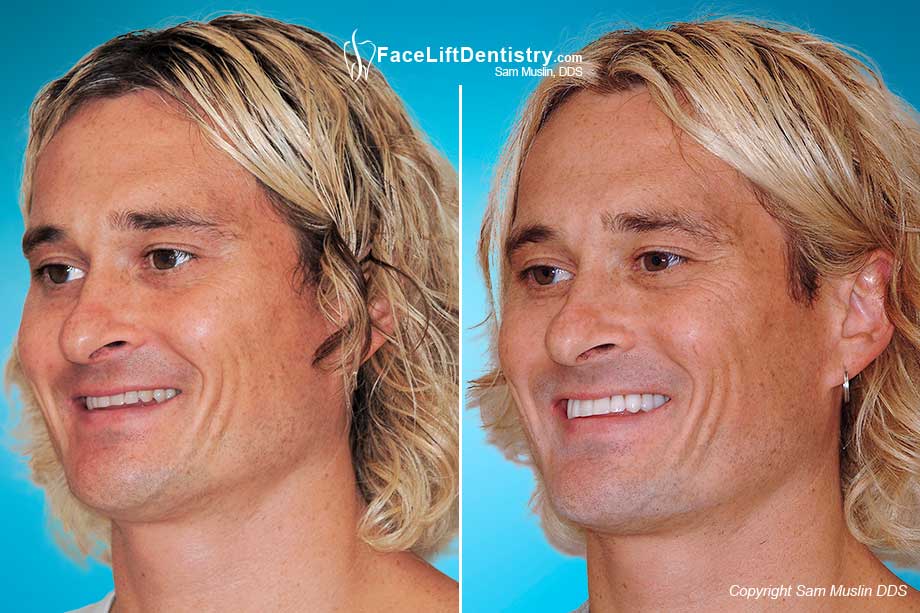 His teeth were short, worn down and so was his face from years of clenching and grinding. With VENLAY® Restorations his teeth got a new high tech layer of porcelain built right over the biting surfaces creating an ideal jaw position for his face. He now has a new bite, a better-proportioned face, stronger jawline and a more masculine appearance.
Narrow Smiles and Bite Correction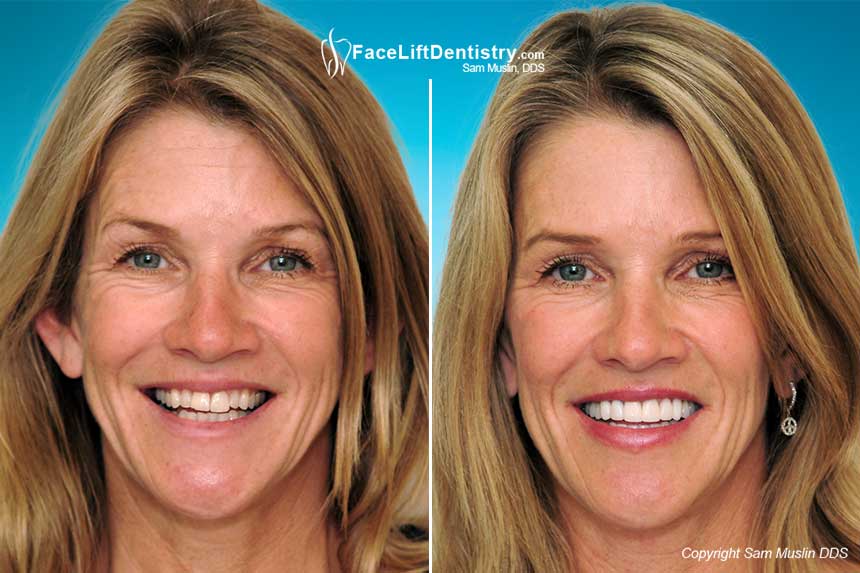 Her teeth were short from years of wear and when the teeth wear down, the face gets shorter. As the face gets shorter the patient looks older and it can start when you are in the mid-thirties. She now has a wide smile with a youthful appearance that resonates with her personality. Porcelain veneers cannot improve the bite or widen the smile to this level.
Custom Cosmetic Dentistry
You will notice that every single one of Dr. Muslin's patients looks different. Each patient has a unique color, shape, and style to their smile and this is all by design. Each of Dr. Muslin's patients is a major participant in the aesthetic decisions that are made so that results are what the patient wants.
Dr. Muslin will offer guidance and advice as to which color and shape would best compliment your facial features but ultimately the decision is yours. All of Dr. Muslin's patients get their own unique look based upon their individual taste. This level of customization is what you can count on to make sure that you can achieve the look you desire. Watch the following video to see the wide variety of results possible.
This video shows some of the latest and greatest results by Dr. Muslin in a fast paced series of before and after photos and video clips of his patients explaining their treatment.

Contact Dr. Sam Muslin
If you need Cosmetic Dentist, Implant Dentist, Porcelain Veneers or a Bite Correction dentist, or if you are interested in knowing how dental care can transform your face, please contact Dr. Sam Muslin in Santa Monica for an appointment. Dr. Muslin treats patients from all over the world at his Santa Monica practice and is easily accessible to patients residing in the Santa Monica, Beverly Hills and Los Angeles area. If you are an out of state or international patient, Dr. Muslin will strive to complete your treatment in the shortest time possible.
All photos on this website are untouched and unaltered.
All of these Patients were treated by Dr. Sam Muslin.