Small Adult Teeth Treatment Options
Beyond Veneers and Cosmetic Dentistry - No Drilling, No Surgery 
Santa Monica • Beverly Hills • Los Angeles
This patient has small teeth and overgrown gums that are covering part of the already too small teeth. When teeth are too small and then the gum covers part of the tooth it looks even smaller. The good news is that once the over grown gums are shaped; the teeth can actually look normal.
However, this patient in particular needed more than just a gummy smile correction through gum shaping. She felt that her "gummy" smile was not attractive and she wanted the gaps between her teeth closed. These gaps between her teeth were a cosmetic distraction that could be addressed noninvasively. In addition, when she smiled she showed way too much gum and not enough tooth. She contacted Dr. Muslin about small teeth treatment options.
Small Teeth, Tooth Gaps - Non Invasive Porcelain Veneer Treatment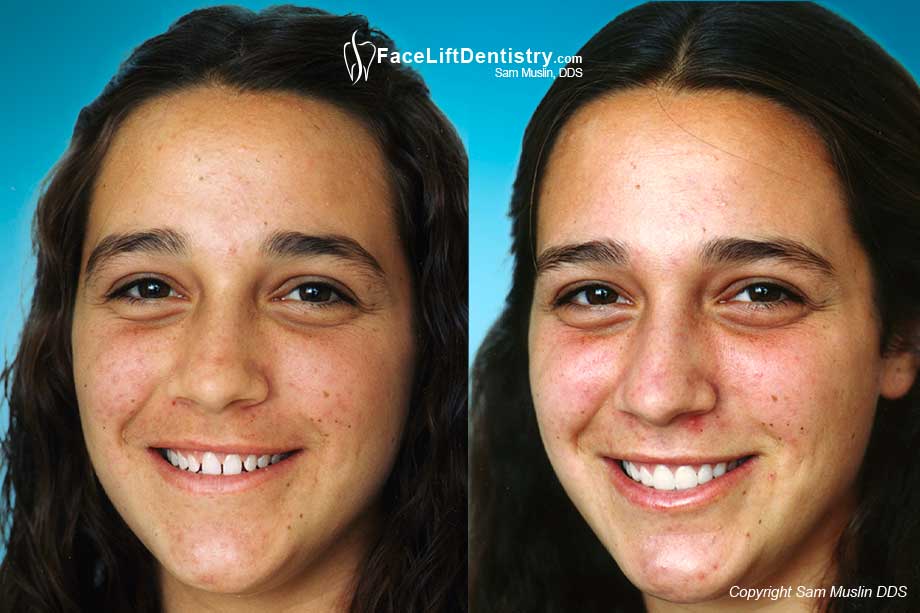 Teeth gaps and spaces were treated with Instant Braces or porcelain veneers to increase the sizes of her teeth to close the gaps between teeth. Her porcelain veneers widened her smile and supported her face.
Treating her small adult teeth with porcelain veneers is the best treatment in this case. In one visit, the gums were shaped to eliminate the gummy smile and on the second visit the porcelain veneers were placed. These are the before and after photos of treatment completed about 14 years ago. The technology today is better and the photography is also better! The reason why this particular case with the older photography is being used is just to show that porcelain veneers bonded with Dr. Muslin's custom technique last for a very long time.
Porcelain Veneers vs. Braces
There were a few different treatment options available to this patient that would address the small teeth and gummy smile. She could have considered braces or other orthodontic methods however porcelain veneers was the best treatment. After Dr. Muslin analyzed her jaw size and her facial structure. He felt that if braces were used, the length and width of her upper arch would be too small for her face and bite. He said that she would "loose facial support" by squeezing the small teeth together with braces. This would have left her smile too narrow and weak. She would have also lost support for her lips that she need for a long term youthful look. It is important that any dentist analyzes the facial structure of the patient before treatment is determined.
With non invasive porcelain veneers, the sizes of her teeth would be increased and the gaps would be closed. She would have a much wider smile and better support for her lips and face. The porcelain veneers were designed and angled properly to maximize her smile and soft tissue for years to come.
With over 30 years of dental experience doing braces, porcelain veneers and full mouth reconstructions, Dr. Muslin has a rare understanding of how both orthodontics and porcelain veneers could benefit his patients. His extensive experience with all age groups and facial types gives him the ability to choose the best cosmetic dentistry for his patients. His work is well documented with one of the country's largest porcelain veneer before and after photo galleries. All of the photos shown are Dr. Muslin's actual patients and none of the photos have been touched up or altered in any way. The quality and honesty of his work is just one of the reasons why he was awarded LA's Best Cosmetic Dentist award for 2012. The best tool for potential patients to decide if they too agree that Dr. Muslin's work makes him the best dentist in Los Angeles is to look at the before and after photos of his work and compare those to the work of others. Contact him no about small teeth treament options for a wider whiter smile.
Closing Gaps and Re-sizing Teeth that are Too Small
She did not like her smile! Her teeth had spaces between them and they were way too small. She even had broken edges that had chipped over time. If she had undergone braces, which would have squeezed all the little teeth together, her smile would be way too narrow and the teeth would still be far too small.
Also, her teeth had a square and flat shape that made them look like baby teeth. With non-invasive porcelain veneers, the contours and locations of the teeth cannot be moved so the dentist must be able to manage the sizes, shapes and contours of the veneers to appear as natural as possible. The goal was to make her small teeth look bigger.
Ultra Thin Porcelain Veneers
To make her smile something that she could feel confident about, Dr. Muslin recommended veneers for her upper teeth and whitening for her lower teeth. Because her healthy teeth were too small there was no reason to grind down or changed the natural teeth in any way. Dr. Muslin took a non-invasive approach and there was no drilling, no shots, no needles and no grinding at all. By making small teeth look bigger, this patient was able to save her healthy tooth structure.
These types of ultra thin veneers are super thin shells of porcelain that become part of the teeth and they can last a lifetime. Dr. Muslin works with his ceramist to design the size, shape and appearance of each porcelain veneer for each individual tooth. He determines things like the shape, color, amount of translucency, degree of surface texture and more. All of these customized design components are what make the porcelain veneers look natural and individualized for each patient.
Her lower teeth are just her natural teeth and her upper teeth are porcelain veneers. As you can see the upper porcelain veneers and the natural lower teeth match perfectly. They all are the same color, texture and translucency, which is not easy to do.
No-Prep Porcelain Veneers

The upper porcelain veneers match the lower natural teeth perfectly. The gaps between her teeth were eliminated and the slanted upper central incisors were straightened with ultra thin no prep porcelain veneers.
Custom Teeth Whitening
Her lower teeth were then whitened with a technique similar to laser whitening, Zoom or Britesmile, and she also received a custom take home system. After practicing dentistry in Santa Monica for over 28 years, Dr. Muslin has found that a custom take home whitening system in addition to the in office treatment works better, lasts longer, and delivers whiter results. A perfect match between the upper porcelain veneered teeth and the natural lower teeth was achieved.