Lumineers vs. Prepless Veneers
Beyond Veneers and Cosmetic Dentistry - No Drilling, No Surgery 
Santa Monica • Beverly Hills • Los Angeles
Four no grinding porcelain veneers made a huge impact with minimal expense to greatly improve her smile. She was grinding down her teeth from clenching and bruxism. The teeth were completely restored to the satisfaction of her and her mother. Both approved the result before the final bonding was completed so the patient was in complete control of the result.
The Art of Cosmetic Dentistry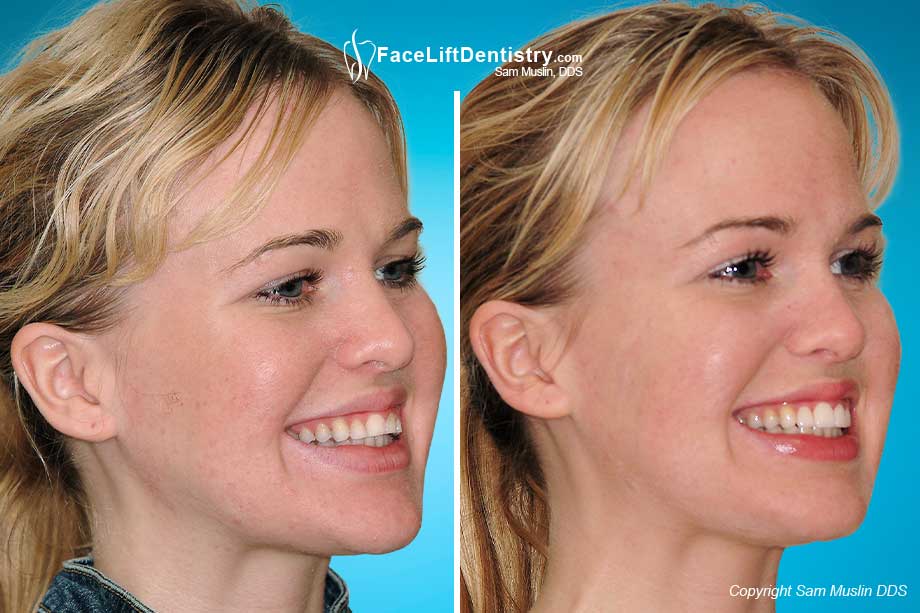 Lumineers are prepless veneers - or veneers without the drill. Dr. Sam Muslin's non-invasive veneers are also prepless but created by a custom ceramist rather than the Lumineers ceramist.
Dr. Sam Muslin uses a bonding technique with his prepless veneers that allows him to modify the bonding material's color to change the shade to a slightly whiter shade if the patient wishes a brighter look. For the best and natural looking prepless veneers, call Santa Monica's Dr. Sam Muslin at (310) 829-6796