Correcting Large Front Teeth and a Narrow Smile
Beyond Veneers and Cosmetic Dentistry - No Drilling, No Surgery 
Santa Monica • Beverly Hills • Los Angeles
She had always thought that her two front teeth were too big and that she had a narrow smile. After consultations with several dentists they all recommended grinding down her front teeth. Something about grinding down perfectly good teeth did not sit right with her so she started researching other alternatives. She came across Dr. Muslin's before and after photos of his a non-invasive work and she knew that she wanted her work done by him.
In reality her two front teeth were not too large at all. The problem was actually that her side teeth were far too small. Because her side teeth were too small it left her front teeth looking extremely large an out of proportion. Likewise, the undersized side teeth made her smile very narrow and too gummy.
Non Invasive Cosmetic Dentistry Treatment for Large Front Teeth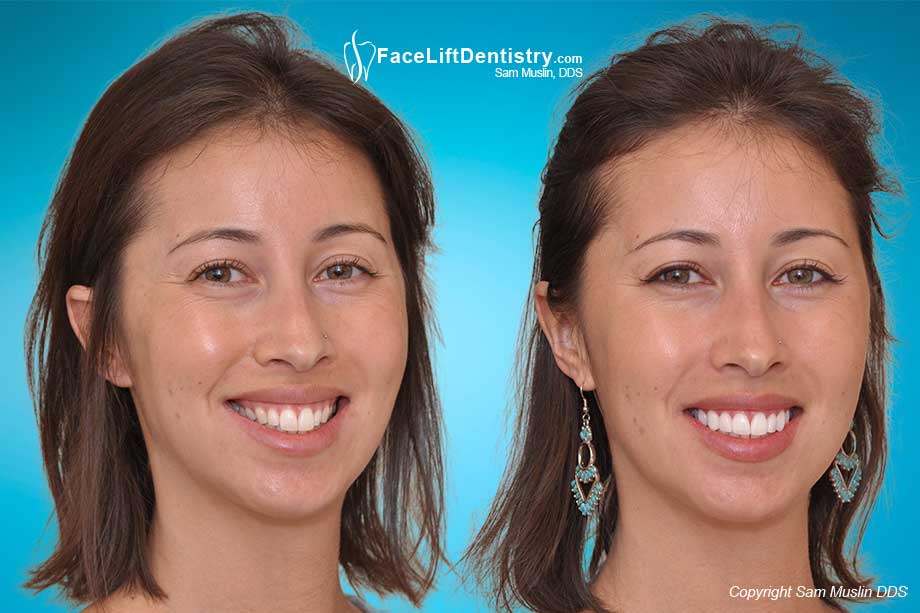 In just 2 appointments she got the smile she has always wanted and there was absolutely no grinding on her natural teeth.
No-Grinding Porcelain Veneers
---
After some discussion Dr. Muslin made a shocking recommendation on correcting large front teeth. He suggested that the two front teeth NOT receive veneers at all. Rather than sacrifice the health of the larger teeth by grinding them down for veneers he explained that the better plan would be to veneer the smaller side teeth.
Video: Large Front Teeth Correction with Non Invasive Porcelain Veneers
By veneering the side teeth he could increase their size so that the front teeth would not look so large. He also suggested a minor gum surgery to minimize the gummy smile on the sides. This non-invasive strategy meant no grinding and it preserved all of her tooth structure. 

Veneers - Side Teeth Treatment

Correcting large front teeth and a narrow smile by treating the side teeth with non invasive porcelain veneers
Correcting large front teeth by non invasive placing porcelain veneers on just the side teeth is one of the hardest treatments to do. The challenge is to get the porcelain to perfectly match the adjacent natural teeth. As such the side veneers had to be custom made to assure that the color was correct. She now has a fuller and wider smile that she can be proud to show off. The finished look is totally natural and the veneers blend perfectly with her natural teeth. Best of all her entire look was achieve without compromising the health of her teeth in any way.