It is rightly said that all veneers are made of porcelain, but porcelain has a lot of varieties. Additionally there are a lot of varieties of dental bonding agents and techniques.

What Can Go Wrong With Veneers?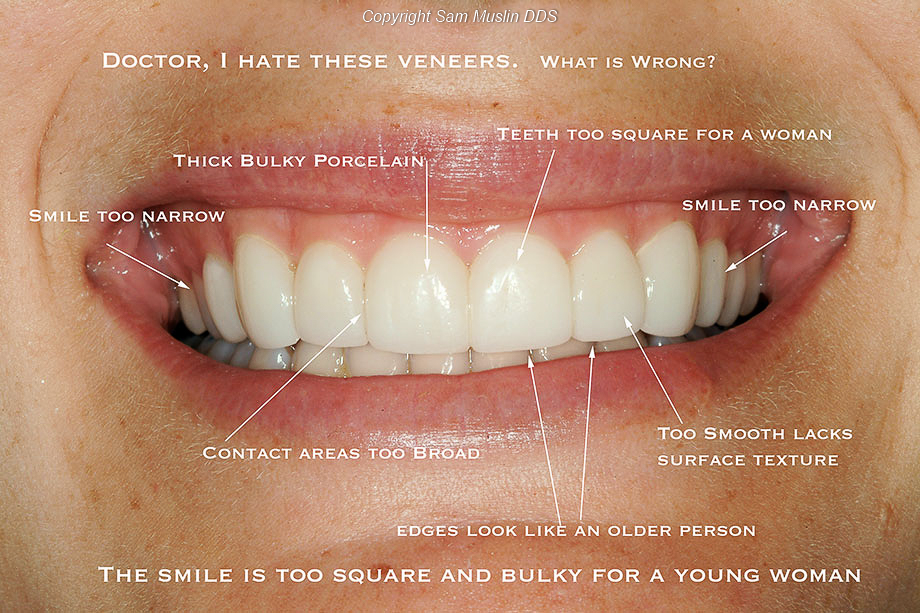 Examples of Bad Veneers
There are a lot of cosmetic dentist courses sponsored by manufacturers that are actually selling their products rather than giving an unbiased option - any which could lead to bad veneers. In the following picture you will see an example of bad veneers. The veneers are too bulky and poorly crafted, resulting in swollen gums.
We Fix Bad Veneers!
The dentist may be giving his or her best effort but is able to separate the manufacturer hype from the actual facts. The dentist becomes a victim of the continuing education and the patient is unhappy with the veneers.
Bad Veneers complaints are becoming more and more common as the sophistication of the patient has increased. Patient's not longer want an improvement in their smile, they want a great smile. Patient's that already have a good smile want a better one. Porcelain Veneers as an art form are increasingly improving but the level of care required has increased dramatically.
Fake-Looking Veneers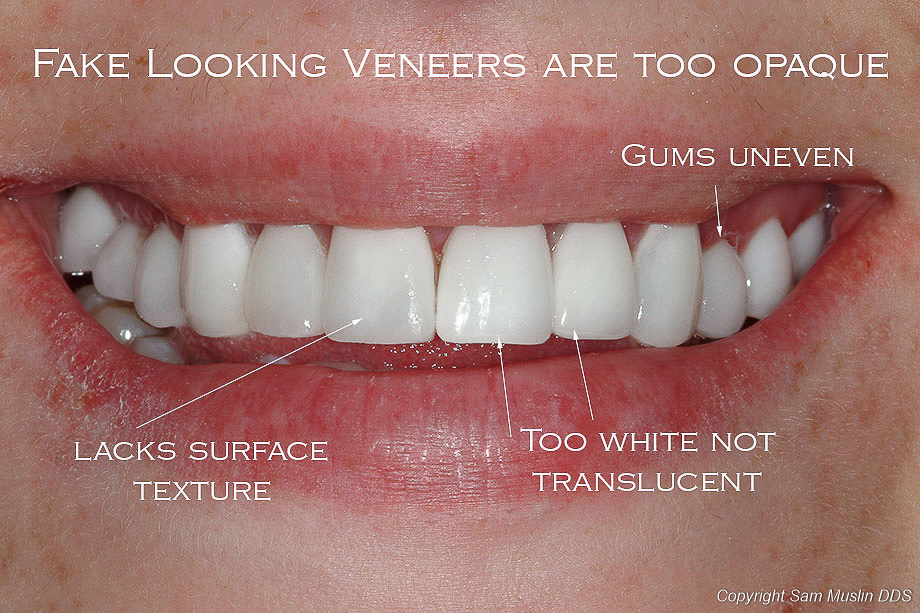 Some patient's don't know what is wrong but hate how they look. They don't know why the hate it until after they see an experienced dentist. The porcelain makes their teeth look too square or bulky. Or perhaps they are now too long and the patient can't talk, no matter which problem occurs, the skill of the dentist is the number one issue. It is not whether the dentist uses Lumineers®, or Empress®, or Porcera®, or Cerinate®, or any other manufacturer.
One unhappy porcelain veneers patient went to three additional dentists after getting 10 porcelain veneers placed and not one of them knew the answer. The dentists were not skilled enough to see the problem but the patient did find the right dentist and had all of them replace.
It is the skill, training, talent, technique and artistic ability of the dentist that is the most critical factor in the results that a patient will receive with porcelain veneers. Dr. Sam Muslin, a Master of the Academy of General Dentistry has become renowned for fixing porcelain veneers. If you are unsure, give him a call.