This patient has a friend that is a cosmetic dentist that told her that she does "a lot" of porcelain veneers. She liked the dentist and thought that she was a very nice person and had her do the veneers. She was shocked with the result and after a few weeks, she began to get angry.
She searched the Internet and was determined to find the best dentist and was not going to be fooled by a lot of bragging or talking. When she found Dr. Sam Muslin's site, he advised that the best way to choose a dentist for porcelain veneers is to see "before and after photos" of the work he has done..
Fake and Ugly-Looking Porcelain Veneers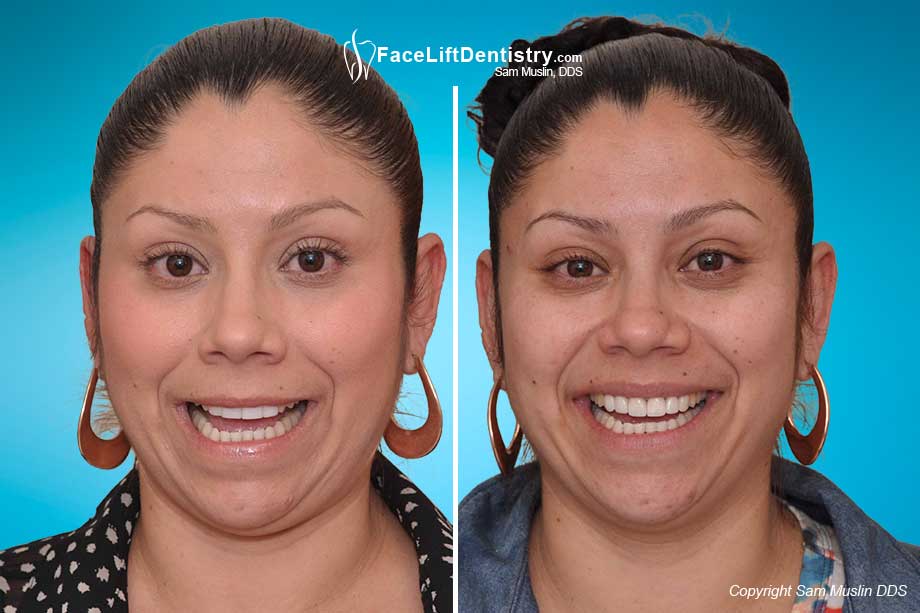 He said, "Don't be fooled by a dentist with a photo of him with a movie star, if the dentist doesn't have a lot of "before and after photos" of his work, find one that does". She would have to travel a few hours to get to him but if that is what you have to do to get good results than she says, "do it".
She made an appointment and got the bad porcelain veneers replaced. She said, "It was quick and it was easy because this dentist knows what he is doing". "He says that he works on the porcelain veneers himself and now I believe him". "His veneers are the best".
Bad Porcelain Veneers Replaced

"But, you don't have to believe me because the photos on his website speak for themselves. Even though my gums were messed up with the bad margins and bulky bad veneers, he was able to get the gums to heal and made my new veneers natural looking so they match my other teeth". "His temporary veneers were more natural looking than the porcelain veneers by my friend the cosmetic dentist". "My advice is simply to go to the best dentist the first time and save yourself a lot of suffering".
The work was done by a prominent dentist in her community so don't be fooled. Look at the before and after photos of the dentist's actual work rather than a photo of a professional model. If the dentist does not have photos of his work, you are most likely seeing the wrong dentist.
Call (310) 829-6796 for your appointment or call to speak with our treatment coordinators.