Porcelain Veneers Pros and Cons
Beyond Veneers and Cosmetic Dentistry - No Drilling, No Surgery 
Santa Monica • Beverly Hills • Los Angeles
The biggest breakthrough in high tech dentistry has been going beyond just a smile by improving the shape of the patient's face and profile. Patients can have the chin size and facial profile by maximizing their biologic potential with Face Lift Dentistry® bite optimization method. This type of dental healthcare is designed to change the facial proportions, improve the patient's profile, correct the bite and whiten the color of the teeth all in one procedure. Porcelain veneers are just cosmetic dentistry and really only improve the smile. The 'Smile Dentistry" does not improve your health and it is very limited in value because it only helps when you are smiling. Most people only smile about 5% of the time while looking older than they should the other 95% of the time.
Natural-looking Porcelain Veneers

Porcelain veneers (aka Teeth Veneers) should look natural and if the junction of the natural tooth and veneers is perfect, the gums will fit tight to the veneer to achieve the perfect smile. No grinding was necessary for this patient because Dr. Muslin did her work. Most dentists will grind down perfectly healthy teeth to improve just the smile. Her bite was corrected with VENLAY® restorations that corrected her overbite, reversed years of tooth wear and improved the shape of her face.
How to Avoid Bad Porcelain Veneers
Dr. Sam Muslin talks about porcelain matching and explains how to avoid Bad Porcelain Veneers

Help! My Veneers Look Fake
Bad veneers look fake to everyone and this patient was really upset when her friend, a top cosmetic dentist ground down her teeth and placed the veneers. She hates how they look and her teeth are sensitive to temperature.

All cosmetic dentists say they have artistic skills. All smile dentists claim their porcelain veneers look natural. This patient had only the top four teeth veneered and thought they were too square and too ugly to keep in her mouth.
The new high tech porcelain veneers that has been developed over the last 10 years, holds it's color, is super strong and can be made very thin. The problem is that when the porcelain is too thin, it does not look natural and does not hide the yellow color or hide the color in dark stained teeth. The veneers need a certain amount of thickness to look natural. Dr. Sam Muslin and his ceramist have been able to make natural looking veneers that are also thin because of the "cut back" method and the type of porcelain they are using. Look at the photos below as every one of these patients were treated with his porcelain veneer method that requires no grinding on the patient's natural teeth.
Dental Veneers - Don't Let Them Grind Down Your Teeth!
Dental porcelain laminates are also known as porcelain veneers or teeth veneers. They are thin shells of porcelain that are custom made to fit your teeth. Some cosmetic dentists only offer veneers that require a lot of tooth grinding. Dr. Muslin believes that non-invasive, no grinding type of porcelain veneers can be made to not only look natural but actually make the teeth much less sensitive. Dr. Muslin feels that when a dentist grinds down your healthy teeth for porcelain veneers he or she may have the best of intentions but lack the skill and experience to deliver quality work.
What are the Best Porcelain Veneers?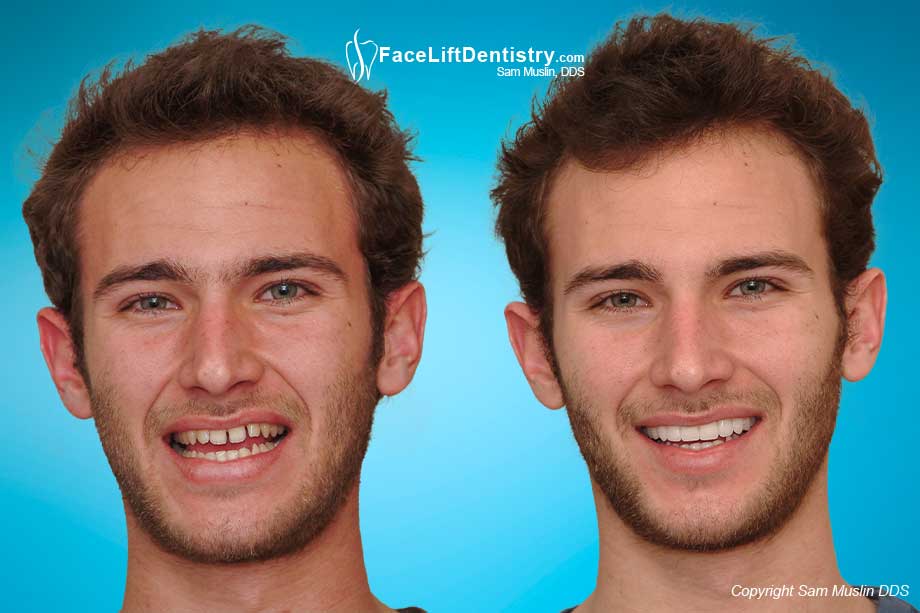 No grinding teeth veneers to close the gaps between his teeth and widen his smile. His teeth and the size of his head are now more proportionally matched. He did not even need a shot because all of his healthy teeth were preserved with high tech porcelain build over his teeth. This method also made his teeth much less sensitive.
The best Porcelain Veneers are Prepless Veneers - Veneers without the drill.
Leading brands for prepless veneers include Lumineers ®, Vivaneers ™ and DURAthin ® Veneers. It will naturally depend on what is best for you.
Most of Dr. Sam Muslin's patients get their porcelain laminates without having their teeth ground down which is considered as the best cosmetic dentistry that does not harm your teeth long term and ensures that your teeth are not sensitive to heat afterwords.
Dr. Muslin says, "Why sacrifice your healthy teeth for porcelain veneers unnecessarily"? He believes that because patients are living much longer than ever before, getting a thin veneer over your worn down teeth is better for your health and preserves your teeth rather that having a cosmetic dentist grind down healthy tooth structure.
Porcelain Laminates for Tetracycline Stained Teeth
Do you have tetracycline stained teeth and want to hide the color? The most important element of a dental veneer is the skill and talent of your dentist. Your dentist should know the different types of porcelain available and choose the appropriate type for you. The purpose of this site is for the patient to see the wide variety of smiles and bite corrections that are possible using non-invasive VENLAY® restorations for overbite and underbite correction with the ultimate cosmetics. Or just getting porcelain veneers for a better smile.
Too many patients are having problems with their veneers breaking or falling off. This is a problem with the dentist's technique. Your dentist will bond the porcelain laminates, to your teeth but again the method used is critical. Too many patients try to shop for a brand of porcelain when the dentist they choose is the most important decision. The dentist should know which type of porcelain is best for the type of problem that the patient presents. As an example, some patients have worn down their teeth, the best choice would be VENLAY® restorations combined with the Face Lift Dentistry® method, to not only improve the color but also correct the patient's under bite or overbite. While the patient above, only need non-invasive porcelain veneers to close the gaps between his teeth and to give him a whiter and a wider smile.
Not all porcelain is the same!
As the cosmetic dental industry grows there are methods that offer a wide variety of porcelain veneers. The porcelain can be pressed as with the E-Max method, the Empress Technique or the G3 Porcelain, or ground into shape as with the Cerec CAD/CAM Porcelain Technique. A porcelain core can be made using the Procera Technique or the Lava Technique.
There are many ways to construct veneers and the best cosmetic dentist can make all of them look natural. That is why your dentist plays such an important role and needs to know all of the porcelain brands. Dr. Sam Muslin, who uses VENLAY® restorations extensively in his Facelift Dentistry® treatment, chooses the best high tech porcelain for the particular needs of his patients. Sometimes he will use two different types of hi tech porcelain in the same mouth! Bad veneers are generally the result of a bad cosmetic dentist.
Advantages of VENLAY ® Restorations over Porcelain Veneers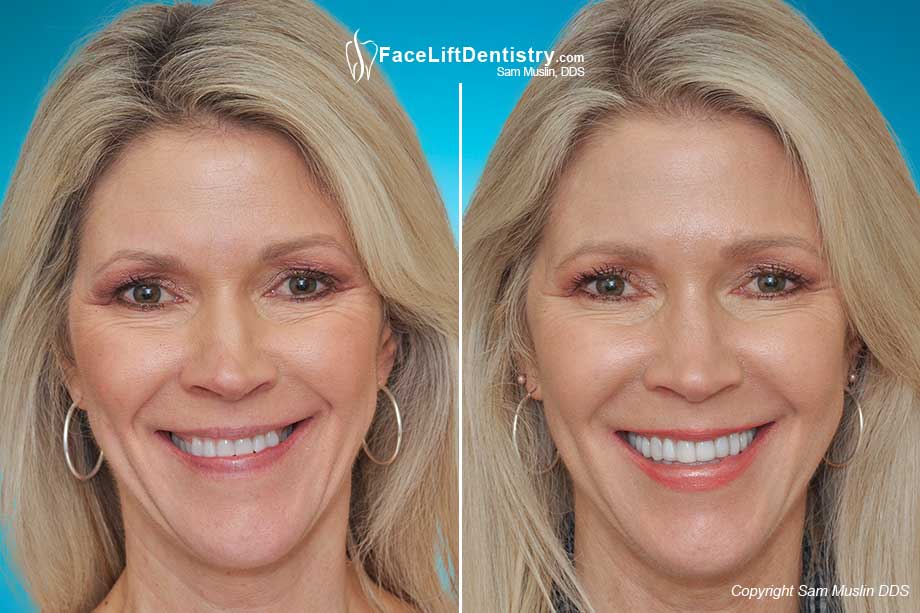 You cannot get results like this with porcelain veneers but you can have a wider smile and a younger looking face with VENLAY® restorations and the Face Lift Dentistry® method. The "after" photo was taken three years after her treatment was completed.
VENLAY® Restorations Widen Smiles better than Porcelain Veneers
VENLAY® Restorations correct overbites, under bites, open bites and bad bites while Veneers cannot do any of these.
VENLAY® restorations rebuild the biting surfaces of the teeth and veneers don't.
VENLAY® restorations widen smiles better than porcelain veneers
VENLAY® restorations do not require grinding down healthy teeth for bite correction.
The Advantages of Teeth Veneers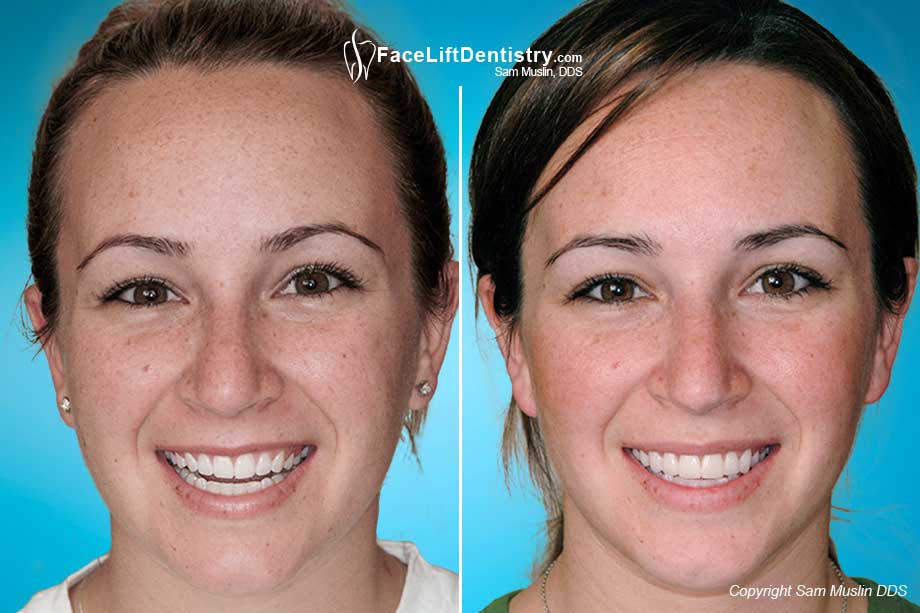 She did not have any of her teeth ground down and did not even need a shot. She wanted a wider smile, whiter teeth and larger teeth. This patient was treated eleven years ago.
Dental teeth veneers can add a new layer to the surface of your teeth by making them smooth and stain free again. Veneers can make crooked teeth look perfectly straight in one to two weeks. They can make short teeth longer, old yellow teeth whiter and younger looking, and thin yellow teeth much thicker and stronger. With teeth veneers you won't need BriteSmile, Zoom, Crest Strips or any of the chemicals for teeth whitening. Dental veneers can preserve your teeth and make them less sensitive to hot and cold. Many of his patients appreciate teeth that are less sensitive with his desensitizing method he uses before bonding the porcelain veneer to the teeth.
Are Porcelain Laminates Safe?
Veneers are biologically compatible and do not interact with the body. They are strong and if bonded well will not fall off. They can last 10 to 30 years or more without any special care. They chew and feel like natural teeth.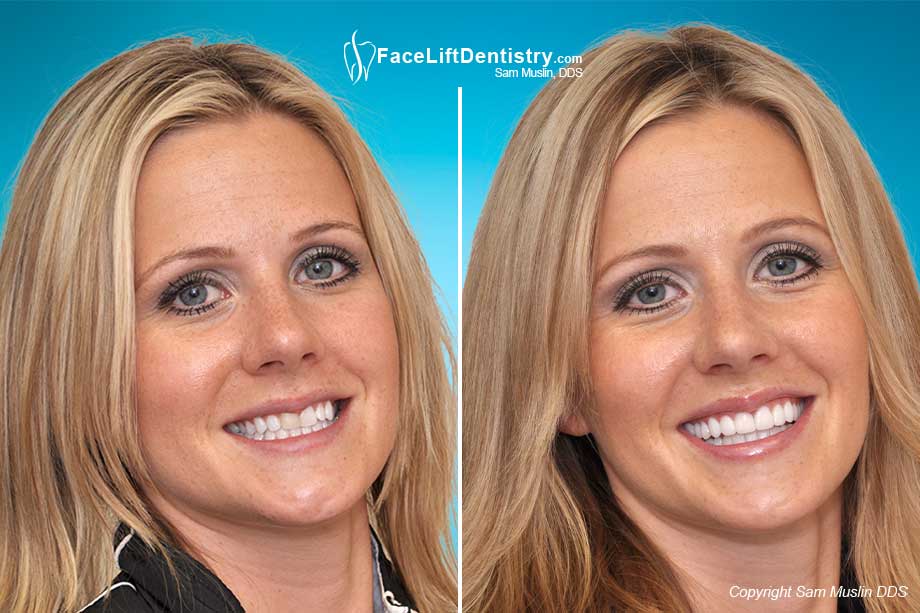 Although she is already very attractive, she was tired with an average smile. She wanted teeth that matched, were whiter and she wanted a fuller smile. The shapes of her teeth improved how she presents herself with everyone she meets.
How Long do Porcelain Veneers Last?
Dr. Sam Muslin's father has had them for approximately 26 years. At 88, he still had natural looking healthy teeth that helped him appear younger and feel younger. The veneers protected his teeth and his appearance was improved during the last 26 years of his life. The big advantage for him was that he looked much younger than other men his age. He also looked and actually was healthier because his bite was corrected, his face was supported and his teeth looked naturally whiter. He said that, "Most men my age look like old goats with their yellow, crooked worn down teeth". OK, he had a frank way of expressing himself.
Call the office to speak with one of the treatment coordinators. They can help you make decisions about porcelain veneers and other treatments and help you understand how your travel can be coordinated with your treatment. Some patients get treated in as little as one week while others may take two or more depending on how much dental care they need. (310) 829 6796.
Page updated on