Underbite Correction for Adults
---
Beyond Veneers and Cosmetic Dentistry - No Drilling, No Surgery 
Santa Monica • Beverly Hills • Los Angeles
No Surgery, Invisalign® or Braces
We are often asked if an underbite can be fixed with Invisalign® or Braces. Sometimes it can, but jaw surgery is usually a part of the treatment. Underbites (aka prognathism) is a Class 3 malocclusion and usually caused by a jaw size difference between the upper and lower jaw. The lower jaw is larger than the upper jaw causing protrusion of the chin and cross bites. However, many of these patients actually have a fairly normal jaw size and the protrusion of the lower jaw was caused by their bite more than the size of the jaw. With the new age of high tech dentistry, the jaw position is corrected painlessly without force or surgery, which gives the patient an improved profile appearance. This may be hard to believe but no surgery, Invisalign® or braces are utilized.
Correcting a Protruding Chin without Surgery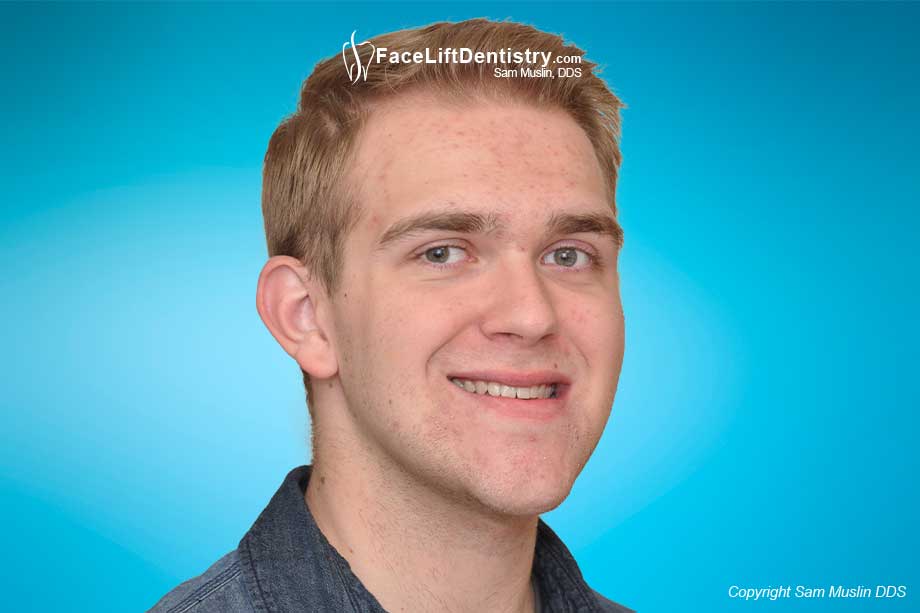 Before Treatment: He has a protruding chin because the lower jaw is in the wrong position in relation to the upper jaw. The patient had braces in the past and did not want to go through years of treatment with Invisalign® and jaw surgery. He found this website, flew in from another state and the results are clearly documented along with his "before and after video".
Invisalign® and Braces Can't Improve the Shapes of Your Teeth
One of the problems with traditional treatment with braces is that the shapes of the teeth cannot be improved. The surgeon can cut your jaw and change it's size and Invisalign® or braces can move your teeth but they cannot improve the shapes, the length or the color of your teeth as VENLAY® Restorations do. Patients can now have the smile and facial support that they always wanted.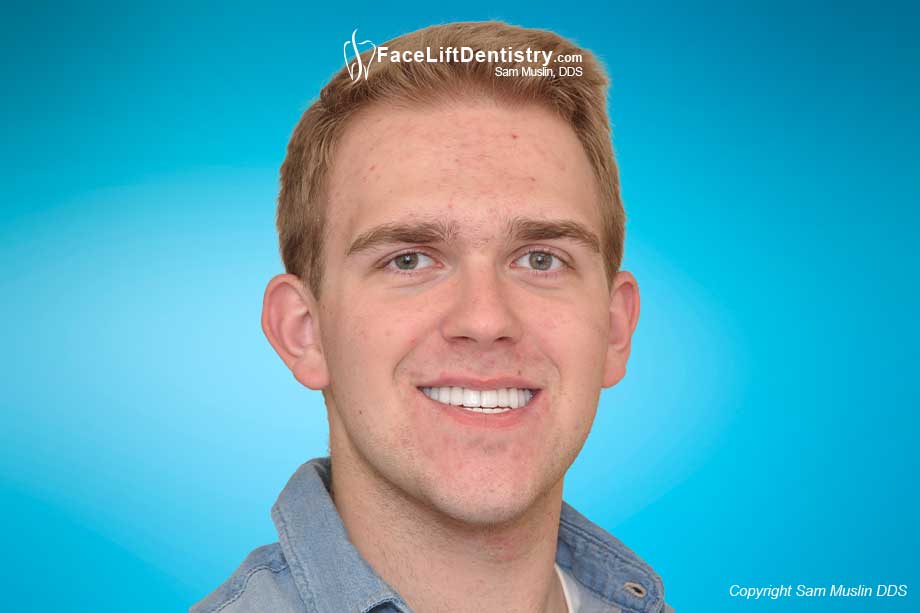 After Treatment: VENLAY® Restorations can "fix under bites like no other method." This is a real bite correction and not just cosmetic camouflage.
Advantages of VENLAY® Restorations Over Invisalign® and Braces
One big advantage of VENLAY® Restorations over Invisalign® and braces is that treatment only takes 2 to 3 weeks to correct an adult underbite. Another huge advantage of VENLAY® Restorations is that there is very little risk to the treatment. Using JawTrac® the jaw position can be tested so the patient can see the new shape to their faces and see their new facial profile before treatment is started. This is a huge advantage of VENLAY® Restorations over other methods and none of your teeth are ground down.
Patient Testimonial: "Dr. Sam Muslin is a Wizard"
Dr. Muslin thanks this patient for his video testimonial and his written consent to show his results. This patient wanted to help future patients understand the power of this method using his own words. He had very high expectations after watching some of the other video testimonials on this website.

Can Invisalign® or Braces Improve my Profile?
The Face Lift Dentistry® Method was used to correct his facial profile, improve his self-esteem, and help him build a new life with clear speech, improved facial profile and a wide smile. VENLAY® Restorations improve your profile and improve the shapes of your teeth and support the face with a smile far wider smile than porcelain veneers could ever achieve. Porcelain veneers cannot give the patient the optimized jaw position and cannot correct the bite.
Profile Before Treatment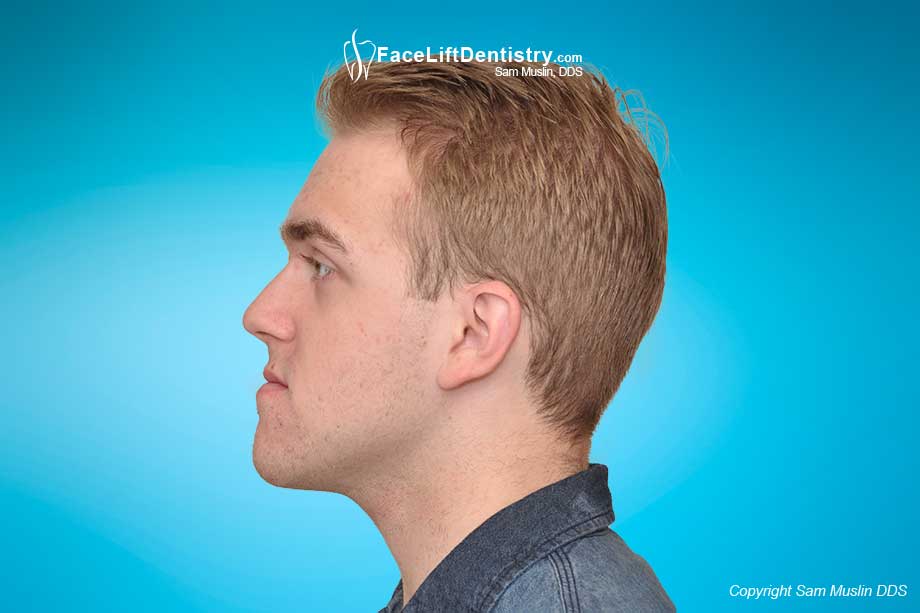 Protrusive chin and underbite with lower jaw in the wrong position. JawTrac®, VENLAY® Restorations and the Face Lift Dentistry® method are the safest way to get non-invasive profile correction.
Profile After Treatment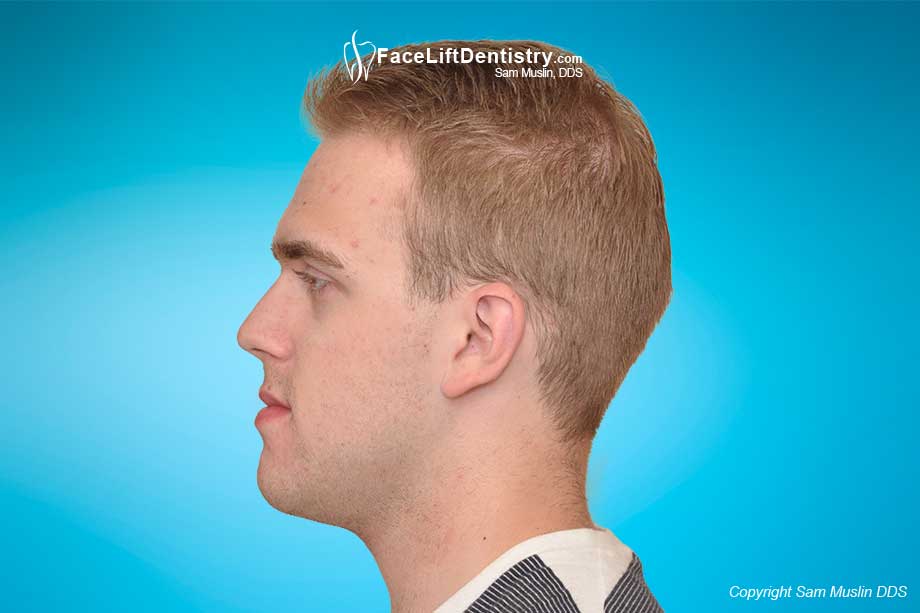 His lower jaw position is now in its true natural position. There is no force applied as he was able to adapt to his new facial profile and subsequent jaw position immediately after the VENLAY® Restorations were bonded.. The reason that this method is so effective while other methods failed, is because JawTrac® locates the jaw position that is his most natural jaw position. JawTrac® aligns the patient's jaw to its natural biologic position.
Straightening Teeth is Not Enough to Correct an Under Bite
Braces and Invisalign® are designed to straighten teeth and in many instances they can straighten crooked teeth very well. But, there is a big difference between straightening teeth and correcting underbites. This patient has straight teeth but simply straightening teeth is not enough to correct an underbite. To correct au under bite, the jaw position must be optimized to the patients TMJ and coordinated with his bite.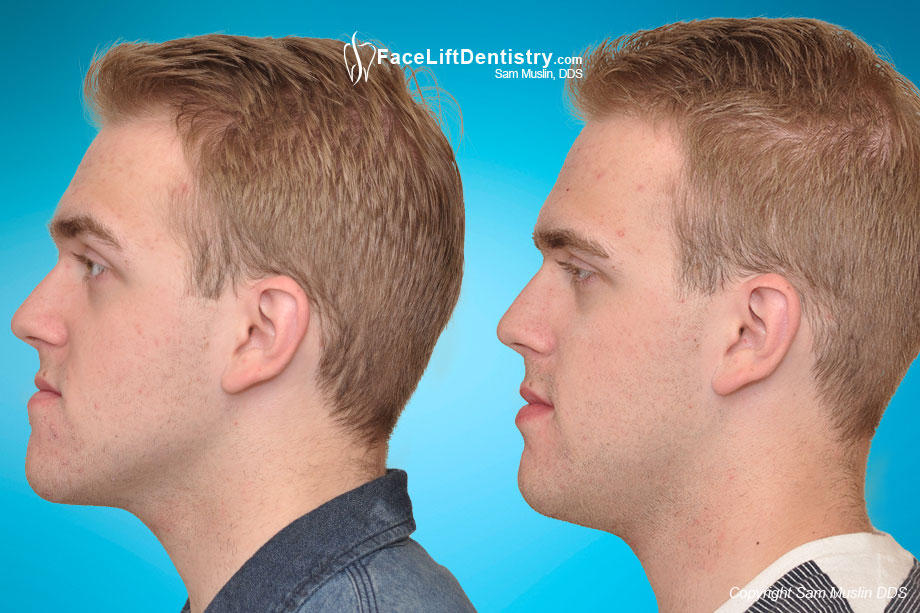 This young man flew in to California with his parents (which were very skeptical) and after the consultation they decided to move forward with this method of under bite correction. The reason his jaw looks so much smaller in the after photos is due to his new jaw position.
Can Invisalign® and Braces Move the Jaw?
The answer is yes. Invisalign® and Braces can move the jaw but seldom enough to correct underbite, overbites or misalign jaws. This is the reason why so many patients that have already received treatment with braces and/or Invisalign® and are unhappy. The jaw movement was not enough to accomplish results like you see in this website. The reason that the Face lift Dentistry® Method was developed was to accomplish what braces, jaw surgery and Invisalign® (which are all valid and successful methods) could not.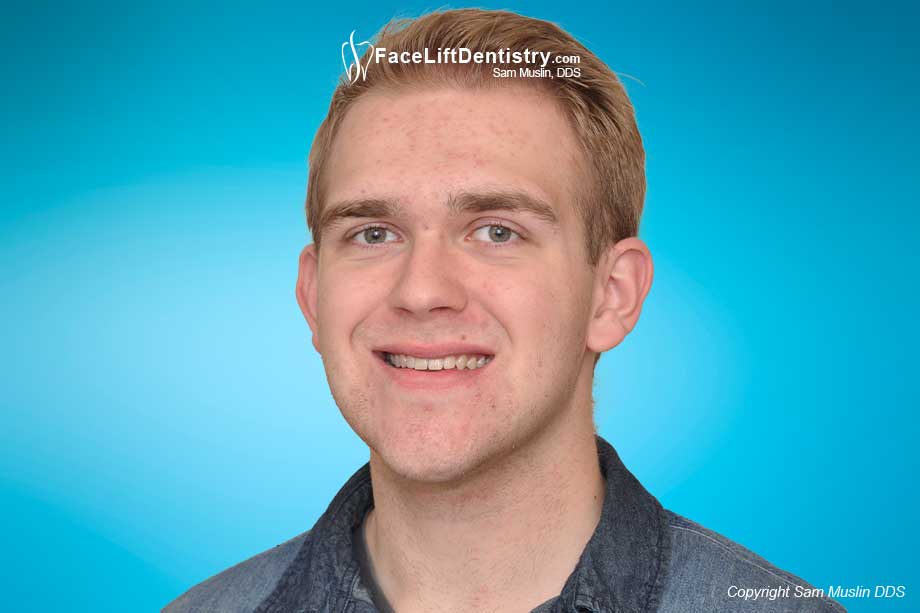 After Braces and Invisalign® Treatment: Although he has straight teeth, braces or Invisalign® did not movr his jaw to correct his underbite.
Self Esteem and Speaking Clearly
It is clear in the above photo that this patient's smile is OK but his chin is too protrusive, which is why he could not speak clearly. When the lower jaw is protrusive, the patient has to use his or her tongue in order to speak. When the tongue is used to speak, the words become less clear. When the bad bite is corrected, patients of all ages speak more clearly because the gap between the upper and lower jaw is closed.
Can Porcelain Veneers Fix my Under Bite?
Porcelain veneers are nothing more that cosmetic camouflage because they cannot improve the patient's profile, cannot improve the bite or move the jaw enough to accomplish improved TMJ health. When the patient gets veneers, the profile is rarely improved because the jaw position stays the same, the profile stays the same and the TMJ problems remain. When a patient asks, "can porcelain veneers fix my under bite", the answer is no, veneers cannot correct underbites, overbites or bad bites.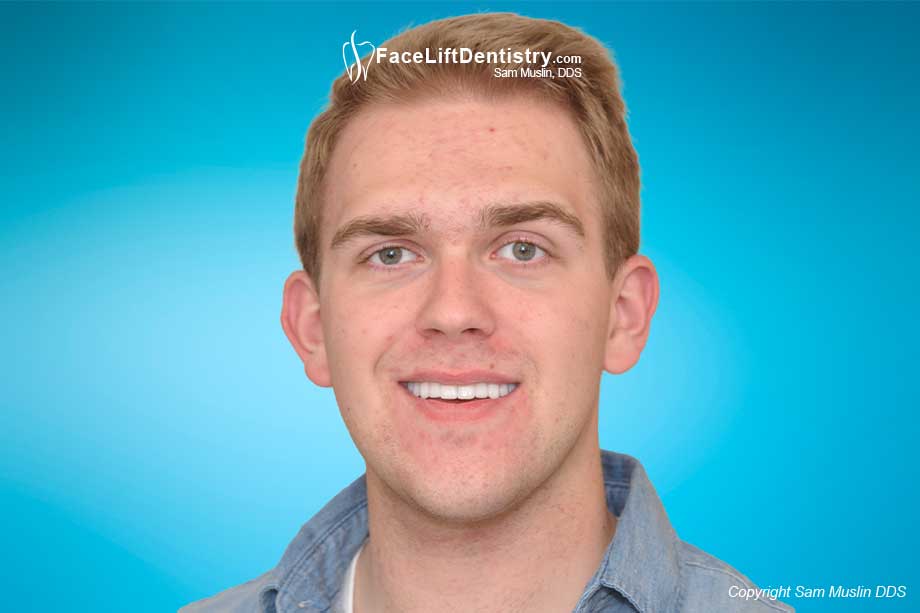 After Treatment with VENLAY® Restorations: He is happy and ready to move on with his life because the fear of jaw surgery is gone. He is excited about his new appearance and is speaking clearly. His self-confidence is up, way up.
Are You a Candidate for Non-Surgical Underbite Correction?
We need to see you in person or we need to see photos, video and dental x-rays of you if you are planning to come to see us. We will let you know if you are a candidate for this method. (Just about everyone can be helped with this method).
The best way to move forward is to come in for a consultation. Call the office and speak to one of Dr. Muslin's receptionists. If you live in another state or country, send us the photos, video and dental x-rays. Just go to your own dentist's office, ask them to put the x-rays up on the screen and take photos of them with your cell phone. It works very well.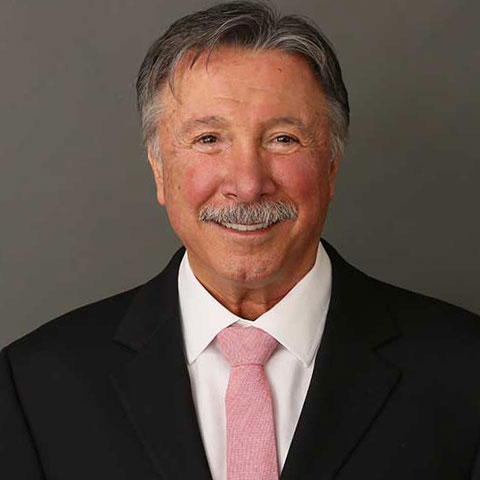 Questions about Non-Surgical Underbite Correction for Adults?
Ask your questions or Schedule a Consultation
Get More Information
Testimonial: Protruding Jaw and Underbite Correction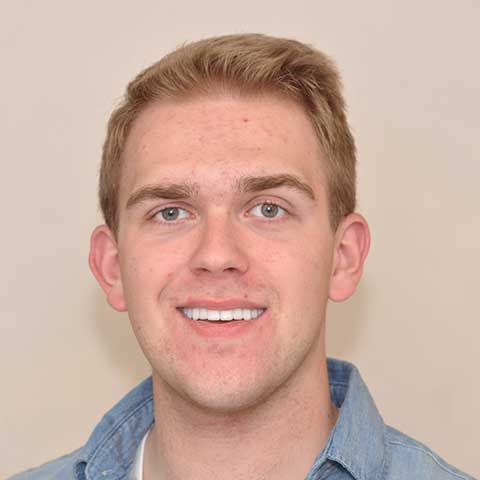 "Dr. Sam Muslin is a wizard!"
Testimonial: Jaw Position and Underbite Correction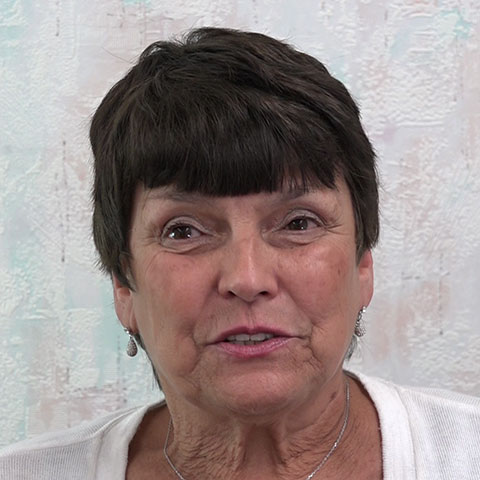 "I always thought she was so sad as she never smiled but I guess it was because her underbite was so bad. Now, after her underbite has been corrected, she can't stop smiling."
- Underbite Patient's Grandmother
From New Jersey
Testimonial: Underbite, TMJ and Open Bite Correction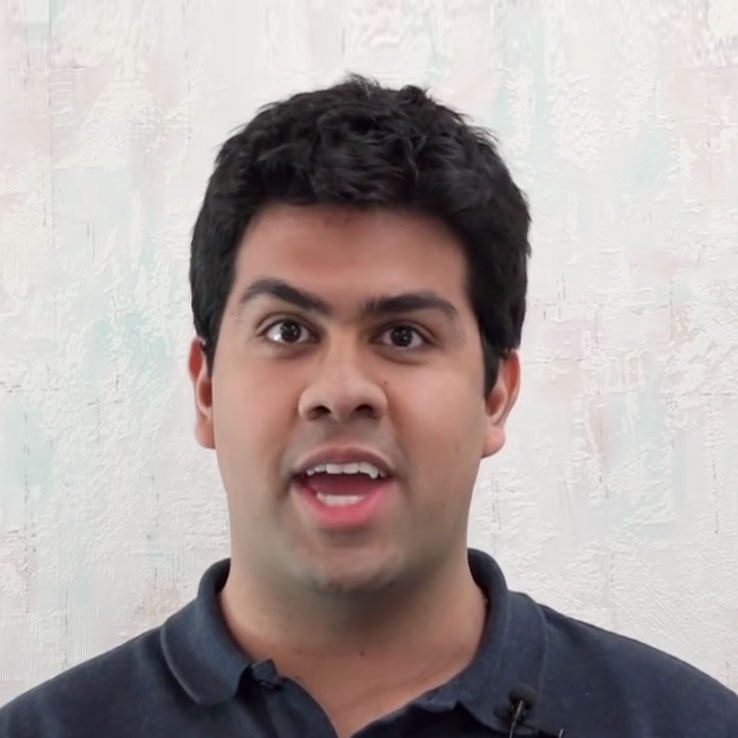 "Being able to change in a matter of just a few sessions with Dr. Muslin is just incredible."
From New York
Testimonial: Underbite Correction, Jaw Surgery Alternative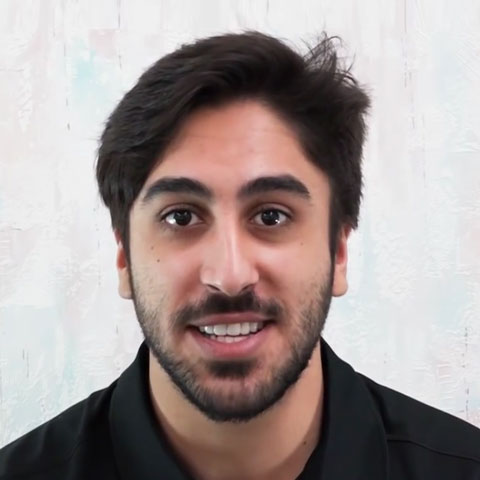 "I have been to multiple dentists and orthodontists and everybody has told me that I have no option other than jaw surgery. Then I came across Dr. Muslin who offers a surgery-free and easy to implement solution. The results have been unbelievable."