Overbite Correction Options
Beyond Veneers and Cosmetic Dentistry - No Drilling, No Surgery 
Santa Monica • Beverly Hills • Los Angeles
Overbite Correction with Face Lift Dentistry®
The advantages of overbite correction with the Dental Face Lift® are a life transformation. The quality of life for these patients has improved in a dramatic way. First they are much more comfortable in the jaw, head and neck regions with the ideal positioning of their TMJ.
The comfort level for some of these patients has improved the quality of their lives so much so that they are living with much less neuromuscular dentistry related stress in their lives.
Stress reduction can be a significant benefit over a live time especially because today's patients are living much longer. The patients feel much better about themselves because of the dramatic improvement in their health and appearance.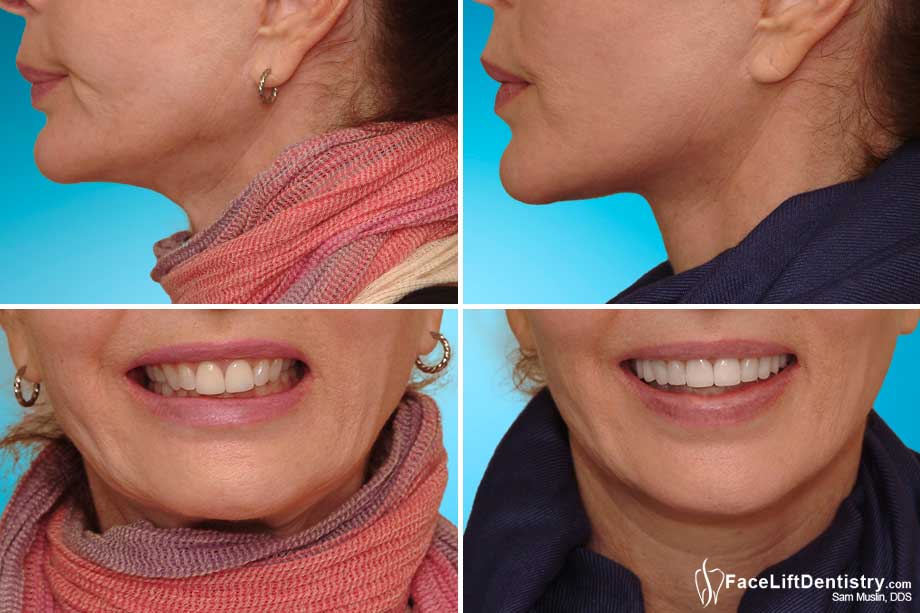 This patient received a balanced facial profile while looking 10 to 15 years younger without surgery and without chin augmentation. Only with Dr. Sam Muslin's exclusive Face Lift Dentistry ® treatment can patients have this level of anti-aging dentistry and balanced facial profile improvement non-surgically.
Overbite Correction without Surgery or Braces
Overbite correction without braces, with Dr. Sam Muslin's exclusive non-surgical Dental Face Lift®, has been referred to as instant orthodontics because the treatment is so fast compared to surgery and braces. Overbite correction can be accomplished with non-invasive dentistry that actually mean, no shots, no needles, no tooth grinding and no pain. This has been particularly beneficial to the older patients and the younger patients because the treatment is so much easier for them.
Additionally, the treatment can achieve results that are actually superior to braces and surgery in some cases because the existing tooth structure is protected with new white high tech porcelain. This type of non-invasive Face Lift Dentistry ® can apply to patients with some porcelain veneers or porcelain crowns, that must be replaced with a matching porcelain veneers or porcelain crowns, but the patient still has many natural teeth that have no fillings or cavities that are preserved during treatment. It also applies to patients that have no fillings at all and need overbite correction with his non-invasive, no prep unique porcelain veneer (called the VENLAY® restorations by Dr. Muslin) that goes directly over the top and side of the natural tooth structure.
These patients are experiencing a live style enhancement in self-esteem. It really changes lives. The treatment has an anti-aging benefit because the natural teeth are protected over a period of many years. Dr. Muslin's father had the treatment in his mouth for over 26 years, which gave him great personal pleasure with every smile and while having the ability to properly chew his food.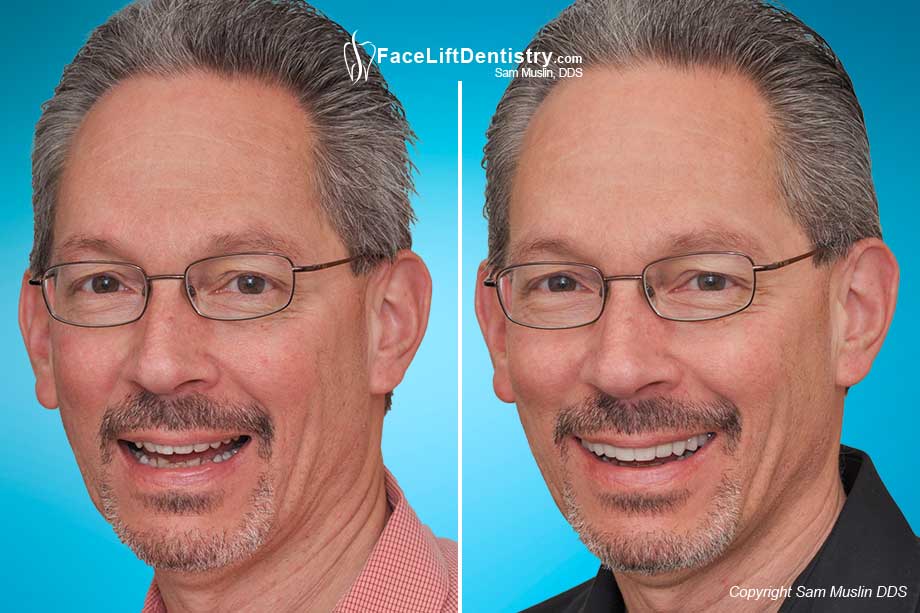 Overbite correction with non-invasive dentistry, no prep porcelain veneers combined with Dr. Sam Muslin's exclusive Face Lift Dentistry ® using his anti-aging non-invasive dentistry. All of his teeth received a new protective porcelain layer that also covered the tetracycline stained teeth.
He did not want bright white teeth. He wanted a believable, professional and natural color for his age and complexion. He is a surgeon at a prominent hospital in the United States and after seeing Dr. Sam Muslin in national TV, he and his wife decided to fly to Santa Monica California for his non-invasive dentistry and his anti-aging dentistry.
Overbite Correction without Surgery
There are many patients that have had jaw surgery, for overbite correction recommended to them, that have been successfully treated non-surgically. There are now available non-surgical options for correcting overbites and under bites. The purpose of this site is to make the public and the profession aware of the possibilities of non-invasive, non-surgical bite correction methods. Many patients from all over the United States and the world fly to California to get their bites corrected, their facial profiles improved, their TMJ problems relieved and to look years younger for the rest of their lives.
Orthognathic surgery is mostly recommended in extreme jaw bone type of malocclusions. In these instances the jaw sizes are so different that only orthognathic surgery or corrective jaw surgery can solve the problem.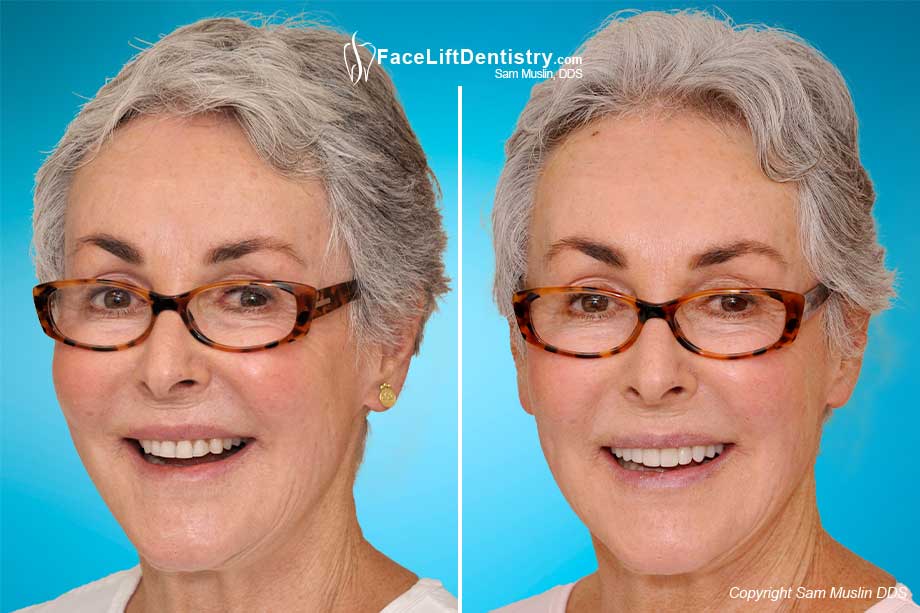 No needles, no shots, no drilling or grinding on her natural teeth gave this patient a new smile, better facial support, overbite correction and improved self-esteem, health and appearance. All of her natural teeth were preserved with her full mouth reconstruction along with a new layer of high tech porcelain designed to protect her natural teeth with the best non-surgical option, Face Lift Dentistry®.
Corrective jaw surgery is actually orthognathic surgery with a different name. The surgical options are recommended too often when non-surgical options are never presented. Non-surgical overbite correction is what Face Lift Dentistry® is designed to accomplish.
Adults and teenagers can have non-surgical overbite correction which only takes a week or two instead of years. With Dr. Muslin's exclusive treatment, no shots, no needles, no drilling and no grinding down of the healthy tooth structure is necessary in most cases.
Patients that already have fillings and crowns need to get them replaced while the rest of their teeth remain healthy. For the first time in the live of the patient, they will have matching porcelain restorations designed to function with the TMJ. This is a big improvement in the long-term health of the patient. Also for the first time, these patients will have the best facial proportions and facial balance for the head and jaw size that improves their appearance in ways that they never thought possible.
Overbite Correction - It's about your Face and your Smile
These are amazing times in the advancement of high tech dentistry. Cosmetic dentistry was all about the smile. But, "smile" type of dentistry does nothing for your face or your bite. The ultimate care is designed to improve the face. The patient's face can be shaped by their bite and when the bite is idealized to the face, the patient will look healthier and more vibrant.
Another aspect is the improvement of the patient's health when the face is optimized because bite correction combined with TMJ or jaw joint function has improved the shape of the patient's face in every single patient that Dr. Muslin has treated to this point. Premature aging is prevented when the bite is corrected because the patient has less jaw stress possibly for the rest of their lives.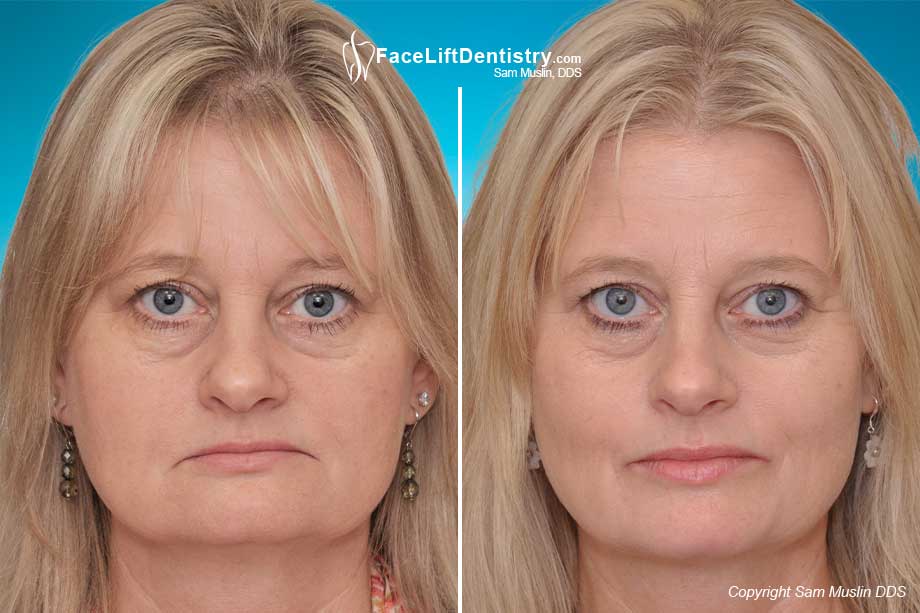 Face Lift Dentistry ® transforms lives from the older short looking face to younger looking face. This treatment improves the balanced facial appearance of the patient in all expressions. There is too much emphasis in just treating the smile when the entire face can be improved.
These patients are living the rest of their lives with faces that look naturally younger. They look significantly better for their age because their faces are supported, their teeth are esthetically coordinated with their jaws and they look young for their age. Their faces are balanced proportionally and the chiseled jawline for the men and the recessive chin reversal for the women have greatly improved their facial profiles.
The idea that patients can look younger and be healthier through a very unique type of high tech dentistry is beginning to get better recognition because of the increase life expectancy of the people living today.
Overbite Correction with Braces
Many patients have overbite correction with braces that takes a couple of years that can relapse. Braces or orthodontics would be the treatment of choice for very young people. Orthodontics can involve teeth extraction, brackets, and screws in the gum for elastics, headgear and rubber bands to move the teeth over a two-year treatment plan. Braces take years but far too many of these patients have tooth decay after wearing braces and far too many patients have relapse after braces.
The advantage of using VENLAY® restorations (without braces) is that the treatment is quick, the teeth bet a new high tech protective coating and relapse is not a problem. However, Face Lift Dentistry® is more expensive than braces.
Advantages of Overbite Correction with Braces
If the teeth are very crowded, there is an advantage to overbite correction with braces. Also young people (15 years or younger) should have braces as the treatment of choice when the teeth are erupting. Braces with older patients can also be the treatment of choice but many older patients do not want to wear braces for two years. We have had many senior citizens get treatment with braces to preserve their natural teeth. However, after braces their teeth are still worn down, yellow and their faces are still too short. Braces have their advantages and limitations.
The idea that the bite is responsible for the shape of the patients face is now well understood. The idea that bite correction also can have a dramatic effect on the patients chin size is also not well understood. This is the new age of dentistry.
Older people show lower teeth when they talk and younger looking people show upper teeth. Her grand children wondered if she really had upper teeth so she flew in from Singapore to get Dr. Sam Muslin's exclusive Face Lift Dentistry ® anti-aging treatment. Her grand children think she is happier but don't know why.
Overbite Correction with Surgery
Jaw surgery is designed to correct the size differences and jaw positions. Sometimes the upper jaw is too far forward and corrective jaw surgery can surgically move the jaw back. In other instances, the lower jaw could be too large as in an under bite and jaw surgery would cut down the size of the lower jaw so it would be in better proportion to the upper jaw.
There are many combinations on how skeletal overbites would be corrected and skeletal under bites would be corrected with corrective jaw surgery. Each patient needs to have an individual diagnosis and treatment plan that matches his or her particular circumstances. We have found that patients need to also get a non-surgical treatment plan option so they can measure their choices for themselves. Too often surgeons do not appreciate the non-surgical options and maybe had no knowledge that they exist. Dr. Muslin will freely recommend jaw surgery if it is the only choice or if the results would be superior to non-surgical treatment options.
However, some patients are choosing the non-surgical option even if the potential results are superior with surgery because they want to avoid the skeletal jaw surgery. Jaw surgery has been greatly improved over the last 10 years and the healing time has also been reduced as the sophistication level of surgical technology improves. Orthognathic surgery is generally associated with braces.
There is the healing time of surgery and the year or two of braces that can cause the patients either turn orthognathic surgery down or get no treatment at all because they are unaware of their non-surgical options.
Narrow Smiles and Bite Correction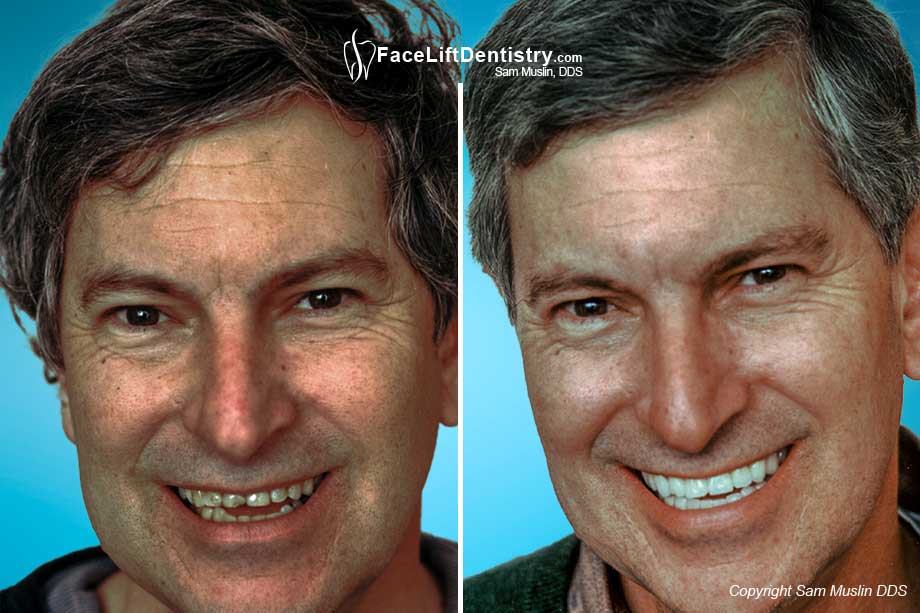 This company president was too busy taking care of his company until he began to appreciate the health benefits combined with the business benefits of a professional appearance. His heath was dramatically improved and his treatment was done over 10 years ago without any complications.
Advantages of Overbite Correction with Surgery
There would have to be a very large jaw size or bone size problem for overbite correction for surgery to be indicated. The purpose of surgery is to change the size of the upper or lower jaw for the jaws to fit together. Generally, with surgical overbite correction, braces or orthodontics is necessary and it can take years to finish. If the patient has teeth that are not shaped well, sometimes porcelain veneers or a full mouth reconstruction are still indicated after the surgery and braces. The advantages of overbite correction with surgery are that the treatment cannot be done with any other method that would yield acceptable results.
Today's high tech dentistry and surgical options can help the patients get treatment that can combine jaw surgery with all other types of dental care as porcelain veneers, cosmetic dentistry, full mouth reconstructions and Face Lift Dentistry ® as the dental profession has risen to the needs of all of the age groups in the population. Our patients are living better lives from the care of modern dentistry.
Disadvantages of Overbite Correction with Surgery
The disadvantages of overbite correction with surgery, is the surgery and the braces and the time element to complete the care. There is another disadvantage of relapse after braces or after the surgery because the bones continue changing or the teeth move back. The treatment may not be stable enough for the results to be maintained over time and incidentally, this is the same problem with any treatment that the patient may choose.
Stability over time may not be achieved and relapse can occur. However, the skill level of the corrective jaw surgeons is very high and many of these men and women are highly talented which has reduced the pain and down time of these surgical procedures to a more acceptable level. After surgery, these patients may have accomplished facial balance that is not possible with any other treatment.
This patient's lower teeth were worn down and crooked and received Dr. Muslin's Instant Braces or Instant Orthodontic treatment to correct his overbite, his crooked teeth, his worn down teeth and his tetracycline stained teeth. He had a dental overbite that pushed has jaw back, made his chin look small, caused his face to look older and his teeth to wear down. All of his dental problems were reversed with the anti-aging dentistry treatment combined with the Dental Face Lift®.
Dental overbites are very common especially from orthodontic relapse and worn down teeth. Skeletal overbites are less common and require orthognathic surgery in some cases. Patients now have a non-invasive dentistry option to a wide variety of problems that all age groups can benefit from the treatment.
Disadvantages of Overbite Correction with Face Lift Dentistry®
Other than Face Lift Dentistry® being a costly procedure, there are no disadvantages from a health prospective.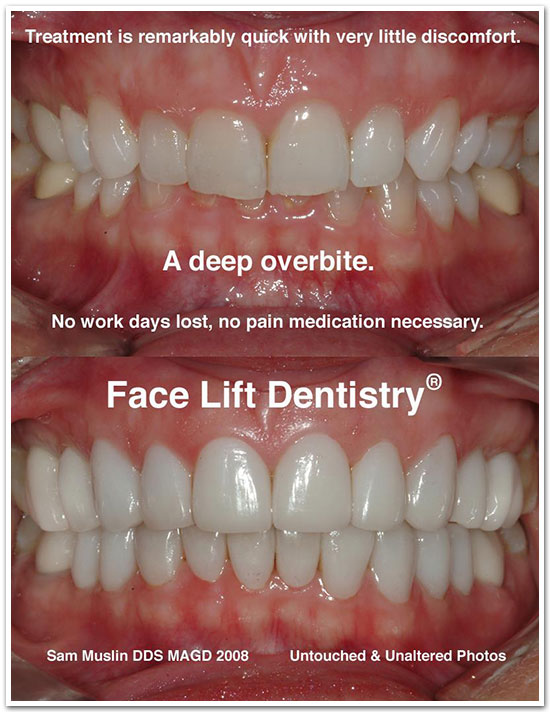 This is the close up before and after photos of porcelain veneers, full mouth reconstruction anti-aging Face Lift Dentistry ® that corrected her overbite and improved her health and appearance.
The treatment possibilities for the Dental Face Lift® applies to ages from 19 to 95 and the results can be life changing with multiple benefits.
The TMJ and neuromuscular benefits can improve the health and comfort of the patient for the rest of their lives. The cosmetic benefits can have positive effects on the self-esteem of every patient. Her teeth will last longer because of the protection layer and the smile speaks for itself.
Contact Dr. Sam Muslin for Overbite Correction Options or call us on (310) 829-6796 for more information.
Page updated on