Over Bite Correction
Beyond Veneers and Cosmetic Dentistry - No Drilling, No Surgery 
Santa Monica • Beverly Hills • Los Angeles
Face Lift Dentistry ® is a level of care that maximizes the original facial features of the patient. Mathew was able to have his entire face improved and his over bite corrected by only treating his teeth. High Tech Dentistry combined with artistic Face Lift Dentistry ® can completely transform a face to look naturally healthy and completely revitalized. Face Lift Dentistry ® is non invasive and no surgery in necessary. The basic concept of bite correction is to support and lengthen the face by working on the teeth.
Non-Invasive Dental Face Lift ® in 2 Weeks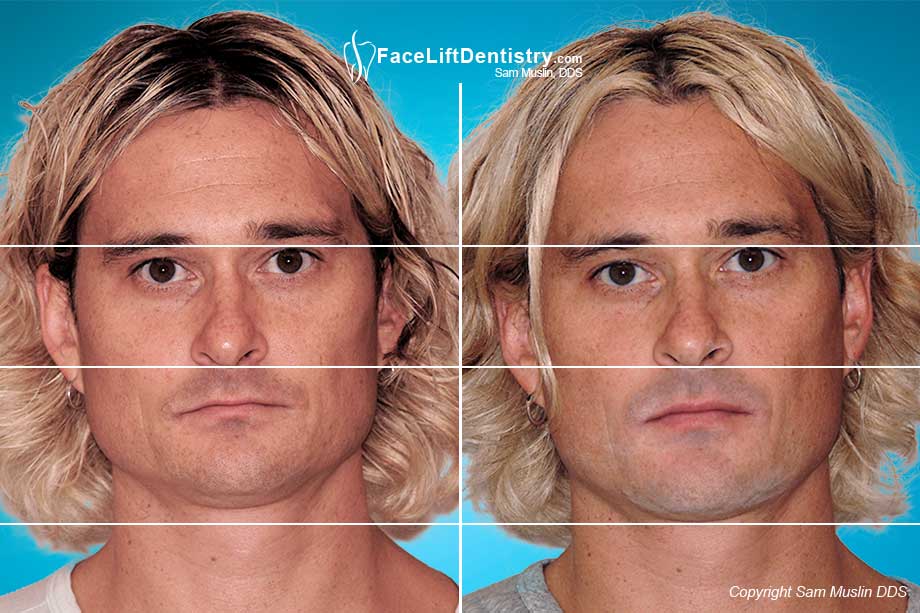 "He did not smile much in pictures before, but now he smiles and he looks great. I am so glad he did the full Dental Face Lift to correct his overbite.." - Patient's Wife
Overbite Correction with No Surgery or Braces
High Tech Dentistry can used the existing tooth structure without grinding down your natural teeth. It does require specialized dental skills that few cosmetic dentists can deliver. The treatment is remarkably easy for the patient and technically difficult for the dentist. The vast improvement in dental bonding developed by Sam Muslin DDS MAGD, over existing bonding techniques greatly increases the strength and durability of tooth bonding.
Lumineers Or No Grinding Porcelain Veneers
Porcelain can be added to the existing teeth in the form of a porcelain crown or a porcelain veneer non invasively. The bonding is much stronger because the enamel on the patient's tooth is preserved. Bonding to enamel is much stronger than bonding to ground down tooth structure. Additionally, the tooth can be covered on the front of the tooth and the biting surface of the tooth to improve the patient's bite.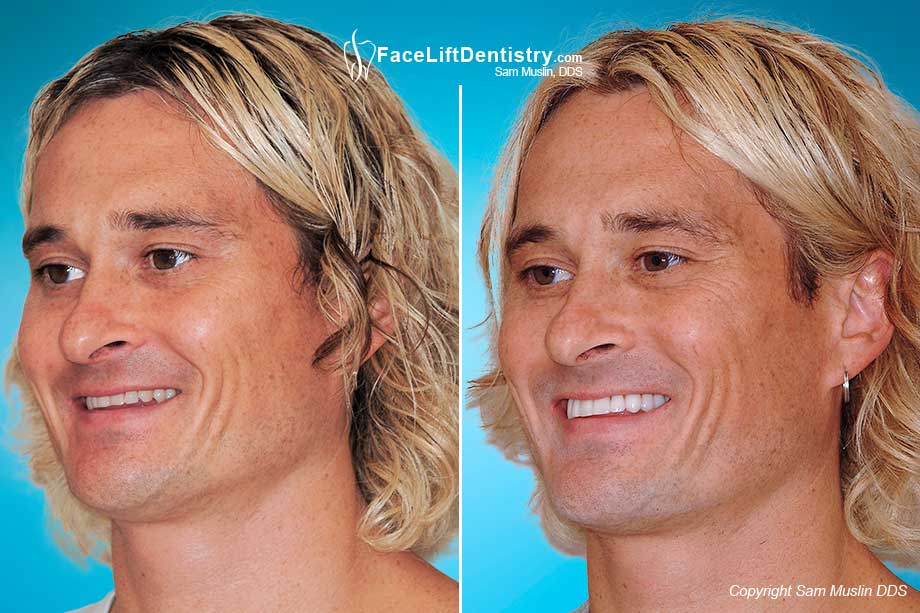 Overbite Correction And The TMJ Or Temporo Mandibular Joint
In the past, the patients have had to get crowns on all of their teeth to rebuild the bite. The High Tech Dentist using Face Lift Dentistry ® technology can provide bite reconstruction dentistry without crowns. Far more patients can now receive full mouth bite rehabilitation dental care with non invasive porcelain veneers. The entire treatment can be delivered with porcelain veneers and no grinding porcelain veneer crowns. The jaw can be three dimensionally repositioned as a result of the new dental bonding technology and the three dimensional skills of the face lift dentist.

Face Lift Dentistry ®
A new higher level of care beyond cosmetic dentistry can be given to patients that exceeds patient expectations. Most patients want a better smile but they smile only 3% of the time. The face can be physically lengthened, the lips can be permanently supported and the bite can be functionally improved by Face Lift Dentistry ®. After years of tooth wear, idealizing the bite and having the teeth support the face, results can achieve a natural healthy revitalization of the bite, jaw joint and lips.
We recommend that all patients understand all of the possibilities of care before new treatment is started. For those patients interested in seeing the possibilities, contact Dr. Sam Muslin in Santa Monica California. (310) 829 6796