Weak Chin and Deep Overbite Treatment
Beyond Veneers and Cosmetic Dentistry - No Drilling, No Surgery 
Santa Monica • Beverly Hills • Los Angeles
The Anti-Aging Face Lift Dentistry®method can transform the life of the patient. The ability to improve the size appearance of the chin with "instant overbite correction" is the miracle of the new age of high tech dentistry.
Video: The Masculine Chiseled Chin without Jaw Surgery
Watch this video and see how a small looking chin will look larger because of its position rather than its size. Once the overbite is corrected and the chin is in a normal position, it appears much larger. Overbites make the chin look small when the chin is really a normal sized chin. This patient would have never grown out of his overbite and his chin would have always looked small without this type of treatment.  

Small looking weak chins are a result of a deep bite because the overbite forces the chin position, back towards the patient's ears making the chin appear small. The goal of overbite treatment is to allow the chin to assume a normal position that reverses the recessive chin appearance. The overbite profile picture below is that of a young man with a weak chin appearance.  He will never grow out of it because the overbite traps the lower jaw in a back position.
Non-Invasive Overbite Treatment
His chin would have looked small the rest of his life and this was completed in 1985. Today, Dr. Sam Muslin's, non-surgical and no tooth grinding, overbite treatment using VENLAY® restorations will work very well on adults. This patient had permanent anti-aging dentistry that will help him look younger and feel more vibrant. Patients with untreated overbites have short faces and recessive chins along with premature aging.
Reversing the Weak Chin Without Surgery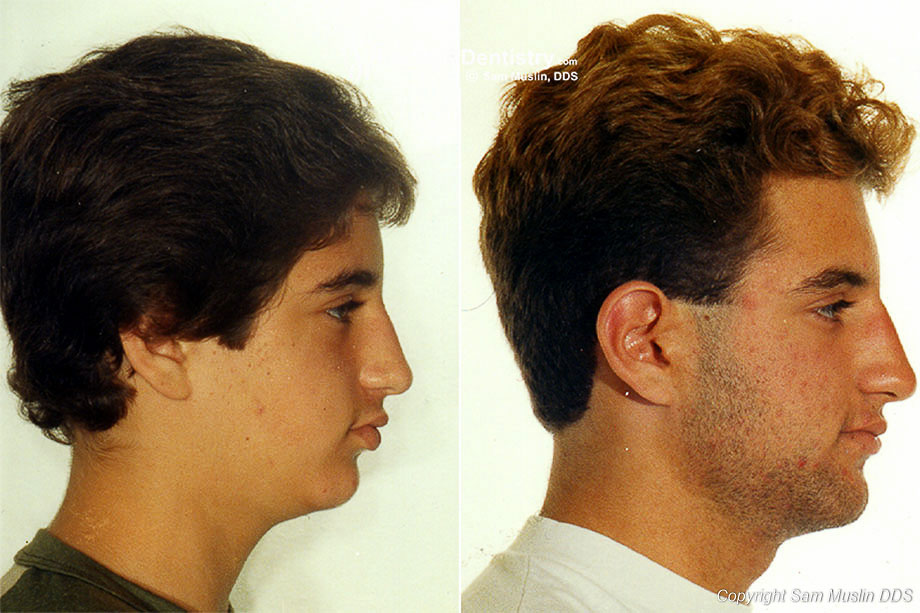 From almost no chin to a strong chiseled chin. He looks older in the after photo because he is 3 years older but the size of his lower jaw is the same in both photos. Deep overbite treatment reversed his weak chin and gave his face a permanent anti-aging benefit with profile correction treatment. This treatment is about idealizing the shape of the patient's face without face-lift surgery.
Can an Overbite Cause TMJ, Sleep Problems, Migraine Headaches?
A deep overbite forced this patient's jaw to be held in a receded position causing pursing of his lips. He came from Beverly Hills to get non-invasive dentistry treatment. Overbites can cause migraine headaches, jaw pain, TMJ pain and a host of other symptoms as waking up frequently at night, poor digestion, and slurry speech and neck pain. It was important to get his jaw and bite into a comfortable, natural and functional position.
Profile Correction Treatment
The best cosmetic dentist would develop a plan that uses all of the various techniques and science available in order to choose right treatment for you. By it requires a dentist that understands all of the choices available. Too many patients only get one choice and that is surgery because it is the only solution that they know. Overbites cause the patient to have a small chin and a weak looking profile because the bite forces the jaw into a bad position.
Profile Correction and Self-Esteem
Bad bites also cause neck pain and shorten the face and cause a weak chin type profile. Relief of all of these symptoms or at least some of these symptoms can transform the patient's life into a much higher quality existence. Bad facial profiles can be corrected which can decrease jaw pain, neck pain and TMJ pain and give the patient a significant boost in self-esteem.
"You Look Your Best when You Feel Your Best"
The reason that overbites cause headaches is because of the increased strain on the head, neck and TMJ due to the bite pushing the lower jaw back. The closing muscles of the lower jaw can go into a painful spasm. Muscle pain or even facial tension contributes to a lower quality of life. The recessive chin position physically compromises the patient's health, as they have to accommodate to a bad bite forever. Cosmetic dentistry and porcelain veneers cannot correct overbites.
Premature Aging and Facial Profile Correction
Premature aging can be reduced with overbite correction by getting the lower jaw into a more natural position. The more forward the position of the jaw, the greater the comfort for most patients which make the chin look larger and improve the self-esteem and physical health of the patient.
Three Years After Treatment
Yes, this is the same patient but he is now 3 years older! His lower jaw was repositioned down and forward, without surgery, by only treating his teeth. The Dental Face Lift® solved this patients deep bite headaches by only treating his teeth and the bite. Dr. Muslin completed his treatment using orthodontic and orthopedic methods and it took a couple of years. Today he can give treatment in a couple of weeks.
Crooked Teeth and "Instant Braces"
Overbites and crooked teeth lead to jaw pain, neck pain and facial pain. The resulting pain can be debilitating to the patient. Many times the patient is surprised to learn that part or all of the resulting pain is due to a bad bite. Once the bite has been treated and the jaw repositioned is corrected, the pain can be reduced. Treatment can take as little as two weeks using the "Instant Braces" method.
Before and After Overbite Correction

This patient's overbite was corrected without surgery. This was done without grinding down his healthy teeth. His recessive chin appearance was corrected by three-dimensionally repositioning the lower jaw.
Dr. Muslin deeply appreciates his patients for giving him permission to share the untouched and unaltered results of his work. He recommends to all future patients to make sure that the before and after photos of the cosmetic dentist that they are considering for their cosmetic dentistry have matching and unaltered photos. Dr. Muslin has pioneered anti-aging health benefits with his non-surgical and non-invasive treatment options.
Call for your appointment and to discuss your travel plans so the treatment can be done in just two trips to California.