Face Lift Dentistry® Makeover
Beyond Veneers and Cosmetic Dentistry - No Drilling, No Surgery 
Santa Monica • Beverly Hills • Los Angeles
There is a new age to cosmetic dentistry that has a huge benefit to the patient's health.
Yes, most patients want to look younger and have a great smile but the most important aspect of living longer is the optimum health of the patient. Dr. Sam Muslin's, exclusive Face Lift Dentistry ® treatment will improve the health of the patient by replacing all of the old porcelain crowns, porcelain veneers, porcelain bridges and make over bite corrections and underbite corrections in as little as one week.
His patients have a matching set of restorative dentistry that is biologically compatible that will dramatically improve the patient's health. His patient's have no decay, no gum infections and look year younger than their real age. One of the keynote elements of health for his trademarked procedure is to reduce the neuromuscular stress in the head and neck region by creating the best bite for the patients facial and jaw structure.
Hear what Facelift Dentistry Patients Say:
"My personal trainer said that I have become stronger and my stamina is greater after getting my overbite corrected."
"My headaches are gone and the bulging muscles on the side of my face have gotten smaller since my bad bite was corrected with face lift dentistry".
"I cannot believe how much younger I look and my friends have not idea why I look so much better than they do".
"I have worn braces twice, have had a full mouth reconstruction by a Arizona dentist, I have headaches everyday and my jaws hurt and I looked like a bulldog, but since getting the full mouth reconstruction replaced with Face Lift Dentistry ® by Dr. Muslin, I am completely out of pain, my profile looks much better, my teeth look feminine and I have a whole new life".
"Frankly, I only care about the cosmetic aspect of looking years younger and improving my smile and profile and Dr. Muslin was able to do it without grinding down my good teeth, no other dentist has a clue of what Face Lift Dentistry ® really is"!
Before and After Facelift Dentistry®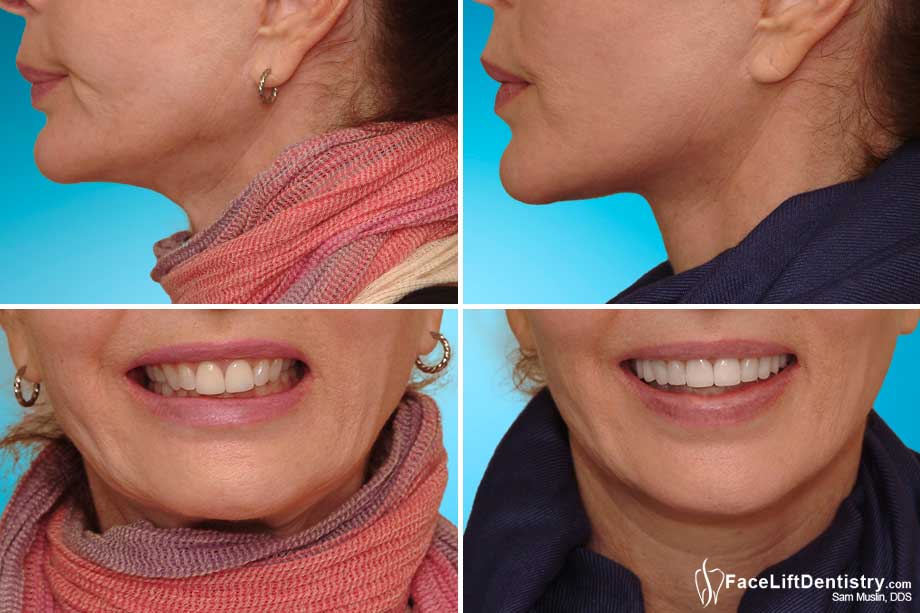 "It's been approximately one month since treatment and I cannot express my joy enough." - January 2010
Can Tooth and Jaw Misalignment make you look Older?
Worn down teeth and bad bites cause faces to physically shorten with age with the lips, cheeks neck, speech and jaw position are all adversely affected. We look older than we could look. We are living longer than ever and we want to maintain a more attractive and natural appearance. Cosmetic dentistry does not solve this problem. Cosmetic dentistry only gives the patient whiter teeth and an improved smile. However, 95% of the time, we are not smiling. So how can we improve our entire facial appearance, jaw position, bite and attain a younger look without facial surgery, or injecting facial fillers?
Why Face Lift Dentistry ®?
Each patient poses a different set of circumstances that require the dentist to have abilities involving the best dental techniques and superior artistic talent to develop the entire face. This type of dentistry goes beyond cosmetic dentistry as it addresses our entire being and is a dynamic lifestyle changer.
For this patient, only two existing crowns were replaced and the rest of her teeth were treated with non-invasive porcelain veneer overlays. No grinding was necessary on her natural teeth to achieve results that are nothing less than stunning. The bite and the teeth were optimized to her face, which naturally improved her jaw position in just two visits.
Bad Bites & Facial Collapse
The bite we received at the age of 13 was a random event. The teeth merely erupt until contact is made with the opposite arch and the results are most often less than optimal. We live the rest of our lives with a bite that is not the best bite so we merely adapt to it the best we can.
Our teeth could be too small, we could have a deep overbite or we can have a short bite, the problem is that most of us are completely unaware that our faces are greatly impacted by our teeth and bite. Dr. Sam Muslin, of Santa Monica California has developed and trademarked anti-aging Face Lift Dentistry® with the goal of optimizing the face in every dimension yielding the most natural youthful appearance for the patient.
Age Reversal
Bruxism is the reason that faces loose support as the teeth wear down with age. The lips are squeezed together, the face folds, the neck loses a smooth appearance and we look like we are mad or unhappy when we are merely at rest. Bruxism is the reason that faces are collapsing and make the patient appear older than necessary. Older people have short round shaped faces and younger people have egg shaped faces. Bruxism creates the short round face and the recessive chin because these patients are loosing the height to their faces from loss of bite support.
Some patients get a face-lift but, unfortunately, that is not the best care in many cases. Bruxism is the reason that their faces looks short. Face-lifts cannot physically lengthen the face nor support the cheeks or lips. Face Lift Dentistry® gives facial benefits that cannot be achieved by any other means because it reverses years of bruxism and reverses the aging process. The bite is lifted, the jaw repositions easily and the teeth support the face naturally. The results speak for themselves as you look at the large variety of facial types treated by Dr. Sam Muslin that have been a life style changer for these patients.
Overbite Correction
The goal of improving the health of the patient by correcting an overbite is important because overbites cause stress in the head and neck region. This stress is present every single day of their lives.
Some patients get minor headaches or occasionally have a sore jaw while other patients with overbites have severe headaches, clicking and popping jaws and a small looking chin. Overbites cause a bad facial profile. Their jaw is in the wrong position for most of their lives unless they get overbite correction treatment.
Dr. Sam Muslin's exclusive and unique Face Lift Dentistry ® treatment can transform a unhealthy patient to a very healthy patient by removing all levels of infection. With overbite correction the neuromuscular stress in the head and neck region is also significantly reduced. Some of his patient's used to take 5 Excedrin every day. If so, how many Excedrin will a patient take over the next 30 years? His patients take much less medication after his unique Face Lift Dentistry ® overbite correction method.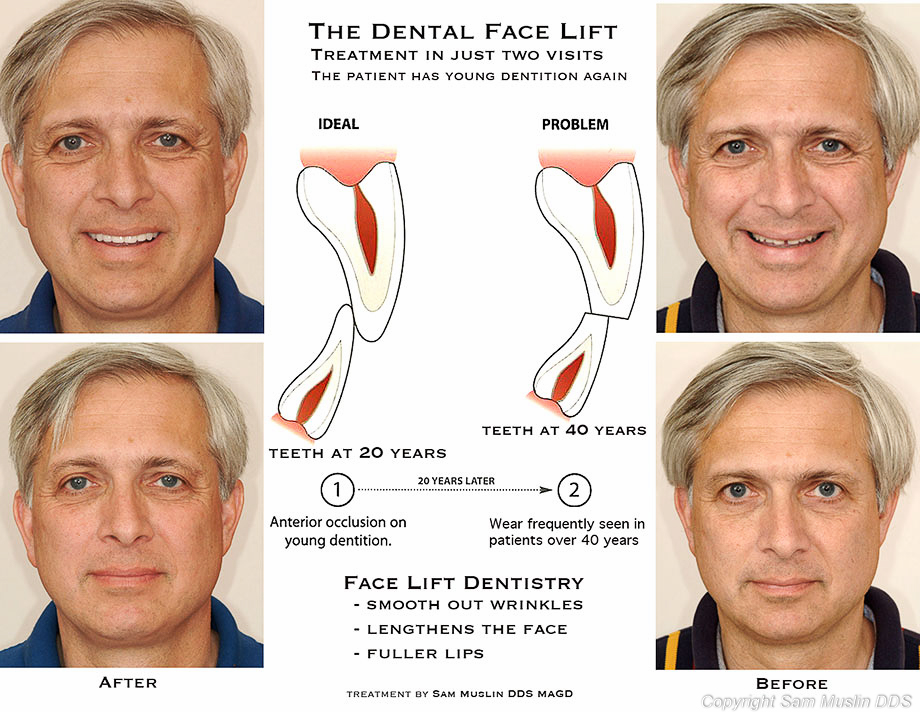 Under Bite Correction – No Surgery
When a patient has an underbite, their lower jaw is larger than their upper jaw. Sometimes, both jaws are almost the same size but the lower jaw, because of the under bite, still sticks out farther than the upper jaw which causes the patient's profile to be less that desired. Most patients are told that they have to have surgery to their lower jaw in order to get underbite correction but Dr. Muslin has found that under bites can be corrected without surgery about half of the time.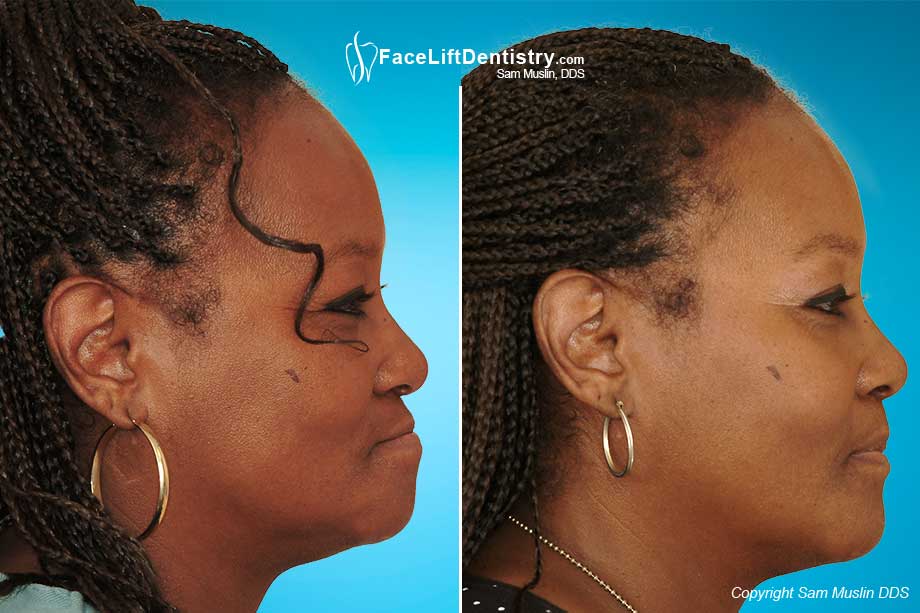 Her facial profile looks like a "bull dog" the patient says. She wanted her underbite" fixed" and saw Dr. Muslin on Los Angeles' Largest Morning News broadcast with KTLA and Gayle Anderson. Treatment took only a few weeks and could have been done faster.
Straight Teeth
Instant braces is the way our patients can get straight teeth in just one or two weeks. There is no need to wear a retainer because we will use porcelain veneers to make the crooked teeth look straight. Getting straight teeth with porcelain veneers or porcelain crowns is cosmetic dentistry. Getting straight teeth and correcting an overbite while idealizing the patients facial profile becomes Face Lift Dentistry ® treatment.
Facelift Dentistry® for All Ages
14 Years old to 93 years of age - everyone is a candidate for Face Lift Dentistry ® because of the health benefits. This 19-year-old young man was able to get overbite correction without grinding down the his natural teeth. He was able to get a bite correction and save all of his natural tooth structure because of the exclusive dental bonding technique developed by Dr. Muslin. Many patients can get treatment at any age because all of the healthy teeth get a new layer of protection and all of the old dental crowns, fillings and veneers are replaced with high tech dentistry that matches.
Porcelain Veneers
vs.

Prepless Teeth Veneers

Teeth veneers are exactly the same as porcelain veneers. We also call them facings or laminates but we are actually talking about the same type of technology. There are differences between the types of porcelain available to make the teeth veneers and these differences can be significant. But there is one big reason why the untouched and unaltered before and after photos on this website look so natural: This cosmetic dentist works on every patient's porcelain veneers or teeth veneers personally. He actually designs and shapes the porcelain with his very own hands for every one of his patients with his ceramist. He says that it takes extra time to do it but excellent results makes for happy patients.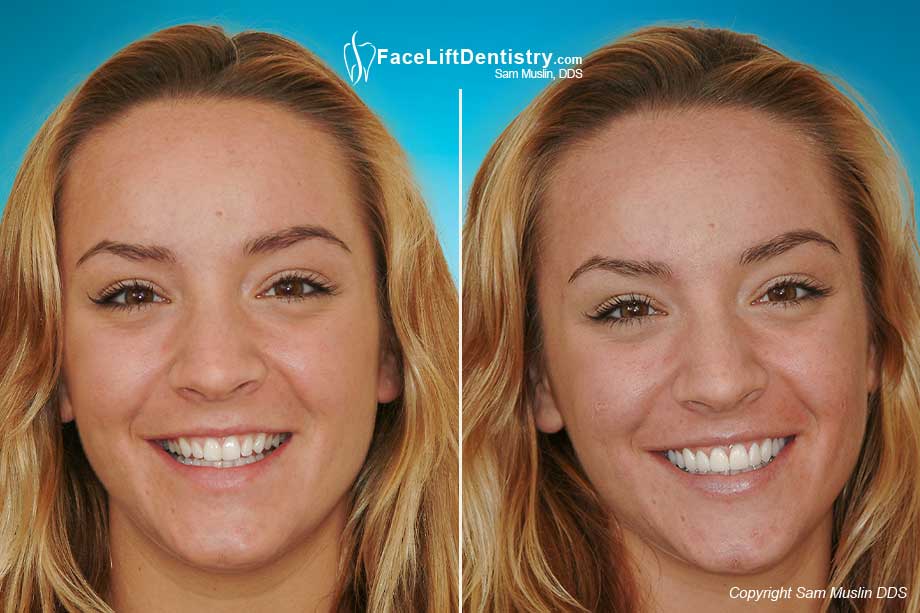 "I love my smile and as the years went by, my teeth look even better. I get compliments everywhere I go and nobody knows that I actually have teeth veneers".
Anti-aging dentistry is the goal and non-invasive dentistry is the method to achieve Dr. Muslin's, exclusive Dental Face Lift ® treatment. No surgery is required. No jaw surgery is required. The natural teeth do not have to be ground down. The natural teeth are actually protected with a new ultra thin porcelain layer. Worn down teeth get enamel enhancement. Many dentists say their porcelain veneers are a form of enamel replacement but you would have to remove the enamel in order to replace it. Dr. Muslin enhances the enamel because all of the natural tooth enamel still remaining on the teeth is preserved.
The treatment also has another huge health benefit besides minimal risk to the patient. The Dental Face Lift ® will reduce the level of stress to the neck region by allowing the lower jaw to reposition itself. His method requires no jaw surgery. The lower jaw, with his exclusive technique will actually natural move to the most idea position with his custom made JawTrac® appliance. He will test the position before any dentistry is started and prove to his patients that the Dental Face Lift ® requires no surgery and has a significant anti-aging component.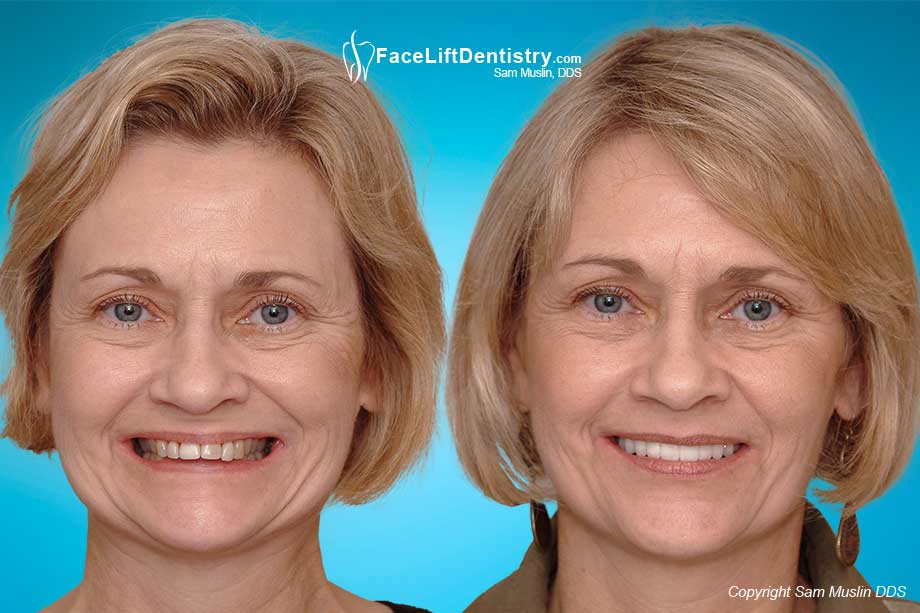 She struggled with her deep over bite for many years. She knew that the previous cosmetic dentistry was bad cosmetic dentistry and now was told by these other dentists the only way to solve her aging face and overbite problems was surgery. She told Dr. Muslin on her first visit, "You are my last hope".
Face Lift Dentures
Dr. Muslin says, "the dentists advertising face lift dentures are violating his trademark as they are not certified face lift dentists". They have failed in getting face lift dentures trademarked because they have developed nothing new and face lift dentures is a trademark infringement on Dr. Muslin's Face Lift Dentistry ® treatment. Be careful of dentists that are advertising face-lift dentures. When they make their dentures too big, most of the time their patients cannot eat or speak clearly because they have a mouth full of face-lift dentures.
Dr. Muslin sincerely and humbly thanks the patients appearing in this website and considers their permission as the ultimate testimonial of his work.
For those patients interested in advancing their appearance to the highest level, and want to live their lives with maximum health, call the office on (310) 829-6796 and schedule your appointment.