Anti-Aging Dentistry
Beyond Veneers and Cosmetic Dentistry - No Drilling, No Surgery 
Santa Monica • Beverly Hills • Los Angeles
As we get older, our teeth get shorter and we loose the facial support we once had. The teeth actually get shorter in all dimensions as the enamel erodes and it is happening to all of us. The erosion occurs on all surfaces of the teeth from years of clenching, grinding, chewing and biting. As the teeth continue to wear the enamel of our teeth thins and our lips appear less full and sometimes wrinkled.
Image Heading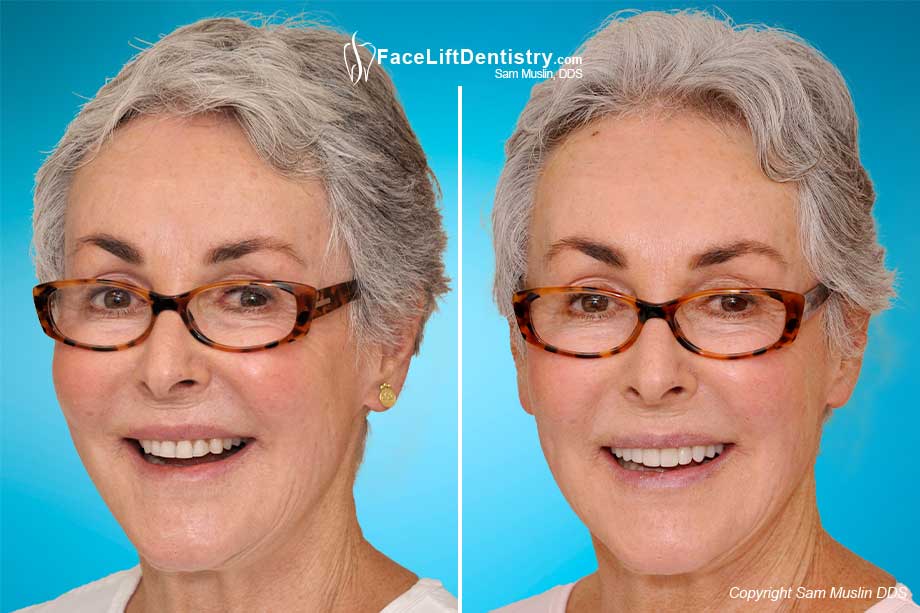 The tissue around our faces does not have the support of an ideal bite and we start to look older. It is a natural aging process that can be completely reversed with the anti-aging cosmetic dentistry treatment - Face Lift Dentistry® . In fact, not only can it be reversed, but the shape and size of the teeth can be better than they were before the tooth erosion began.
Looking Younger
For the first time in this patient's life, she has teeth that are in balance with the size and shape of her bone structure. Her lips and cheeks are better supported and the shape of her face has been improved. Her chin and jawline have a more feminine shape even when she is not smiling. Only Dr. Muslin's Face Lift Dentistry® and Anti-Aging Dentistry Treatment can restore lost tooth enamel and re-support your face for fuller lips and better facial proportions all without surgery.
Non-Invasive Dentistry Solution for Short Worn Down Teeth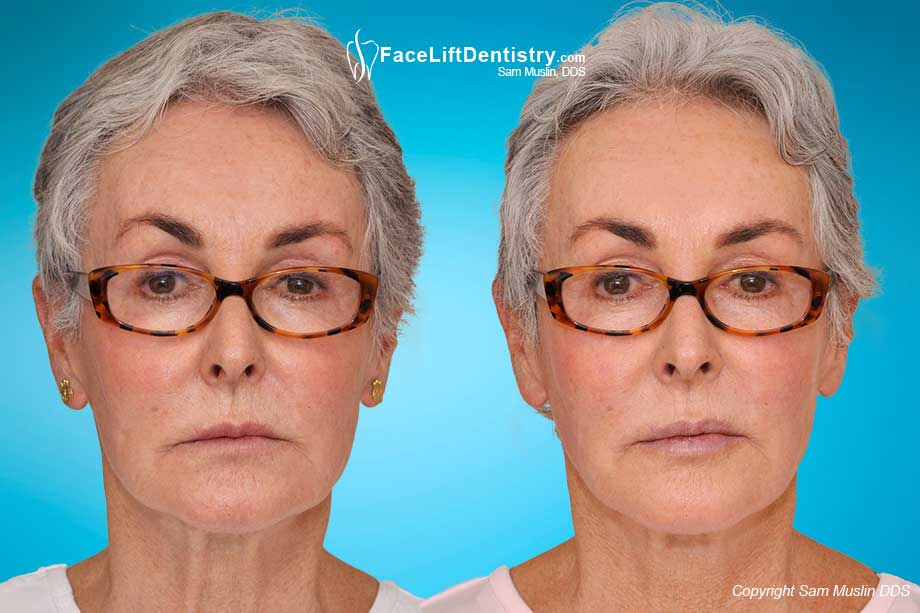 In the photo on the left a shorter face with lost lip support is evident. Lift support has been restored in the after photo which visibly makes the face longer.
The Secret of Face Lift Dentistry® Treatment!
It may seem hard to believe but, all 28 teeth received a new enamel enhancement layer and it was accomplished without having to grind down any of her natural teeth. The short teeth received a new protective layer that reduces sensitivity, strengthens and creates whiter teeth. The results have improved her life, her appearance and reduced stress in her TMJ.
This cosmetic dentistry concept, technique and treatment have been developed by Dr. Sam Muslin of Santa Monica California. This patient was so please with her results, that she gave Dr. Sam Muslin permission to show her full-face photos. He is honored by her consent, as all of the photos in this site are actual patients of Dr. Muslin. He believes that for the prospective patient to be able to evaluate the skills of the cosmetic dentist, reconstructive dentist or neuromuscular dentist, the photos must be honestly matched.
For those patient's interested in Anti-Aging Dentistry to achieve a younger more healthy body and facial appearance, call for your appointment today.